It is hot out there. So hot! I know you need a cool, classic, simple recipe to share with your family and friends! I think you will be amazed at how easily this recipe for Candy Bar No Bake Ice Cream Pie comes together. I mean, anyone can let ice cream get a little melty, right? I knew it! You have the talent to make this Candy Bar No Bake Ice Cream Pie!
I want to tell you all about the backstory on this recipe for Candy Bar No Bake Ice Cream Pie, but I am committed to bringing the recipe seekers their recipe right up front. If you will join me after the "Tips and Tricks" section, I want to show you a picture that will blow your mind and chat with you about recipes, especially this recipe for Candy Bar No Bake Ice Cream Pie.
THE RECIPE FOR CANDY BAR NO BAKE ICE CREAM PIE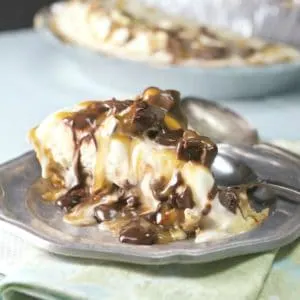 Candy Bar No Bake Ice Cream Pie
Simple Easy Recipe for no bake Ice cream pie found at www.loavesanddishes.net
Print
Pin
Rate
Ingredients
½

gallon

vanilla ice cream

1

prepared graham cracker crust

½

cup

caramel ice cream topping - divided

⅓

Cup

Hot Fudge ice cream topping - divided

⅓

Cup

roasted salted peanuts

2

candy bars with caramel

peanuts, chocolate and nougat - chopped in small pieces. Divided.
Instructions
Set out the ice cream for about an hour until the ice cream becomes soft and easy to spread. Fill a prepared graham cracker crust half way with them melted vanilla ice cream. On top of the ice cream, drizzle ½ of the caramel topping, ½ of the hot fudge topping, all of the peanuts and ½ of the chopped candy bars.

Place the pie and the remaining ice cream into the freezer and let the pie freeze. When the pie is frozen, remove the ice cream from the freezer again and allow to become soft enough again to spread. Remove the pie from the freezer and fill the remainder of the pie shell with the soft ice cream. On top of the ice cream, drizzle the remaining caramel, hot fudge and the remaining pieces of chopped candy bar.

Place the pie back in the freezer and allow to freeze completely again.

Remove from the freezer 20 minutes before you are ready to serve.
Notes
Make the pie as soon as the ice cream softens. If it gets too soft, it will have crystals when it refreezes.
Nutrition
Nutrition Facts
Candy Bar No Bake Ice Cream Pie
Amount Per Serving
Calories 280
* Percent Daily Values are based on a 2000 calorie diet.
TIPS AND TRICKS FOR CANDY BAR NO BAKE ICE CREAM PIE
For this Candy Bar No Bake Ice Cream Pie I used the salted caramel topping, but any caramel topping will work. You can even make your own! It is easy! Check out the recipe HERE for instructions.

I used the "Homemade Vanilla" flavor ice cream, but whatever flavor of vanilla is your favorite, go with that!

You will want to clear off a level place in your freezer. Your Candy Bar No Bake Ice Cream Pie will freeze in an unlevel position if you don't. lol. Ask me how I know!
You might want to microwave your chocolate and caramel sauce for about 20 secs before you drizzle over the top of the pie – this makes it looser for drizzling.
I just want to tell you, the Peanut Gallery at my house (which means my two daughters) both had a piece of this as soon as it was frozen. Their feedback was "It's good!" and "It is so sweet" (said by the one who also says she does not like chocolate) and "The ice cream is a little icy – like it has been melted and refrozen". So, there you have it – I did melt ice cream and refroze it – so, if you can't abide by that in your ice cream pie – then this isn't the pie for you. That said, I think it is DELICIOUS! I'll also say- they ate it.
OTHER STUFF BESIDES CANDY BAR NO BAKE ICE CREAM PIE
So, I wanted to tell you how I was inspired to write this recipe for Candy Bar No Bake Ice Cream Pie. A few weeks ago, I visited the most amazing Estate Sale! The Sellers simply opened up the houses (side by side houses belonging to two sisters who now live in a nursing home). I have to admit, it felt really weird just rifling through the drawers in another person's kitchen!
Did that stop me though? Ummmmm….. Well…… no. I'm ashamed to say, it didn't. After looking in a few drawers, I could tell that this particular lady and I were sisters of our own type. She too loved canning, recipes, kitchenwares, kitchen tools, good knives, cooking from scratch and humorous kitchen knick-nacks.
You know you have met a kindred spirit when you find that she had been using the most stained ugly kitchen towels for daily use but had several packages of unopened beautiful kitchen towels in the bottom drawer. Now you know what to expect at my own estate sale. Just sayin…
RECIPES
Anyway, when I looked in the drawers of the old Hoosier cabinet with the flour covered bowl, rolling pin and biscuit cutter on top I found a treasure trove of old recipes cut from newspapers, magazines and the backs of boxes. I feel like I've won the lottery! I still feel that way! I couldn't have found anything more valuable to me!
When I carried my recipes and other treasures out to the "Pay Here" table. The cashier gave me the strangest look when I excitedly exclaimed, "I found all of these old recipes, I have no idea what they are worth – what are you asking for them?" She gave me a look that said, "You are nuts" and waved her hand at me as if to say, "Are you kidding, I should pay you to take them".
I have had the most fun digging through those old clippings. AND….. I said ALL OF THAT TO SAY THIS…… there was a recipe in the stack, cut from an old magazine, called "Oreo Ice Cream Pie". It was a similar recipe with Oreo cookies crushed up and placed in the middle – and over the top – with chocolate fudge drizzled on the top. YUM! The recipe recommended a graham cracker crust – but really, I would go with a chocolate oreo crust. Anywho…. that gave me the idea for this pie. I tried to dig back through and find it – but you know how ADD is. I kept getting distracted by other recipes and had to give up because, hey, I have things to do.
AND CANNING, LORDY, CANNING….
And now, as promised, and in conclusion and finally, here is the photo that is mind blowing. OK – I'll admit – it might only be mind blowing if you enjoy canning like I do. The shelves shown here line a wall that is about 12- 15 feet long and the ceiling is about 7 feet high. I inspected many of the jars and most were canned in 2014. Wow- now that is a lot of canning – probably the work for most of a summer is my guess. AND…. there were canned mulberries. I've never seen that. I don't have a recipe for that – but I do know where a HUGE mulberry bush is. What would one do with canned mulberries? Have you ever eaten one? Tell me how to use those mulberries! Leave me a comment below – I would love to know!
A VERSE TO THINK UPON
Think not that I am come to destroy the law, or the prophets: I am not come to destroy, but to fulfill.
For verily I say unto you, Till heaven and earth pass, one jot or one tittle shall in no way pass from the law, till all be fulfilled.
Whosoever therefore shall break one of these least commandments, and shall teach men so, he shall be called the least in the kingdom of heaven: but whosoever shall do and teach them, the same shall be called great in the kingdom of heaven.
For I say unto you, That except your righteousness shall exceed the righteousness of the scribes and Pharisees, ye shall in no case enter into the kingdom of heaven. ~ MATTHEW 5: 17-20