Admit it. You LOVE fried chicken, fried green tomatoes and chicken fried steak. You NEVER fix it for dinner because every time you attempt to make it, the breading slides off in the pan leaving your dish naked and ugly. EVERY. SINGLE. TIME! Don't sweat it, just read on and that will NEVER be a problem again. EVER. Because here we have THE SECRET TO BREADING THAT STICKS.
How many times have you planned a wonderful dinner only to leave the tasty breading sitting in the bottom of the pan looking burnt up and black? If you are like me, it only happened a few times because then you gave up! Who wants to face that kind of rejection and humiliation in the kitchen? Not anyone we want to know!
That is the reason you mostly find "oven baked fried" recipes on Loaves and Dishes (embarrassed half grin). Not anymore my friends! Not anymore!
There are a few secrets you need to know that will keep the breading on whatever you are trying to cook.
MY BREADING WON'T STICK, I NEED THE SECRET TO BREADING THAT STICKS.
It is likely that if your breading won't stick it is because of one of the following reasons:
You started with something that was too wet.
That's it.
That is the main reason.
The reason? As the item starts to cook, the water in it will send out steam that pushes the breading off. That is why it is laying in the bottom of the pan!
HOW DO I GET THE BREADING TO STICK TO THE MEAT ?
There are several ways to address this but only ONE that I recommend and that is to follow the steps below…
No matter if you are brining the meat (or other item) first or not – the item must be dry before you start the breading process.

If brining the meat (or other item) first, remove it from the brining liquid at least an hour before you plan to start cooking and allow it to air dry on a drying rack (over a sheet pan, of course). You can do this in the refrigerator – I would allow it to sit uncovered in the fridge – just to help with the drying process – but that is up to you.

If you are NOT brining, remove the item from the package, apply a sprinkle of kosher salt and allow it to rest as described above on a drying rack – over a sheet pan.

Dry the item well with several layers of paper towels too. I usually give mine a little press while I am drying it – just to make sure that I did get all of the water out (if trying to make fried green tomatoes – just a little pat). (You may or may not know this, but often the meat we purchase at the grocery is "plumped up" with salt water. This really doesn't help the taste of the meat – but it does add weight that you pay for – so there you go).

Score the meat lightly with a knife (don't do this with tomatoes).

Do a three part breading process.

The first will be a light coating of plain flour – nothing else.

The second will be an egg/milk mixture

The third will be a flour, cornmeal and seasonings mix.

Do things in THAT specific order. Do not bread your item until you are ready to put it in the hot oil. So – if you can – have the breading station NEAR to the stove. (Just trying to help you avoid a mess).

You will want to use containers that are big enough for the job at hand. I think the BEST solution would be three 9×9 breading trays. However, you can figure out what to do in your own kitchen. Just make sure that you have enough room in each container to adequately bread/coat each piece of meat. I've included a link to some containers that would make a great breading station if you are so inclined (affiliate link). You can click the photo to go through to Amazon and check the prices. I encourage you to check out your local shopping place first though – you will probably find a better price.
That's it. That is how you get the breading to stick.
Now, if you want to know more about other aspects of perfect breading. Like, how do you cook PERFECT breaded meat? or How do you keep the breading crispy until EVERYTHING Is cooked?
Then you might want to read the tips over on my post The Secret to Perfect Chicken Fried Steak.
Below you will find a basic recipe for breading that will work with chicken or beef or pork.
THE RECIPE FOR THE SECRET TO BREADING THAT STICKS TO MEAT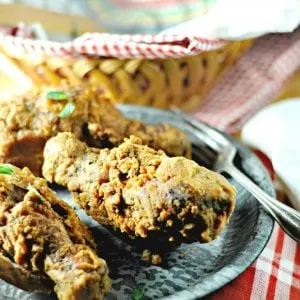 THE SECRET TO BREADING THAT STICKS TO MEAT
Did you ever wonder why your breading slips off in the pan? Want crispy crunchy breading that stays on regardless of what meat you are cooking? The answers are right here.
Print
Pin
Rate
Ingredients
½

cup

all purpose flour

2

large eggs - beaten

½

cup

whole milk

½

cup

all purpose flour

2

tbs

cornmeal

1

tsp

garlic powder

1

tsp

onion powder

1

tsp

paprika

1

tbs

dried parsley

½

tsp

chili powder

1

tsp

black pepper
Instructions
Set up three dishes for a breading station - make sure that the dishes are large enough to accommodate the pieces of meat plus the ingredients.

For dish one, simply place ½ cup of all purpose flour.

For the second dish, mix the 2 large eggs and the ½ cup of whole milk together well.

For the third dish, mix ½ cup of all purpose flour, cornmeal, garlic powder, onion powder, paprika, parsley, chili powder, 1 tsp salt and 1 tsp of black pepper.

When the oil is hot and ready, give the meat a final pat with paper towels to remove the remaining water and then dip the first piece of meat in the the first breading - plain flour only - cover completely with a light coat of the flour. Immediately dip into the egg and milk mix. Then transfer to the seasoned flour mix - pat the flour onto the meat well.

Fry according to your directions
Notes
The secret to breading that sticks is DRY meat. Make sure that the meat you are cooking is VERY dry.
The seasoning that you are putting in the flour seems like a LOT! It is a lot! You need a lot of seasoning to overcome the other flavors.
Nutrition
Nutrition Facts
THE SECRET TO BREADING THAT STICKS TO MEAT
Amount Per Serving
Calories 300
* Percent Daily Values are based on a 2000 calorie diet.
A VERSE TO SHARE.
Some things have been on my mind lately. I have searched for eloquent words to discuss it, however, as I was researching, I ran across this Billy Graham video. It is quite old and you will see that some of the topics he discusses aren't so much of a concern anymore – like AIDS for example. However, just substitute the things that we are worried about today – a nuclear North Korea, test bombs being launched, a President who may have his finger on "the button", race issues, demonstrations by the KKK that are opposed by groups with yet unknown backing.
That is just to name a few.
You get the idea.
Anyway, I could never say things better than Billy Graham, so I'm just going to include a link to one of his videos. I encourage you to take a listen.