That southern country wonder: Chicken Fried Steak.  It is the best meal you ever cooked or the worst frustration you ever encountered.  Have you ever tried to make a perfectly breaded chicken fried steak only to have all of the breading to slip off in the frying pan?  
How about yucky clumpy gravy?  Yeah,I've done it too, but not anymore because I'm sharing The Secret to Perfect Chicken Fried Steak. 
Let's take a minute and talk about what makes chicken fried steak perfect anyway?  
A crispy breading?

Lots of flavor when you crunch into the meat?

A tasty gravy?

All of the above?
Can I get an AMEN?  
I thought so.
WHAT IS CHICKEN FRIED STEAK?
Chicken Fried steak is simply a beef cube steak that is breaded and fried like a piece of fried chicken.  Cube steak is a cut of beef that is naturally pretty tough.
You will see that it has been run through the tenderizer (a machine that makes small cuts all over) at the grocery store.
These cuts help the breading to stay on, but you will need the rest of the SECRET to have the perfect Chicken Fried Steak.
CAN CHICKEN FRIED STEAK BE A LITTLE PINK?
Yes, chicken fried steak is beef and it is ok if it is a little pink in the middle.  However, if you follow my recipe, this shouldn't be a problem.
HOW DO I MAKE CHICKEN FRIED STEAK TENDER?
Start with a pretenderized beef cube steak.  The steak will look like it has been in a losing knife fight.
If your beef cube steak is thicker than 1/2 an inch, then use a meat tenderizing pounder to pound it out to 1/2 an inch.
IS CHICKEN FRIED STEAK SCHNITZEL?
Chicken fried steak is similar but it is not a schnitzel.  Schnitzel is an Austrian dish made of veal or pork.  This Chicken fried steak is made out of a beef cube steak.
HOW DO I MAKE CHICKEN FRIED STEAK WITH GRAVY?
OH the GRAVY is the best part, isn't it!?!  Simply follow the instructions in the recipe card at the end of this post for the best gravy you ever put your tongue on.
You will use the drippings from the chicken fried steak and add flour, milk, salt and pepper and you will be in business in no time!  See the photo?
WHAT'S THE SECRET?
Should it really be a secret? I mean, come on, we have eaten delicious chicken fried steak our whole lives, right?  
Our Chicken Fried steak hasn't been prepared by a secret chef behind xray proof walls.  We simply waited for some delicious southern yum to jump in our mouths after mom said, "Dinner is ready!".  I mean, am I right?  Yeah, I know it.
This time though, we are paying attention!  
THE BREADING IS THE SECRET TO PERFECT CHICKEN FRIED STEAK
We WANT a crispy breading, right?  
To achieve that we need:
The right pan for the job

A proper amount of oil in the pan

Cooking oil at the right temperature

The meat must be dried off very well

A three stage breading process

Warm oven

Paper towel covered pan in the oven for the pieces that are finished
THE RIGHT PAN FOR THE JOB
You will need a good heavy pan for this job . A cast iron 9" skillet is ideal but a good quality heavy stainless steel pan will also work.  
YOU WILL NEED OIL IN THE PAN 
Pour enough oil in the pan so that the oil is at least ¼ of an inch deep and not much more than that.
OIL TEMPERATURE  
If you have a thermometer, DON'T use it.  You probably won't be able to get a good reading in ¼ inch of oil.
 Instead, put the oil in and place your burner on medium.  Watch for the oil to start to glisten and shimmer on the surface.  
You DO NOT want the oil smoking.  Just glistening.  
Dip your fingers in some water and flick some into the pan and then listen.   If the oil pops and cracks with some energy  then it is ready.  
If the popping is slow then let it heat more.  DO NOT try to cook your steaks until the oil is popping and cracking hot.  
If it is SO HOT that it is sputtering out on you when you do this then it is TOO hot!
DRY MEAT – THE SECRET TO PERFECT CHICKEN FRIED STEAK
Wet meat will not hold the breading.  The breading slides right off because the meat will begin to steam as it cooks (because what does water turn into when it heats? Steam!!)  
So, before you attempt to make this dish, remove the meat from the package and place on several layers of paper towel.  
Use several layers of paper towel to dry the surface as well .  I smash it a little as I dry it to squeeze any extra water out of the meat.  
Then apply the Kosher salt to both sides and let it set for about 5 minutes or more and then dry it again with fresh paper towel.  
THE BREADING PROCESS – THE SECRET TO PERFECT CHICKEN FRIED STEAK
Go ahead and admit it – this is going to make some dirty dishes and there isn't really a way around it.  You could do the flour breading on a paper plate – but that increases your trash pile instead.  
Make sure that the dishes for breading are large enough for the meat pieces and so that you can move the meat around some to make sure it is completely covered in flour.  
You will be making THREE breading plates
Plate number one will contain plain flour – nothing else.

The second will contain an egg/milk mixture

A third plate will contain flour, corn meal and seasonings.  
Do things in THAT specific order.  It is important to NOT bread your meat until you are ready to put it in the hot oil.  
So , if you can , have the breading station NEAR to the stove.  (Just trying to help you avoid a mess).  
DO NOT OVERCROWD THE COOKING PAN – THE SECRET TO PERFECT CHICKEN FRIED STEAK
One of the most important secrets when cooking your steak is to NOT overcrowd the pan.  You never want to have more than 2 steaks in the pan at the same time.
Never have more than 70% of the bottom of the pan covered with steak.
If you have more than that – the steaks will simply steam each other – and that will cause the breading to fall off.  Avoid steam!  
A WARM OVEN – THE SECRET TO PERFECT CHICKEN FRIED STEAK
Once the first piece of chicken fried steak is cooked, there will be more to cook.  You will need a place to keep your first one!  
Have the oven preheated to the warming setting, if you have that but if not , then the lowest setting at about 175.  

Place an oven safe plate or a cookie sheet in the oven with a paper towel on it to drain any remaining grease.  

Gently place the cooked chicken fried steak on the dish and let it rest while you cook the rest  and  add any other completed steaks to the dish  but do not stack them on top of one another.
This allows the steak to rest and keeps the breading crispy until you are ready to eat!
A FLAVORFUL BREADING – THE SECRET TO PERFECT CHICKEN FRIED STEAK
The secret to a flavorful breading is SEASONING.  It may seem that I am having you to  LOAD the final breading up with a LOT of seasoning and I am.  That is because there is a lot of stuff to overcome before the flavor ever gets on your tastebuds.  
Just add the ingredients and mix it up  and then make that the final dip for your steak before it goes in the oil.
A TASTY GRAVY – THE SECRET TO PERFECT CHICKEN FRIED STEAK
A tasty gravy is had simply by using what you have in front of you!  Once you have finished your steaks – you have a pan with some lumpy bumps in the bottom!  Those bumps are FULL OF FLAVOR! 
Start by pouring the grease off.  Just leave a little in the pan and try not to pour the lumpy bumps out.  

Then add the flour to the bumps and cook the flour for about 1- 2 minutes and stir it in the pan – you will feel like a dummy cooking plain ol flour – but trust me – you'll be glad you did when your gravy doesn't taste like plain flour!  

Cooking the flour for a minute or so – takes that dry flour taste out.

Then, just add the milk and cook per the directions – it will thicken up and be wonderful sweet savory gravy in just a few minutes.  
And now you have it – the secrets to the PERFECT chicken fried steak!  
A perfect crispy  breading

The breading is packed with flavor
and
What more could you ask for?
IF YOU ENJOYED THIS RECIPE, YOU MIGHT ALSO LIKE:
The Secret to Perfect Pinto Beans
THE RECIPE FOR THE SECRET TO PERFECT CHICKEN FRIED STEAK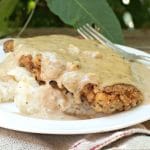 The Secret to Perfect Chicken Fried Steak
This is the specific instructions for the secret to perfect chicken fried steak
Keyword:
Chicken Fried Steak, Chicken Fried
Ingredients
For the Steaks
1 - 2

lb

package of cube steaks

Kosher salt

½

cup

all purpose flour

2

large eggs - beaten

½

cup

whole milk

½

cup

all purpose flour

2

tbs

corn meal

1

tsp

garlic powder

1

tsp

onion powder

½

tsp

chili powder

1

tsp

paprika

1

tbs

dried parsley

1/2

tsp

ground black pepper

1

tsp

kosher salt

(If using table salt, use 1/2 tsp)
For the Gravy
Drippings from the steaks

2

Tbs

all purpose flour

3

Cups

whole milk

Salt and pepper to taste
Instructions
Instructions

Preheat the oven to warming setting or 175 if you do not have a warming setting on your oven. Place an oven safe dish (plate or cookie sheet) covered with a layer or two of paper towel to absorb any extra grease.

Put the steaks on a double layer of paper towels and using a second double layer of paper towels, dry the steaks well. Press down on the steaks to remove as much water as is possible to remove.

Sprinkle the steaks well with kosher salt and set aside.

Heat a heavy skillet on medium heat on the stove top with ¼ inch of vegetable oil in the bottom of the pan.

When the oil is glistening and pops and crackles vividly when water is sprinkled in the pan, then it is ready for the steaks. While the oil is heating, set up the 3 dish breading station as described in next step.

Set up three dishes for a breading station - make sure that the dishes are large enough to accommodate the pieces of steak plus the ingredients. For dish one, simply place ½ cup of all purpose flour. In the second dish, mix the 2 large eggs and the ½ cup of whole milk together well. For the third dish, mix ½ cup of all purpose flour, corn meal, garlic powder, onion powder, paprika, parsley, chili powder, 1 tsp salt and 1 tsp of black pepper.

When the oil is hot and ready, give the steaks a final pat with paper towels to remove and remaining water and then dip the first steak in the the first breading - plain flour only. Immediately dip into the egg and milk mix. Then transfer to the seasoned flour mix - pat the flour onto the steak well.

Gently place the floured steak into the oil and it should sizzle actively - it should not be smoking or have a burning smell - if so - then the oil is too hot. If it is not sizzling actively then the oil is too cold. It is IMPORTANT to have the oil at the right temp.

Generally, you can safely cook 2 steaks in a 9" pan together. Do not bread up more steaks than you can cook right now.

Add the steaks as you get them breaded - one at a time - not all at once. If you add them all at once - the cooking oil will change temp and it wont' be the right temp for cooking your steaks.

Allow the steaks to cook about 3 minutes per side then move to the oven to your plate waiting with paper towel on it.
For the Gravy
Once all of your steaks are cooked and in the oven. Turn the oven temp to off while you create your delicious gravy! In the pan that you cooked the steaks in, pour the grease off. Allow all of the little bits of steak to remain in the pan - and a little grease too - maybe as much as a few tablespoons.

Add 2 tbs of flour to the grease left in the pan and cook on the stove top over medium high heat for 1- 2 minutes (the flour will start to look tan to brown in color).

Add the milk all at once - it will sizzle a little - don't worry.

Constantly stir the milk using a wooden spoon and scrape the flavorful bits from the bottom of the pan as you do so.

As the gravy begins to boil - turn the heat down to medium or medium low. Keep stirring until thickened.

Taste and if it needs more flavor - add salt and pepper until it tastes just right.

Serve the chicken fried steak over mashed potatoes and top with the gravy.
Nutrition Facts
The Secret to Perfect Chicken Fried Steak
Amount Per Serving
Calories 400
* Percent Daily Values are based on a 2000 calorie diet.
A VERSE TO SHARE
"Look at everyone you pass on the street and say a blessing to them.  Say, in your mind, just to yourself – not out loud –  'Hello, God Bless you – whatever you are experiencing – bless you and may God be with you".  That's what pastor Lisa said in her last sermon to my congregation before she headed off to her new assignment.  
Lisa is a known lover of people.
Seriously, everyone loves her.  She seems to love everyone.
I have wished many times for a super power like that.
A Mean Guy
Instead, for me, there is a mean guy in my head who causes little niggling ill will thoughts to come creeping in.  He causes my brain think things like "You, sir, are a weirdo".   This happens before I can freely just love – although I deeply want to.  The IDEA to love everyone is perfect.  The reality is less so.
Are you this way too?
I hope I'm not alone.
I hope everyone out there isn't a Lisa and I'm the only Wendi.
That said, I've been trying what she said to do. It's like a private experiment in which I don't have to actually say anything to anyone and I don't have to even make eye contact if I don't want to.  The best part is that I can just wish someone well and pray that God is with them.
A Few Things That Have Happened
Let me tell you about some of the things that have happened since I started this weird little experiment.
At an outdoor music event a homeless man started up a conversation with me.  We laughed and we chatted.  Turns out that we are more alike than different.  He dug around in his backpack and offered ME some potato chips.   

While visiting someone in a low income elderly high rise last week I had the most adorable conversation with a lady who was trying to keep the elevator working in the building by allowing or not allowing people on the elevator.  She commanded her audience like an Marine Sergeant.  I respect that kind of dedication. She had a good sense of humor about the whole thing too.

My new puppy, who attends puppy school, made FRIENDS with another puppy in the class who had previously only hid under his owner's chair growling and barking at anyone or anything that came close to them.  I had been sending prayers and thoughts their way – and magically – our puppies started playing with each other!
You might think that these are just silly stories – but I swear – these things wouldn't have happened if I hadn't been trying to send good thoughts and prayers out to others.Promise.  
I guess I am noticing others more now and trying to see them for the human beings that they are.  It's like the phrase, Namaste.
Namaste
When someone says Namaste, it translates to " Let the human in me see the human in you and let us just be human together for a while" (roughly).
So, this week, I don't have just one long excerpt from the Bible – I have several quotes about loving others.  
I encourage you to go find your Bible and read the entire passages that these come from and I encourage you to learn "the backstory".  Find out WHO wrote the passage and why.  You will learn more about your faith than you probably wanted to know if you will just do those simple things.  
If you don't read the full passage then you can't know the full intent of what you are reading if you just pull out excerpts and single lines here and there.  
That said,
I think the full assembly of these verses brings weight of it's own.  
Thanks Pastor Lisa for the time and love you have given Danbury.  Peace be with you as you go – and keep on loving.  
 A new command I give you: Love one another. As I have loved you, so you must love one another. John 13:34.

Don't just pretend to love others. Really love them. Hate what is wrong. Hold tightly to what is good.

Love each other with genuine affection,and take delight in honoring each other.  Romans 12:9-10

Most important of all, continue to show deep love for each other, for love covers a multitude of sins.  1 Peter 4: 8

Your love for one another will prove to the world that you are my disciples  John 13:35
Always be humble…
Always be humble and gentle. Be patient with each other, making allowance for each other's faults because of your love  Ephesians 4:2

This is my commandment: Love each other in the same way I have loved you.  John 15:12

For the whole law can be summed up in this one command: "Love your neighbor as yourself."  Gallations 5:14

Therefore, accept each other just as Christ has accepted you so that God will be given glory.  Romans 15:7
***This recipe for The Secret to Perfect Chicken Fried Steak was originally published on Loaves and Dishes on July 18, 2017 and has been updated with NEW information!***