Jump to Recipe
Where did you learn to cook Collard Greens that are deeply Southern, full of soul and bacon?   I can still hear my Collard Greens teacher, an elderly Nashville, Tennessee lady saying, "Just got to wash 'em real good now darlin, get all that grit off.  That's the biggest problem of all".  Today, I'll share with you The Secret to Perfect Southern Collard Greens.
Just to be clear,
cleaning the greens isn't the ONLY secret to perfect southern collard greens.  There is ALSO wilting the greens, knowing HOW to build flavor and adding tasty fats to the collards for OUT OF THIS WORLD flavor.  
If you follow the recipe in this post as well as the directions for cleaning, you WILL end up with perfect southern collard greens ready for your table and hopping in your belly.
HOW TO CLEAN COLLARD GREENS
If you read the internets much, you will find that there are MANY ways to clean collard greens, there are people washing them in the washing machine and people washing them in dish detergent.  I saw videos of people washing them in hydrogen peroxide and people washing them in salt water.  
That is NOT how I was taught to wash greens.
WHY YOU WASH COLLARD GREENS
Someone asked me why "washing collard greens is such a big deal".  The reason washing collard greens is such a big deal is because collard greens grow in sandy soil which ends up in the collard greens and can not be effectively washed off by the farmer.  This makes a difference if you are purchasing whole leaf collard greens like is found in the following photos.
If you are purchasing…
the "pre washed and pre cut" collard greens that you find sealed in plastic bags at the grocery, then a single rinse should be more than sufficient.  I hope this helps to explain why washing collard greens is "such a big deal".
WASH THE GREENS
Fill the sink at least 1/2 way up with tepid water and then add 1/2 cup white vinegar  (the water temp feels about the same as my skin temp).   Put the greens in and swish them around – side to side and push them up and down in the sink.  Collards tend to float – the grit falls down into the bottom of the sink.  Do this swishing thing about every 10 minutes and let the greens soak this first time about 90 minutes total.

Remove the greens from the sink, rinsing them under cold water as you remove them.  Allow to drain into a colander set into a large bowl.

Let the water drain from the sink and then wash the sink very well – making sure there is no grit or bugs or dirt in the sink.
WASH AGAIN
Fill the sink again with cold water – 1/2 way up.

Put the greens back in the sink.  Swish some more – up and down.  Side to side. Repeat the swishing around 3-4 times.

Rinse the greens again as you remove them from the water to the colander.

Clean the sink again.  
WASH AGAIN
Repeat the swishing,

remove to colander,

clean the sink,

fill the sink,

soak the greens a total of 3 times after the initial tepid water bath. 
PROCESS OF HOW TO PREPARE THE COLLARD GREENS
REMOVE THE STALK AND INSPECT EACH PIECE
Remove each  green leaf individually from the colander.  Inspect the leaf.  If you are in doubt at all – put it in the discard pile.  Discard any leaves with many bug holes or with large patches of yellow/brown discolored areas.  Just know, if your greens come from a local backyard patch – there could be worms too.  Don't worry – just flick them off and move on.
Fold the leaf in half at the stalk like a book.  Using a very sharp knife, cut the leaf along the spine so that you are cutting both sides of the spine at the same time. Remove and discard the spine.  
Repeat for each leaf.  
HOW TO CUT THE LEAVES
Make a stack of 5-10 leaves and roll them up like a cigar.  Cut the cigar every 1 1/2 inches.  When unrolled, the collards will be cut into long strips.  
TIPS AND TRICKS FOR THE SECRET TO PERFECT SOUTHERN COLLARD GREENS
Wash the greens very well using the process described above.  Don't skimp or you will end up with sandy grits in your collards and that is gross.
Make sure to remove any pests you find when washing – cause, ewww.
Cut into strips – this seems to be the accepted method and yields the proper mouthful of tender greens
AFTER TWO HOURS OF COOKING…
After two hours of cooking, if they aren't as tender as you like, then cook some more – just check every 15-20 minutes so that you don't over cook them – unless you like them overcooked, in which case – do as you see fit.

Washing is the hardest part.  
BUTTER AND BACON?
You are going to ask if you can use something besides butter or bacon – the answer is – yes, use whatever you like – but you won't be making this recipe if you do.  I have a good friend who uses coconut oil and coconut milk.  I'm positive she is a wonderful cook.  Probably works great – but that is a different recipe.  If you want to cook the recipe for the perfect southern collard greens, then this is that recipe.
WHAT ABOUT HEAT?
The hot pepper flakes do not make your green very hot – it just adds flavor.  Do not be afraid to add them.
Add hot vinegar to the finished greens if you like yours hotter – that is what I do.
IF YOU ENJOYED THE SECRET TO PERFECT SOUTHERN COLLARD GREENS, YOU MIGHT ALSO ENJOY:
THE SECRET TO OLD FASHIONED PINTO BEANS
EASY AND PERFECT POT ROAST AND DADDY'S DROOLING AGAIN GRAVY
SECRET TO PERFECT SOUTHERN SWEET TEA
THE SECRET TO PERFECT SOUTHERN FRIED APPLES
A SECRET TO PERFECT CHICKEN FRIED STEAK
A VERSE TO SHARE
Here is an amazing fact that I totally hope is true.  Recently, I heard this on Super Soul Sunday with Oprah when her guest said,  "There are 365 instances in the Bible where God says, "Be not afraid" or something similar.
WHOA!
God tells us NOT to be AFRAID 365 times which is the same as ONE FOR EVERY SINGLE DAY OF THE YEAR!
Apparently, God tells us not to be afraid MORE than he tells us anything else!
While I haven't been able to verify that this is true, I sure do hope that it is! Oprah and her guests seem like a fairly reliable source so I am going to take it at face value. At any rate, it is a good "reminder to self".
Be Not Afraid.
Luke 12:4
And I say unto you my friends, Be not afraid of them that kill the body, and after that have no more that they can do.
HOW TO COOK COLLARD GREENS – THE RECIPE FOR THE SECRET TO PERFECT SOUTHERN COLLARD GREENS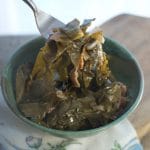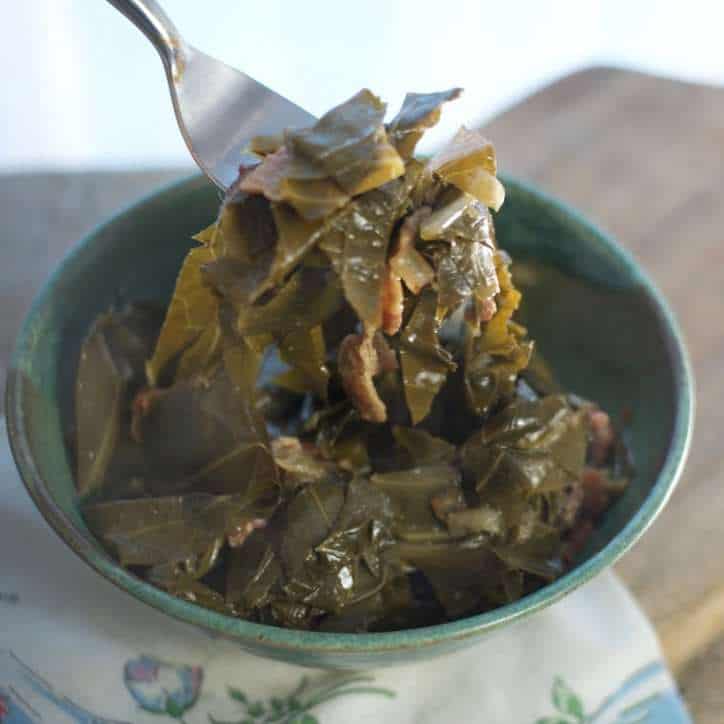 THE SECRET TO PERFECT SOUTHERN COLLARD GREENS
This is a recipe for Collard Greens. See www.loavesanddishes.net for more great recipes!
Ingredients
1/2

Cup

unsalted sweet cream butter

6

strips of heavy flavorful bacon - cut into 2 inch pieces

1

medium onion - chopped small

4

cloves

minced garlic

6

lbs

of greens

cleaned and stemmed

32

oz

chicken stock

1

tsp

chicken stock concentrate

1/4

cup

cider vinegar

2

tsp

white granulated sugar

1

tsp

pepper

1

tsp

kosher salt

1/4

tsp

red pepper flakes
Instructions
Using a large heavy stock pot (I use my 6 quart porcelain coated cast iron dutch oven), melt 1 stick of butter (1/2 cup) in the bottom of the pot over medium heat.

Cut up 6 strips of thick bacon into 2 inch pieces.  Add to the melted butter. Cook  until done.

Add 1 onion, chopped small, and cook in the fats until translucent.  Add the garlic and heat for 1 minute.

After sauteing the garlic for 1 minute, add the greens a few at the time, allowing them to wilt as you go.

Once the greens are all in the pot, Add 1 32 oz box of chicken stock.

After the the greens come to temp, have wilted down in the pan, Add 1 tsp chicken stock concentrate, 1/4 cup cider vinegar, 2 tsp sugar,  1 tsp pepper, 1/4 tsp red pepper flakes. Give everything a good stir.

Put the lid on and set the stove on low.  Check and stir every 30 minutes or so.  Add more stock if needed.  After 2 hours the greens should be done, tender and flavorful
Recipe Notes
This is an old recipe for perfect southern collard greens