Jump to Recipe
I'm having an issue.  This is starting to be as predictable as an episode of Walking Dead, is it not?  (no, I haven't run into someone in the woods who is either going to capture me or befriend me – are you kidding?  I'm not going out in the woods- there are ZOMBIES out there!).  Anyway, I eat lunch, probably too much. I feel overstuffed and then I swear off food forever.  FOREVER. Then by dinnertime, I'm hungry but avowed to never eat again.  THEN, very soon after this whole inter-cranial food fight with one side, "EAT!" and the other side "No, you already ate too much at lunch!" then, it happens.  I can HEAR the NESTLÉ® TOLL HOUSE Chips calling me from the kitchen:   "WENDI….. make us into something delicious!!!!! We want to BECOME something more!  We want to become a Triple Chocolate Mocha Brownie NESTLÉ® TOLL HOUSE Recipe!!!"  "We will be AWESOME as a brownie with ice-cream on top and a hazelnut mocha syrup!" Who could say no?
One quick word before we move on to the eye candy.  This is a sponsored post.  That means that the wonderful people over at NESTLÉ® TOLL HOUSE sponsored this post and we want TO THANK THEM for making this recipe possible!  That said, the content of this post – the recipe, the opinions, the weird personal insights…. they are all mine…. no one to blame but me.  If you will, please take just a moment to go visit my sponsor,NESTLÉ® TOLL HOUSE RIGHT HERE.  Thank you kindly for helping make Loaves and Dishes possible.  Now… hold on to your glasses because here comes the eye candy!
I know, I know.  You think I have bigger problems than my hips.  I might (if you only knew how big that problem is right there!).  Be honest here, don't you hear chocolate talking to you?  It's a regular thing around here.  lol.  Chocolate plus all of his friends: Ice Cream.  Potato Chips.  Butter.  Sugar.   All of the power play foods that I have read the most awful rumors about.  I refuse to believe that they are more addictive than CRACK!  All I know is that they all speak the same language.  A language that I generally love to listen to – which is another problem all of its own. It is ok.  Be calm.  I'll keep them corralled in my kitchen and show you how to metamorphose them into something even MORE powerful!  Obviously, this recipe for Triple Chocolate Mocha Brownie NESTLÉ® TOLL HOUSE Recipe comes from a day when I was VERY hungry and feeling super impish – but hey, no worries.  I have an explanation! 
The excellent thing about this time of the year is –  GIFTS! Go ahead, tell me I'm wrong.  These brownies – these Triple Chocolate Mocha Brownie NESTLÉ® TOLL HOUSE Recipe make LOVELY gifts! It is the gift giving time of the year, right? RIGHT! In case you had any doubt about a gift – BAKE!  I promise – you will never go wrong with a batch of homemade, rich, gooey, warm your tummy and tickle your tongue brownies.  NEVER. And THESE brownies.  These!  These are The Best. EVER. promise!  OH man, I think I'm going to the kitchen to get one right now!
You might be wondering why in the world anyone would go to the trouble of baking brownies from scratch when it is so easy to just open a box of mix, add an egg and a little vegetable oil and have perfectly presentable brownies.  To that I say, "have you ever tried brownies from scratch?"  Ummmm. No.  You haven't.  Because if you had, you would know the answer to that question.  At least I know you haven't tried these brownies, because when you do – you. will. never. open. a box. of. brownie. mix. again!
Triple Chocolate Mocha Brownie NESTLÉ® TOLL HOUSE Recipe
Sweet hubby last night:  "I see there is a bowl in the sink with something brown that looks like chocolate, does that mean there is something in the oven?  Did you make….. Brownies????"
Me:  "yes, but it's for a gift".
Sweet hubby:  "WHAT?  I CAN'T have ANY?????" (Big eyes and a look that says "UNFAIR" with accusation on his face).
He knows I can't resist his charms.  I can always make more.  They are so simple, it only takes a few minutes.  Probably about as long as that box of mix.  Really. No kidding.
RECIPE INSPIRATION FOR TRIPLE CHOCOLATE MOCHA BROWNIE NESTLÉ® TOLL HOUSE BROWNIE
This recipe for Triple Chocolate Mocha Brownie NESTLÉ® TOLL HOUSE Brownie was inspired by a recipe for brownies found in my America's Test Kitchen (c) 2001 book.  You can always count on them to for perfect recipes. I mean, really, it is true.  I did monkey around with their recipe.  Don't take it the wrong way America's test kitchen, I always do that!   I added the espresso powder (instant espresso) and significantly shortened the baking time – because I just don't like brownies more done than that.  I added NESTLÉ® TOLL HOUSE semi-sweet chocolates because they are the best and changed a few of the measurements as well as the baking and melting methods – because that is what I found works best for me – and besides, why make it more work than necessary?  I want you to be EATING these brownies – not spending all evening standing around in your kitchen!
RECIPE TIPS REGARDING TRIPLE CHOCOLATE MOCHA BROWNIE NESTLÉ® TOLL HOUSE RECIPE
Microwave the chocolates and butter for one minute only.  No more.  No less.  Allow them to sit and meld a little before mixing.  Then, mix like crazy!  Until they are very very smooth!

Do NOT over bake these brownies.  I did once and they were ok to taste – but they dried out in the pan really quickly.  

It seems like overkill to spray the pan and THEN put down foil and spray the foil – but believe me- just do it.  You don't want these delicious brownies sticking to your pan.  You WANT. THEM. IN. YOUR. MOUTH.  Now get in that mouth brownies!  

Crunchy sides or gooey middle?  We have a fight at our house – sweet hubby wishes it were all crunchy sides.  Teenager wishes it were all gooey center.  So – it evens out.  These brownies have both – good sides and gooey center.

Serve with super ice cold milk OR ice cream OR both.  YUM!

Mix up a quick syrup that is UNBEATABLE with these brownies – 1/2 cup chocolate hazelnut spread with 1/4 cup heavy cream – heat in a sauce pan over medium heat until all melted.  Stir continuously. FABULOUS! Triple Chocolate Mocha Brownie NESTLÉ® TOLL HOUSE Recipe
Check Out NESTLÉ® TOLL HOUSE Pintrest Page HERE
Check Out NESTLÉ® TOLL HOUSE Facebook Page HERE 
THE SUPER GREAT INFORMATION ABOUT TRIPLE CHOCOLATE MOCHA BROWNIE NESTLÉ® TOLL HOUSE RECIPE
My friends at  NESTLÉ® TOLL HOUSE are offering a COUPON for this holiday season.  You can find a link to the CLICK HERE FOR THE COUPON:
Enter BELOW for a $25 GIVEAWAY ($30 total.  $25 face value and $5 to cover activation fee).  
PROCESS PHOTOS FOR TRIPLE CHOCOLATE MOCHA BROWNIE NESTLÉ® TOLL HOUSE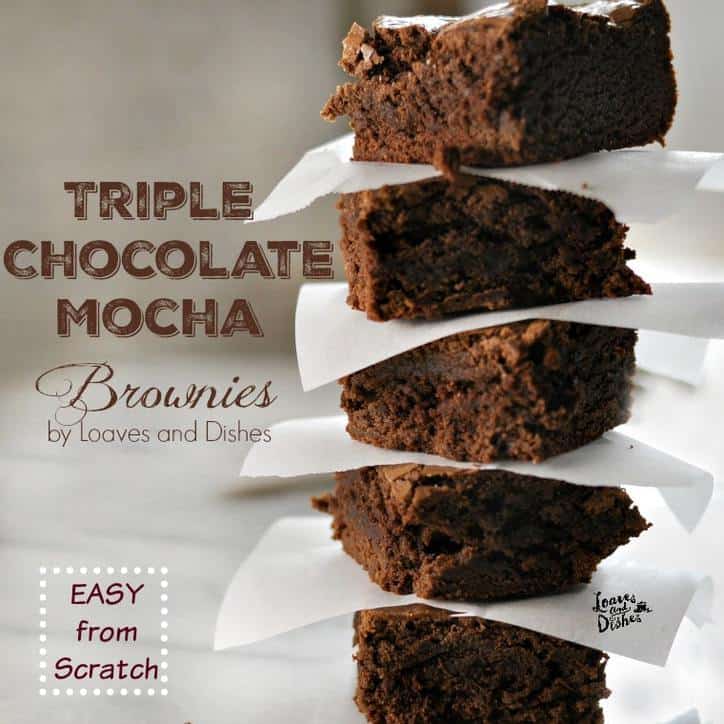 Triple Chocolate Mocha Brownie Nestle Toll House Recipe
Ingredients
½

cup

plus ⅓ Cup Nestle ® Toll House Semisweet chocolate chips

½

bar

2 ounces unsweetened chocolate bar (chopped)

8

Tbs

1 stick unsalted sweet cream butter - cut into tbs size pieces and then each one cut into 4 pieces

2 ½

Tbs

cocoa powder

1 ½

tsp

espresso powder

3

large eggs

1 1/2

cup

sugar

2

tsp

vanilla extract

½

tsp

kosher salt

1

cup

all purpose flour
Instructions
Preheat the oven to 350 and place your oven rack on the center rack. Spray a 9x9 baking pan with non-stick spray and use the kind that is meant for baking. Spray it VERY well! Place a sheet of aluminum foil going one direction across the bottom fo the pan and secure on the sides of the baking dish. Place another sheet of aluminum foil going the other direction across the bottom of the pan. Spray the top side of the foil with the same baking spray, very well.

In a medium sized microwave safe bowl (I use a large glass cereal bowl) place the chocolates, butter and cocoa powder and microwave on high for 1 minute. Allow to rest in the microwave while you do the other steps.

Using a whisk, in a large bowl, whisk the eggs, espresso powder, sugar, vanilla and salt together.

Using a wooden spoon, mix the flour in with the eggs mixture. This takes some stirring - keep stirring until it is well mixed. Then, remove the chocolate mixture from the microwave and stir it together like crazy until it is smooth and add by small amounts (about ½ cup at a time) to the egg mixture, stir well. Keep adding the chocolate mix until all mixed in - make sure to use a rubber spatula to get all of the chocolate from the small bowl!! Once well mixed, pour into the prepared 9x9 pan and again, use the rubber spatula to make sure it all goes in!

Place on the middle rack of the oven and set timer for 25 minutes. The center will puff slightly and the sides will become crusty. Remove as soon as a toothpick inserted comes out mostly smooth. In my oven, this is exactly 28 minutes. Yours might differ slightly.

Cool on the counter/wire rack for as long as you can stand it before you HAVE to eat the brownies. At least 30 minutes would be good - but go with what you have to. Cover well with plastic wrap to save. Serve with ice cream and/or cold milk.