Gooey, Thick, Rich and OH SO EASY!!! 30 Minutes is all that stands between YOU and THIS Best Brownie Recipe In The World was Originally sponsored by Nestle Tollhouse #ad.
Why the Best Brownie Recipe In The World Works…
Easy
Fast
Deep Rich Flavor because of the Cocoa Powder
Espresso Powder intensifies the chocolate flavor.
Here's How It's Done…
STEP 1.
Melt the chocolate in the microwave and let it sit in the microwave until ready to mix in.
STEP 2.
Line and Spray your pan as per the instructions
STEP 3.
Mix everything together in the bowl.
STEP 4.
Mix in the chocolate and stir really good to get the lumps out.
STEP 5.
Pour in the pan, bake, allow to cool, remove from the pan with the aluminum foil, cut and serve!
Frequently Asked Questions (FAQ's)
Why Are My Brownies Too Fudgy?
Brownies that are fudgy get that way because they are more moist and fatty. These brownies are an example of that.
If you are looking for more cake like brownies, then you'll want to go with a recipe that has more flour, less eggs and more fluff.
Why Do These Brownies Have That Flaky Crust?
These brownies have a shiny flaky upper crust because of several things…
They have the right amount of sugar and egg that work together to make a shiny crust.
If you beat them together for a little bit, you'll get the shiny crust.
This recipe uses chocolate chips AND chocolate chunks to achieve just the right balance.
All of this works together to make a shiny flaky crust.
What Makes Brownies More Chewy?
Chewy brownies are the result of a recipe with fewer eggs, and more moisture. You'll find that with this recipe.
Why Did My Brownies Turn Out Hard?
Any recipe that lacks moisture will result in hard brownies…
Did you leave out any ingredients?
How long did you bake the brownies? If they baked too long, they will get hard.
Have you checked your oven temp against a thermometer? That's important to do! Your oven might be too hot!
Did you cover your brownies with some plastic wrap or put them in a zip lock bag or container when they cooled? If you leave your brownies open to air, they will dry out and become hard.
How Long Are Brownies Good For?
Brownies that are kept covered will be good and moist for up to 5 days. You do not have to refrigerate brownies.
How Can I Get a Cakey Brownie?
Cakey brownies happen because of the use of more eggs and more flour. Go with a recipe that features those things.
The Best Way To Cut Brownies
Have you ever cut through a pan of brownies only to have the knife drag through and tear everything up?
Me too!
Here's how to avoid that….
Wait until the brownies have cooled to cut them.
Warm the knife under hot tap water and then dry it thoroughly.
Cut straight down through the brownie without dragging the knife.
Wipe the blade completely clean and cut straight through the next section.
What To Serve With The Best Brownie Recipe In The World
Milk and/or Coffee
Ice Cream (of course).
Chocolate Sauce
Make a Banana Split on top of your brownies!
Mix up a quick syrup that is UNBEATABLE with these brownies – 1/2 cup chocolate hazelnut spread with 1/4 cup heavy cream – heat in a sauce pan over medium heat until all melted. Stir continuously.
Tips & Tricks For The Best Brownie Recipe In The World…
Microwave the chocolates and butter for one minute only. No more. No less. Allow them to sit in the microwave and meld and melt a little before mixing. Then, mix like crazy! Until they are very very smooth!
Do NOT over bake these brownies. I did once and they were ok to taste – but they dried out in the pan really quickly.
It seems like overkill to spray the pan and THEN put down foil and spray the foil – but believe me- just do it. You don't want these delicious brownies sticking to your pan. You WANT. THEM. IN. YOUR. MOUTH. Now get in that mouth brownies!
Crunchy sides or gooey middle? These brownies have both – good sides and gooey center.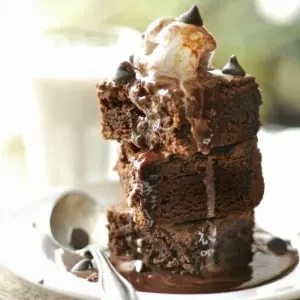 Best Brownie Recipe In The World !
Just 30 minutes to the Best Brownie in the World and YOU can make it so easily from scratch! Amazing!
Print
Pin
Rate
Ingredients
½

cup

plus ⅓ Cup Semisweet chocolate chips

½

bar

2 ounces unsweetened chocolate bar (chopped)

8

Tbs

1 stick unsalted sweet cream butter - cut into tbs size pieces and then each one cut into 4 pieces

2 ½

Tbs

cocoa powder

1 ½

tsp

espresso powder

3

large eggs

1 1/2

cup

sugar

2

tsp

vanilla extract

½

tsp

kosher salt

1

cup

all purpose flour
Instructions
Preheat the oven to 350 and place your oven rack on the center rack. Spray a 9x9 baking pan with non-stick spray and use the kind that is meant for baking. Spray it VERY well! Place a sheet of aluminum foil going one direction across the bottom fo the pan and secure on the sides of the baking dish. Place another sheet of aluminum foil going the other direction across the bottom of the pan. Spray the top side of the foil with the same baking spray, very well.

In a medium sized microwave safe bowl (I use a large glass cereal bowl) place the chocolates, butter and cocoa powder and microwave on high for 1 minute. Allow to rest in the microwave while you do the other steps.

Using a whisk, in a large bowl, whisk the eggs, espresso powder, sugar, vanilla and salt together.

Using a wooden spoon, mix the flour in with the eggs mixture. This takes some stirring - keep stirring until it is well mixed. Then, remove the chocolate mixture from the microwave and stir it together like crazy until it is smooth and add by small amounts (about ½ cup at a time) to the egg mixture, stir well. Keep adding the chocolate mix until all mixed in - make sure to use a rubber spatula to get all of the chocolate from the small bowl!! Once well mixed, pour into the prepared 9x9 pan and again, use the rubber spatula to make sure it all goes in!

Place on the middle rack of the oven and set timer for 25 minutes. The center will puff slightly and the sides will become crusty. Remove as soon as a toothpick inserted comes out mostly smooth. In my oven, this is exactly 25 minutes. Yours might differ slightly. If yours doesn't come out clean at 25 minutes, then continue baking and recheck every 2-3 minutes.

Cool on the counter/wire rack for as long as you can stand it before you HAVE to eat the brownies. At least 30 minutes would be good - but go with what you have to. Cover well with plastic wrap to save. Serve with ice cream and/or cold milk.
Notes
It seems like overkill to spray the pan and then spray the foil, but these brownies can be very sticky and this is just extra precaution.
The reason for putting the foil in the baking dish as explained is because this makes handy handles for lifting the brownies out of the pan.
If you use a glass bowl to melt the chocolates in, the glass bowl will help hold heat after microwaving and help to melt the chocolates. I've found that a plastic bowl does less well. If you find that the chocolates are not melted enough by the time you are ready to add them, microwave for additional 30 second increments until melted and easy to mix and stir through. The point is that you want them silky smooth but not HOT when you mix them in the batter.
If you do not have espresso powder, just leave it out. The brownies will still be good.
Bake ONLY until a toothpick comes out clean and not ONE second longer. This makes the perfect center to your brownies.
For clean slicing, wait until the brownies are cooled completely to room temp (or you can even put them in the fridge and cool them more). Heat the blade of a knife under hot water, dry it, then slice. This makes for a much cleaner slice.
Nutrition
Nutrition Facts
Best Brownie Recipe In The World !
Amount Per Serving
Calories 267
Calories from Fat 108
% Daily Value*
Fat 12g18%
Cholesterol 62mg21%
Sodium 182mg8%
Potassium 90mg3%
Carbohydrates 38g13%
Protein 3g6%
Vitamin A 295IU6%
Calcium 16mg2%
Iron 1.3mg7%
* Percent Daily Values are based on a 2000 calorie diet.
***This recipe first appeared on the pages of Loaves and Dishes on December 2, 2015 and has been updated with "why this recipe works" "Frequently asked questions", "step by step instructions", video, nutrition information and an updated recipe card that includes equipment and clarified instructions.
A VERSE TO SHARE
For whoever needs this today…
1 Peter 4:8
And above all things have fervent love for one another, for love will cover a multitude of sins.