Jump to Recipe
SURPRISE!!!  It turned out!  IT DID!  It is like a MAGIC trick!  I'm so excited to show you this even though you might not believe it.  I didn't at first. Check out Easy 3 Ingredient Freezer Ice Cream!  No churning, no loud electric ice cream maker, no salt, no scrounging up ingredients from all over the place.  Just three simple ingredients makes the most basic and very sweet ice cream that you ever tasted!  REALLY!  I know – I can't believe it either.
For over a year I have wanted one of these attachments (see below) for my kitchenaid.  I just can't justify the cost.  Plus – look at my picture, do I look like someone who needs something as dangerous as an ice cream maker right in the kitchen? Don't even answer that question – the answer is,  "No I do not!"  What I need is an exercise guru installed in my kitchen who makes me leave the kitchen and go exercise!
Here it is…. Top of the, "I really am this bad wish list item" ….
RECIPE INSPIRATION FOR EASY 3 INGREDIENT FREEZER ICE CREAM
A couple months ago, I read in an edition of Saveur magazine that it is possible to make ice cream from three ingredients,  right in the freezer.  I say this with my tongue in my cheek and a "Yeah, right" look on my face.  At about the same time as I saw this issue, I also read on facebook about a three ingredient, no flour recipe for cookies that involved mashing up a banana and adding some nuts.  It was gross and a total FAIL.  So, when I read about this ice cream – I just rolled my eyes.
I didn't save the issue (boo on me!),  I certainly can't find it now, I didn't have the directions, but I do remember the ingredients: whipping cream, sweetened condensed milk and vanilla.  In a moment of desperation, I did a little experiment and found that you really CAN make this easy and simple ice cream with only three ingredients!  YUM!  Not entirely my own idea – but I had to go with what I could remember.
So now, dear friends, I'm going to share it with you.  This ice cream has a little smoother consistency than store bought ice cream and doesn't have the crystallized bumps of home made ice cream (YUM)  – it is smooth as silk – and is best served with a sweet/tart dessert like my Rustic Blueberry Galette!  Just as an fyi – served on it's own, I find this ice cream almost too sweet for my taste – but served over a hot tart dessert – it is THE BEST!
Please note:  I DID NOT say that Easy 3 Ingredient Freezer Ice Cream is a diet friendly ice cream.  It is NOT.  If you are looking for a diet friendly ice cream that will look good on your waistline tomorrow – keep looking.  This is not it!  But if you want a tasty, creamy, ice cream to serve on your berry dessert – stay right where you are and go grab this stuff from your fridge and pantry.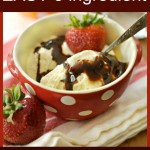 Easy 3 Ingredient Freezer Ice Cream
Ingredients
1

Cup

heavy whipping cream – refrigerated.

1

tsp

good quality vanilla extract

1

can sweetened condensed milk

1.

In

a stand mixer bowl

or in a large kitchen bowl, if you plan to use a hand mixer, pour the whipping cream and the vanilla extract. Whip until soft peaks form – about 2-3 minutes.

2.

Slowly add in the sweetened condensed milk while whipping and whip until firm peaks form. Pour into a loaf pan or bowl. Cover with plastic wrap and place in the freezer and keep there until it is firm and set. I have a commercial quality freezer and it took mine about 8 hours to set. I am going to suggest 24 hours for a standard household freezer