Jump to Recipe
***This post originally appeared on Loaves and Dishes on August 5, 2015 and has been updated with new information! ***    SURPRISE!!!  It turned out!  IT DID!  This is like a MAGIC trick!  I'm so excited to show you this even though you might not believe it.  I didn't at first. Check out Easy 3 Ingredient Freezer Ice Cream!
No churning, and no loud electric ice cream maker, what salt? , no scrounging up ingredients from all over the place.
Just three simple ingredients makes the most basic and very sweet ice cream that you ever tasted!  REALLY!  I know – I can't believe it either.
IT HAS BEEN MORE THAN A YEAR…
For over a year I have wanted an attachment for my kitchen aid mixer.  I just can't justify the cost.
Plus – look at my picture, do I look like someone who needs something as dangerous as an ice cream maker right in the kitchen?
Don't even answer that question – the answer is,  "No I do not!"  What I need is an exercise guru installed in my kitchen who makes me leave the kitchen and go exercise!
WHAT YOU NEED TO MAKE THIS RECIPE
Personally, I use my stand mixer, but those are expensive.  You can just as easily use a hand mixer for this job.  Pick one up inexpensively at a yard sale or a thrift store.  This particular one was on sale when I added this link, so that might even be the best bet. At any rate, I am an affiliate of Amazon and will earn a commission if you click the photo and go through to Amazon an eventually make a purchase.
These loaf pans are SUPER nice, I have some!  When you aren't making ice cream in them, they are PERFECT for Pecan Banana Bread!  Again, you can click the photo to go through to Amazon to compare prices and I am an affiliate of Amazon and will earn a commission if you make a purchase. 
RECIPE INSPIRATION FOR EASY 3 INGREDIENT FREEZER ICE CREAM
A couple months ago, I read in an edition of Saveur magazine that it is possible to make ice cream from three ingredients,  right in the freezer.  I say this with my tongue in my cheek and a "Yeah, right" look on my face.
At about the same time as I saw this issue, I also read on facebook about a three ingredient, no flour recipe for cookies that involved mashing up a banana and adding some nuts.  It was gross and a total FAIL.  So, when I read about this ice cream, I just rolled my eyes thinking that I am going to get the same results.
What are the ingredients for a  3 INGREDIENT ICE CREAM?
I didn't save the issue (boo on me!),  I certainly can't find it now, I didn't have the directions, but I do remember the ingredients:
whipping cream
sweetened condensed milk
vanilla.
In a moment of desperation, I did a little experiment and found that you really CAN make this easy and simple ice cream with only three ingredients!  YUM!  Not entirely my own idea – but I had to go with what I could remember.
WHAT IS DIFFERENT ABOUT A NO CHURN ICE CREAM?
This ice cream has a little smoother consistency than store bought ice cream and doesn't have the crystallized bumps of home made ice cream (YUM). Instead, it is smooth as silk and is best served with a sweet/tart dessert like my Rustic Blueberry Galette!    or maybe even a Blueberry Cobbler!
FYI,  served on it's own, I find this ice cream almost too sweet for my taste, but served over a hot tart dessert, it is THE BEST!
Please note:  I DID NOT say that Easy 3 Ingredient Freezer Ice Cream is a diet friendly ice cream. 
It is .  If you are looking for a diet friendly ice cream that will look good on your waistline tomorrow , then please, keep looking.  This is not it!  But if you want a tasty, creamy, ice cream to serve on your berry dessert then stay right where you are and go grab this stuff from your fridge and pantry.
IF YOU ENJOYED EASY 3 INGREDIENT FREEZER ICE CREAM, YOU MIGHT ALSO ENJOY…
Old Fashioned Seven Layer Bars
Easy Baked Macaroni and Cheese
YA'LL HELP ME OUT…
Please leave me a 5 star 🌟🌟🌟🌟🌟  comment below in the comment section, all right? I would LOVE to know if you made this recipe or even if you are planning to! Of course, head on over to Pinterest, Facebook and Instagram and tag me with some photos of your creation!
I can't wait!
Ya'll know I love your comments!! ❤
THE RECIPE FOR Easy 3 Ingredient Freezer Ice Cream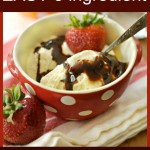 Easy 3 Ingredient Freezer Ice Cream
A simple no churn style freezer ice cream using three ingredients. Ready as fast as your freezer can do its job.
Keyword:
3 ingredient freezer ice cream, freezer ice cream
Ingredients
1

Cup

heavy whipping cream – refrigerated.

1

tsp

good quality vanilla extract

1

14 oz can

sweetened condensed milk
Instructions
In the bowl of a stand mixer or in a large kitchen bowl pour the whipping cream and the vanilla extract. Whip on medium speed until soft peaks form (about 2-3 minutes).

Then, slowly add in the sweetened condensed milk while whipping and whip until firm peaks form.

Pour into a loaf pan or bowl. Cover with plastic wrap and place in the freezer and keep there until it is firm and set. (about 8-10 hours in a commercial freezer, 24 hours in household freezer)
Recipe Notes
Easy three ingredient ice cream made at home with no churning!
Nutrition Facts
Easy 3 Ingredient Freezer Ice Cream
Amount Per Serving
Calories 350
* Percent Daily Values are based on a 2000 calorie diet.