I think you are going to LOVE Arugula. Lately, I have been completely in LOVE with Arugula myself. The grown up kind and the baby kind too! Every time I even think about Arugula, I remember reading "Watership Down" as a freshman in high school. In Watership Down, the bunnies exclaim their love for the peppery spicy Arugula leaves. I'm right in there with them! Yep, me and bunnies – we know about the GOOD stuff!
Every once in a while does your body start to crave something? For a while there, I was craving pickles (I don't really like pickles and I know what you are thinking – but no, its not that), avocados, pineapple and this summer it was tomatoes. I seriously ate a tomato sandwich each day – sometimes more, I'm embarrassed to admit. Anyway, I am getting off topic, but for the past few weeks I have been craving Arugula. I think that when your body craves something that you are sure is good for you – then you should probably listen to your body! When my body is craving the new bacon macaroni and cheese potato chips I try my best to just ignore it!
For my bookclub meeting later this evening (I write these things ahead of when you see the post) I am taking some of this latest indulgence in the form of a Caprese salad! All of my favorites right in the same bowl!!! YEEHAW!!! Arugula, fresh mozzarella, basil, TOMATOES, balsamic vinegar and olive oil and a little salt and pepper too. Delish, fresh and easy! This is something that I will love and my bookclub friends will love too. My husband and daughter – probably not so much – which makes it the perfect occasion to fix up some salad and carry it right out the door! Some people's taste lean more towards the meat and potatoes side of the fence.
(I think my bookclub friends DID love it – because it was gone in minutes)
So, enjoy.
Let's eat ya'll!
So then, my brothers and sisters, when you gather to eat, you should all eat together. 1 Corinthians 11:33.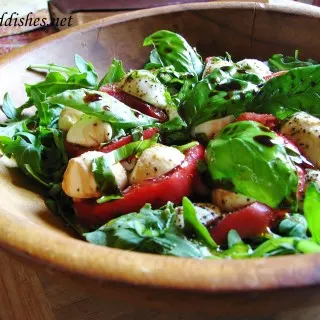 Amazing Arugula Caprese Salad
A delicious and refreshing summer salad - best made with home grown tomatoes.
Print
Pin
Rate
Ingredients
2

Cups

Baby Arugula

1

medium fresh tomato – cut into slices

4

oz

fresh mozzarella- cut into slices – or if using the small balls – cut in half

10

fresh basil leaves – 5 cut into a chiffonade

5 whole for decoration

4

Tbs

very good balsamic vinegar

4

Tbs

very good olive oil

Salt and pepper to taste.
Instructions
Arrange Arugula in a bed on the plate

Arrange the tomato to alternate with the mozzarella on the plate

Sprinkle with salt and pepper

sprinkle the basil chifonade onto the tomato/mozzarella

Add other basil leaves

Drizzle the salad with olive oil and balsamic vinegar.
Notes
An amazingly flavorful and quick salad.
Use fresh cracked pepper for the best taste.
Nutrition
Nutrition Facts
Amazing Arugula Caprese Salad
Amount Per Serving
Calories 120
* Percent Daily Values are based on a 2000 calorie diet.
And now for my faithful readers, a post blog dessert. Do you ever have friends who you simply connect with – every time? I have some friends like that too. One such friend is Rebecca Dresser. Rebecca is a kind and gentle soul. She is a wonderful artist and I am including a link to her website so that you can go there and find rest in her artwork. You will feel better after you take a peek at the little birds and animals that inhabit her webpage. Enjoy….