What is better on a cold rainy morning or cool cloudy evening than a stack of hot waffles drenched in a sweet apple cinnamon topping? Uhhhhhh…… nothing! Well, I know that my hubby was hoping that I would make a Kale Cranberry Granola for his breakfast – but instead he had to deal with rich, sweet, nutty, cinnamony and slightly crunchy Apple Pecan Waffles with Apple Pecan Topping. Torture, I know. How can I treat him like this?
Recipe Inspiration for Apple Pecan Waffles with Apple Pecan Topping
So – these waffles were inspired by my recent trip. I know you know. I went on a trip to the International Food Blogger Conference a few weeks ago in Seattle. Wow! What a weekend. I am STILL pumped! My daughter, Sarah, who contributes to Loaves and Dishes went too and we had a WONDERFUL time!
One session that Sarah attended was "Food Trends". A tid-bit that was shared was that savory waffles would be BIG this year. So – I've been thinking on that. I'll get there. These are definitely NOT savory. Oh NO! These Apple Pecan Waffles with Apple Pecan Topping are the BEEESSSSTTT kind of sweet treat – the opposite really of savory.
I DO own a waffle maker – it came with a deal I did about 4 years ago (when I got married). I've never used it though. As I tried to think of some savory flavors, I could only think, "Apple Pecan Waffles with an Apple Pecan Topping". It kept repeating itself in my mind like some kind of weird record skip. So, I couldn't let it go. I will have a few of those savory waffles coming. I hope anyway (haven't tested them yet – so, who knows?). (I had a HUGE FAIL last week in this same vein – but that is another story – testing is SO IMPORTANT in food blogging. LOL!).
So – anyway, this weekend, hubby and I dusted off (and washed) the waffle maker. Turned it on. Did a few practice waffles and WOW! They were good! I'm really not crazy about how one is supposed to clean a waffle maker – I mean really – who invented that idea? Why don't the plates come out so they can be cleaned well? Cleaning – that isn't a topic we want to discuss though, is it? This is not a cleaning blog….. Thank God, because you people would have nothing to read!
One of the sponsors of the IFBC was Krusteaz. They have a TON of mixes that make life so much easier AND they are super nice people (all my own opinion) ***I want to make sure that you know, they GAVE me a box of the Belgium Waffle Mix and that is what I used for this recipe*** I really do appreciate the free mixes! So, while this is not a sponsored post – I did get the mix for free as part of their promotions at the conference. You can use ANY waffle mix you prefer for this recipe, however.
As always, any opinion expressed here is mine.
Finally, just so you know, *** I did receive a discounted conference rate of $195 in exchange for 3 posts concerning the IFBC and this is my THIRD post regarding that effort***
You can find the first two posts HERE:
BEFORE THE INTERNATIONAL FOOD BLOGGER CONFERENCE
CHILI-ESQUE BEAN SOUP AND CROCKTOBER CROCK POT GIVEAWAY
So – with that, I was hoping you might give me some idea regarding savory waffle flavors you would like to see? I'll give it a go if it sounds reasonable and doesn't involve seafood! Leave me a comment below (the comments are WAY at the bottom). I LOVE to hear from you and PROMISE to answer every message.
I mean, we could do Broccoli Potato Waffles. Tater tot waffles with bacon a cheese. Truffled Hashbrown Waffles with Parmesan and Chives. We could do….. I don't know – what sounds good?
Think on that while you gobble up some of these Apple Pecan Waffles with Apple Pecan Topping.
For the kingdom of God is not a matter of eating and drinking, but of righteousness, peace and joy in the Holy Spirit, 18 because anyone who serves Christ in this way is pleasing to God and approved by men. 19 Let us therefore make every effort to do what leads to peace and to mutual edification. ~Romans 14:17-19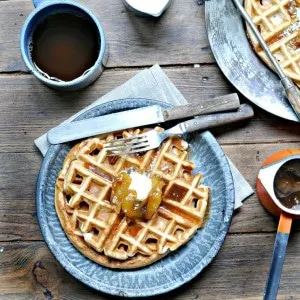 Apple Pecan Waffles with Apple Pecan Topping
Delicious, smooth apples with pecans. Is there anything better? Basically how I want to spend every single Saturday morning between now and forever.
Print
Pin
Rate
Ingredients
For the Waffles
1

box of Waffle Mix – prepared per box instructions

¾

Cup

Apple Butter

Optional – 1/8 Cup Pecans – chopped small – only if you like crunch in your waffles
For the Apple Pecan Topping
2

Gala Apples – peeled

cut into pieces, core removed

1

Cup

granulated Sugar

¼

cup

water

1

tbs

flour

1

tsp

cinnamon

½

tsp

nutmeg

½

tsp

ground cloves

1

tbs

butter

1/8

cup

Pecans – chopped small

Pinch

of salt
Instructions
For the Waffles

Prepare waffle mix per box instructions. Using a spoon initially and then finally a whisk, add the Apple Butter and pecans (if desired) and Stir until smooth. Plug in and heat up your waffle iron – paint the iron plates with small amount of vegetable oil. Close the iron and when it indicates that it is ready, you can begin to pour an appropriate amount of batter into the iron (for my iron that is about ½ cup – yours may be different)

In a medium heavy sauce pan, combine all of the ingredients for the topping and place on stove top on medium heat. Continue to heat and stir until it becomes thick and bubbly – about 10 minutes (hopefully about the same time that your waffles are ready). You don't have to stir constantly – but keep a close eye on it.
Notes
You could also substitute pears for the apples. Delicious.
Nutrition
Nutrition Facts
Apple Pecan Waffles with Apple Pecan Topping
Amount Per Serving
Calories 300
* Percent Daily Values are based on a 2000 calorie diet.