Smoky, meaty, chock full of vegetables and a rich tomato forward zing is what you are looking for in a North Carolina Brunswick Stew Recipe and this one ticks all the boxes. It's easy to put together and I'll give you all of the steps to make your own and have your family BEGGING you to make it again!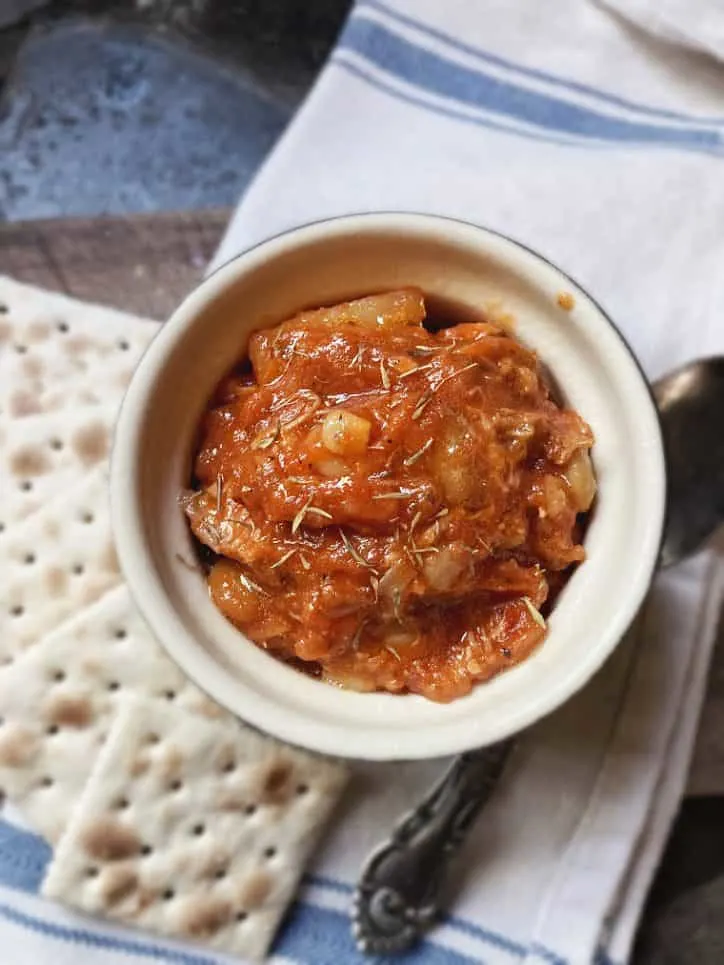 Why This Recipe Works
The techniques used here significantly increase the flavor, its a REAL flavor BOMB!
It uses ingredients you probably already have at home.
The long simmer time adds a ton of flavor and thickness!
Here's How It's Done
STEP 1. Cook up the meats.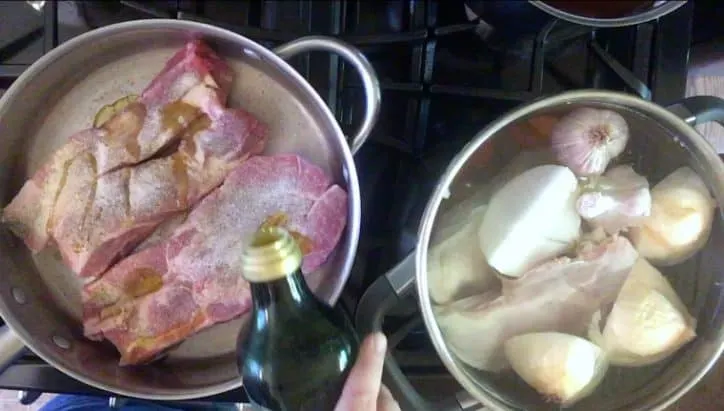 STEP 2. Mix it all in the stock pot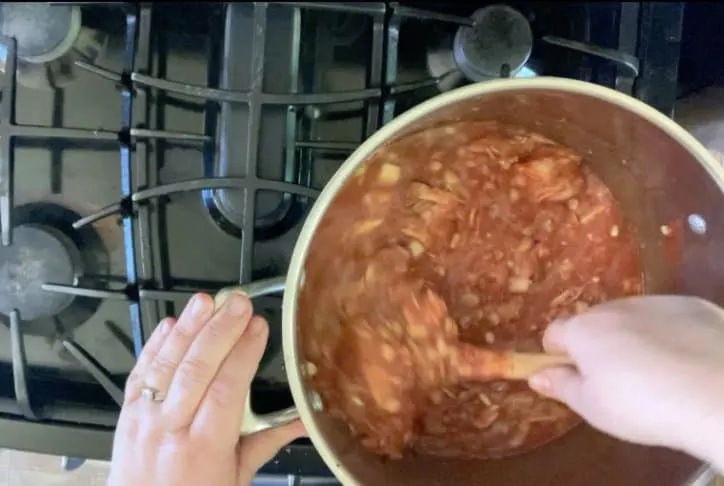 STEP 3. Let it simmer and thicken.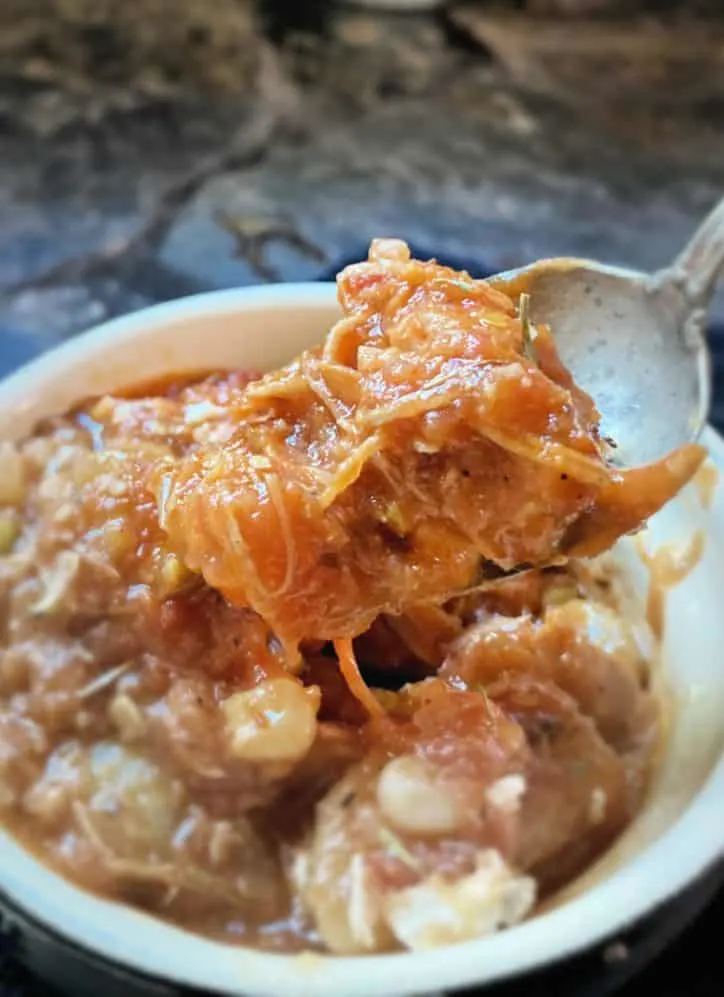 Frequently Asked Questions (FAQ's)
Is this Josh Turnages Brunswick Stew Recipe from Durham, NC.
No, actually, although I have made that particular Brunswick Stew. This is my own twist on the old classic that amps up the meaty flavor and hits you right in the "I love meat" category.
What's In Brunswick Stew?
Classic Brunswick Stew is basically made with the following ingredients:
Tomatoes
Chicken
Pork
Lima Beans and
Corn
You'll find, if you search around, that there are MANY variations on this old down home favorite that might also include other cuts of meat, other vegetables or even some seafood (depending on the recipe you read).
Don't tell anyone, but some of the local stew I've tasted has even been reported to sport rabbit and squirrel. But to me, it all tasted like chicken.
Why Is the Meat Stringy?
One of the secrets to a really good Brunswick stew is a long simmer. Meat tends to break down with a long simmer and that causes all that stringiness.
How Do I Thicken Brunswick Stew?
Supposing you follow the recipe I give below, you won't need to thicken it. However, if you've done gone and done something different, you can always thicken any soup or stew with cornstarch.
Mix 2 tbs of cornstarch with 2 tbs of cool water. Stir well with a fork and add to the stew.
Wait for a minute and if it isn't thick enough, repeat until it is.
Where Is This Stew From?
According to internet lore, Virginia and Georgia are vying for the title but I promise you, Brunswick stew is also an NC classic.
At the end of the tobacco season, local farmers (in Stokes County) often celebrated with their field workers by making a GIANT pot of Brunswick Stew or Chicken Stew.
It is definitely a Southern Thang.
What To Serve With Brunswick Stew?
OH this delightful dish is good with just about anything you would serve a thick and hearty soup with. Try…
Can I Freeze It?
Yes! Absolutely! Its the perfect winter meal, so freeze up a few quarts for later!
How Long Does This Last?
It will last for 5 days in the refrigerator, covered. Do not let it sit out for more than 2 hours.
How Do I Can It?
I'll have to refer you to the USDA for that answer.
Can I Make This NC Brunswick Stew in the Crockpot?
Yes! Here's how:
Follow the procedure for preparing the meats and potatoes as noted in the recipe below
Add all of the ingredients to a large 8 quart crock pot.
Cook in the crockpot on low for 12 hours.
Add broth to thin to your desired thickness.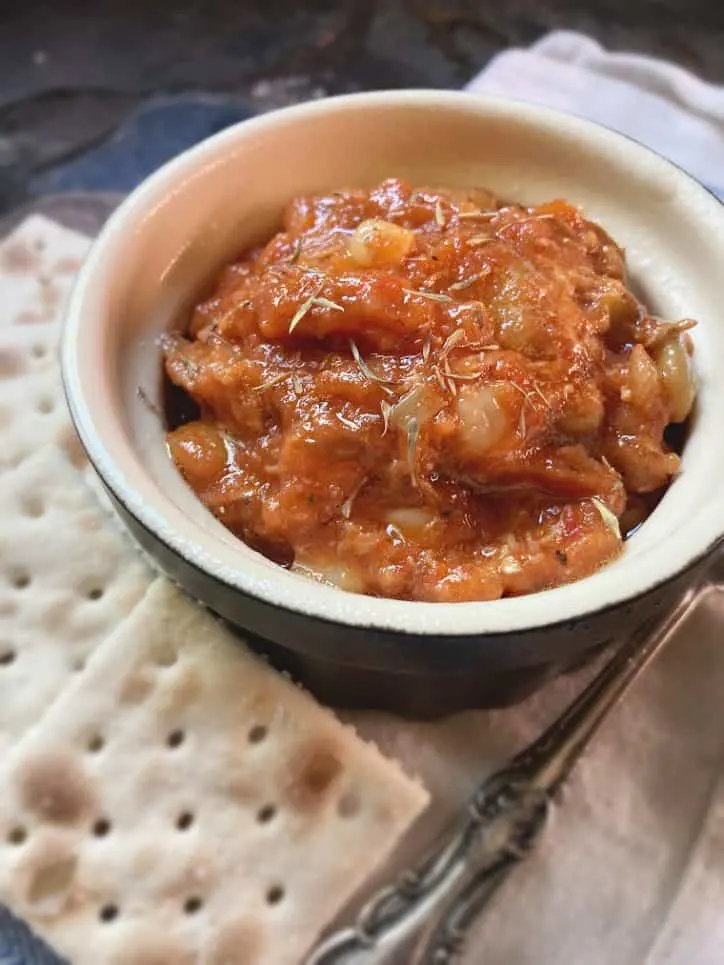 Tips and Tricks for This North Carolina Brunswick Stew Recipe
When choosing your meat, know that you can use any cut of chicken you wish. Chicken on the bone will always lend more flavor to the stew than any boneless skinless chicken. If you decide to use the boneless chicken, you'll need to add more fat to give the dish suitable flavor (butter).
You may think, "I don't like heat in my dish" but honestly this dish just has the tiniest kick. I recommend sticking with the recipe as written, at least the first time you make this dish.
You'll probably want to know if you can use a different type of corn or lima beans? Can I use Frozen? The answer is sure, but you may have to add more spices or cook longer for the frozen veggies.
In this recipe I recommend the Tutorosso tomatoes. There's a reason for that. In testing this recipe, I'm finding that particular brand has a very good tomato flavor that is second best only to my own home canned tomatoes.
If You Enjoyed This Recipe, You Might Also Enjoy One Of These Soups…
Would You Do Me A Favor?
Please leave a 5 STAR comment in the comment section at the bottom of this page. That helps other readers find the recipes at Loaves and Dishes.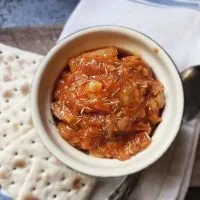 North Carolina Brunswick Stew Recipe
Smoky, meaty, chock full of vegetables and a rich tomato forward zing is what you are looking for in a North Carolina Brunswick Stew Recipe and this one ticks all the boxes. It's easy to put together and I'll give you all of the steps to make your own and have your family BEGGING you to make it again!
Print
Pin
Rate
Ingredients
To prepare chicken
1 ½

lbs

bone in chicken

skin removed (white or dark meat, your choice, I recommend dark)

1

tbs

kosher salt

1

celery ribs

leave whole with leaves attached at top

1

whole sweet onion

leave skin on and cut in half

1

head of garlic

leave skin on and cut in half across the equator

2

Carrots

wash, cut into 4" long pieces

2

bay leaves
To prepare pork
1 ½

lbs

country style pork ribs

1

tsp

salt

1

tsp

black pepper

1

tbs

onion powder

1

Tbs

Garlic Powder

2

Tsp

Granulated White Sugar

2

tbs

olive oil
To prepare potatoes
1 ½

Lbs

Russet Potatoes

peeled and cut into bite sized pieces

1

Tbs

Kosher Salt

Water to cover the potatoes
Now Make the Stew:
1 28

oz

can crushed tomatoes

½

whole sweet onion

1 ½

lbs

Russet potatoes

cooked and prepared as noted below

1

tsp

red pepper flakes

2

Tbs

Worcestershire

2

tbs

dark brown sugar

1/2

C

wickles wicked pickle juice

sweet pickle juice

1/4

cup

ketchup

2

Tsp

liquid smoke

1

can sweet niblet corn drained

1

can baby lima beans

see notes

2

Tbs

butter

2

tsp

fish sauce

1

Cup

reserved broth

Salt and pepper to taste
Instructions
For the chicken
In a 6-8 quart stock pot cover chicken with water and fill to within 3" of the rim and add tbs kosher salt, celery ribs, onion (leave skin on), head garlic (leave skin on) and carrots

Bring to a light simmer over medium high heat and then reduce to low to maintain the simmer. Do not stir.

When meat is tender and falling from the bone (about 45mins - it might be more or less depending on the cut of chicken you are using), remove the meat from the water with tongs, allow to cool and pick the meat from the bones. Place into a large bowl (or if you have another large stock pot, put the meat in the stock pot). DO NOT DISCARD THE REMAINING WATER IN THE STOCKPOT, YOU WILL NEED IT LATER.
For the pork
Preheat the oven to 350

Lightly grease an oven proof dish (I am using an oven safe skillet, a roasting pan works too). Place the pork into the dish fat side up (if you note that one side is fatter than the other) and sprinkle with kosher salt, sugar, pepper, onion powder and garlic powder. Drizzle the top with olive oil.

Place the pork into the oven to roast uncovered.

Check the meat after 40 minutes, when it is ready, it will have shrunk considerably, and feel almost hard on the edges. If it isn't to this point, put back in the oven and check every 5-10 minutes until it is ready.

When ready, allow to cool enough to touch. Remove it from the pan (just set the pan aside, you'll need it momentarily).

Using a large kitchen knife or a clever, cut the pork into small pieces and discard any bones.

You'll notice that there will be some blackened and crusty pieces of meat and fat stuck to the bottom of the pan you cooked in.

Pour off any accumulated grease and then place the pan on the stove. Set the heat on high. Allow the pan to heat for about 3 minutes. Dip about ½ cup of the water that the chicken is cooking in and pour it in the pork pan, all at once. (This will make a great deal of steam and a loud racket).

Use a wooden spoon or spatula to scrape up the bits and pieces of everything in the pork pan. If you don't have enough stock to do this, add another ½ cup.

Once you have everything cleaned from the pan, set it aside.
For the potatoes
Peel the potatoes and cut into bite sized pieces.

Place the potatoes into a sauce pan and cover with water. Add 1 Tbs salt.

Heat over medium high heat until water is lightly boiling, reduce heat to low. Boil until the potatoes are fork tender. (A fork slides through easily).

Pour the potatoes into a colander and drain well.

Place 25% of the cooked potato chunks into a bowl and set aside.

Place the remaining 75% of the potatoes into a different large bowl and use a potato masher to mash the potatoes well.
Now Make the Stew
In an 8 quart stockpot, combine the chicken, pork, the drippings and juice from the pork pan, the mashed part of the potatoes and gently mix together.

Then add the crushed tomatoes, onion, red pepper flakes, worcestershire, brown sugar, pickle juice, ketchup, liquid smoke, corn, limas, butter, fish sauce and one cup of the reserved chicken stock (the water you cooked the chicken in). Give it all a big stir until everything is well mixed.

Add the reserved potato chunks and after this stir gently so as not to break them up.

Heat on the stove to a simmer over medium heat. When simmering, reduce to low, put the lid on the pot and stir frequently (at least every 5-10 minutes). Allow to simmer for at least 30 minutes but longer is better.

If the stew is thicker than you prefer, add more of the reserved chicken stock.

Be sure to taste and add salt and pepper as needed.
Notes
If you prefer NO potato chunks in your stew, then mash all of the potatoes. We like to have some chunky potato pieces.
This stew will have lots of stringy meat, that is one of its features. There will likely also be chunks of meat. If you prefer all stringy meat, then use forks to shred the meat before putting it in the stew.
You can use frozen corn or baby limas, but my experience has been that these tend to be tougher in the final product and take a longer end simmer. The canned ones are softened and just need to heat up.
Prefer Margaret Holmes seasoned canned lima beans. It's ok to use other lima beans or frozen but it wont' taste the same. The margaret holmes beans are always the right texture and flavor.
Prefer Sweet Niblets canned corn. It's ok to use other corn or frozen corn of the same amount, but it won't taste as good.
If you can't find Wickles Whicked Pickles, that's ok. Just use Sweet Pickle juice and add ¼ tsp of cayenne to your recipe.
If you end up using frozen corn or lima beans, be sure to cook the stew long enough after adding these for them to soften sufficiently.
Using meat on the bone helps add flavor and thickness to your stew. You can substitute boneless versions but this will rob your stew of flavor and some of the thickness.
PRO TIP: After cooking the meat and using whatever of the remaining liquid you may need in the stew, Save the remaining stock and freeze it. Use it in any recipe where you would use stock or broth.
Nutrition
Nutrition Facts
North Carolina Brunswick Stew Recipe
Amount Per Serving (1 cup)
Calories 370
Calories from Fat 153
% Daily Value*
Fat 17g26%
Cholesterol 80mg27%
Sodium 1925mg80%
Potassium 1028mg29%
Carbohydrates 37g12%
Protein 19g38%
Vitamin A 2059IU41%
Vitamin C 16mg19%
Calcium 69mg7%
Iron 3mg17%
* Percent Daily Values are based on a 2000 calorie diet.
A VERSE TO SHARE
You might be tired of resting, but the Sabbath is still a great day to rest.
Ezekiel 20:12
Moreover, I gave them my Sabbaths, as a sign between me and them, that they might know that I am the Lord who sanctifies them.