A few years ago, I entered a chili contest and I LOST! I DID! To say I was devastated is NOT an exaggeration! I have a reputation to uphold! I am nearly famous in my (own mind) ( – errrr – I mean…. ) tiny town for my annual Halloween Party in which I serve (seriously) a boat load of my famous (ok – not quite famous – but almost famous) chili. I promise – what follows is not a pity party! <laughing>.
The background: A couple of years ago my husband's new employer had an annual chili cook off – they are out of business now and no longer his employer (I am not saying it had anything to do with dissing me on my chili – but… well…. You know). I sent him to work with a crockpot full of my famous chili. I did not win. I did not even place. The SAME three people who always win won! However, every single little bite of my chili was gone – someone even sopped up what was left in the crockpot with some bread! The crockpot looked like my husband had already washed it when he came home! I think the contest was rigged. But since I am a lady and not a sore loser, I'll just say, you can find the recipe for this LOSER CHILI RIGHT HERE.
All joking aside – my Halloween Chili is delicious. But – that chili loss caused this other thing to happen…
In questioning my husband to death about the other chilies, he said that a number of entries had used white beans. That made my recipe wheels start turning! Someone heard cries of "Next Year….. NEXT YEAR!!!" coming from the kitchen, but I'm not really admitting to any of that.
I finally came up with this dish which we lovingly call "Chili-esque Bean Soup". While the taste reminds you of chili – it looks like some kind of weird third cousin. Just ignore the funny look because The Taste…… THE TASTE is out of this world!!!! And here is the EVEN BETTER secret about this chili – it is better the second/third/fourth… day. Well, it has never lasted past the second day at my house – so, I am assuming it is better on day 3 and 4. After about day 7 you should probably not try to eat it anymore.
How to make Chili-esque Bean Soup for 1-2 People
Make the full recipe as described. Eat as much as you want for the first one to two days. On the side of a quart sized freezer resealable bag, write (using a permanent ink marker – like a Sharpie) the date and the name "Chili-esque Bean Soup". Use a serving ladle and dip enough for one person into a quart sized freezer bag. Remove as much air as possible. Make sure you have sealed the bag very well. Lay flat in the freezer (that way you can stack many on top of each other). Should keep well for 6 months at least. When you are ready to use – let it defrost in the fridge over night, dump into a small sauce pan and gently heat it up on the stove top! It is EXCELLENT this way!
The CROCKTOBER CROCKPOT Give Away!!
And now, drum roll please – the part you have all been waiting for!!! Information about the Give Away! Click on the RAFFLECOPTER GIVEAWAY AT THE VERY END OF THIS POST to be taken to the Crockpot Give Away that I am participating in!!! I am SO EXCITED about this ya'll!! This is my FIRST give away. (Lots of firsts this week on Loaves and Dishes!).
YOU COULD BE THE WINNER OF the Following:
A programmable crockpot
Crockpot liners
a $100 VISA gift card
Isn't that a SUPER PRIZE? I think so TOO!
Just scroll down to the very bottom of this post, below the recipe and click the link for the RAFFLECOPTER Crocktober Crockpot Give Away! You will see how to enter – it is easy. Simply follow me and the other bloggers who are teaming up to give away these great prizes via your social media. And hey, please, these ladies are being pretty darn good to ya'll to go in together on this awesome giveaway – please visit their pages, leave them a nice comment, favorite their social media sites. Mostly – thank Stephanie at Sustaining the Powers because she is the MOST AWESOME blogger who put this whole thing together. (Plus – she is the creative powerhouse that put my lovely new site together!!). I sure am lucky to know her!
Now – I want to know something – WHAT WILL YOU MAKE IN YOUR NEW CROCKPOT AND HOW WILL YOU USE YOUR $100 IF YOU WIN??? I am dying to know what folks would do with this! If I were going to win, I would spend the money on the ingredients for my Halloween chili and of course, the crockpot would be tuned up for that too!
I Made My Chili with LAMB! I DID! (if you don't have lamb, use hamburger)
The chili-esque bean soup that you see in these photos is made with ground lamb. I'm not kidding. It is DELICIOUS! I told you that I went to Seattle last week for the International Food Blogger Conference. I attended a session on Lamb done by the American Lamb Producers. A Seattle chef shared with us how he prepares lamb while a professional butcher showed us how to butcher various cuts of meat. The chef and the butcher had prepared Pate and some type of wonderful steak. It was so delicious that I can't even remember what it was called! I am going to include some of those photos here – so if you are a vegetarian or even squeamish at all – please just scroll quickly through the photos.
Anyway, I was so PUMPED about lamb that when I got home, I searched for a local producer using the American Lamb Website – you can find that HERE – and was astonished to learn that someone VERY LOCAL to me sells her own farm raised lamb at her very own shop! I visited Buffalo Creek Farm and Creamery, LLC on Saturday and bought some ground lamb. Please just consider looking for and trying some lamb. Please buy local – I promise, it will taste better. I will be posting more recipes in the future, today, I was just trying the lamb in place of the hamburger. It was GREAT!
***PHOTO CREDIT**** – this photo from the Buffalo Creek Farm Website: http://www.buffalocreekfarmandcreamery.com
*** A word of disclaimer*** – In exchange for a discounted rate of $195 to attend the International Food Blogger Conference – I agreed to blog about the conference 3 times. This is my second blog entry about the conference. I can blog about anything I want concerning the conference – and for this entry I chose to blog about the Lamb presentation – because 1. It was AWESOME 2. The Lamb was TASTY 3. I am super excited about being able to use Lamb as an organic source for my family's diet!
Photo instructions for Chili-esque Bean Soup
Brown the onion, garlic, hamburger (or lamb) and sausage.
Pour everything in the crockpot together and turn it on! Can be cooked on the stove top as well

Do Not Fear for I am With You! Isiah 41:10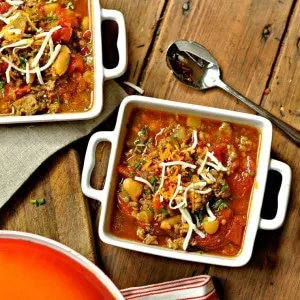 Chili-esque Bean Soup and CROCKTOBER CROCKPOT GIVEAWAY
This is a delicious chili soup that you'll put in your regular rotation once you make it just once.
Print
Pin
Rate
Ingredients
1

onion – minced

4

cloves

of garlic – minced

2

tbs

vegetable oil

1

lb

ground hamburger

I used lamb today – that is what is in the photos – but I always have made with burger in the past

½

lb

ground pork sausage

1 15.5

oz

can Cannellini Beans

any bean would be fine – but I like Cannellini

1 14.5

oz

can diced tomatoes

I used a quart of home canned tomatoes

1 10

oz

can Rotell Tomato and Green Chilis

1

tbs

Worcestershire sauce

2

tsp

salt

1

tsp

pepper

1 4.5

oz

can of chopped green chilies

4

tbs

molasses

4

chicken bullion cubes

1

tbs

cumin

¼

tsp

turmeric

½

cup

water

if you are using the home canned quart tomatoes, then no need for water – if using standard canned tomatoes – then use the water
Instructions
Brown the onions and garlic in 2 tbs vegetable oil over medium heat in a skillet. When soft – in about 3-4 minutes – add the ground hamburger and the ground pork sausage to the onion mix and cook over medium heat till browned – another 3-4 mins.

Add the hamburger and onions mix to a crockpot and then add everything else to the crockpot and stir well.

Cook in the crockpot on low heat for 8 hours or high heat for 4 hours. Serve with sour cream, shredded sharp cheddar cheese and corn chips or serve over pasta or rice. Add garlic salt if needed. Garnish with chives. You can also cook on the stove top in a large sauce pot - heat over medium heat until heated through. (an hour)
Notes
Feel free to substitute ground beef for lamb.
Nutrition
Nutrition Facts
Chili-esque Bean Soup and CROCKTOBER CROCKPOT GIVEAWAY
Amount Per Serving
Calories 330
* Percent Daily Values are based on a 2000 calorie diet.
CROCKTOBER CROCKPOT GIVEAWAY!!!!!
October is finally here which means Fall is (hopefully) in the air, life is getting busy, and everyone is getting ready to bust out their slow cookers for the cooler weather. Stephanie from Sustaining the Powers celebrates "Crocktober" with an entire month of slow cooker recipes, so we're joining together to help her kick it off with a Crocktober Starter Pack Giveaway. Included is a fancy programmable slow cooker, some slow cooker liners (the best invention ever) and a $100 visa gift card for groceries!
Loaves and Dishes || Bright Green Door || The Gift of Gab || From Bisons to Buckeyes
The Speckled Palate || A Savory Feast || 2 Cookin' Mamas
Natasha Red blog || Vintage Frontier || Sustaining the Powers
Giveaway is open to US residents 18 years of age and older. Entries will be accepted via the Rafflecopter below from 10/1/2015 to 10/7/2015 at 11:59 PM EST. Winner will be randomly selected and will be verified. Winner will be emailed and must respond with a mailing address within 48 hours to claim their prize.