This post sponsored by HH Greg and Kitchenaid.
Have you ever met a Super Heroine? I have. I have known her for most of my life. We even roomed together in college one year! I am going to introduce you to her in a few moments along with my Pumpkin Snickerdoodle 10,000 Cupcakes and GIVEAWAY Challenge! Yeah, that's what I said – Oh YES I did! We are going to be Cooking for the Cure – 10000 Cupcakes – One Great Cause!
Friends, meet Laura. I've known Laura for ….hmmm… about 30 years (believe me – we don't feel that old!). Although she looks like she might be a model, Laura is a Super Heroine! Really. She is. You will see in a few minutes when you keep reading. I wish I were more computer savvy – cause I would draw a little cape around her neck right here on this photo.
By looking at her demure size, you would never think she had opened a 55-gallon drum of whoop-tail on a deadly killer – TWICE – and knocked that demon on his keester! She has!
Anyway, I want you to meet Laura and I want to tell you about a super cool campaign that I am participating in with Kitchenaid and HH Greg! I want you to participate too! Together, with some Super Hero help, we are going to kick Breast Cancer in the Toosh and we are going to do it with CUPCAKES! Yeah! My kind of fight! A FOOD FIGHT!
Meet Laura – Super Heroine!
Friends, Meet Laura, wife and mother of two. Laura's days (like many of us) are filled with homeschooling, rushing kids from place to place and caring for her family. The caring doesn't stop there because Laura is also a Doctor of Audiology. In her daily work, she performs hearing tests and helps the hearing impaired with assistive aides. I have often wondered how she does it all.
And that is where I am going to stop…………
I wrote that before Laura answered the interview questions that I emailed her. I was going to summarize what she responded and type it into about 5 paragraphs here. Then…. I got her response. Her words are so beautiful and heart felt, I can't summarize. I'm just going to let her speak to you. My questions are in blue and her responses are in black.
1. Will you tell my audience something about yourself – wife, mother, husband, family, job – etc. What are your hobbies? Who were your besties in college? (lol). Anything else basic about yourself that you would like to tell.
I'm a wife to a sweet, supportive man, mother of 2, part-time homeschooling mom, part-time Doctor of Audiology, active in church and in my kiddos lives. I'm a spiritual person, so you'll hear some of that from me, and I just truly feel each life has so many special gifts and purposes. Two of the special gifts that have followed me around all my life are a great childhood given to me by my parents (this really shapes a person, ya know?) and 2) wonderful and close friends…..from childhood friends, to highschool friends, to college friends to mom-friends, to meeting friends in each and every season of life and loving them all. It's such a gift to have been given each one. As a believer in God and Jesus Christ, this is also the body of Christ to me .
2. When were you diagnosed with breast cancer the first time? What kind was it? What was the resulting surgery and treatment. How old were your children then (most of my readers are women between the ages of 25-35).
The first time I was diagnosed with breast cancer was January 2007. I was 38. I'd had our first child at 36, another at 37, so I had an 8 month old baby and a 2 year old at the time. I worked 3 days a week in a fairly high-pressure place, and we had our house on the market, as well as a house we were buying being remodeled, and we were living in a 3rd place. Stress much? LOL…The cancer was ER-PR positive and HER-2 positive. There are so many remarkable stories I could tell about each detail of the following year (like the tumor being one size per the General Surgeon, him hand-carrying it to the pathologist ASAP, handing it off in the middle of the street between buildings, and the pathologist calling him to say it was just the size of the outer limit of stage 1, not a stage 3 as the surgeon had feared when he saw the tumor), but I'll try to spare you too much of a book and stick with the facts. This diagnosis resulted in a lumpectomy, getting a port put in (best thing ever!), starting chemotherapy x 4 on Valentine's Day (during which there was anaphalaxis to one of the drugs, but I recovered, we switched the drug and we pressed on that day. I was not leaving without one chemo round done on that day!), I had 7 weeks of radiation following chemo, I had 19 herceptin infusions throughout the rest of the year (but these are kind of sleepy-spa-like hours once they give you all that benedryl before the meds!), and I had a hysterectomy at the end of the year for good measure, to reduce risk of 3 other types of cancer. Genetic testing showed I do not have the BRCA gene, there is no cancer in my family, there were no high risk factors for me, but I was chosen for it for many purposes. We might get to those later!
The gift of friendships, family and our church family got us through this time: people were the very real, tangible, working hands and feet of Jesus to us. We were humbled. We had a meal coordinator, a babysitting coordinator, two or three on point to take me to appointments if I needed it, people from my church who arrived at 7AM to watch my babies for me to go to radiation for 7 weeks straight, ladies showed up to clean my house for me. I asked for none of this. They all just did it. My wonderful college friends sent a HUGE care package with cards and encouragement and love. The hard part for the patient is accepting help sometimes. We are such prideful people and say "oh no, you don't need to do that!". But when we don't take the help that someone wants to give, we steal a blessing from them. Let them help. They'll be blessed by it. This is a life-lesson I learned. So now, when someone else is in need, I often don't just say "if you need anything let me know!" because they will likely not. I say "I"m going to bring you dinner on Tuesday, is that a good time?" Or "I'm gonna come clean your bathrooms. When do you want me?"
3. When were you diagnosed with breast cancer the second time? How long after the first diagnosis? What kind of cancer this time? Treatment and Surgery that resulted? How was this bout of cancer different than the first? (It is totally ok to be honest – you and I both know that this wasn't the light pink tutu – I'm going to go shopping next week right after this treatment is done kind of Cancer – this was the REALLY SCARY STUFF (ok, I didn't say stuff in my email – but this is a G-rated site).
It took a good 2-3 years to feel "like myself" again (after the first bout of cancer), but I did very well with all of it because I was strong and young enough to deal with all the treatments and surgeries just fine, and, all that support! Then, one week shy of the 5 years-cancer-free mark, I was diagnosed again. If the first go-around sounded like a big deal to you, hold on to your hat. Or your cupcake, as it may be. This time the cancer was triple negative, which if you don't know, is the really scary kind because the medical profession doesn't know what makes it grow or feeds it like they do with ER-PR positive. This time I had a double mastectomy with immediate reconstruction. This time I had chemo x 6, and praise God I still had the port. I was going to remove it after 5 years cancer free. And then, over the following 2.5 years, in a tale much too long and detailed to tell, I had 10 more surgeries and multiple hospital stays due to complications with reconstruction, infections, failed tissue expanders. failed surgery attempts. One of the surgeries was 24 hours long (unplanned, of course, thank GOD for my sister, husband, Enola and some other certain folks!!). I'm sparing you a lot here, but summarize with: 3 years post-double mastectomy I ended up with a left breast made up of one of my inner thighs (called a TUG flap) and a right breast made of part of the right latissimus muscle (called a lat flap), as well as a small implant behind each flap. The surgeon never gave up on me, nor I on her. The support continued through these years and y'all, I couldn't have made it without Jesus. There was so much support to make every visit to the surgeon happen…..someone would go with me 1.5 hours away (and we'd have big fun every time, BTW!) and another friend or family member would homeschool the kiddos for me. Amazing devotion.
4. What does day to day life for a breast cancer patient look like? (energy level, number of MD visits, change in lifestyle).
During the weeks and months right after diagnosis, it seems like all you do is go to doctors and appointments for various things. It dies down after a while, but for a bit you are there about every other day. It's not just say, an infusion, you have to go back to see if the infusion damaged your heart. And go back another day to see if your bones were affected. And go back again on a different day and have blood drawn. And so forth and so on. It does certainly take over your life for a while, but then it slowly begins to return to something more "normal" if things are looking like all that can be done has been done and there seems to be no evidence of cancer left by then. They can never really say, you know, that someone is "cancer free"……no one knows. To say that aloud to someone is remiss in my opinion. Now, folks who are living with cancer always, probably have a very different view on this….they will go to doctors on a regular basis always.
5. Where did you find your strength every day? (My blog is a Christian based blog so anything you want to say in that vein is fine by me!)
My strength undeniably comes from Jesus and all that He offers me, and in every way He showed and shows himself to me. The verse I held on to through every surgery, procedure, chemo, anything, was Isaiah 41:10: "Do not fear for I am with you. Do not fear for I am your God. I will strengthen you and help, I will uphold you with my righteous right-hand". If God could bring the entire Israelite nation out of Egypt, He can hold one little gal in the palm of His hand.
6. If you could do anything over – would you?
There are times I think I would choose to have never had cancer if I could choose that….all the BLAH parts of it. But, if I did that, I would have never seen the things I saw (God at work) and I would not have come to a closer walk with Jesus. There were literally times during cancer treatment I felt like I was floating on clouds. It was a supernatural high that I cannot explain. To be in the throes of cancer and feel like you are peacefully floating along is another, well, gift. I would not trade that lesson.
6. What is your best advice for someone facing Cancer?
Well that depends on if they are a believer or not. As a believer, I'd advise 1) to cling to the Lord for your peace. And 2) Journal about it. Journaling is so theraputic and you can say whatever you like. No one is going to read it unless you want them to see it. Keep a book with your journaling and take it to all appointments for writing questions, answers, things you witness and hear, thoughts, things God is telling you, things you learn, things that tick you off, the meds you are being given, things you are wondering about. And 3) there are well-meaning people out there who may just not know what to say to you if you have cancer. I call them WMPs…it's a real term. WMPs might say things that make you feel worse…..you can choose to not listen to them and just try to understand that they meant well when they said that thing that bothered you. It's OK. And If you are not a believer and you are facing cancer, I think my advice would be, come talk to me. LOL 🙂 or to another survivor.
7 . Is there anything important that I am missing?
Cancer does not define you. I am not identified by having had cancer, my identity is in Christ and my overall life.
Hair loss, but that's a whole other BOOK! Don't get me started.
I've given you too much to sift through as it is. I'd finish by saying there is joy in the journey. There's always laughter. Laughter!! Such a big part of my cancer journey as I look back! A diagnosis may seem daunting and horrible, but there are silver linings everywhere. Each person has every right to scream and cry and be mad and be devastated. And then when that settles, we must look around for the silver linings. We were not created to be defeated and fearful. We were created for relationship with God and others, so there is always joy and silver linings in what we were created for, even if we are sick.
***Thank you HHGregg for Sponsoring this post and making this all possible – The content and the opinions are ALL MINE!****
Why Pumpkin Snickerdoodle 10,00o Cupcakes and GIVEAWAY?
Because this post honors Laura. I want as many people as possible to tweet that text! Now – the Snickerdoodle part is different. I'm gonna tell you about our airplane ride. A few years ago, we went to Cancun with some of our other friends. Laura and I left the airport in Greensboro for a quick flight to Charlotte where we were to meet the others before jetting off to Cancun.
Our plane left the ground with Laura and I talking, talking, talking (much to other passengers dismay – one who even said, "SHHHHH!!!"). Then we talked some more. We laughed and giggled. We snickered some (see where I am going with this?). We were like giddy, snickery school girls all over again.
After flying for more than an hour (HEY! Aren't we in Charlotte yet?), the captain came over the loud speaker and said that the weather was so bad in Charlotte that we hadn't been cleared for a landing and that we would touch back down in Greensboro until better weather prevailed. WHAT? You mean, we have been flying around in circles above Greensboro/Charlotte for more than an hour and WE didn't even notice?
Nope. We didn't notice. We were too busy Snickering!
So – in honor of Laura, this 10,000 cupcake campaign to beat Breast Cancer and the fall season, I introduce you to Pumpkin Snickerdoodle Cupcakes!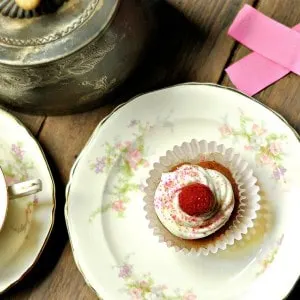 Pumpkin Snickerdoodle
Basically the tastiest cupcake ever.
Print
Pin
Rate
Ingredients
For the Cupcakes
3¼

Cups

All Purpose Flour

2

tsp.

baking powder

2

tsp.

ground cinnamon

1 ½

tsp.

ground cloves

1

tsp.

ground allspice

1

tsp.

ground nutmeg

½

tsp.

baking soda

½

tsp.

salt

1 ¾

Cups

granulated sugar

1

Cup

vegetable oil

4

large eggs at room temperature

1

tbs.

vanilla instant pudding

2

Cups

of pumpkin puree

or one 15 oz. can – DO NOT USE PIE FILLING
For the Icing
4

Cups

powdered sugar

sifted plus additional

1

tsp.

ground cinnamon

¼

tsp

ground nutmeg

12

oz.

cream cheese

room temperature.

8

Tbs.

unsalted butter

1 stick, room temperature

1

tsp

cinnamon

1

tsp

pink sugar sprinkles

or regular white sugar

16

raspberries
Instructions
For cupcakes

Preheat the oven to 350 and arrange the rack to the middle of the oven.

Coat 12-18 wells of muffin pan with paper liners or coat well with non-stick bakers spray

In a Large bowl (not the mixer bowl) sift together the flour, baking powder, cinnamon, cloves, allspice, nutmeg, baking soda and salt.

Into the bowl of a stand mixer place the sugar and 1 cup of vegetable oil. Using the paddle attachment, beat on medium speed for about 1 minute until the sugar is fully incorporated into the sugar. Scrape down the sides of the bowl with a spatula.

Break the eggs into a liquid measuring cup or small bowl.

Add the eggs one at a time and beat well after each one is added.

With the mixer on low, add the pumpkin and the vanilla pudding and beat until just combined.

Scrape down the sides with a rubber spatula.

With the mixer on low, add the dry ingredients slowly and beat for 1 minute until almost completely incorporated.

Remove the bowl from the mixer and using a spatula finish mixing the ingredients, making sure to scrape down the edges again and to mix the ingredients at the bottom of the bowl.

Fill the muffin cups to ¾ full.

Place muffin tins side by side in the oven and bake for 10 minutes.

Very gently, turn the pans around and bake until a toothpick inserted in the center comes out clean – about another 10 minutes.

Allow tins to cool on a wire rack for 5 minutes and then remove the cupcakes from the pans and cool completely before frosting.

For Icing

Set out cream cheese and unsalted butter to allow to come to room temperature.

Sift the powdered sugar.

Place cream cheese and butter into the bowl of a stand mixer fitted with the paddle attachment and beat on medium until fully combined and smooth – for about a minute.

Reduce to low speed and very slowly add the sifted powdered sugar and beat for another 3 minutes until fully incorporated and smooth.

Scrape down the sides of the bowl and make sure to incorporate the ingredients from the bottom of the bowl. If icing seems too loose, add more powdered sugar ¼ C at a time until desired consistency.

Place in the refrigerator for 10 minutes and then use immediately.

Ice the cupcakes with the icing, mix the cinnamon and sugar together and sprinkle mixture on the cupcakes. Top with a fresh raspberry.
Notes
Pumpkin is a versatile ingredient for this recipe.
Nutrition
Nutrition Facts
Pumpkin Snickerdoodle
Amount Per Serving
Calories 300
* Percent Daily Values are based on a 2000 calorie diet.
This Old Grandma Who Keeps Right on Working – Kitchenaid
I would be remiss if I didn't share with you a picture of my OLD Kitchenaid Mixer – (like 1970's or 80's old). My sweet husband has offered several times to buy me a new Kitchenaid – and YOU totally should go check out a PINK one! However, I love my old Kitchenaid, and I am just going to keep her around until she can't mix anymore. She is an old grandmother who patiently waits until it is her turn to work – and buddy – she works HARD – then we put her tools away and she rests until it is time to work again! Here she is today making Icing for these cupcakes! TIP: When you add powdered sugar to the bowl with the beater running, wrap a kitchen towel or paper towel around the gap where the bowl meets the mixer. Then you won't have a mess like this!
THE REALLY IMPORTANT STUFF
If Laura's story resonated with you at all – please know (Ladies AND Gentlemen) that you MUST protect and promote your own breast health. It is IMPORTANT to do monthly breast exams. You are feeling for anything that resembles a hard marble (may be larger or may be only pea sized or smaller – but hard like a marble). You are looking for unusual discharge from your breast. You are looking to see if one breast is larger, droopier, painful, red or a new size. You MUST go get an annual Mammogram. Please! It is important. Laura didn't say so, but I am sure she was following a monthly routine AND she is a medical person and knows what she is looking for! SEE YOUR DOCTOR IMMEDIATELY IF YOU NOTICE ANYTHING UNUSUAL.