Hello My Dear Readers!!! I am SO GLAD to SEE YOU! Thank you for visiting me!
Eat Dessert First! That is the mantra of my sweet mother-in-law. She exclaimed this as she scarfed down a big piece of Chocolate Cake for breakfast the last time she visited. I laugh every time I think about that scene. I would definitely recommend eating this Fudge Pie with Salted Caramel Sauce first – because if you don't, you might not get any!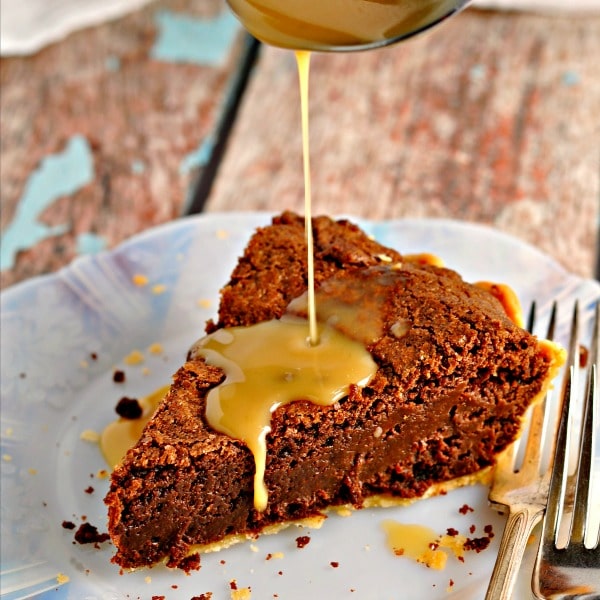 According to my dear husband, this fudge pie represents everything that is right with the world. He requests this fudge pie for his birthday cake, his Christmas present, Father's Day – you get the picture. He says that fudge pie turns on THE pleasure center in his brain and anything that is bad in his life suddenly fades to nothing. Wow – if I could make this in pill form – I would be RICH!
This recipe comes from my mother-in-law who has made the fudge pie for the last 40 years. I simply updated it and added the salted caramel sauce. This fudge pie is terrific in original form (same basic recipe – divided between two shallow pie crusts). This newest rendition is AWEEEESSOMMMME!
Here is a picture of the pie – without the salted caramel sauce….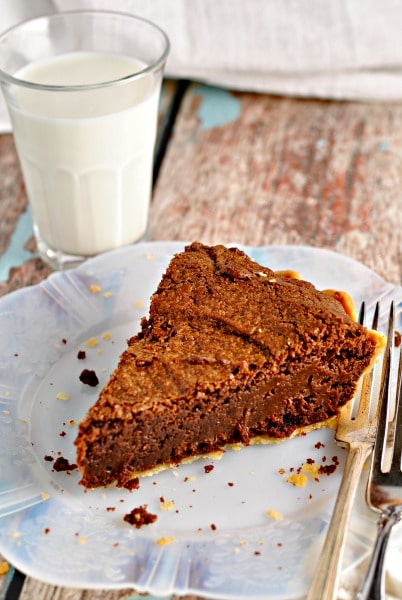 So – I hope you will give this fudge pie with salted caramel sauce a try the next time you are having company or need a dish to carry to a get together. The perfect dish to share. In fact, I carried the original recipe pie (which makes two pies) to an "auction" we had for our new building at church. I don't know how much they actually went for – but I do know there was a bidding war and my friend Julie ran to her car with BOTH of them!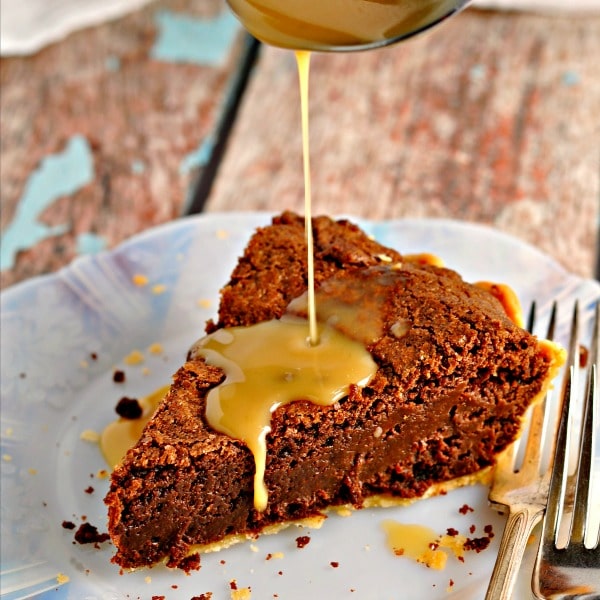 With that, I leave you with the charge to Make Dinner, Not War.
I hope you will subscribe to my website – right over there on the left hand side of the page – that way, I can let you know when a new recipe hits the blog. The place to subscribe looks like this…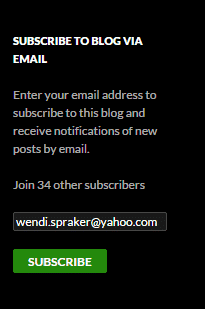 Join me on Tuesday
for a delicious and light roasted tomato and garlic quiche and later this week for … ( I hope, if I can keep Pete Spraker away ) crockpot roasted chicken.
Serving suggestions for Fudge Pie with Salted Caramel Sauce.
Serve fudge pie with salted caramel sauce warm with a good vanilla ice cream. Perfect for a dinner party or carry in dinner.
See, I am doing a new thing! Now it springs up; do you not perceive it? I am making a way in the desert and streams in the wasteland. Isaiah 43:19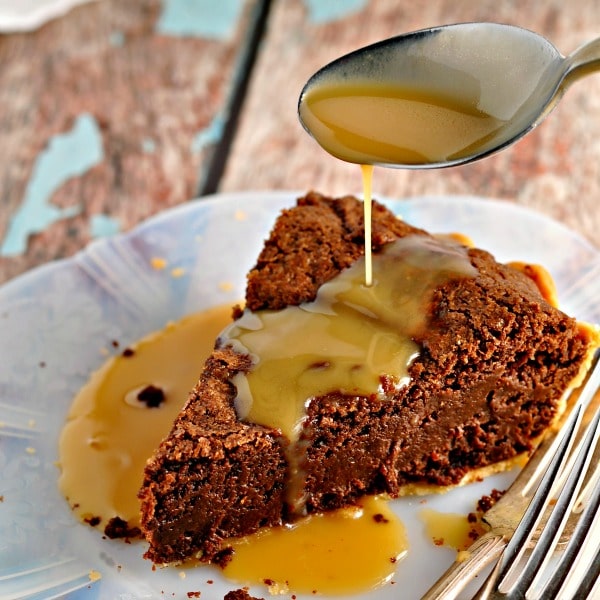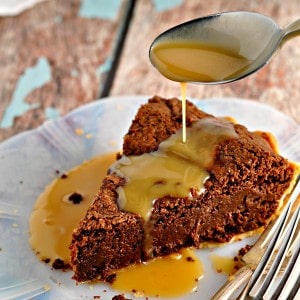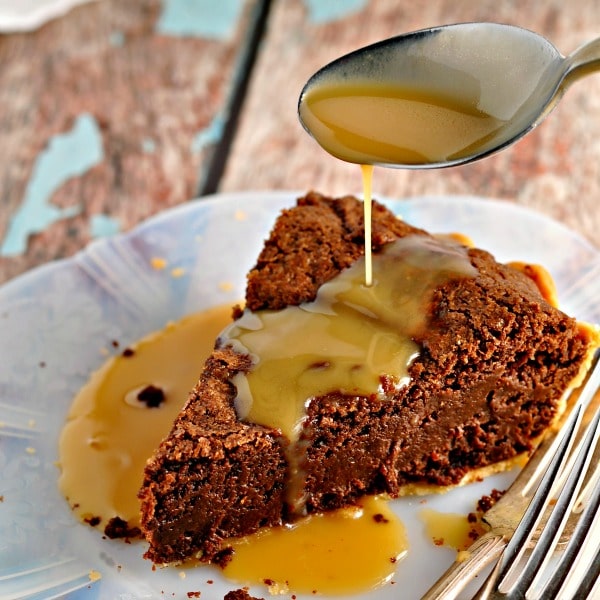 Fudge Pie with Salted Caramel Sauce
Fudge Pie with Salted Caramel Sauce - what else can I say - delicious!!!
Print
Pin
Rate
Ingredients
For the Fudge Pie
1

refrigerated pie crust

Only use the refrigerated crusts

6

Tbs

unsweetened cocoa

6

Tbs

all purpose flour

1 1/4

Cups

granulated sugar

1/2

Cup

peanut butter

2

eggs – room temp – beaten

1

stick of butter – melted

2

tsp

pure vanilla extract
For the Caramel Sauce
1

Cup

Sugar

5

Tbs

Butter – cut into slices

½

Cup

plus 1 Tbs Cream

1

tsp

vanilla

½

tsp

Sea Salt – or more to taste
Instructions
For the Fudge Pie
Two hours before making this pie, set the pie crust and the eggs out on the counter to come to room temp.

Melt the butter in the microwave – place in a coffee mug and microwave on high for about 30 secs. Preheat the oven to 350. Beat the eggs in a small bowl and set aside. Unroll the pie crust and center on a deep dish pie plate, press into the bottom of the pie plate and crimp the edges of the pie crust.

In a medium bowl, add the cocoa, flour, sugar and mix well. Add the peanut butter, eggs, vanilla and butter. Mix again until well combined. The pie filling will seem very thick.

Pour and spread the filling into the pie shell and bake at 350 for 45- 55 mintues. Pie is done when the surface no longer looks wet.

Remove from oven and allow to cool. Serve warm with salted caramel drizzle.
For the Caramel Sauce
In a HEAVY pan – not your typical sauce pan, use something heavy like a cast iron soup pot, put in the sugar (make sure pan is very dry before putting sugar in).

With stove on medium high heat, stir sugar continuously with a large fork (like a meat serving fork) or a wooden spoon. If some of the sugar sticks to the side of the pot – do not scrape it down. You will notice that for the first 2-3 minutes, nothing happens. 3-4 minutes in, the sugar starts to clump up – just keep stirring. Don't stop stirring. After another 3 minutes, the clumps start to melt. When all of the clumps melt, stop stirring. If you have a gas stove, allow the pot to set on the flame and shake occasionally until the caramel is the color you want, then turn the burner off. If you have an electric stove top, allow the pot to set on the eye until color that you want develops and then slide the pot off of the eye. Simply allow the pot to cool for about 30 secs.

Stir in the butter, stir stir stir while it melts – your pot may bubble up some at this point – which is fine. Keep stirring.

Slowly stir in the cream (don't use anything besides heavy whipping cream for this job – it needs cream). Stir continuously while adding the cream.

Stir in the vanilla and the salt.
Notes
This pie is excellent even if you leave the caramel sauce off
Nutrition
Nutrition Facts
Fudge Pie with Salted Caramel Sauce
Amount Per Serving
Calories 220
* Percent Daily Values are based on a 2000 calorie diet.
If you are feeling uncertain about the salted caramel sauce part of Fudge pie with salted caramel sauce at all – please check out Chef Jon's video on how to make the salted caramel sauce – my recipe is the same as his except you simply add the vanilla at the end.