I get it. I am aware that the interwebs probably DO NOT need even one more recipe for chili, texas chili, western chili, white chili, chili mac or even chicken chili. I just couldn't find a recipe that I thought was super tasty and simple and MOST IMPORTANTLY for future weeknight recipes, A ONE POT DEAL! Besides, I love cheese. It's good in everything – especially chili. So there.
That left me with one choice, create my own.
One thing I would like to stop and say right here. If you will give me just a moment of your time before we chat about the wonders of delicious comfort food. Loaves and Dishes is made possible by sponsorships like Annies Homemade. Annie's is not only awesome for letting me tell their story, but they also saved my daughter's life – keep reading to find why. Annie's YouTube channel is filled with great recipes and the cutest videos you ever saw. You can find their cute little bunny video HERE. If you look around on their channel, you will find lots of great recipes.
CUTE BUNNIES EVERYWHERE!
ANNIES HOMEGROWN ORGANIC FOR EVERYONE VIDEO!
Now, back to our regularly scheduled programming……With a hurricane on the way, cooler fall temperatures and a Saturday afternoon at home, what else would I do anyway? Those are the conditions for the best kind of comfort food, right? The kind of comfort food where you want to wrap up in your comfy blanket, grab your bowl of chili and binge watch some Netflix. Can I get an Amen?
Certainly I have told you the story of my baby's internal problems a few years ago? I know I have. Her organs were all enlarged to twice the size of an adult woman. No one knew why. The specialists ran all kinds of tests. No answers came our way. No advice came our way. Simply, "We don't know what is wrong. Go away and come back in 6 months and we will run the same tests over again"
I felt that they were telling me, "Come back in 6 months and we will see if something horrible has developed by then, but we aren't going to tell you anything to help fix the problem".
A friend of mine who is a homeopathic physician said he had some suggestions. He insisted that Sandy must start eating all natural and organic foods. Have you ever tried to persuade an 8 year old girl whose favorite foods are pizza, hotdogs and mac & cheese to eat organic? Please.
That is where Annie's Homegrown Certified Organic Mac & Cheese became a literal life saver at our house.
Sandy didn't have to give up all of her favorite foods. I learned a lot about reading labels and cooking. The best part? We found that all natural foods generally TASTES BETTER!
As a mom, I feel good knowing that Annies is a safe food for my baby.
That is why we still use Annie's Homegrown at our house today, 10 years later. (And just in case you wanted to know – after 6 months of eating only natural and organic foods – Sandy's organs returned to normal size – the specialists at the Children's Hospital said, "we can't explain it". I said, "I can". And that, my friend, is why you will mostly see whole foods and natural items here at Loaves and Dishes. I really can't cook any other way. Too dangerous for my family). Sandy is 18 years old now.
Now, where is my blanket? This chili only takes a few minutes to make and is super cheesy and delicious. Plus, EXTRA points for including ORGANIC MAC AND CHEESE! I have to excuse myself now, I've got to catch up on my Walking Dead before the new season starts next week. Come on and join me – but bring your own blanket and an umbrella!
THE RECIPE FOR CHEESY CHICKEN CHILI MAC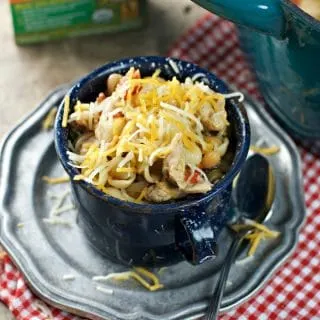 Cheesy Chicken Chili Mac
This delicious and easy chicken chili mac is something you'll want to keep you warm on a cold winter's day.
Print
Pin
Rate
Ingredients
2

tbs

olive oil

2

lbs

of boneless skinless chicken breast - cut into 1 inch cubes

¼

tsp

salt

¼

tsp

pepper

1

Tbs

of Worcestershire sauce

1

medium onion diced

3

cloves

garlic - minced

1

can of tomatoes and green chilis

1

can of Cannellini Beans

1

can of chopped green chilis

2

tbs

packed dark brown sugar

2

tsp

cumin

2

chicken bouillon cubes

4

cups

chicken broth

1

box of Certified Organic Annie's Homegrown Mac and Cheese.
Instructions
Prepare ingredients and open cans as noted in ingredients list. Heat 6 qt stock pot over medium heat on stove top. Add Olive oil - when oil begins to shimmer on the surface, add the chicken and sprinkle the chicken with salt and pepper. Stir. Add the Worcestershire sauce, onion and garlic. Cook for about 2 minutes until the onion begins to soften.

Add the can of tomatoes and green chilis, cannellini beans, chopped green chilies, brown sugar, cumin and bouillon cubes and chicken broth. Heat till boiling.

Add the contents of the box of Annie's Mac and Cheese - including the cheese. Bring to a boil and heat until the noodles are cooked through (about 8-10 minutes).

Garnish with fresh tomato, cilantro and shredded cheese. Curl up on the couch with your bowl of cheesy chicken chili mac and watch a good movie!
Notes
Delicious fragrant chili made easy with pasta!
Nutrition
Nutrition Facts
Cheesy Chicken Chili Mac
Amount Per Serving
Calories 280
* Percent Daily Values are based on a 2000 calorie diet.
TIPS AND TRICKS FOR CHEESY CHICKEN CHILI MAC
Use a nice heavy soup pot – it makes comfort food taste better.
When you put the chicken in, it might want to stick to the bottom of the pot – don't worry about it – it will eventually unstick and that will just add more flavor. Browned bits of chicken – YUMMY!
Let the onions and garlic cook till aromatic and a little translucent – about 2 minutes or so – just don't overdo it or the garlic will burn – its sensitive like that.
Cummin. I LOVE it. I could put SHOVEL LOADS of that stuff in everything. Some people are a little more sensitive to it than I am – its a personal thing – kind of like onions and garlic are. If this seems like too much to you – then just go easy on it. Put more the next time you make this recipe.
Salt and pepper. Usually, I encourage you to season at each step of the way – this time though – just a pinch on the chicken at the beginning. That is because the chicken boullioin cubes are quite salty. You will have to taste it at the end and see where you are on the salt and pepper. Nothing worse than ruining a dish with too much salt. Can't really be fixed.
This makes a BUNCH of soup. You can freeze some if you have too much left over. Just get some freezer quart size bags and seal them up with as little air as possible. When you thaw it and warm it back up – the noodles will be a little droopy – but everything still tastes delish!
Now, go get on the couch with your bowl of Cheesy Chicken Chili Mac and pull up the Netflix – THIS is comfort food!!
Just a note – Annies Homegrown mascot is a bunny – that is why we included Bean here. I am not recommending rabbit for your chili mac.
What is one thing you can do? Go visit Annies Homegrown on YOU Tube for more delicious recipe ideas – after the initial video – there are ALL KINDS OF recipes and great content to choose from!!! You can go over there by visiting RIGHT HERE! Thanks! These sponsored posts help to support the work of Loaves and Dishes year long. Visiting the sponsor is good for all of us! And while the sponsor is Annie's Homegrown, the recipe, ideas, thoughts, etc are all mine.
A VERSE TO SHARE
My American readers are well aware of the turmoil our country is in at the moment. I don't think it is appropriate to share my political leanings here, but I do want to share something about the current political situation. I had the blessing of hearing Max Lucado on the radio last night. He was talking about what will happen in the United States on November 9 – the day after the election.
Like Max said, the truth is that we must and will return to being neighbors and friends and coworkers. We must return to loving one another.
That reminded me of this verse from 1 Peter 3. I pray that you will read the words and soak in the idea. Seek peace friends. Seek peace.
Finally, all of you, be like-minded, be sympathetic, love one another, be compassionate and humble. Do not repay evil with evil or insult with insult. On the contrary, repay evil with blessing, because to this you were called so that you may inherit a blessing. For,
"Whoever would love life
and see good days
must keep their tongue from evil
and their lips from deceitful speech.
They must turn from evil and do good;
they must seek peace and pursue it.
For the eyes of the Lord are on the righteous
and his ears are attentive to their prayer,
but the face of the Lord is against those who do evil."
~ 1 Peter 3: 8-12