Creamy luscious and spiced just right, these refried beans are mistaken for restaurant refried beans! These beans are simple and quick to make. Let me give you all the tips for making the best canned refried beans recipe available!
Who can resist a basket of tortilla chips with a delicious bowl of the best canned refried beans that you ever tasted? It doesn't take much to doctor up a bowl of these refried beans. Let me show you how!
WHY THIS RECIPE WORKS!
Add flavor and creaminess with sour cream and cheese!

Use a little bacon grease for even more flavor!

No worries, I give you LOTS of substitutions in the recipe!
WHAT IS REFRIED BEANS RECIPE ANYWAY?
Refried beans are a popular dish of many hispanic cultures. Beans are cooked and then mashed or sometimes poured through a strainer to remove the skins.
Just like how we add butter, milk and flavoring to our mashed potatoes, the traditional recipes involve adding oil, stock and fragrant flavorings to the refried beans.
The beans are then reheated and used in many forms of cooking.
CHECK OUT THE RECIPE CARD BELOW FOR A QUICK INSTRUCTIONAL VIDEO OF WENDI FIXING SOME CANNED REFRIED BEANS!
Look at these great tips in this video!
WHAT'S THE BEST WAY TO SEASON CANNED REFRIED BEANS?
I like to season my refried beans with traditional flavors by using bacon grease, onion, garlic and something for a little heat. See the recipe card below for the best canned refried beans recipe.
The fact is that the canned refried beans are meant to be good enough to just heat up and eat, however, you can do a little better by adding some flavor yourself.
Try the recipe below and you'll see.
HOW CAN I MAKE MY REFRIED BEANS TASTE LIKE RESTAURANT REFRIED BEANS?
Restaurant refried beans are always so creamy and flavorful. They literally melt in your mouth.
You will achieve the same qualities by following the recipe below which adds great flavor.
WHAT CAN I SERVE WITH MY CANNED REFRIED BEANS?
Refried beans are terrific as a dip served with tortilla chips.

We also like them with Chori-Pollo or served alongside a Chori Queso Dip!
How about Southern Mexican Cornbread?
FREQUENTLY ASKED QUESTIONS (FAQ) AND TIPS AND TRICKS FOR REFRIED BEANS
DO REFRIED BEANS GO BAD?
Yes, refried beans can go bad. Look at your can for an expiration date if you haven't yet used your canned refried beans.
If you have already cooked your refried beans, they will remain good if kept covered and refrigerated for about 5 days.
CAN REFRIED BEANS RECIPE BE FROZEN?
Yes, once you cook your refried beans they can be frozen without any problem.
Place them in a sealable freezer quality plastic bag, remove as much air as possible, label with the name and date that you are freezing.
Your frozen beans are good for about 3 months.
WHAT'S THE BEST WAY TO COOK REFRIED BEANS?
The best way to cook refried beans is to follow the recipe listed in the recipe card at the bottom of this post.
WHICH IS THE BEST BRAND OF REFRIED BEANS?
The beans shown in the video are a little easier to break up and mix in. I used Old El Paso Beans.
WHAT'S THE BEST WAY TO DRESS UP REFRIED BEANS?
The best way to dress up canned refried beans is to add the items listed in the recipe below.
Adding a little flavored fat (bacon grease), sour cream, cheese, garlic, onion and Cayenne works very well.
ARE REFRIED BEANS RECIPE HEALTHY?
What is your definition of healthy?
Are you looking for a food high in fiber and relatively low in fat? Then refried beans are for you.

Are you looking for a vegetarian bean dish? Not all refried beans are vegetarian.

How about Keto or Low carb? Most refried bean dishes won't fit into a diet for keto and low carb.
LET'S SEE EXACTLY HOW THIS IS DONE….
First, heat up the oil and add the onion to cook till soft.
Then add the can of refried beans recipe and stir them till they are smooth.
Add the other ingredients
Heat until heated through and it's all done in about 10 minutes or less.
YA'LL BE SWEET AND HELP ME OUT, OK?
Leave me a 5 STAR 🌟🌟🌟🌟🌟 Comment below. If you made this recipe, I would love for you to share it with me on social media or just email me at wendi(at sign)loavesanddishes.net. Reader comments are the best. I answer right back!
Ya'll MAKE MY DAY when you leave me a comment 🌟🌟🌟🌟🌟 or send me an email!
Join me on social media by clicking the links at the top of the page!
THE RECIPE FOR THE BEST CANNED REFRIED BEANS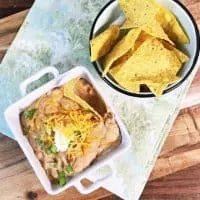 Best Canned Refried Beans
This recipe brings the luscious creamy flavor of Mexican restaurant style refried beans right to your kitchen! Easy and fast! It's ready in less than 10 minutes!
Print
Pin
Rate
Ingredients
2

Tbs

Bacon Grease

see notes for substitutions

½

Onion

chopped

1 16

oz

Can Refried Beans

⅓

Cup

Sour Cream

⅓

Cup

Shredded Cheddar Cheese

½

tsp

onion powder

½

tsp

garlic powder

¼

tsp

ground cayenne pepper

Salt and pepper to taste

Shredded Cheddar

Sour Cream and chopped green onion for garnish
Instructions
In a saucepan or frying pan over medium heat on the stovetop place 2 Tbs Bacon Grease and allow it to melt and get hot. Look for rippling in the surface of the grease to know that it is hot.

Add the chopped onion and cook till onion is soft, 3-4 minutes.

Add the can of refried beans (it will be chunky). Break the beans up with your wooden spoon. See notes if beans won't break up and stir in.

Once the beans are smoothly mixed in, add the sour cream, cheddar cheese, onion powder, garlic powder and cayenne pepper and mix well.

When heated through, taste the beans and see if they need salt. Add salt and pepper to taste.

Serve hot
Notes
If you do not have bacon grease, use vegetable oil (or any cooking oil) or butter. Seriously though, the bacon grease really adds flavor.
Sometimes canned refried beans are difficult to break up and stir into the mix. You can add vegetable oil 1 Tbs at a time to help loosen them.
Serve in a bowl for dipping chips and garnish with shredded cheddar, a dollop of sour cream and some chopped green onions.
You can also serve as a side dish to your other Mexican foods.
Nutrition
Nutrition Facts
Best Canned Refried Beans
Amount Per Serving
Calories 200
* Percent Daily Values are based on a 2000 calorie diet.
A VERSE TO SHARE
Have you ever made a mistake and just want to hide under the covers until the problems go away? Me too. A lot, actually.
Hiding from our mistakes is never the right way to handle things though. Is it?
Most of the time ignoring our problem only costs us more and makes more problems in the end.
This reminds me of the Garden of Eden. Do you remember what happens after Adam and Eve consume from the tree of knowledge?
They hear God walking in the garden and decide to hide in the trees.
Doesn't that kind of make you laugh? Here, the all powerful and knowing God is taking a stroll in the garden and they think they can hide from him in the trees.
Ummmm. Nope. That won't work.
Time to face the music and your decisions and the consequences.
The good news is that no matter what, God sees you and me too with loving and forgiving eyes. Jesus already paid the price of our salvation and there is literally nothing that God can't handle.
Thank you God for seeing me with loving eyes, even when I don't see myself with the same eyes.
Genesis 3:8
Then the man and his wife heard the sound of the Lord God as he was walking in the garden in the cool of the day, and they hid from the Lord God among the trees of the garden.