Welcome to Loaves and Dishes. Want to sing?  I knew you did….. "The weather outside is frightful but in here is so delightful and since we've no place to go, LET IT SNOW, LET IT SNOW, LET IT SNOW!!!!!"  (I get really obnoxious on that last part).  (I know this is a Christmas song – but hey, who cares?).   My philosophy on this weather is – I can't change it, so I'm just gonna go with it.   So – Just SING while you cook Classic Beef Stew – it is perfect for the weather. Since you make Classic Beef Stew in the crockpot – you will have plenty of time for SINGING!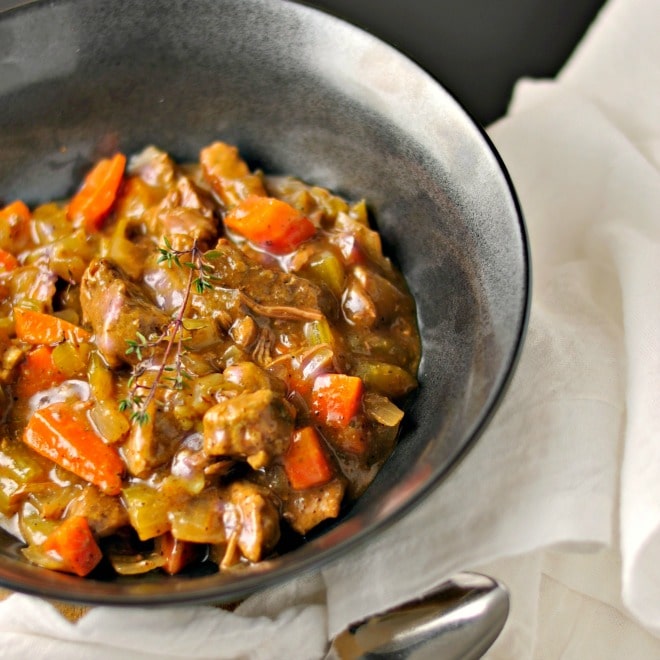 In fact, (you know I am a nurse in my real life, right?).  I was talking to my 95 year old patient yesterday and she said, "well, I don't know what everyone is complaining about.  It's winter – you don't expect it to be warm and sunny in the winter.  You expect snow in the winter and you just live with it".  True that. Wisdom comes with age my friend.
So – I'm celebrating winter by cooking things like Classic Beef Stew.  Made in the crock pot – just throw it in there and when you come home from work or come in from sledding – Classic Beef Stew is ready!!
Here it is in the crockpot – ready for the lid to go on for 8 hours…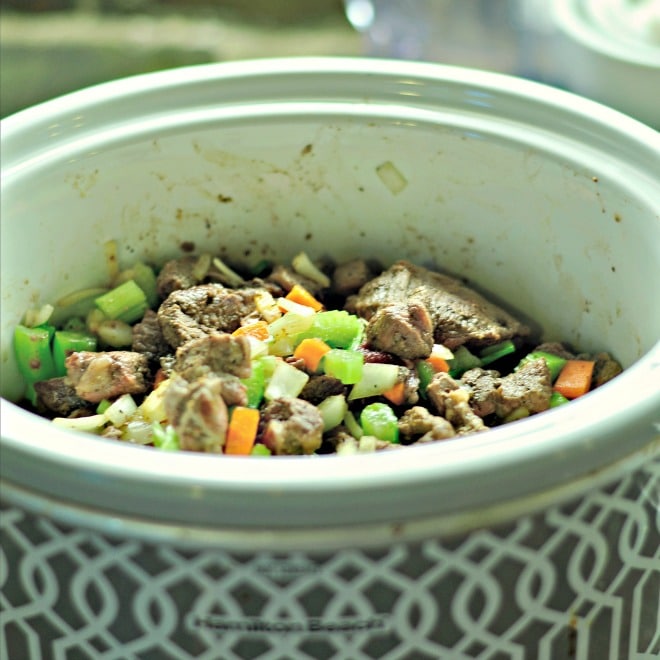 I realize Classic Beef Stew  has WAY  more ingredients than you are used to here at Loaves and Dishes – but I promise – it is worth it.  I have worked on this recipe for YEARS and this is what I have finally settled on.  This Classic Beef Stew  is so good that when I insisted that I save enough to make pictures for the blog my grown husband actually pouted.  So, I have to hurry and take the pictures for this post so that he can eat the rest. Food models are more than just a pretty face around here!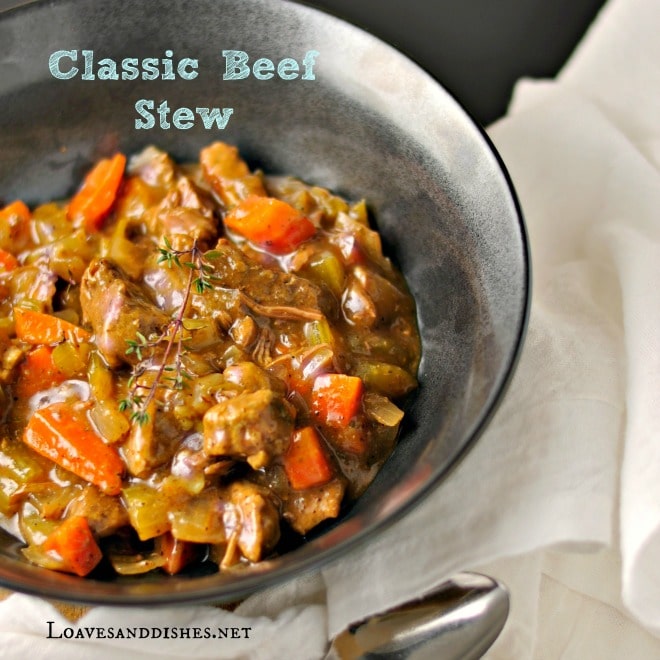 Thank you so much for visiting
Recipe inspiration for Classic Beef Stew
This is the final result after years of work.  I am done.  As far as we are concerned in this house, it is perfect.  I hope you enjoy.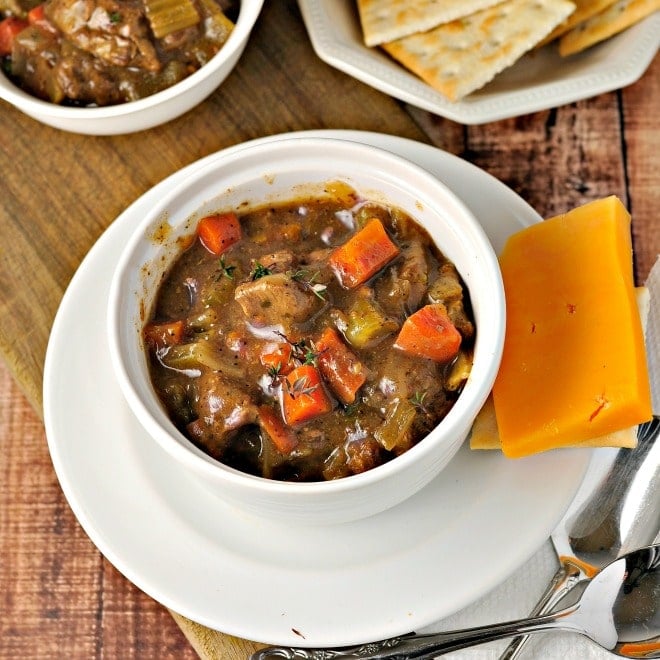 Don't forget to subscribe to Loaves and Dishes so that I can send you an email notice when the next recipe posts.  I PROMISE to never give (or sell) your email address to anyone else – and I PROMISE not to bug you to death!
Serving suggestions for Classic Beef Stew
We like to serve this stew with mashed potatoes (I like it on top of my potatoes) or egg noodles and a green salad.   A tasty winter dessert is good too – try Some Blackberry Cobbler Pie with this as the perfect finish to a great dinner.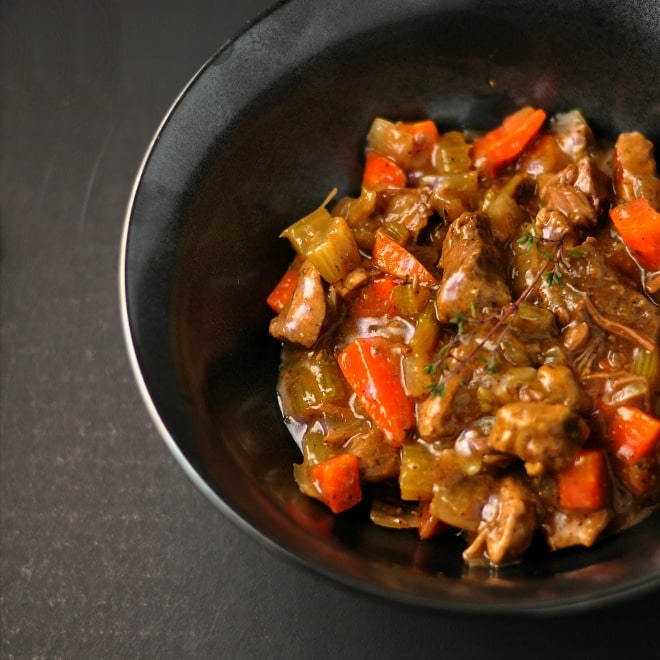 Now I ask you,  Make Dinner, Not War.
But the fruit of the Spirit is love, joy, peace, patience, kindness, goodness, faithfulness,  gentleness and self-control. Against such things there is no law. ~ Galations 5:22-23

Classic Beef Stew
This recipe for Classic Beef Stew is delicious and easy to make in your own crockpot at home. Fix it and forget it!
Author:
Loaves and Dishes
Ingredients
2 lbs Stew Beef – cut into 1" cubes
2 tsp Olive Oil
2 Cups Water
1 Tbs Worcestershire Sauce
1 tsp garlic powder (or one fresh clove garlic minced)
2 Bay leaves
1 medium onion – chopped
1 tsp salt
1 tsp raw sugar
½ tsp ground black pepper
½ tsp smoked paprika
½ tsp tumeric
½ tsp onion powder
⅛ tsp ground cloves
4 large carrots – quartered and cut into small pie shaped pieces
3 celery stalks – halved and cut into small pieces
2 Tbs corn starch
¼ cup water
1 packet of Hidden Valley Ranch dressing mix
Instructions
Brown meat in the olive oil in a skillet on the stove top over medium high heat (2-3 minutes). Place into crock pot
Add the 2 cups of water water and all ingredients to the crock pot. Cook in crock pot on low for 8 hours or on high for 4 hours.
minutes before serving, in a small bowl mix ¼ cup of cold water and 2 tbs of corn starch together and mix until corn starch is dissolved. Once dissolved, add to the crock pot. Add the packet of Hidden Valley Ranch dressing mix as well. Remove the Bay Leaves before serving