These potatoes are creamy, luscious, buttery and everything else that you LOVE about Mashed Potatoes. They are LEGIT! Classic Mashed Potatoes go with EVERYTHING!
WHAT MAKES THE BEST CLASSIC MASHED POTATOES?
What are most people looking for in mashed potatoes? The answer is simple.
Great potato flavor – (potatoes don't actually have a lot of flavor, so that is up to you to season properly with salt and pepper).
Perfect Buttery flavor – again, put the butter in there and some salt!
Thick potatoes, not thin – check out the instructions and tips and tricks section to understand how to get thick potatoes.
Creamy or chunky? – this all depends on how much you mash or whip. See the tips and tricks section for this answer.
WHAT KIND OF POTATOES DO I USE FOR CLASSIC MASHED POTATOES
You can use ANY kind that you like, but for classic potatoes, really, Russet potatoes are the go to.
I frequently use red potatoes or yellow gold potatoes because my family likes that consistency AND the BONUS?
I don't' have to peel them! (OK -that is REALLY why I always choose red or yellow golds, but don't tell anyone what a lazy cook I am!).
At any rate, the recipe remains the same whichever kind of potato you use.
HOW LONG DO YOU BOIL THE POTATOES FOR CLASSIC MASHED POTATOES?
This one is tricky. The REAL secret is that you boil the potatoes until you can insert a fork into the potato very easily. It just slips right in. Usually, this is about 10 minutes or so.
The potato should be soft enough that you would be ok with biting into it and eating it as is (well, maybe with a little salt and butter).
What you DON'T want to do is to boil the fool out of your potatoes. This will make the final product taste watery and grainy and that is just ewww! You'll know that you let the fool get out of your potatoes if they start falling apart in the cooking water.
That's just a joke, but seriously, if the potato starts to fall apart, you've boiled it too long. You can still eat them this way, it's just that the consistency won't be as nice.
HOW SHOULD I CUT UP A POTATO BEFORE BOILING IT FOR CLASSIC MASHED POTATOES?
In a sense, it doesn't really matter, so don't get too excited. The MAIN thing is that you want to cut all of the potato pieces into the same size chunks so that they cook evenly.
Generally speaking, I cut my potatoes into 2" blocks and then the potatoes are ready in about 10 minutes. If you go with smaller pieces, they will cook more quickly and larger pieces will cook more slowly.
WHAT DO I DO TO THE WATER BEFORE I COOK MY CLASSIC MASHED POTATOES?
You will definitely want to salt (about a tablespoon per 5-6 quarts of water) the cooking water and other than that, start with cold water in your boiling pot.
HOW DO I MAKE CREAMY CLASSIC MASHED POTATOES?
Essentially, follow this recipe and then use a mixer (stand or hand mixer) to whip the potatoes until there are no lumps. The cream, butter and sour cream make these mashed potatoes very creamy.
****THE BIG SECRET FOR CREAMY CLASSIC MASHED POTATOES****
Add Mayo for creaminess. It doesn't take a lot, just a small spoonful. One heaping teaspoonful is usually enough when making classic mashed potatoes for 4 people.
WANT TO SEE WENDI MAKE THE CLASSIC MASHED POTATOES HERSELF?
Watch this video segment from Wendi's upcoming YouTube Channel and see everything up close.
INSERT CLASSIC MASHED POTATOES VIDEO CLIP ****COMING SOON****
TIPS AND TRICKS FOR PERFECT CLASSIC MASHED POTATOES
Use enough water so that your potatoes can have the hot water circulating around well. (A large 5-6 quart stock pot should do for 4-6 fist size Russet potatoes. A 2 quart saucepan is fine for a single fist sized russett.

Salt the water while waiting for the boil to start. Salted water boils a tiny bit faster AND it flavors the water and thus the potatoes so that adjusting the flavor won't be as difficult later.

If your potatoes are tasting bland at all, add more salt. Period. That's the thing.

When mashing potatoes, follow this general rule: Mash some potatoes first, add the entire amount of butter and see where you are with creaminess, add the sour cream and see where you are with your consistency (you might not even have to add any cream or milk) if they are thicker than you like, then splash in the cream/milk until they are the consistency you prefer.

Add salt, pepper and any flavorings you like last and then just give it a quick mix – don't over process.

Feel free to add some more flavor to your potatoes! Garlic powder, onion powder, parmesan cheese and truffle oil are all nice when added. Experiment some once you have the main recipe down.

If you have prepared your mashed potatoes and still have a little bit until dinner will be ready, cover the potatoes and set them back on the warm eye on the stove and they will stay warm enough to serve for quite a while.

Some people recommend to use a potato ricer for the creamiest potatoes, of course, you can try this but ricers can be a pain to clean up. It does make potatoes that are NOT lumpy.
HERE IS WHAT I USE TO MAKE CLASSIC MASHED POTATOES
I've been using this Farberware Stock Pot for about 30 years, I can attest that it is a good one. I suppose I'll be using it for as long as I can cook. (This is an affiliate link, you can click the photo to go straight through to Amazon where you can compare prices)

This is the potato masher that I use (I prefer my classic mashed potatoes chunky!). I've been using this masher for about 6 months because I left my antique potato masher at an Airbnb where I was staying with my college girlfriends and I cooked dinner for everyone. I didn't trust that they airbnb would have a hand potato masher so I took my own and ended up leaving it there. This is the replacement I bought – it works well.

Want to TRY Something REALLY Delicious?
Slather Some of THESE Gravies over the top of these potatoes!
YOU WON'T BE SORRY!
TRY These OTHER Potato Recipes by Loaves and Dishes!
Southern Fried Potatoes and Onions!
The Secret to Au Gratin Potatoes
How to Boil Potatoes for Mashing
YA'LL HELP ME OUT
Please leave me a 5 star 🌟🌟🌟🌟🌟 comment below in the comment section, all right? I would LOVE to know if you made this recipe or even if you are planning to! Of course, head on over to Pinterest, Facebook and Instagram and tag me with some photos of your creation!
I can't wait!
Ya'll know I love your comments!! ❤
THE RECIPE FOR CLASSIC MASHED POTATOES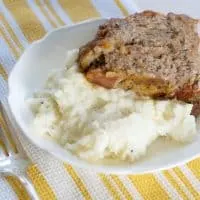 Classic Mashed Potatoes
This is a recipe for classic mashed potatoes made just the way you love them.
Print
Pin
Rate
Ingredients
1

Tbs

koser salt

3-4

Russett Potatoes

fist sized, peeled and cut into 2" squares

1

stick unsalted butter - cut into pat sized slices

½

cup

Sour Cream

1

tsp

mayonnaise

¼-½

cup

whole milk or heavy cream - reserve until you complete step 6

Salt and pepper to taste

4

Tbs

fresh Chives

chopped for garnish
Instructions
Bring 5-6 quarts of cool water with salt added to a gentle boil over medium high heat on the stove top.

Add the peeled and chopped potatoes to the boiling water (be careful not to splash any out on you). Cook until a fork can pierce the potatoes easily.

Drain the potatoes into a colander in the sink once they are cooked through.

Place the potatoes back into the boiling vessel once drained and immediately add the butter so that it can begin to melt.

Mash the potatoes using your hand masher or using your mixer.

Add the sour cream and mayo and mash well.

Check the consistency of your potatoes, if they are how you like them, then do not add the milk/cream. If your potatoes are still too thick, add ¼ cup of milk or cream and recheck. If they are still too thick, add the other ¼ cup of milk/cream. You may add milk/cream until they are the consistency you prefer - just be careful because they can thin suddenly so only add in small amounts at a time.

Once your potatoes are the consistency you prefer, taste them and add salt and pepper until they taste right. If they don't taste right, they need more salt usually. It takes quite a lot of salt to make mashed potatoes taste as you expect them too.

Place in servine bowl and garnish with fresh chives.
Notes
This is the recipe for classic mashed potatoes
Nutrition
Nutrition Facts
Classic Mashed Potatoes
Amount Per Serving
Calories 300
* Percent Daily Values are based on a 2000 calorie diet.