This post sponsored by Vovetti Prosecco.
Here we have the perfect upscale dish that is ready in a flash for a garden party! We have a lot to do and we don't have time to be hanging out in the kitchen all day! It IS spring after all – even though some of us saw some OF THAT WHICH SHALL NOT BE NAMED this weekend. When Sweet hubby, Mr. Loaves and Dishes saw the solid form rain, he said, "Hey April, you're drunk, GO HOME!" I would like to tell April, "Hello April, there ARE flowers to plant, yards to tend and porches to sweep PLUS garden parties to plan – so go away!" Creamy Thyme Chicken and Mushrooms is ready for a garden party!
When thinking about this post and all the celebrating we have to do, I was going to ask your help in choosing a main dish to go with the Prosecco I've chosen for our celebrations. However, that would be breaking a Wendi Cardinal rule: "Never be so dull as to ask the guests for help" – Wendi. Instead, I'll just say, "Why don't you come on out to the deck and let's have a glass of Voveti Prosecco and discuss plans".
So, anyway, I'm trying to plan a spring celebration for all of these weddings and graduations that keep happening at my house! As you know, my daughter Sarah was wed recently, plus she is graduating in a few weeks! Sarah's husband, Richie is celebrating his graduation and his NEW JOB! PLUS!!! I HAVE SUPER HEROS COMING FOR A PARTY! Don't believe me? Keep scrolling!
AND ONE MORE…. In case you don't know, my daughter Ashley and her fella James were wed last Friday. I am sharing their cute video I hope they don't mind!! Ashley smiled when she said, "Mamaw always said that I don't do things like everyone else". (I love her for that attitude – I think James does too).
But for now, I'm planning a celebration just for "us" (Mr Loaves and Dishes and the second new couple and me). I had thought I would host a little garden party for them, but with the white stuff and the wind and the cold, it will not be a garden party after all. Instead, we will be celebrating indoors with Creamy Thyme Chicken and Mushrooms. So DELISH! It is really the perfect dish whether you are able to be in the garden or not!
Ashley and James will be coming in just as I finish the day job so I need a quick and "fancy" dinner! I'll be serving this Creamy Thyme Chicken and Mushrooms, a no stir risotto (recipe coming soon, I hope) and roasted garlic bacon and brussel sprouts. For dessert? Their choice of Black and Blue Berry Pie or Strawberry pie!
I'll also be serving this Voveti Prosecco, a chic, modern Italian prosecco that is both upscale AND affordable. After a little research, I found that Voveti is a craft prosecco with only 15,000 cases produced annually. Not only that, but Voveti Prosecco is produced by a collaborative effort of the Collavini family and the Ferrer family – bringing FOUR generations of wine experience to the table. This is the perfect Prosecco to toast the new couple!
Voveti is a fruity effervescent drink and pairs well with several types of seafood as well as chicken and Chinese, Thai or Indian cuisines. However, since I'm stuck on this creamy thyme chicken and mushroom recipe, I can't really think of anything else because it is oh so celebration worthy! I think it will be a perfect pairing with the Voveti Prosecco.
THE RECIPE FOR CREAMY THYME CHICKEN AND MUSHROOMS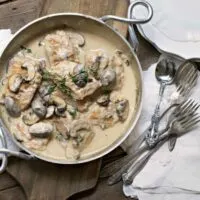 Creamy Thyme Chicken and Mushrooms
This delicious creamy dish is perfect for a celebration (or any night you want a delicious dinner!). It's fast to cook and so elegant on the plate.
Print
Pin
Rate
Ingredients
2

large or 4 small chicken breasts

3

tbs

vegetable oil

2

tbs

unsalted butter

½

cup

all purpose flour

2

tsp

salt

2

tsp

pepper

2

more Tbs vegetable oil

2

cups

baby bella mushrooms

sliced thick (about 3-4 slices per mushroom)

3

cloves

garlic

minced

6

springs fresh thyme - leaves removed

1

cup

pino grigo

½

cup

heavy cream

1/2

cup

grated parmesan cheese

½

tsp

salt

or to taste

¼

tsp

pepper

or to taste
Instructions
Cut chicken into uniform serving size pieces (2-3 per breast) and salt and pepper each piece liberally and allow to sit for 5 minutes.

Heat the vegetable oil and butter in heavy large skillet over medium heat.

In a medium bowl, mix the salt and pepper in the all purpose flour and then dip the chicken in the flour - pat the flour into the chicken breast pieces and then sear the chicken in the hot oil until each side is golden colored. Remove from the pan and set on a plate until all of the chicken is browned on both sides.

Add the extra vegetable oil to hot skillet. Saute mushrooms and garlic until mushrooms begin to brown.

Add white wine to skillet all at once, it will probably make a noise and some steam. Make sure to scrap up any brown bits on the pan - these add FLAVOR! Add thyme to mushroom/wine mixture in pan.

Add the chicken back to the pan. Bring to a boil, then reduce heat, cover and simmer for 10-15 minutes until the chicken is cooked through and juices run clear.

Remove chicken from pan. Add the cream and heat through. Add the parmesan cheese.

Cook, stirring constantly over low heat until cheese melts. Continue cooking until sauce is reduced by about ½.

Garnish with sprigs of fresh thyme.
Notes
If you are opposed to using wine in your cooking, substitute chicken stock instead.
Serve this over rice or flat noodles and spoon the gravy over the top. Delicious!
Nutrition
Nutrition Facts
Creamy Thyme Chicken and Mushrooms
Amount Per Serving
Calories 280
* Percent Daily Values are based on a 2000 calorie diet.
TIPS AND TRICKS FOR CREAMY THYME CHICKEN AND MUSHROOMS
Always salt and pepper your chicken before cooking – sprinkle with the salt and pepper and then let it set out on the counter while you get everything else ready.

When browning the chicken – let the pan get good and hot and wait until the oil is shimmering in the pan. It should make a pretty loud sizzle when you add the chicken. Once you put the chicken in the pan, leave it alone for a few minutes to allow it to brown. Do not put too many pieces in the pan at once – they need some room so they can brown rather than steam.

It is ok if the wine makes a big sound. Just keep going.

If you finish the dish and start to think – this doesn't taste as flavorful as I think it should – then that means add more salt and pepper. Add some and then taste. Add some and then taste. Don't add too much at one time because you can't take it back out.

Thyme tastes wonderful – I really don't think you can add too much.

Use the freshest mushrooms you can find – you won't be sorry. Fresh mushrooms still have the gills on the bottom of the "hat" closed – at least for the small button type mushrooms.

Try to avoid overcooking the chicken – no one likes dry chicken. It is hard to swallow.
Place me like a seal over your heart, like a seal on your arm; for love is as strong as death, its jealousy unyielding as the grave. It burns like blazing fire, like a mighty flame ~ Song of Songs 8:6