Welcome to Loaves and Dishes people with Spring Fever! What SCREAMS spring more than Robins, Easter Eggs and Time Changes? EASY HOMEMADE STRAWBERRY PIE! You know it's true! I have a 5 year old friend who will be SO EXCITED to see this post – because it will mean that a piece of pie is coming her way!
SPRING HAS ALMOST ARRIVED
I just can't wait to put the plants back out on the deck, plant my garden, plant my flower pots, replant some of my herb garden, watch the bluebirds play around the bluebird house and see the trees leaf out in my yard. More than that, I am excited to set up my canning operation on the deck and anxiously await the opening of my local Strawberry Patch.
Spring is such a happy time!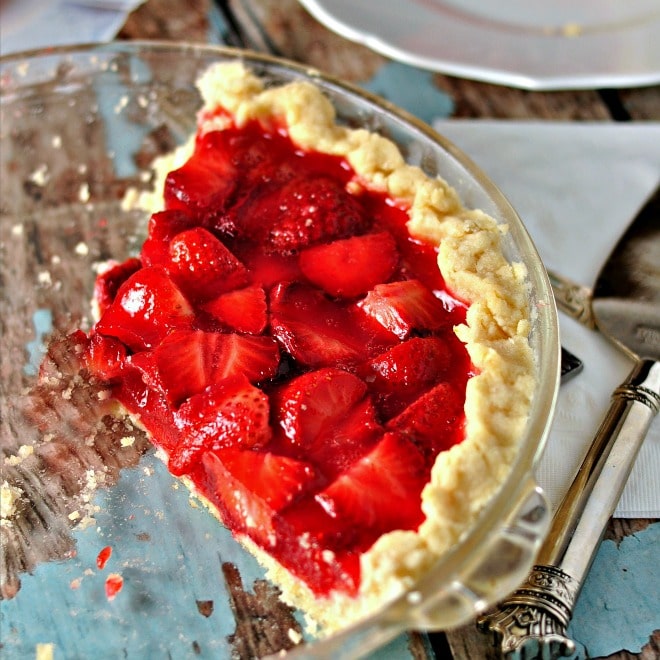 I thought I might share a few photos that also mean Spring. My daughter Sarah's spring touring concert with the Western Carolina Wind Ensemble. What a lovely performance by some amazing young musicians. This would be one reason you haven't seen a recipe from her in a while. Flute tooting comes first. Sarah is the one with the Piccolo (the tiny baby flute). See if you can find her. (Proud mama me wants to make sure that you find her).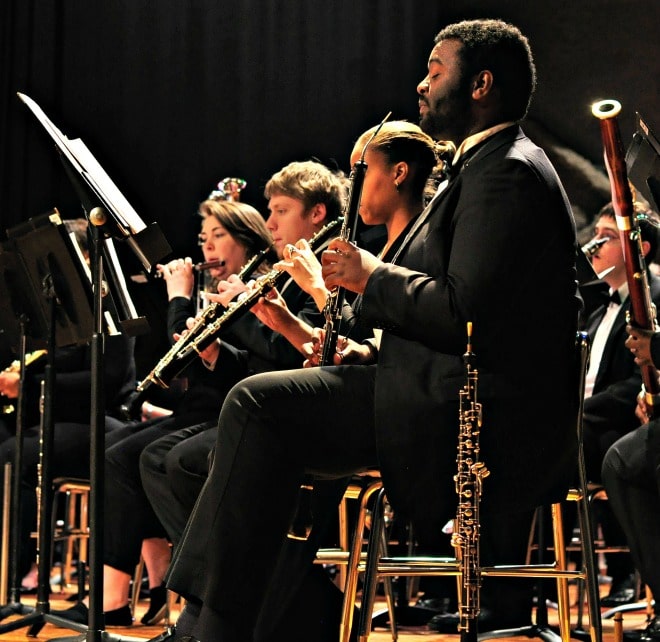 The Western Carolina Wind Ensemble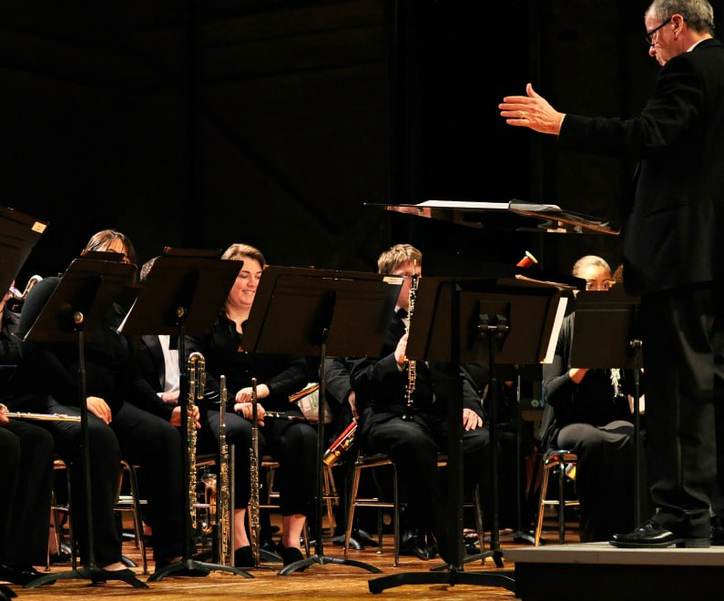 The Western Carolina Wind Ensemble
So, anyway, Easy Homemade Strawberry Pie is easy and delicious. You might be a little shocked by the ingredients – but I promise – the pie delivers. Yes it does.
Thank you so much for visiting
Recipe inspiration for Easy Homemade Strawberry Pie
This is my mother's strawberry pie. I have no idea where she got the recipe but she has been making this pie since I was a little girl and, believe me, that is a long time ago. I've never really had strawberry pie made any other way – and wouldn't want to. The nice thing about this recipe is that you don't have to have perfectly ripe strawberries. Trust me, its true.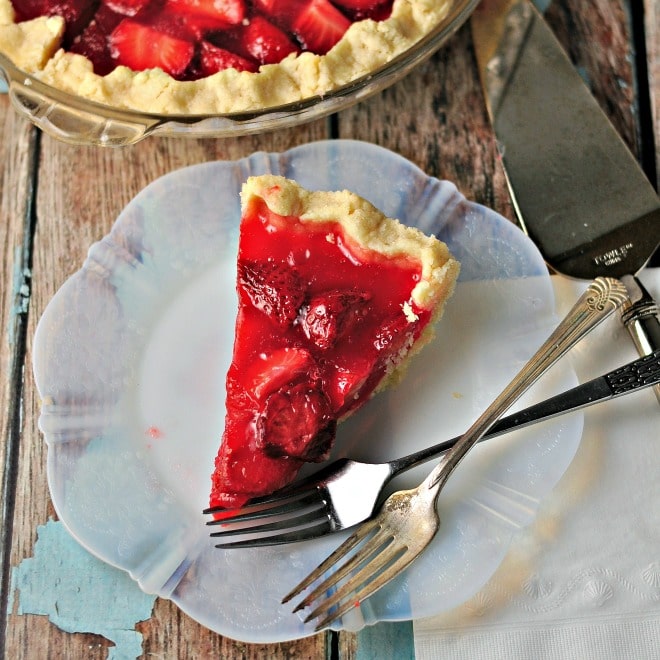 Don't forget to subscribe to Loaves and Dishes so that I can send you an email notice when the next recipe posts. I PROMISE to never give (or sell) your email address to anyone else – and I PROMISE not to bug you to death!
Serving suggestions for Easy Homemade Strawberry Pie
This pie is best when it follows a savory meal such as No Jerk Here Jerk Chicken and a fresh green salad like Arugula Caprese Salad
Now I ask you, Make Dinner, Not War.
I have no greater joy than to hear that my children are walking in the truth. ~ 3 John 1:4
Thank you so much for visiting!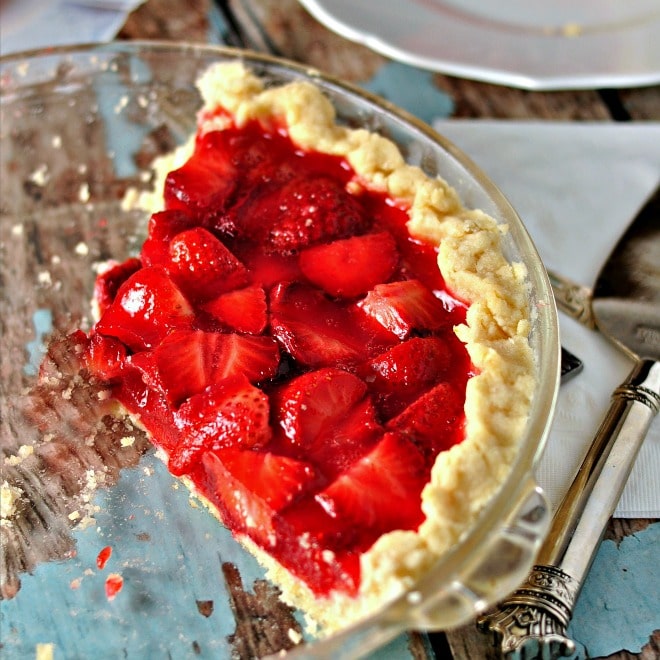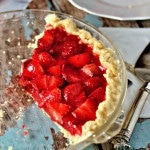 Easy Homemade Strawberry Pie
Simple delicious strawberry pie
Ingredients
For the filling:
1

quart

of strawberries

¾

cup

sugar

2

Tbs

cornstarch

1

cup

boiling water

½

pack strawberry jello
For the Crust
1 ½

cup

all-purpose flour

½

tsp

salt

2

tbs

sugar

½

cup

vegetable oil

2

tbs

milk
Instructions
Wash strawberries, remove stems and quarter – or cut into bite size pieces and set aside. Put water on the stove to boil. Preheat the oven to 425. Always make the filling first – because it needs to cool some and can do so while you make the crust.

Stir sugar and cornstarch together with a fork or whisk in a large sauce pan. Gradually pour the boiling water into this mixture and place on stove top on medium high heat. Stir continuously over medium high heat until mixture turns from clear colored liquid to a milky colored gel (mixture will start to boil – just keep stirring until it turns milky and a gel consistency – about 7 minutes).

Once gel consistency is formed – remove pan from the heat and stir in the ½ pack strawberry flavored jello and the strawberries. Set aside.

In a 9" pie plate, mix flour, salt, sugar with a fork. Make a well in the center and pour in the vegetable oil and the milk. Gently mix all ingredients together until a dough forms. Press the dough into the pie plate and using fingers, pinch into fluted design at top edge. Poke at least 5 fork holes with the tines of a dinner fork into the bottom of the crust. (to allow steam to escape without buckling the crust). Bake in 425 oven for 10 mintues. Remove from the oven and set aside to cool for 5 minutes.

Pour the strawberry mixture into the pie plate and place in the refrigerator until cold and set.
Recipe Notes
This is my mother's recipe! 
Nutrition Facts
Easy Homemade Strawberry Pie
Amount Per Serving
Calories 330
* Percent Daily Values are based on a 2000 calorie diet.