Today, we, (meaning sweet hubby [Mr. Loaves and Dishes] and I ) are on day 8 of what we could lovingly call "a cold" but for these writing purposes, I'll just call it "THE snotty coughing death". And while I had some lovely recipes planned that included a new spaghetti dish as well as a pizza dish perfect for spring this week, instead I am finding I only have the energy to prepare this quite delicious Crockpot Cheesy Potato and Chicken Soup. I hope you will indulge me and hopefully, next week I'll be back to my old "playing in the kitchen" self. Besides that, I hope YOU don't catch this stuff. Mr. Loaves and Dishes caught it last week and by Tuesday of this week, I wasn't feeling so hot either. The good news? I have a new crockpot recipe based on what is in the kitchen!
You will know this crud is upon you when you start sneezing uncontrollably and thinking, "Wow! Spring allergies are getting me like never before this year" HINT: It isn't allergies. It quickly progresses from there and I won't bore you with the details. Instead, I'll just share my bowl of soup with you. Although, honestly, you better get your own bowl – it's probably not good to share dinnerware at a time like this. While I can imagine this being a PERFECT bowl of soup for a cold or rainy day, I can also say, "It's always the perfect time for any combination of cheese, potatoes and chicken". Don't you agree? It is especially wonderful when you come home from work and everything is already done in the crockpot and all you have to do is add a few things and eat! So, now for the power express lane. Here is the recipe – right up front – and if you want to chat – meet me after the recipe and photos and we will discuss everything that needs discussing.
THE RECIPE FOR CROCKPOT CHEESY POTATO AND CHICKEN SOUP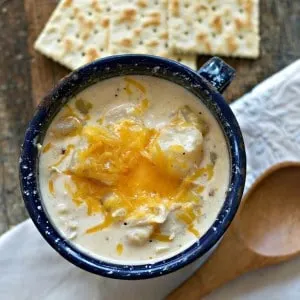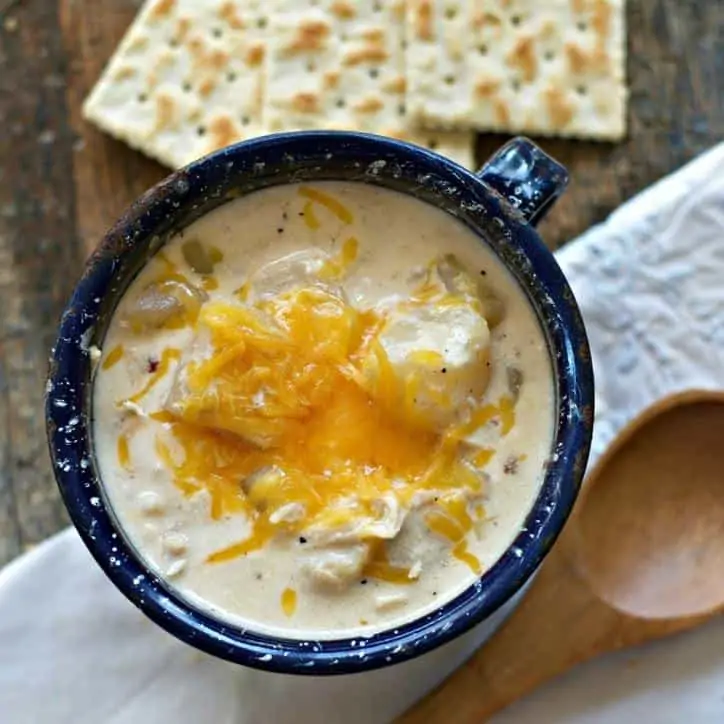 Crockpot Cheesy Potato and Chicken Soup
If you enjoyed this recipe, please visit www.loavesanddishes.net where there is more where that came from !
Print
Pin
Rate
Ingredients
3

large baking potatoes

Like Russets, peeled and cut into bite sized pieces

1

large bone in

skin on chicken breast

1

can cream of chicken soup

1

cup

of water

1

block of cream cheese

8 oz, cut into 1 inch cubes

4

chicken bouillon cubes

1 ½

tsp

garlic powder

1 ½

tsp

onion powder

1

tsp

chipotle pepper flakes

½

tsp

season all salt

½

tsp

ground black pepper

1

tsp

cumin

1

tsp

thyme

½

Cup

heavy cream

1

Cup

whole milk

1/2

Cup

Parmesan Cheese

Garnish: green onion

bacon bits or shredded cheddar (or all!)
Instructions
Place the potatoes, chicken breast, soup, water, cream cheese, bouillon cubes, garlic powder, onion powder, chipotle flakes, season all salt, black pepper, cumin and thyme in a crock pot and set on High for 4-5 hours or Low for 6-8 hours. When done, remove the chicken breast and shred using a fork. Discard the bones and the skin.

Before serving, add the heavy cream, the whole milk and the Parmesan Cheese and stir. You may need to allow it to set for 20 minutes or so for the whole dish to come to a warm temp.

Garnish with bacon bits, shredded cheddar or sliced green onion.
Notes
You can substitute chicken breast or thigh meat for the chicken.
Nutrition
Nutrition Facts
Crockpot Cheesy Potato and Chicken Soup
Amount Per Serving
Calories 330
* Percent Daily Values are based on a 2000 calorie diet.
TIPS AND TRICKS FOR CROCKPOT CHEESY POTATO AND CHICKEN SOUP
If, like me, you have a HUGE chicken breast to deal with that started out frozen and went for several rounds in the microwave to thaw (which I really hate doing) – anyway – if that is the situation and you are wanting this to be ready for lunch, it helps to cut the chicken breast up into large chunks so that it fully cooks in the crockpot in the 4 hour timespan.

If you want this recipe to be even better (how is that possible?), you COULD saute some onions and garlic and maybe some bacon in a frying pan and then sear the chicken in the pan before adding those to the crockpot – then deglaze the pan with the water and scrape the tasty bits off the bottom of the frying pan then adding all of that to the crockpot ( leaving off the garlic and onion powder). I think all of this would take an extra 10 minutes. Why didn't I recommend in the recipe to do it this way? Because nothing makes me madder than a crockpot recipe where you have to cook a bunch of things before putting it in the crockpot. There are apparently two tribes of people who use crockpots – one tribe views the crockpot as a slow cooker that is meant to slow cook the taste of the items cooked therein – enhancing the taste over the hours that the recipe calls for – and therefore, if some things are better if precooked, seared, etc. – so be it. There is a second tribe of people who view the crockpot as a kitchen helper who magically transitions food items put in the crockpot in the morning into a delicious dinner that is ready when one arrives home. I belong to the second tribe. I don't even want to add anything to a recipe once it is done – but will as long as it doesn't require a long reheat time.

If you have chicken broth, you can substitute chicken broth for the water and chicken bouillon cubes – I just don't have any at the moment.

The amount of chipotle flakes is just right (for me) it might be a little too much for you – so, if a little heat in your potato soup is not right for you – reduce it or leave it off. They add a wonderful little smoky flavor as well. If you only want heat and not smoky – you could go with red pepper flakes. But – hey – smokey is good with potatoes.

The chicken – you could use dark meat too – it is really up to you. I just happened to have a chicken breast I needed to use. Dark meat might even taste better!

This is a great soup to serve with a green leafy salad! Grilled cheese works too though!

You Might also Enjoy, How to Freeze Soup or Amish Potato Soup
OTHER STUFF BESIDES CROCKPOT CHEESY POTATO AND CHICKEN SOUP
So, now that I have written the real truth about the tribes of crockpot people – tell me which tribe you belong to? I am part of my tribe because for years, as a busy working mom, the crockpot was the only thing that saved me from pulling my hair out and/or complete exhaustion. I viewed my crockpot as a sweet old grandma who lovingly cooked for me and my family all day while we were away and who filled the house with delicious smells just waiting for our arrival. Lol. Corny, I know. But really, I do kind of look at my crock pot like that. I get kind of mad at her when I have to cook a bunch of things ahead and then add a bunch of things after – I mean, you need to do your job crockpot lady! Lol. So – what say you???? I promise – if you find a crockpot recipe on Loaves and Dishes – you will rarely have to do anything except throw ingredients in at the beginning of the day and come home 8 hours later to find your dinner is DONE! (I also get mad when a crockpot recipe is for only 6 hours – who works less than 6 hours and is home in time for that?). Please tell me about the crockpot tribe you belong to in the comment section! I LOVE to get comments and would love to hear from you!
I have no greater joy than to hear that my children are walking in the truth. ~ John 1:4