Sometimes you just want a little taste of home. Where is that exactly? For me, it is more of a time than a place. Home is back in the 1970's where my days always ended having accomplished at least a few of the following: a scraped knee, a scraped elbow, a bicycle ride, the sweaty grass smell only kids can get, dirt stains on my clothes and playing with a neighboring dog or cat. These would be followed by a hot dinner served around my family's table. Dinner was ALWAYS something tasty, hot and comfy at our house. Usually a meat and two or three veggies, a bread and a dessert. One of my favorites was "stuff over noodles" or "stuff over bread" (this is how you classify things as a kid). Crockpot Stroganoff certainly would have qualified as a "stuff over…" meal to me. It takes me right back to 1970 for sure.
Sweet hubby, Mr Loaves and Dishes, LOVES the Stroganoff that I make – you can find it HERE. He requests it A LOT. That particular dish has a lot of meaning in our relationship. I won't bore you with those details though. I don't make stroganoff a lot and now that I think about it, I kind of feel guilty about that. Why deprive the poor guy of something he loves so much? Another thing I need to work on. This week, when he asked for Stroganoff again, I thought, "I'm going to figure out how to make this in the crockpot". Today, I'll share my results. Thus, we go straightaway to the recipe with an express lane. I LOVE to chat with you and I hope you will join me after the recipe for some special Tips and Tricks concerning this particular recipe.
THE RECIPE FOR CROCKPOT STROGANOFF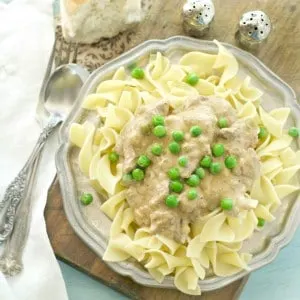 Crockpot Stroganoff
This crockpot stroganoff is ridiculously easy and pleases even the most picky eaters at my table, it will at yours too and if peas offend the picky ones, just leave them off.
Print
Pin
Rate
Ingredients
2

lbs

sirloin steak

Salt and pepper

1

medium sized onion – chopped small

4

cloves

garlic – minced

8

oz

fresh button mushrooms – sliced

8

oz

American cheese food

Velveeta type

1

Can Cream of mushroom soup

½

cup

milk

2

Tbs

A-1 Sauce

½

Cup

grated parmesan cheese

1

tbs

lemon juice

4

oz

cream cheese

½

Cup

sour cream

1

bundle of fresh thyme sprigs tied together with cotton kitchen string.

1

cup

frozen small peas

Salt and pepper to taste
Instructions
Remove the meat from the packaging and sprinkle with salt and pepper. Allow to set out on the counter while you assemble the other items. Place all of the items except the fresh thyme and the peas in the crock pot together. Stir well. Lay the thyme sprig on top and place the lid on the crockpot. Set the crock pot on low and come back in 8 hours. About 10 minutes before serving, remove the thyme bundle and then stir in the frozen peas – replace the lid and allow to warm for 10 mins. Serve over wide egg noodles or conversely over toast.
Notes
You can substitute just about any veggie for the peas. Carrots, broccoli or even green beans works well.
Nutrition
Nutrition Facts
Crockpot Stroganoff
Amount Per Serving
Calories 240
* Percent Daily Values are based on a 2000 calorie diet.
TIPS AND TRICKS REGARDING CROCKPOT STROGANOFF
I am assuming that any type of inexpensive beef would work. My original recipe calls for flank steak – which is difficult to find at our grocers (I live way on out in the country and our local grocery store doesn't have much choice in cuts of meat). Now, that we have our own beef in the freezer – half a cow at a time – flank steak is IMPOSSIBLE to find. I do, however, have many packages of steak tips (which aren't the steak tips like you order at the restaurant). These steak tips appear to be more just beef trimmings. If I were to simply grill them or fry them, they would be so tough that they wouldn't be edible (I've tried). That is why they are perfect for a crockpot recipe. After cooking all day – they are so tender!
I want you to note the garlic. I LOVE garlic. It is a safe bet that a vampire will never ever want a taste of me. Garlic probably pumps around my blood stream in little cloves. If you are not that crazy about garlic – you can always leave some of this off. Maybe you are the type of person who doesn't flinch when they see a recipe call for one clove of garlic. Personally I think that is crazy – why would you add ONE clove of garlic when you have about 10 in your hand? But that is me – adjust the garlic to your tastes.
Many times when I include processed cheese food in a recipe, people will comment, "can I leave the processed cheese food out"? The answer is always, "yes of course you can, it won't taste the same, but that is up to you". Here is my feeling about the cheese food issue – I have loved that stuff since I was a child. You know that I prefer whole ingredients hands down over anything processed. I've said that many times. Where I have recipes that call for cheese food, it is because it lends a creaminess and richness that I haven't been able to duplicate anywhere else. Plus I've read the ingredient list for cheese food and it doesn't seem that bad to me – maybe that is denial – but you be the judge for your family. If you decide to leave out the cheese food – I recommend adding more cream cheese and parmesan cheese.
Many times I will tell you to add "the stuff in the green can" for parmesan cheese. In this case, I'm saying, "Use the real stuff and grate it yourself". The taste is so much better!
Regarding salt and pepper to taste. The reason the recipe calls for "to taste" is because there is quite a bit of cheese in this recipe and cheese is pretty salty – and varies sometimes, you will want to add a little salt and pepper, taste it, then add more if it needs it once the recipe is complete.
Just as an aside – virtually anything you can bake in an oven, you can make in the crockpot!
If you would like more information about THE HEALTH BENEFITS steak and beef in general, please check out this study/article done by my new friend Helen. I think you will find it pretty interesting… CLICK HERE ***THIS INFORMATION WAS ADDED TO THIS POST ON 8/10/2016.
OTHER INFO ABOUT CROCKPOT STROGANOFF
We enjoyed this dish the other night when James and Ashley were visiting. Everyone gobbled it up and I heard James remark to Ashley that this would be something they could serve when his family is visiting. I think that says all that you need to know about this recipe. I will certainly be making it again for Mr. Loaves and Dishes. I like this version better than the original because – well, hey – it is a crockpot recipe! So easy!
Do you have a favorite baked dish that you would like to see converted into a crockpot recipe? If so, leave me a comment below and I'll see what I can do. I love a challenge!
Do Justice, Love Kindness, Walk Humbly ~ Micah 6:8