One of my favorite things, although I have rarely been able to replicate it, is a moist soft tasty cupcake. You know, the kind that isn't dry and holds up to the icing? The kind that isn't too sweet but is just the right kind of sweet? I'm completely crystal clear here, right?
Yeah, that's what I thought.
Well, anyway, the DELICIOUS kind of cupcake. The kind where you demand MORE and MORE and MORE. That is the kind of cupcake I'm talking about. The kind of cupcake that indicates that you probably own a pink apron and a bakery delivery truck.
Anyway, in this post, I want you to join me for the 10,000 Cupcake Challenge! You might remember that we did this last year and I introduced you to my friend Laura who has battled breast cancer TWICE and WON! You can read that HERE.
This post, though, is about my friend Tandra who has battled cancer like a warrior. Just look at my beautiful friend! Here she is…..
I hope you are seeing something similar between Tandra and Laura, because I do. I see a crown and a beautiful warrior's face. A woman who knows her worth and a woman who will unabashedly tell you about The King!
Although I've known Tandra for years, I had the pleasure of chatting with her about her journey this past Saturday. Tandra and I worked together at Hospice & Palliative CareCenter (HPCC) where Tandra has worked for the past 23 years.
While she is a Certified Nursing Assistant and also a Certified Medical Assistant, Tandra has been in management at HPCC for many years. Additionally, she has served The Hospice National Committee by writing Hospice Certification Questions. Tandra is an AWESOME reference for anything hospice related. Believe me, I know!
I asked Tandra about her cancer journey and she said, "When I first found out I had breast cancer in 2008, I cried a little bit and then I told my doctor, you know what? My God is the Great Physician and whether I'm here or on the other side, He can work through me. I'm going to go through whatever He wants me to go through". With that, she stopped crying.
"I prayed about it and I told my family not to shed any tears for me either because I'll walk His walk and I'll trust and depend on Him".
That first time, Tandra had a Stage I breast cancer that resulted in a surgical lumpectomy, 6 rounds of chemo and 33 radiation treatments. "My family said that what kept them going was my own faith".
Tandra also mentioned that since her treatment for breast cancer, she has also cared for her husband who became ill with Supranuclear Palsy. Darnell passed in 2014. Tandra does have three sons living in Charlotte and Winston Salem as well as 4 grandchildren.
At Christmas time last year Tandra started to have some medical issues that didn't seem right and she visited her doctor. Tandra was concerned because she knew that the Tamoxifen treatment she took could cause other problems.
As it turns out, Tandra was dealt the devastating news that cancer had returned. This time endometrial (surprisingly unrelated to the Tamoxifen, according to her doctor). She has just finished Chemo and radiation AGAIN.
One thing Tandra wants you to know is that she didn't really have any cancer risks. She has no family history of breast or other cancers. She eats right and exercises. She has her annual exams and follows up on her health. She asks you to make sure you are doing what you can to prevent cancer.
Do you know what Tandra said when she found out about her cancer diagnosis this time? She said, "This is my journey for someone who doesn't believe or for someone whose faith is wobbly".
"They will see that God is who He says He is." "God is the GREAT PHYSICIAN and while man may say I have cancer, my God is GREATER than cancer and when this is over God will tell Satan that he can GO!" Satan will tell you, "You ain't gonna live". "But MY GOD is Stronger".
Tandra says she had some really hard days, some days she couldn't even lift her head off of the pillow. "But I went to church because I am involved in the children's ministry and I went until I couldn't go because of the chemo" (chemo treatment often precludes that you can't be around children for a while).
When asked about some tips for others facing cancer, Tandra suggests keeping a book. She did. She calls it her "I AM" book where she records her "I AM" statements such as…
I AM VICTORIOUS
I AM A CHILD OF GOD
I AM statements give you encouragement especially when a prayer partner isn't available.
And, Tandra says, "To God be the Glory, I am OK". She encourages anyone facing cancer to understand that cancer is Spiritual Warfare too and you must suit up with the Armor of God and encourage yourself".
She says, "No matter what the outcome, you are gonna come out of this as a butterfly". You will be changed. "You just have to hold God's unchangeable hand". "You are beautifully and wonderfully made". She reminds you that you are made in the image of God.
While still working at HPCC, Tandra is now also attending Bible College. Her story is so moving, I think Bible College is the perfect place for her. Since I know she has those bases covered, I'm gonna go put on my pink apron and try to find a bakery delivery truck I can borrow 'cause I have some moist, easy, one dish cupcakes to show you.
HOW CAN YOU MAKE A DIFFERENCE?
You can make a difference by visiting the Cook for the Cure website FOUND HERE where you can learn more about how to donate in the fight against cancer and how to participate. Join the 10,000 Cupcake Challenge. Just like I did!
HOW TO WIN A PINK KITCHENAID MIXER!
If you will visit the Kitchenaid website to learn more about Cook for the Cure, you can enter to win a PINK KitchenAid Mixer! Visit HERE to do so.
THE RECIPE FOR EASY PINK VANILLA CUPCAKES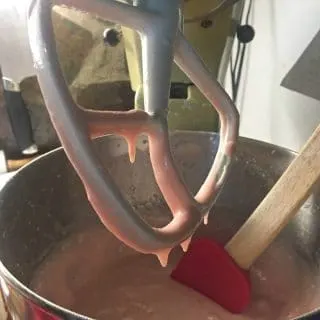 Easy Pink Vanilla Cupcakes
If you enjoyed this recipe, please visit me at www.loavesanddishes for more recipe that will have your family banging on the table for more!
Print
Pin
Rate
Ingredients
For the Cupcake
2

Cups

all purpose flour

1

Cup

Granulated Sugar

2

tsp

baking powder

¼

tsp

Kosher salt

4

large egg whites at room temp

⅔

Cup

milk

6

Tbs

unsalted sweet cream butter at room temp.

2

tsp

pure vanilla extract

1

tsp

pure almond extract

3

drops Neon Red food coloring
For the Icing
2

sticks of butter at room temp

1 8

oz

block of cream cheese at room temp

4

cups

of powdered sugar

2

tsp

pure vanilla extract

1

tsp

pure almond extract

4

drops red and 2 drops blue food coloring
Instructions
Preheat oven to 350 and place cupcake liners in cupcake pan.

In the bowl of your KitchenAid mixer (or other mixer - or in a large bowl if you will be using a hand mixer), mix together on low speed the flour, sugar, baking powder and salt.

Add in one ingredient at a time, mixing between the egg whites, milk, butter, extracts and red food coloring. Mix on a low speed until everything is mixed well then turn to high and mix for another minute.

Fill cupcake cup ¾ full - evenly divided. Will make about 12 cupcakes.

Bake for 18-22 minutes until cake tester or toothpick comes out clean. As SOON as it comes out clean, remove from the oven and allow to rest for 2 minutes before removing from the cupcake tin. Remove to a wire rack to cool completely. Allow to cool completely before applying the icing.

For the icing

In the bowl of a stand mixer, mix together the butter, cream cheese, powdered sugar, vanilla and almond extract.

If batter is too yellow for your liking, in a separate cup, mix the drops of food coloring together and stir with a toothpick. Dip the end of the toothpick in the food coloring mixture and dot it into the icing. Mix well on medium speed for 30 secs after each addition of the food coloring. When icing appears white stop adding. For mine it took about 6 dips of food coloring. Do not add too much and do not add the drops directly to the icing - otherwise, you will end up with violet colored icing.
Notes
If you prefer a white cupcake just leave the coloring out.
Nutrition
Nutrition Facts
Easy Pink Vanilla Cupcakes
Amount Per Serving
Calories 250
* Percent Daily Values are based on a 2000 calorie diet.

TIPS AND TRICKS FOR EASY PINK VANILLA CUPCAKES
Make sure that the butter is room temp – cold butter doesn't mix well.

If you forget to set your butter out to come to room temp – DO NOT melt it in the microwave or on the stovetop – that will give you an entirely different cake. Not one you will want either.

Food coloring is probably the most herculean food EVER. It takes only THREE drops to color the entire cake pink. Add more at your own risk. I mean, that stuff is MIGHTY. Three drops might sound like such a tiny amount – it is – but that is how powerful it is.

The icing will look slightly yellow when you mix it. If you want icing that is more white, follow these instructions – to the letter. In a separate cup, mix 2 drops of blue coloring and 4 drops of red coloring together. Mix with a toothpick. Dip the toothpick into the mixed color and dab it down into the icing – mix well. Repeat until the icing is the white color you want. It took 4 dips for mine to look right. BEWARE of going past the color you want. If you think it is close. Stop.

Use cupcake papers/liners
AND NOW YOU COULD WIN AT LOAVES AND DISHES TOO!
Here is how to enter – follow the instructions on the Rafflecopter below: