Always say yes to the Fried Green Tomatoes – that is a RULE for life so write it down! But… what about the Eggplant? Ummmmm. Well…… no. Not a fan. So, how about we substitute Fried Green Tomatoes for the Eggplant in a simple but OH SO DELICIOUS Fried Green Tomato Parmigiana? YES!
What is Parmigiana anyway?
Since I'm an ol' Italian girl – I'll just tell you! LOL! I'm about as Italian as a fried green tomato – therefore, I'll refer to my old friend wikipedia! Parmigiana is a simple Italian dish layering eggplant with tomato sauce and cheese. You have probably heard of chicken parmigiana – so you see, substituting the star of the dish with something else to sink your teeth into isn't unheard of.
The original Italian version doesn't use as much cheese as this recipe, but this is the Loaves and Dishes improv of this dish. As we say around here, "Cheese it up".
I should probably add that the original version does not involve breaded cuts like our popular United States Version. You be the judge on what you like as far as that is concerned, however, it wouldn't be a fried green tomato if it didn't have a breading on it!
Inspiration for Fried Green Tomato Parmigiana
Some weeks ago as I was thinking about dishes to create, it occurred to me that, "Of course, Fried Green Tomato would be delicious with tomato sauce and cheese, what's not to love?" Then it occurred to me that Fried Green Tomatoes are round and breaded just like Eggplant in any Parm dish.
Then, EUREKA! I've thought of a new dish!
Quick Google Search……
Not a new dish
That is the usual way with my genius. Someone else already thought of it. After 3 years of food blogging and many years of being a mad food scientist in my home kitchen, I promise – most all dishes have been thought of (well, any that you would actually eat at home).
I mean, there are those kinds of dishes where a chef makes a helium balloon out of dough and fills it with cheese doodle smoke and the froo froo people inhale it and say how wonderful it is. But, we aren't that kind of people are we?
No, we are not.
So, we will stick with things that we can actually cook and eat in our own kitchen like Fried Green Tomato Parmigiana
For this recipe, I simply pulled out my Fried Green Tomatoes Recipe and my 10 minute Tomato Sauce recipe and combined them with yummy cheese and baked it up – perfect!
The recipe for Fried Green Tomato Parmigiana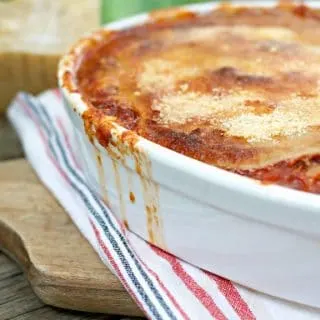 Fried Green Tomato Parmigiana
Basically the dish I want every weekend to feel like. Forever.
Print
Pin
Rate
Ingredients
For the Fried Green Tomato:
Bacon grease

Vegetable oil

1

large egg – beaten

½

cup

milk

1

tbs

white vinegar

½

cup

all purpose flour – divided

½

cup

cornmeal

1

tsp

salt

1

tsp

pepper

3

Hard green tomatoes

no red and a very firm feel sliced in ¼ inch slices – discard the ends.

Kosher salt to taste
For the Sauce:
2

tbs

butter

½

onion chopped in pea sized pieces

1

clove

of garlic – minced

2 15

oz

can of tomato sauce

2 6

oz

can of tomato paste

2

heavy pinches of dried chipotle pepper flakes

salt and pepper to taste

3

tbs

heavy cream

2

Cups

Mozzarella cheese - shredded

6

slices

provolone cheese.

½

Cup

Parmesan Cheese
Instructions
Preheat the oven to 350. Fill the bottom of a cast iron skillet with about ¼ inch of bacon grease and then mix in the vegetable oil to equal ¼ inch. Set stove top just below medium and allow the grease to become hot. If you use a thermometer – 350 degrees. If you splash a drop of water into the pan, you will know the grease is hot when it begins to sputter loudly as you drop the water in. While the oil heats complete steps 2-5.

Rinse off and then slice your tomato in ¼ inch slices and set aside

Place ¼ cup flour in a dish large enough for a tomato slice and set aside(I use a cereal bowl size bowl for each of these).

Mix egg, milk and vinegar together in a separate bowl (large enough for a tomato slice) and set aside.

Mix ¼ cup flour, cornmeal, salt and pepper together in a bowl. Set these bowls up in a row on your cabinet as follows: flour only, egg mix, flour/cornmeal mix

When oil is ready, first coat both sides of a slice of tomato in the plain flour, then dredge in the egg mix coating both sides well, then dip into the cornmeal/flour mix – coating both sides well. Then place into the hot oil. Do not move the slices around – allow to fry for 2-3 minutes per side. Remove to a paper towel lined plate and apply salt/pepper to taste. You can cook more than once slice at a time – but do not crowd and do not allow the slices to touch while cooking. Turn very gently so as not to disturb the coating.

Drain on a paper towel and allow to cool slightly before adding to the baking dish for the Parm.

In a sauce pot, melt the butter over medium heat until warm. Add the onion and cook until soft – 2-3 minutes. Add the garlic. Cook for 2 minutes more.

Add the tomato sauce, paste and the chipotle pepper. Stir frequently and allow to come to a simmer. Add salt and pepper to taste. Simmer for at least 5 minutes. add the heavy cream. Allow to come to temperature..

In a 2 quart baking dish, splash about ¼ cup of the tomato sauce on the bottom of the dish and then layer a single layer of the fried green tomatoes. Top with ½ cup of mozzarella cheese.

Then add another layer of the fried green tomato. Continues to alternate the cheese with the tomato until the dish is 1 inch from the top.

Add whatever shredded mozzarella you have left and the cover with provolone and the parmesan cheese.

Bake in the center of the oven at 350 for 45 minutes or until cheese is browned and the sauce is bubbly.
Notes
Make sure that you use green tomatoes with NO green.
Nutrition
Nutrition Facts
Fried Green Tomato Parmigiana
Amount Per Serving
Calories 330
* Percent Daily Values are based on a 2000 calorie diet.
Tips and Tricks for Fried Green Tomato Parmigiana
Make sure to fry the tomatoes crispy and then allow to dry on paper towels laid out individually across your counter top. Do not try to stack one paper towel on top of another because the tomatoes will get soggy – believe me, I've done it. I have a small kitchen with limited counter space too.

Make SURE that your tomatoes are firm and green and not simply the tomatoes that are mostly green when they are ready to eat. (Around here we call them stripeys – but you might call them something else).

You CAN use jarred sauce from the grocery rather than make your own sauce – just use a quality one. However, if you are going to all of the trouble to make fried green tomatoes, you might as well make the sauce too – it tastes so much better and it only takes about 10 minutes total.
To make for a different number of people:
You can increase or decrease the size of the recipe for more or less people depending on your needs. If you are cooking for two – simple use one tomato and a small quart sized baking dish and cut the other ingredients in half. You may have to decrease the baking time.

If you are cooking for more people, double or triple the recipe – just make sure to increase the size of your baking dish accordingly and you may have to increase the baking time.
Ingredients
Use fresh mozzarella if you can – it melts so much more nicely than pre shredded mozzarella and, frankly, I think it tastes better!

You could garnish this with parsley or you could grate some fresh parm over the top and that would really look nice, I just didn't.

I just want to add – this recipe is for a day when you really feel like cooking! This isn't a hurry it up and get dinner on the table recipe. However, if you have time, the cooking is worth it.

You could ALSO do this dish – and it might even be better this way – simply fry up the tomatoes, cook up your sauce and then serve a pasta, the tomato and top with sauce and cheese and then put under the broiler for a minute or so. The tomato would stay a lot more crispy that way! We might do that again in an upcoming dish!
It is super astounding how many recipes that I "dream up" only to find that the basic recipe is already out there. Reminds me of Ecclesiastes "there is nothing new under the sun". LOL.
So, with that in mind, I went searching for something Jesus himself said that would be similar. Didn't find it.
Jesus talked about other stuff.
I was finally lead to the book of Revelations – which I mostly steer clear of because – I don't understand much of it.
Revelations
That said, Revelations 3 is pretty clear. Revelations is thought to be written by "John of Patmos" (Not John the Apostle) a tiny bit of research reveals – we don't really know who wrote it.
Revelations 3 reads like a letter to each of the main churches and most scholars agree that it was written somewhere around 81-96 AD. (Per Wikipedia).
The last letter in Revelations 3 really speaks to me. The church in Laodicea is feeling comfortable. They have what they need. They are "rich".
The response to that? The writer says that they are "lukewarm" and that they can't even see that they are blind, poor and naked (in spirit).
He reminds them that Jesus is standing at the door knocking and that anyone who answers, Jesus will go in and eat with them and they with him.
A Conviction
This whole passage really convicts me. Does it you? First of all – how often am I lukewarm? A lot. I am lukewarm A LOT! YIKES! I need to pray about that and then DO something about it.
Are you pretty comfortable, like me? If there is one place you shouldn't get too comfortable is in your spiritual life – am I right? We should always be seeking and wondering and wandering!
Finally, are you ready for Jesus to come in and say, "What's for dinner?". Figuratively speaking? I mean, in our homes, most of the time we aren't ready for someone to waltz in the back door and say, "Let's have dinner, what are you fixing?". Right?
First, we have to figure out what to prepare. Are the good dishes clean and ready to use? We have to sweep under the dining room table! "I'm not ready to have Jesus for dinner!".
It is kind of that way in my spiritual world too – there is housekeeping to do before I'm ready for guests.
Some Good News
I think that the really good news is, Jesus knows about messes. Do you have that one friend who comes to your back door and you can holler, "Just kick your way through the mess I'm in the sun room sitting and thinking – get yourself a drink and come join me".
Thank God that I have at least one of those friends.
That's the way I think of Jesus. He knows my messes. He would probably be as happy with a tomato sandwich and some chips as he would a 5 course dinner. He doesn't knock on the door to be invited for dinner anyway. He is there because He Loves You – just like that good best friend.
Here is Revelations 3 (The letter to Laodicea) 14-22.
"To the angel of the church in Laodicea writes:
These are the words of the Amen, the faithful and true witness, the ruler of God's creation. I know your deeds, that you are neither cold nor hot. I wish you were either one or the other! So, because you are lukewarm—neither hot nor cold—I am about to spit you out of my mouth. You say, 'I am rich; I have acquired wealth and do not need a thing.' But you do not realize that you are wretched, pitiful, poor, blind and naked. I counsel you to buy from me gold refined in the fire, so you can become rich; and white clothes to wear, so you can cover your shameful nakedness; and salve to put on your eyes, so you can see
Those whom I love…
Those whom I love I rebuke and discipline. So be earnest and repent. Here I am! I stand at the door and knock. If anyone hears my voice and opens the door, I will come in and eat with that person, and they with me.
To the one who is victorious, I will give the right to sit with me on my throne,just as I was victorious and sat down with my Father on his throne. Whoever has ears, let them hear what the Spirit says to the churches.