Jump to Recipe
Ya'll.  Really.  Why are you buying spaghetti sauce in a jar? I know, I know, you think it is the easiest and quickest way to feed your family.  Maybe you even think you can't make spaghetti sauce! Today, however, I have the simplest, YUMMIEST and VERY EASIEST sauce EVER! It is a 10 minute homemade creamy spaghetti sauce that is FANTASTIC! Unbelievably, it is ready before you can boil the water and cook the pasta – what could be easier than that?  Nothing! (Best of all – you know what is in the sauce? No unpronounceable mystery ingredients – that's what!)
I created this creamy, tangy and tasty sauce last night when I had a PILE of meatballs ready for another recipe.  "DING" (that's my cell phone), I received a text message that sweet hubby wouldn't be home for dinner.  "DING",  the teenager won't be home for dinner either.  Hmmmm….. what's a hungry food blogger who is all alone for dinner to do?  Decisions, decisions.  Make all the meatballs for the original recipe? Save some and treat myself to pasta  and meatballs?
I decided to created my own quick pasta sauce and take advantage of a quiet kitchen!  That is what I did.  Yes siree! Then I sat in front of my kitchen TV and watched Curvaceous Couture (guilty pleasure) while I ate dinner.  What a treat!
Time by myself eating a bowl of noodles and scrumptious sauce while watching TV doesn't happen often.  I'm usually cooking and cleaning up for/after a crowd.  We seem to have dinner time flashmobs around this house.
How does that happen, you ask?  Simple.  Here is a typical day.  I work from  home –  I am ALONE all day – just me, Spooky and Pete (and they sleep most of the day – except to bark LOUDLY at the mailman, UPS man and the garbage man).  Sandy – the teen – does flit in and out, but she is always busy with her own affairs.  You remember being 17, right?
At about 4 pm, I will get a text message – "Hey Mom, I thought that maybe I would come home for dinner" (from oldest daughter Sarah).  Then "DING", text message from Sandy, "Hey mom, is it ok if Maya, Tudor, Fern and Cody come for dinner?  We are hungry.  They will all be here in about an hour".  Me – "sure".  So, instead of cooking for the usual three, I am now cooking for 8.  No problem.  I know that flashmobs at dinner time don't keep coming forever – only until graduation – and then they all fly out of the nest – off on their own.  I'm enjoying it while it lasts. Kids – even big teenage ones – need to have a hot meal in their belly, a pat on the back and an apron wearing mama to say, "Tell me about your day".
As you can see though, it is kind of a treat to only cook for myself!
Recipe inspiration for 10 minute homemade creamy pasta sauce
My mom makes the BEST pasta sauce ever.  She will tell you that she doesn't – but I KNOW.  I've been eating it my whole life!  She opens a can of tomato sauce and a can of tomato paste – and I'm not sure what else she puts in there.  She isn't telling because she isn't sure either.  She has made it for so long – she just does it by mechanical memory, I suppose.  Anyway, those two ingredients plus onion, garlic and some spices – and I knew it would be a hit.
With that, I'll leave you with this brilliantly easy recipe that you can fix right up for yourself.  What I prepared in this recipe was enough for 1-2 people.  Maybe 4 if you are a person who likes to use sauce sparingly (that isn't me – but you could probably have guessed that if you have read any of my other recipes like my Garlic Dill Potato Salad or my other wonderful, simmer all day Spaghetti Sauce).
You can double, triple, or increase the recipe by even more depending on how many people you expect for dinner – and what is SO BRILLIANT about this – as long as you have a few cans in your pantry  – you TOO are ready for a flashmob at dinner!!!  (Not to mention that as long as you don't add any meat or cheese – then this is vegetarian friendly and can even be vegan friendly!!  BRILLIANT! Sometimes my flashmobs have special diet needs – so this is good to keep in mind).
One more thing – if you want to create the dish shown in the photos – simply cook penne pasta according to the directions on the package.  When cooked, place in personal size oven proof dish.  Top with the sauce in the recipe shown here.  Top with some shredded mozzarella. Broil in the oven for about 5 minutes or until browned on top.  Garnish with extra shredded cheese, fresh shredded Parmesan and some chives.
AND one more very final thing – if you cook tomato based sauces in your iron skillets, you will need to re-season your skillet frequently.  You can learn how to do that HERE.  It is a very easy task- but if you would rather not – then choose a different oven safe dish.
That's all folks!  Let's EAT!
For I know the plans I have for you," declares the LORD, "plans to prosper you and not to harm you, plans to give you hope and a future. ~ Jeremiah 29:11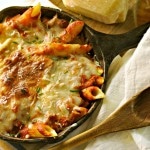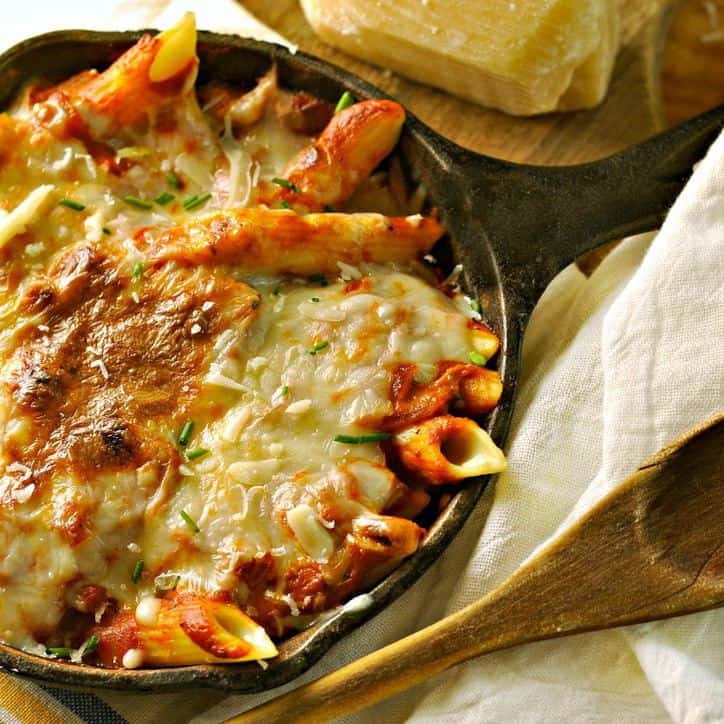 10 minute homemade creamy pasta sauce
Ingredients
2

tbs

butter

optional – 2 tbs vegetable oil if keeping vegan

½

onion chopped in pea sized pieces

1

clove

of garlic – minced

1 15

oz

can of tomato sauce

it is the bigger sized can of sauce

1 6

oz

can of tomato paste

1

heavy pinch of dried chipotle peppper

salt and pepper to taste

3

tbs

heavy cream

optional – 3 tbs almond milk if keeping vegan
Instructions
In a sauce pot, melt the butter over medium heat until warm (or if using vegetable oil – heat till shimmering). Add the onion and cook until soft – 2-3 minutes. Add the garlic. Cook for 2 minutes more.

Add the tomato sauce, paste and the chipotle pepper. Stir frequently and allow to come to a simmer. Add salt and pepper to taste. (If you are adding some meat or meat substitute to this recipe, add the already cooked meat at this point so that it can come to temperature). Simmer until ready to serve. 5 minutes before serving add the heavy cream (or almond milk if keeping vegan). Allow to come to temperature. If thicker than you would like, add some of your pasta water 1/8 cup at a time until desired thinness is achieved.

Serve over hot pasta cooked al dente per package instructions.