Grandma's Maple Pumpkin Bread. It's the only thing you need to get through a day like today. All in one day, sweet hubby ran an incredible fever, the dog vomited on the floor, the teenager was late coming home from a date AND the horse began to limp. You've had days like this, right?
You will never guess what my new phrase for a day like this is.
Sweet hubby could only nod and wave his hand in a feverish dream-state when I told him. The dog simply looked at me with big sad eyes.
We could just run away.
Well, I could, you don't have to….
But then again, who would carry soup back and forth to the bedroom? Who would let the dog in and out? Who would endlessly text the teenager, "WHERE ARE YOU? CALL ME!!"? Who would wait for the large animal vet to arrive at the pasture gate?
Oh yeah, we have a job to do here at home. So, sorry, I have to stay here. My job is called caretaker, everything , hey you .
Nope, I'm kidding, I'm just called Mom.
So, for today, Grandma's Maple Pumpkin Bread is what we need to get through the day. Soft and a little gooey with an aroma that takes me back to my grandma's kitchen. I can feel her arms tight around my shoulders as she hugs me into her apron. I can hear her heart beating and her soothing voice. I know I am safe and loved.
In just one breath of nutmeg and cinnamon I am transported to my spot at her table. I have my own little plate with some warm Maple Pumpkin Bread. There is a pat of butter gently sliding into the nooks and crevices.
Oh, what's that you ask? What is my new phrase for days like today?
Grandma Days. That is it. That is my phrase.
It's the days I miss her most of all.
I had a Grandma Day today. Now I have some Maple Pumpkin Bread to remind me and everyone at my house that we are safe and loved.
Enjoy.
RECIPE FOR Grandma's Maple Pumpkin Bread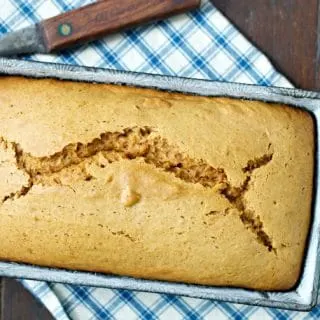 Grandma's Maple Pumpkin Bread
Soft, rich, mouth melting pumpkin bread. Should any survive to the next day, you'll want it all over again.
Print
Pin
Rate
Ingredients
1 ½

Cups

Sugar

4

eggs

1

cup

oil

1 ½

cups

maple syrup

use 100% maple syrup if available

2

Cups

pumpkin puree

mashed pumpkin - about 1 can

4 ½

cups

flour

¾

tsp

baking powder

1 ½

tsp

cinnamon

1 ½

tsp

baking soda

1 ½

tsp

ground cloves

1 ½

tsp

nutmeg.

1/2

cup

chopped pecans
Instructions
Preheat the oven to 300.

Prepare 2 standard loaf pans by coating with a layer of butter or cooking oil and a coating of flour. (You can use a baking spray instead).

In a stand mixer or with a hand mixer, beat together sugar, eggs, oil and maple syrup.

Add the pumpkin puree to the egg and sugar mix.

In a separate bowl, mix together the flour, baking powder, cinnamon, baking soda, ground cloves and nutmeg.

Add the dry ingredients (flour mixture) to the wet ingredients (pumpkin mixture) in thirds. Mix well after each addition.

Add the pecans and fold in by mixing on low for 30 secs.

Bake for 1 hour and 20 minutes.

Test to see if bread is done by inserting a toothpick in the middle - if it comes out clean - the bread is done. If any cake or batter is sticking to the toothpick, bake for another 5-8 minutes and retest.
Notes
You might as well go ahead and make a double recipe while you are at it. You'll want more.
Best with a slab of hot butter on the top.
Nutrition
Nutrition Facts
Grandma's Maple Pumpkin Bread
Amount Per Serving
Calories 200
* Percent Daily Values are based on a 2000 calorie diet.
TIPS AND TRICKS FOR GRANDMAS MAPLE PUMPKIN BREAD
It is important to prepare the loaf pans (bread pans) EVEN if they are non-stick. Grandma's Maple Pumpkin Bread is definitely NOT non-stick.

Remember to only add ⅓ of the dry ingredients to the wet ingredients at a time. You will have a big floury mess if you don't.

An hour and 20 minutes is a long time to bake – but oh so worth it.

Smells are FREE! Thank goodness!

This smells delightful and will make your whole house smell good!
A VERSE TO SHARE
When I have a Grandma Day, I am reminded of God's promise in Jeremiah to his people. My God is an AWESOME God. He hasn't forgotten us. He knows what is on our hearts.
"For thus says the Lord: When seventy years are completed for Babylon, I will visit you, and I will fulfill to you my promise and bring you back to this place. 11 For I know the plans I have for you, declares the Lord, plans for welfare[b] and not for evil, to give you a future and a hope. 12 Then you will call upon me and come and pray to me, and I will hear you. 13 You will seek me and find me, when you seek me with all your heart. 14 I will be found by you, declares the Lord, and I will restore your fortunes and gather you from all the nations and all the places where I have driven you, declares the Lord, and I will bring you back to the place from which I sent you into exile.
~Jeremiah 29: 10-14