Since the snow hit two weeks ago, I've totally been in the mood for winter. Except, of course, the last 3 days where the air feels bitter and biting and I have to actually wear a heavy coat when I go outside. I much prefer the type of winter where snow lingers, the sun is shining and the temperature hovers somewhere around 42. I know that is just a pretend winter, but that's what I like. We have those here in North Carolina. A lot.
In my favorite type of winter masquerade, we curl up on the couch with warm bowls of yummy, luscious soup. We wrap up in my grandmother's old quilts and hunker down away from the cold and chat about old times as we sip our delicious creamy mushroom soup.
Isn't that fun?
Instead I find myself on day three of something called "seasonally correct temperatures" (yes, the weatherman said that) and I believe it is so cold that my teeth are frozen together. I can see my breath when I stand near the back door (on the inside!) This, my friend, isn't fun or cute and is the sole reason I am dreaming of nothing else but a tropical vacation where I can throw my hand in the air to ask the cabana boy for another Georgia Mule.
This stinging frigid weather leads you to think of something much warmer than soup – like a 3 alarm fire for example. My other problem is that I have an iffy relationship with soup since last spring when I ate a spinach garden soup – and I SWEAR- it tasted like THIS. Seriously. How does someone make spinach taste like smelly fish?
Ewwwww. Believe me, it can happen. It made tears come to my eyes it was so bad. And BOOM, like that, I was cured of my near constant cravings for soups.
Then, my dear sweet Sarah, purveyor of all things good (she will like that I said that) said that she wanted to make her mushroom soup for the blog. "Your readers will LOVE it Mom"! In my heart of hearts, I knew she was right – but I was having flashbacks to that fishy tasting spinach soup.
"You'll have to make it…. And test it….. And taste it….. I just don't know if I'm capable".
Sarah agreed and the rest is history. I did taste her soup during our kitchen testing day. Now, I can't get enough. I have eaten a bowl of it daily since we shot these photos. I only have one bowl left- today's lunch is a sad farewell day!
Sarah's soup is her best guess for the mushroom soup at one of our favorite restaurants. I think she has it just about right. For some reason, though, she wasn't able to create the same ambience in my dining room as in the restaurant. I think it is because she didn't serve simple syrup with my tea so that I could feel elegant and fancy! Lol.
So – no videos today – only a wonderful velvety opulent mushroom soup that WILL keep you warm on a winter's day.
The Recipe for Homemade Creamy Mushroom Soup from Scratch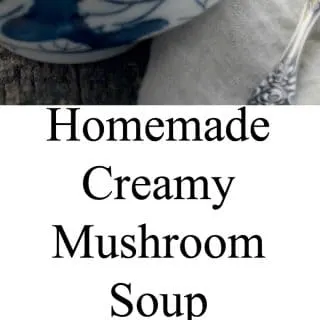 Homemade Creamy Mushroom Soup
If you enjoyed this recipe, join our tribe at Loaves and Dishes.net and get wonderful recipes right to your inbox every week!
Print
Pin
Rate
Ingredients
4

large cloves garlic - finely chopped

1

large shallot

or 2 small - finely chopped

2 8

oz

packages of button mushrooms - washed and stems taken off

1 8

oz

package of cremini mushrooms - washed and stems taken off

1

tbs

truffle oil

1

thumb size bundle of fresh thyme

1

tsp

salt

1

tsp

pepper

1 ½

cups

chicken broth

1 ½

cups

heavy cream

1 ½

tsp

lemon juice

Truffle oil and croutons for garnish
Instructions
Saute garlic and shallots) over medium heat on stovetop in a dutch oven until translucent. Add the mushrooms,truffle oil and the thyme bundle to the pan and add 1 tsp of salt and 1 tsp pepper and continue to saute by stirring occasionally until the water is released from the mushrooms (about 10 minutes). (You'll see that after the mushrooms cook for a while - all at once the pan looks like you put about ½ cup of water in there and the the mushrooms kind of wilt and shrink up).

Add chicken broth, heavy cream and lemon juice all at once. Taste and add more salt and pepper if needed. Heat over medium heat until foamy and bubbly throughout while stirring continuously. Remove the thyme bundle once the soup is heated through.

Remove about half of the liquid and reserve. Using a emersion blender blend the rest of the soup until it is a creamy and smooth consistency. Add the reserved liquid back in and heat till heated through again. Serve immediately - garnish with truffle oil and croutons if desired.
Notes
Always use several different varieties of mushrooms for this soup to come out perfectly.
Nutrition
Nutrition Facts
Homemade Creamy Mushroom Soup
Amount Per Serving
Calories 220
* Percent Daily Values are based on a 2000 calorie diet.
TIPS AND TRICKS FOR Homemade Creamy Mushroom Soup from Scratch
This recipe calls for an immersion blender. If you don't have one, that is ok. You can use a food processor or a blender. Just be careful dipping the soup out – don't burn yourself. Remember to leave about half of the soup unprocessed – that gives your teeth something to do while you are eating soup!/span>
This recipe calls for Croutons as a potential garnish. You can buy them, but I would recommend making your own – wow – it will be the difference between a restaurant quality meal and simply a terrific meal.

If you can't find the right mushrooms – just use a couple different types of mushrooms. Using several types gives the taste depth. However, definitely use the button mushrooms for the majority – you WILL be able to find those – and they are SO MUCH LESS EXPENSIVE!

One important thing. If you have never used an immersion blender- DO NOT TRY TO BLEND in the soup pot that you are using. It will splash EVERYWHERE! Sarah gave me one for Christmas and this is the first time we used it. You want the mushroom soup in your belly – not on your kitchen walls. Use a tall cylindrical something to blend in.

Yes, if you have an aversion to using heavy cream – then by all means – substitute with something else – however, the cream gives this recipe the correct consistency and taste. If you substitute with something else like whole milk, 2% milk or God forbid skim blue water (milk) the consistency will be off and so will the taste. Please don't ask me if you can substitute almond milk – yes- you can. I don't know what it will taste like – and I'm not going to test it either – because I've had a terrible run in with almond milk – but that is a different story.

Truffle oil. My local olive oil store went out of business and that has left me in the lurch for truffle oil. I checked Whole Foods – none on the shelves – the manager said that they have found something in the ingredients of the truffle oil and they pulled it. I checked my favorite kitchen store – they don't carry it. My checkout girl said "I think they have plenty at World Market". I checked Trader Joes and found some. Honestly though, it is fine- but not as good as what I was able to get from my olive oil store. If you have an olive oil store – go there.
A VERSE TO SHARE
Yesterday, I watched an interview with Oprah on YouTube. It is long and a little dated. That said, it is all pertinent and beautiful and I mostly looked like this when it was over. I hope you will watch it too – it will improve your soul. Which brings me to this…
Did someone offend you today? Does someone have a different political or religious view than you? Does it feel safer for you to stand with those who believe like you and point a finger at those who don't and scoff, laugh, taunt and disparage?
Of course it does.
That is not how you (or I) are led to be though. Not at all.
I don't really care which political side you are on. (There seems to be only two – and the middle ground where I stand is virtually vacant – I feel like the lone crier in the night – how about shooting me an email or leaving a comment if you are on my side – because I feel very alone in this). If you follow Jesus, then Jesus called you to act differently with your fellow man.
Of course you can have differences. Of course you can disagree. The other person wants to be HEARD. HEAR them. Move to middle ground. Stop antagonizing others. We, as a people, will never move ahead if we don't.
I said this to my 10 year old grandchildren last Saturday – and now I find myself saying it to you – "How do YOU want to be treated"? "That is how we treat others. We DO NOT treat others like they treat us – we take the high road – and treat them they way we WANT to be treated".
Here is the word of God. For the people of God.
Luke 6: 27-36
"But to you who are listening I say: Love your enemies, do good to those who hate you, bless those who curse you, pray for those who mistreat you. If someone slaps you on one cheek, turn to them the other also. If someone takes your coat, do not withhold your shirt from them. Give to everyone who asks you, and if anyone takes what belongs to you, do not demand it back. Do to others as you would have them do to you.
"If you love those who love you, what credit is that to you? Even sinners love those who love them. And if you do good to those who are good to you, what credit is that to you? Even sinners do that. And if you lend to those from whom you expect repayment, what credit is that to you? Even sinners lend to sinners, expecting to be repaid in full. But love your enemies, do good to them, and lend to them without expecting to get anything back. Then your reward will be great, and you will be children of the Most High, because he is kind to the ungrateful and wicked. Be merciful, just as your Father is merciful.