Popeye LOVED dark green, nutritious, tasty canned spinach and so will YOU! Once you know how to cook canned spinach! .
Why This Recipe Works
Easy!
Canned Spinach is ALWAYS in Season!
You probably have everything to make canned spinach taste good right in your kitchen!
Here's How To Cook Canned Spinach…
STEP 1.
Start with some flavorful bacon or in this case stock. Add the Canned Spinach.
STEP 2.
Season the spinach with salt and pepper, garlic or other seasonings…
STEP 3.
Heat all the way through.
Frequently Asked Questions About How To Cook Canned Spinach (FAQ's)
How Do I Season Canned Spinach?
You have some choices when seasoning your canned spinach, and it just depends on your tastes! You can choose…
Smoked Turkey

Bacon

Fat Back

Onions

Garlic

Cayenne Pepper

Hot Sauce

Vinegar

Hot Vinegar

Lemon

Sugar

Liquid Smoke
Try to pick at least…
one seasoning that adds some FAT (the meats) and then
a seasoning that adds FLAVOR (Onion or garlic – or both) and then
one flavoring that adds some HEAT ( Hot sauce, cayenne) .
Then, just for good measure, add a splash of some acidic something (Vinegar or lemon).
If you can pick something that adds smoke too, you'll really be in business!
See? That canned spinach are tasting better already!
HOW LONG WILL CANNED SPINACH LAST?
Your canned spinach will be good for several days if you follow my recipe below. I would throw them out after they have been in the refrigerator for 5 days though.
Simply allow them to come to room temperature after you cook them, then cover with some plastic wrap and put them in the fridge. They will be even better by tomorrow!
IS CANNED SPINACH GOOD FOR ME?
ALL spinach is good for you, including canned spinach. Canned spinach is an excellent source of fiber and calcium and even have a little protein.
Canned Spinach is low in calories! Just be careful, like all canned foods, they already contain salt.
CAN YOU FREEZE CANNED SPINACH?
If you have cooked up a can of spinach but just can't eat the rest, then yes, you can freeze them just fine.
When they thaw back out, simply heat them up. You will note that when they thaw back out, they are a little mushier than they were to start with.
TIPS AND TRICKS FOR HOW TO COOK CANNED SPINACH…
You will want to drain the canned spinach very well before you start to cook with it.

Most canned spinach is cut up much smaller than what you would do at home if you were making it from scratch.

Typically, you will want to add the flavors that I have listed above when you are jazzing up your canned spinach.
PRO TIP: Spinach and other greens are often bitter. If you are noticing bitter flavors, add more salt. Salt covers bitter flavors well.
IF You Enjoyed THIS recipe for How To Cook Canned Spinach You Might Also Enjoy These Other Canned Food Recipes…
Or ANY of our Canned Food Recipes!
YA'LL HELP ME OUT
I LOVE to hear from you and want your 5 STAR REVIEW 🌟🌟🌟🌟🌟! Please leave me a comment in the comment section at the end of this post.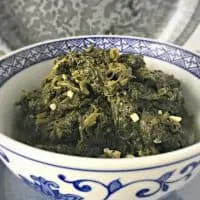 How To Cook Canned Spinach
Popeye LOVED dark green, nutritious, tasty canned spinach and so will YOU! Once you know how to cook canned spinach! .
Print
Pin
Rate
Ingredients
2

slices

of bacon

cut into 5-6 pieces each

2

slices

onion

chopped

1

clove

of garlic

chopped

1 14.5

oz

can of spinach

drained well

½

cup

chicken stock

1

tsp

white granulated sugar

2

tsp

hot sauce

like Franks or Texas Pete

2

tsp

white vinegar

Salt and pepper to taste
Instructions
In a medium sized saucepan over medium heat, add the cut up slices of bacon and allow those to cook till crispy. Do not pour off the bacon grease.

Add the onion and garlic and allow to cook till fragrant and softening (about 3 minutes).

Pour in the drained can of spinach, stock, sugar, hot sauce and vinegar and stir well.

Stir frequently and continue to heat over medium heat until heated through.

When heated through, the greens are ready to serve, taste first and add salt and pepper until you are satisfied with the taste. If they taste bitter at all, add more salt. Add more hot sauce, per your tastes.
Notes
The main idea is to add the following flavors to the spinach: smoke, savory meat, salt, sugar, vinegar and heat. You don't have to stick straight to bacon.
You can branch out and try smoked turkey wings, fat back, etc. '
If you are vegetarian, change the chicken stock to vegetable stock or water and use a few drops of liquid smoke instead of any meat.
PRO TIP: Spinach and other greens are often bitter. If you are noticing bitter flavors, add more salt. Salt covers bitter flavors well.
Nutrition
Nutrition Facts
How To Cook Canned Spinach
Amount Per Serving
Calories 181
Calories from Fat 90
% Daily Value*
Fat 10g15%
Cholesterol 16mg5%
Sodium 530mg22%
Potassium 1352mg39%
Carbohydrates 14g5%
Protein 10g20%
Vitamin A 20600IU412%
Vitamin C 66.7mg81%
Calcium 218mg22%
Iron 6.1mg34%
* Percent Daily Values are based on a 2000 calorie diet.
A VERSE TO SHARE
STOP! If you are averse to seeing anything Christian or religious, then I invite you to STOP right now. This part ISN'T for you. Go back up to the top and read about spinach.
I don't preach at people.
All I'm doing is simply sharing some happiness from my own life.
So, if you would like a little blessing to help ease you on your way, read on.
God has blessed me greatly and I am so thankful.
James 1: 17
Every good and perfect gift is from above, coming down from the Father of the heavenly lights, who does not change like shifting shadows.