Sometimes, you just need the taste of home to be as quick as possible and that means knowing HOW TO COOK CANNED GREEN BEANS ON THE STOVE.  It's easy to flavor your canned green beans so that they taste wonderful!
What I am going to tell you isn't difficult in the least.  You simply add a few seasonings and you'll be on your way to a mouthful of Southern flavors in no time!

JUMP RIGHT INTO COOKING AFTER WATCHING WENDI COOK THESE BEANS IN THIS VIDEO…
Here is a video of me cooking the beans and showing you exactly what to do.  If you want to see the full recipe with ingredient measurements, etc, the recipe is at the bottom of this post.

NOW BACK TO THE POST…
WHAT'S A GOOD SEASONING FOR CANNED GREEN BEANS?
Green beans are wonderful with all kinds of flavors.  The most popular flavors are:
Onion

Garlic

Bacon

Bouillon

Sugar
SUGAR?  Yes, that's right, sugar.  An elderly lady told me that years ago and that's how I've flavored green beans for years.  In fact, most vegetables taste best with a little tad of table sugar added in.
ARE CANNED GREEN BEANS ALREADY COOKED
There is a short answer and a long answer to this question, but the answer you are looking for is, "they are safe to eat straight out of the can".  The canning process cooks them enough for safety.
WHAT KIND OF GREEN BEANS SHOULD I BE COOKING?
You'll notice at the grocery that there are a selection of green beans available and I've described some of them below
FRENCH STYLE GREEN BEANS
These are typical green beans that have been split in half long ways thus making them "french style".  They taste the same as regular green beans for all intent and purpose.
ITALIAN GREEN BEANS
The Italian Green beans are a large flat bean with more green bean shell.  They have a typical green bean flavor and are just a little more of a mouthful.
BEANS AND SHELLS
You'll note that some of the green bean cans have more brown pea sized beans as well.  These are just the seed of the bean and makes for a yummy nuttiness to your green beans.
IF YOU ENJOYED HOW TO COOK CANNED GREEN BEANS ON THE STOVE, YOU MIGHT ALSO ENJOY….
Clays Famous Three Bean Casserole
Slow Cooker Green Beans with Bacon
How to Cook Yellow Squash on the Stove
TIPS AND TRICKS FOR HOW TO COOK CANNED GREEN BEANS ON THE STOVE
Drain the water out of the green bean can UNLESS you have purchased the green beans that have flavorings already in them EX: Margaret Holmes Seasoned Italian Green Beans.  

Many people will tell you that the water in the canned green beans contains lots of flavors, but personally, depending on what kind of beans you have purchased, you might not like the flavor of the water!  (The water won't hurt you, so if it is too late to drain it off, don't worry about it).

If you don't have some of the ingredients in the recipe, just don't worry about it.  The only things that are absolutely essential are the salt and pepper.

I know you are saying to yourself, "Sugar?", the answer is, "Yes, sugar, sugar" (say with a southern accent).  You won't be sorry.
YA'LL, HELP ME OUT, OK?
Please leave me a 5 star comment below in the comment section, all right? I would LOVE to know if you made this recipe or even if you are planning to! Of course, tool on over to Pinterest, Facebook and Instagram and tag me with some photos of your creation!
I can't wait!
Ya'll know I love comments!! ❤
THE RECIPE FOR HOW TO COOK CANNED GREEN BEANS ON THE STOVE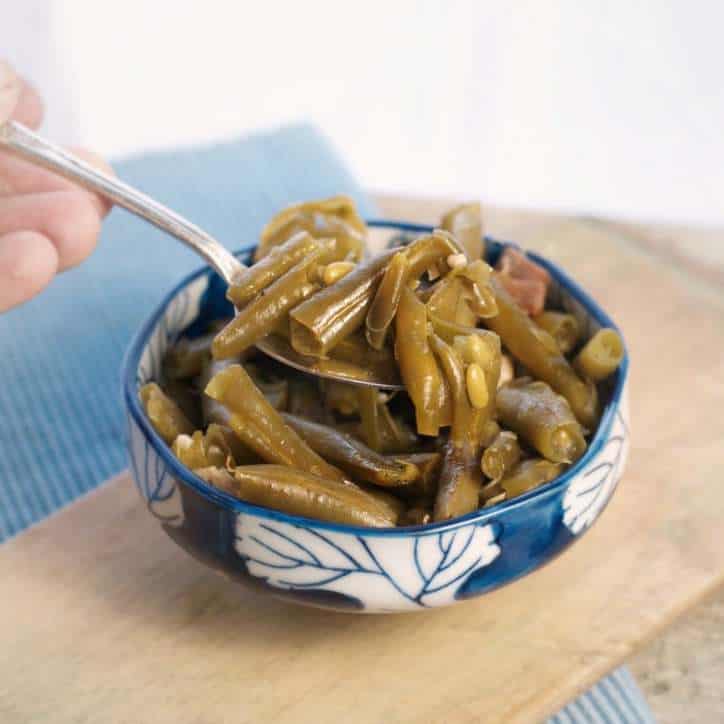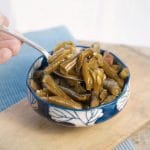 How to Cook Canned Green Beans on the Stove
This recipe gives the complete instructions for how to cook green beans on the stove top so they taste totally home made.
Keyword:
canned green beans, how to cook canned green beans
Ingredients
1 16

oz

can of green beans

2

Tbsp

unsalted butter

1

slice

of bacon

cut into 1 inch pieces

1/2

cup

fresh water

1

tsp

of bouillon concentrate OR 1 bouillon cube

½

tsp

onion powder

½

tsp

garlic powder

1

tsp

granulated sugar

Pinch

of red pepper flakes

Salt and Pepper to taste
Instructions
On the stovetop over medium heat place a small saucepan and the butter and bacon. Cook the bacon till crispy.

Drain the water from the green beans (unless it is a pre seasoned green bean).

Add the beans, 1/2 cup fresh water, bouillon, onion powder, garlic powder, red pepper flakes (optional) to the bacon/butter mix and then taste once all of that is mixed in. Follow with salt and pepper according to your tastes.

Heat over medium heat until the beans are heated through. If you prefer soft southern style green beans, continue to cook until beans are soft.
Recipe Video
Recipe Notes
Easy instructions for how to cook green beans on the stove top
Nutrition Facts
How to Cook Canned Green Beans on the Stove
Amount Per Serving
Calories 100
* Percent Daily Values are based on a 2000 calorie diet.
A VERSE TO SHARE
Doesn't Matthew have some wonderful news about Jesus?  I think so too! Have you ever thought about what it means to become like a child in Christ?  
What qualities do children have that are not at all like how adults are?  You can think of a few, right? YOU fill in that blank.
Here's the verse…
Matthew 18: 1-5
At that time the disciples came to Jesus and asked, "Who, then, is the greatest in the kingdom of heaven?"
2 He called a little child to him, and placed the child among them. 3 And he said: "Truly I tell you, unless you change and become like little children, you will never enter the kingdom of heaven. 4 Therefore, whoever takes the lowly position of this child is the greatest in the kingdom of heaven. 5 And whoever welcomes one such child in my name welcomes me.