Cooking canned corn isn't just as easy as heating up the corn in the can. Well, not if you want the corn to taste really good! You really need to know how to cook canned corn on the stove if you want to make your tongue happy too!
It's true, you COULD just heat up the corn in the can. In fact, you could eat the corn straight from the can raw.
Here Are Some Other Fun Corn Recipes Too!
IS CANNED CORN ALREADY COOKED?
The answer to the question is canned corn already cooked is "Yes, it is cooked enough for you to eat it". In fact, corn straight out of the can isn't bad at all. It is fresh and has a certain pop and crunch to it!
HOW DO I SEASON CANNED CORN?
There are basic elements to flavoring almost any canned vegetable.
Salt and pepper

Butter

Sugar

Red Pepper flakes (optional and depends on your taste)
If you have read any of the other "how to cook canned" green beans, peas, peas and carrots, etc. Then you might note that some of them recommend using bouillon in the dish. I don't recommend that for corn, but you could try it and see if you like it.
IF YOU ENJOYED HOW TO COOK CANNED CORN ON THE STOVE, YOU MIGHT ALSO ENJOY…
The Secret to Perfect Old Fashioned Pinto Beans
How to Cook Canned Pinto Beans
How to Cook Canned Green Beans
YA'LL, HELP ME OUT, OK?
Please leave me a 5 star comment below in the comment section, all right? I would LOVE to know if you made this recipe or even if you are planning to! Of course, tool on over to Pinterest, Facebook and Instagram and tag me with some photos of your creation!
I can't wait!
Ya'll know I love comments!! ❤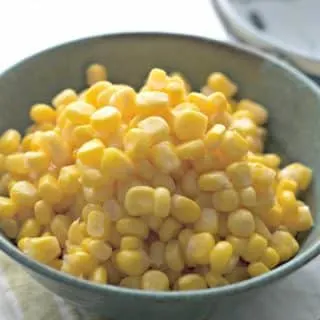 HOW TO COOK CANNED CORN ON THE STOVE
This recipe details how to cook canned corn on the stove
Print
Pin
Rate
Ingredients
16

oz

can of corn

2

Tbsp

Unsalted butter

1

tsp

granulated sugar

Salt and pepper to taste
Instructions
Open the can and drain off any packing water. Replace about ½ cup of fresh tap water in the can.

Pour the contents of the can (corn and water) into a small saucepan and set on the stove top on medium heat.

Add the butter and sugar and stir well and often.

Once the butter is melted, taste the corn and add salt and pepper. About ½ tsp of each should be about right depending on your tastes.
Notes
Make sure to drain off the water from the can and use fresh water.
To really add flavor, use broth instead of water.
PRO TIP: Bringing out the corns natural flavor only requires butter, salt, pepper and sugar BUT if you REALLY want to add a lot of flavor add just a pinch of cayenne and 1/2 tsp of lemon juice. It'll make your mouth happy!
Nutrition
Nutrition Facts
HOW TO COOK CANNED CORN ON THE STOVE
Amount Per Serving
Calories 327
Calories from Fat 126
% Daily Value*
Fat 14g22%
Cholesterol 30mg10%
Sodium 3mg0%
Potassium 494mg14%
Carbohydrates 49g16%
Protein 7g14%
Vitamin A 950IU19%
Vitamin C 12.5mg15%
Calcium 7mg1%
Iron 1mg6%
* Percent Daily Values are based on a 2000 calorie diet.
A VERSE TO SHARE
Some days are super hard, I know that you know this. As Mr. Loaves and Dishes says, those are the days that mean the most. It sure doesn't feel that way when you are going through them.
However, at our age and looking back over our lives, we see that those days ARE the ones where you learn what you are made of. We see that those are the days where you decided, "I have to learn how to handle this".
Perhaps you have one of those days and you simply gave up. I have certainly done that. There have been terrible days when I simply came home, got in bed and pulled the cover over my head.
The day that I learned that Mr. Loaves and Dishes had lost his leg in an accident and I went to see him in the hospital (we weren't married then and we weren't even dating either. In fact, we had broken up and were not really friends).
THAT DAY…
That day, I came home from the hospital and got in bed and hugged my dog and pulled my quilt up over my head. I layed there until it was dark outside and my kids were saying, "Mom? Are we going to eat dinner?".
You see? That was all that I had the energy to do.
It is in those times that we have to learn to lean on God instead of trying to find our own strength. I have learned to chant the Lord's Prayer, that is what helps me. Other's find comfort in verses of the Bible such as the one that follows. What works for you?
Psalm 46: 1-3
God is our refuge and strength,
an ever-present help in trouble.
Therefore we will not fear, though the earth give way
and the mountains fall into the heart of the sea,
though its waters roar and foam
and the mountains quake with their surging.