Important information you need to know about how to cut a peach! Use this for fresh eating, canning, preserving, making salads and so much more!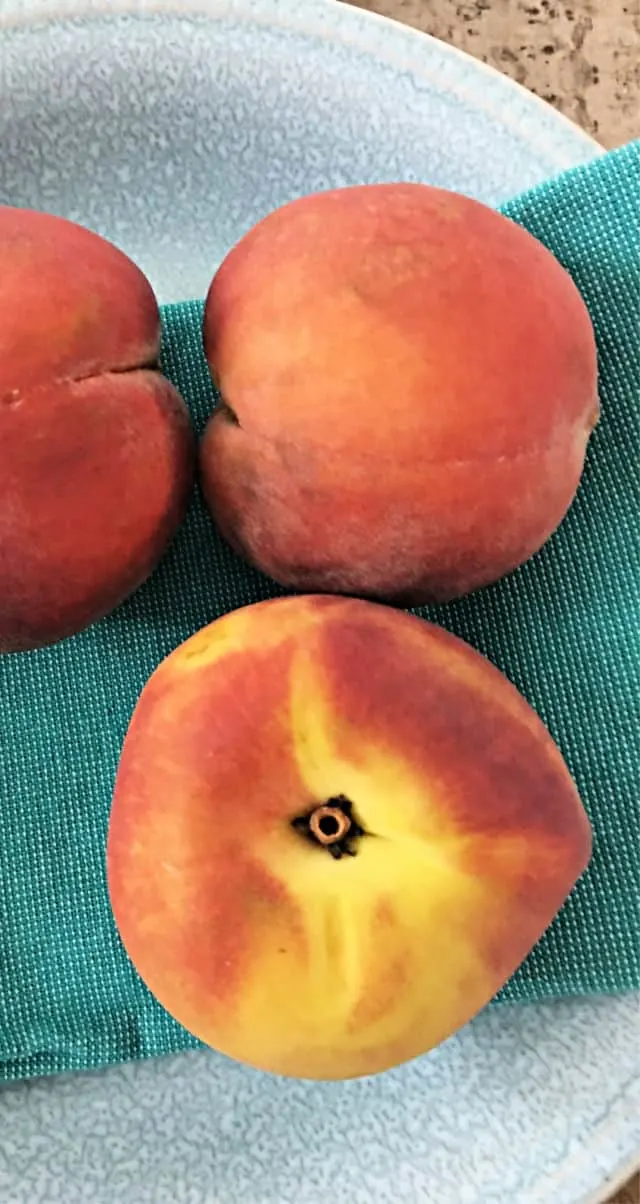 Why This Recipe Works
Fast
Easy
Use What You Already Have
Here's How To Cut A Peach
STEP 1. Wash your peach. Use your knife to cut the peach half way until you feel the pit. Twist the fruit so that the knife slides into the fruit all the way around.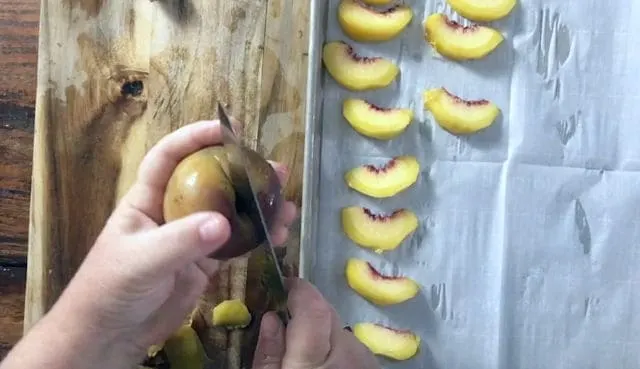 STEP 2. Twist the fruit to remove the halves from each other. Remove the Pit. Remove the skin and cut into the size slices you prefer.
**Remember that you can remove the skin by blanching it! I show you how to do that in this post***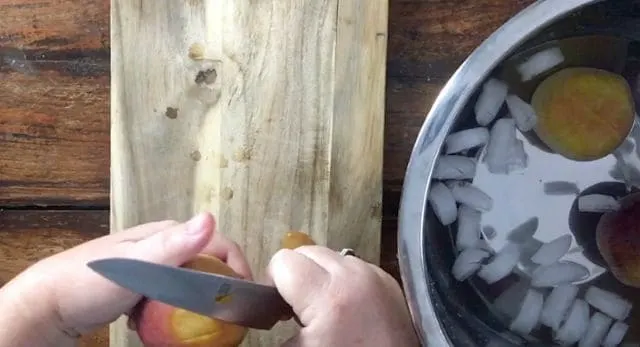 How Do I Cut Up a Peach?
Follow the steps above or the recipe below! Read the tips and tricks and the notes section for helpful hints!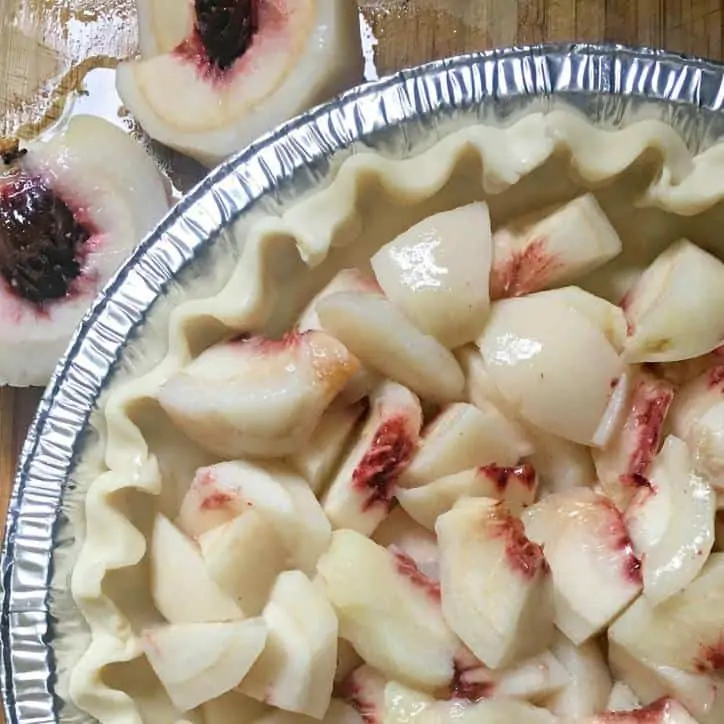 Frequently Asked Questions (FAQ's)
How Do I Remove the Skin from the Peach when I Cut a Peach?
You can remove the skin from the peach by….
Use a potato peeler

Cut off with a knife!
When You Learn How to Cut a Peach, you Need To Know about The Different Types:
What's a Freestone Peach?
A freestone peach will have a pit that is easy to remove and cut around. Typically these pits are small and loose in the center of the peach.
What is a Cling Peach?
A cling peach has a pit that is very clingy to the inside of the peach and it can be very difficult to cut the pit away from the fruit.
Can You Cut Up Peaches Ahead of Time?
Yes, you certainly can! Cut them up and put them in a resealable container. You will notice that quite a lot of juice will leak out into the container.
You may not want to use this in your recipe depending on what kind of recipe you are using.
How Do I Freeze Fresh Peaches that I have cut up?
It is SO SIMPLE to freeze fresh peaches, you simply blanch, cut the peach and remove the skin.
Then freeze the individual slices on a tray in the freezer for 2 hours. Place into your freezer container.
Are You Supposed to Eat the Skin on a Peach when You Learn How to Cut A Peach?
You can, nothing on the peach skin will hurt you. You will want to wash the peach first to remove any remaining field dirt or pesticides.
However, most people don't enjoy the fuzzy thick skin. Simply cut it off if you don't like it on your peach.
Do I Need to Refrigerate Peaches?
Yes, you will want to refrigerate your peaches in a plastic bag in the fridge for up to 5 days.
Should I Wash the Peach Before Eating It?
Yes, give it a rinse before eating it, even if you are peeling it. This will remove any outside dirt, pesticides or residue.
Tips and Tricks for How To Cut Peaches.
Buy peaches that are fresh and a yellow peach color (like the peach at the top of this page).

Good peaches have a gentle give to the flesh when you squeeze them.

When cutting into a peach, you should not see bruises and the it should have a fresh summer smell.

If you drop a peach, use it as quickly as possible.

To ripen a peach quickly, place it in a paper bag and leave it at room temperature.

Read more about freestone and cling peaches here.
Ya'll Help Me Out, OK?

Please leave me a 5 STAR comment below. This helps others find Loaves and Dishes on the internet!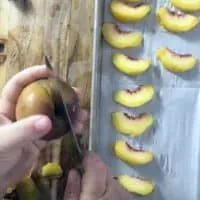 How to Cut a Peach
This quick post shows you exactly how to cut a peach for all kinds of uses!
Print
Pin
Rate
Instructions
Using a sharp knife, cut the peach along the seam down to the pit all the way around

using a twisting motion, separate the two halves from each other.

Cut the peach into quarters from the halves.

Remove the peel with the edge of the knife.

Cut into smaller pieces if wanted
Notes
If you plan to cut MANY peaches, you'll want to use the blanching technique to remove the skins.
Use this technique if you are peeling fewer than 5 peaches. If more, then use blanching to peel the peach.
Peaches are typically cut into 8ths for pies, however, use your judgement with the size peaches you have available.
You'll want to include the juice in whatever application you are using.
Choose peaches that are fresh and with no bruises or mold.
Nutrition
Nutrition Facts
How to Cut a Peach
Amount Per Serving
Calories 59
Calories from Fat 9
% Daily Value*
Fat 1g2%
Potassium 285mg8%
Carbohydrates 14g5%
Protein 1g2%
Vitamin A 489IU10%
Vitamin C 10mg12%
Iron 1mg6%
* Percent Daily Values are based on a 2000 calorie diet.