Freezing Peaches is the PERFECT way to preserve the nutrient packed fruit for later use! You'll have Peaches for all kinds of recipes when you know how to freeze Peaches!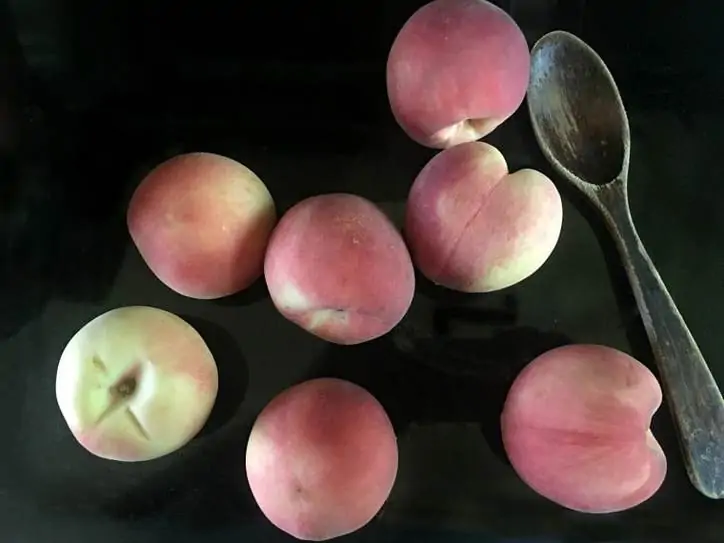 Peaches can be used in SO MANY recipes! You LOVE Peach Cobbler and peach pie!
Why This Recipe Works For Freezing Peaches
FAST
EASY
You Have Everything You Need In Your Kitchen Right Now!
Here's How To Freeze Peaches….
STEP 1. Boil
Bring a large pot of water to a boil and gather your other supplies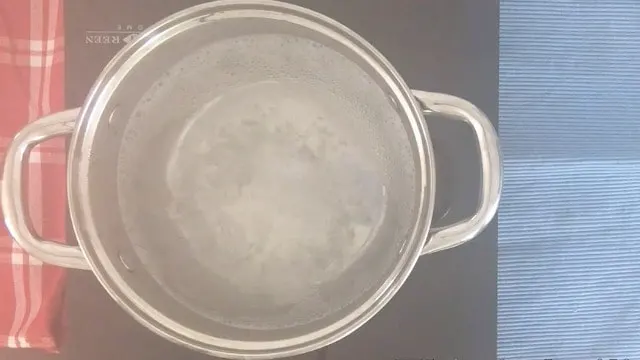 STEP 2. Blanch!
Blanch the Peaches in boiling water for 2-3 minutes.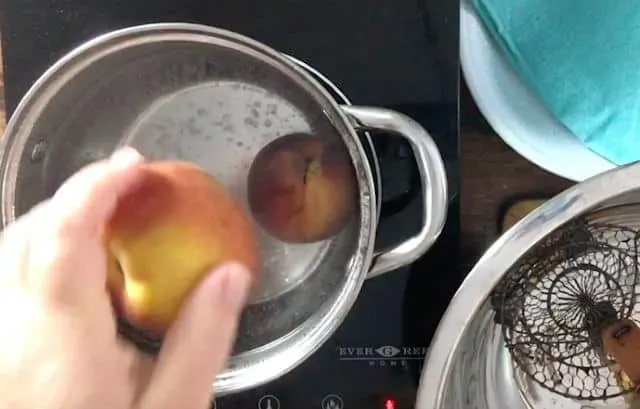 STEP 4. Shock!
Plunge the Peaches into ice water to stop the cooking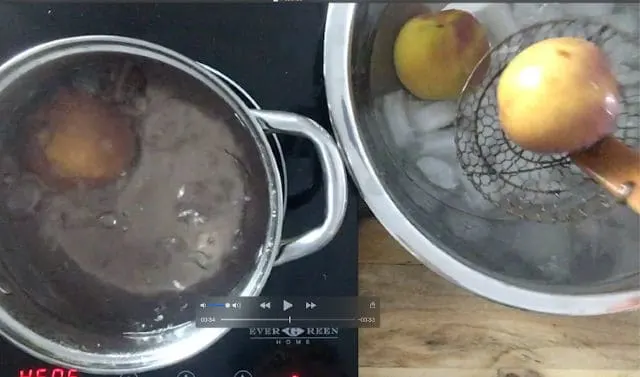 STEP 5. Remove the Skins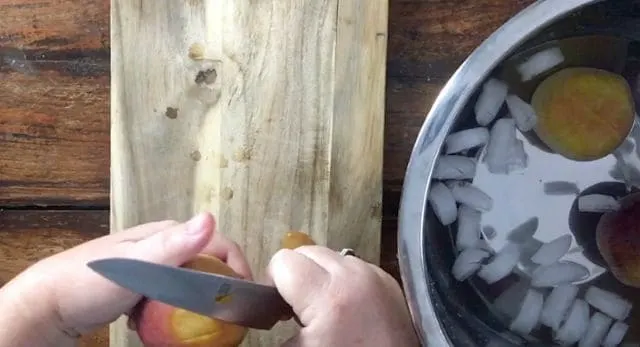 STEP 6. Cut into slices and mix with lemon juice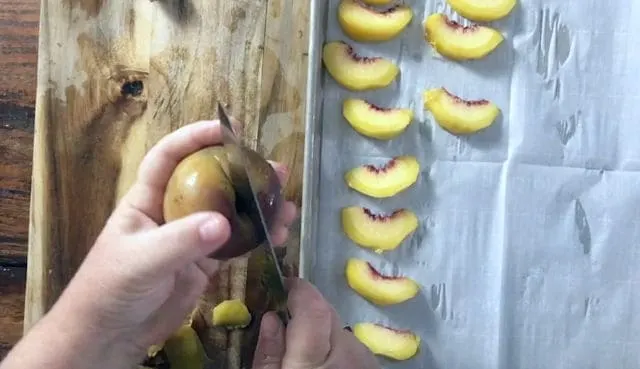 STEP 7. Freeze the slices
Lay the slices out on a baking sheet on top of parchment paper and place this in the freezer. Allow plenty of space between the slices. Pack frozen slices into zip lock bags and store in the freezer.
Then use just what you want from the large bag for smoothies, pies and cobblers!
How to Freeze Peaches
To freeze Peaches, blanch the Peaches in boiling water, shock in ice water, remove the skins, slice and lay out on baking sheet to freeze. Pack into zip lock bags.
Can You Freeze Peaches?
Yes! You sure can! This post is all about how to freeze peaches! How to do so is in the recipe card below!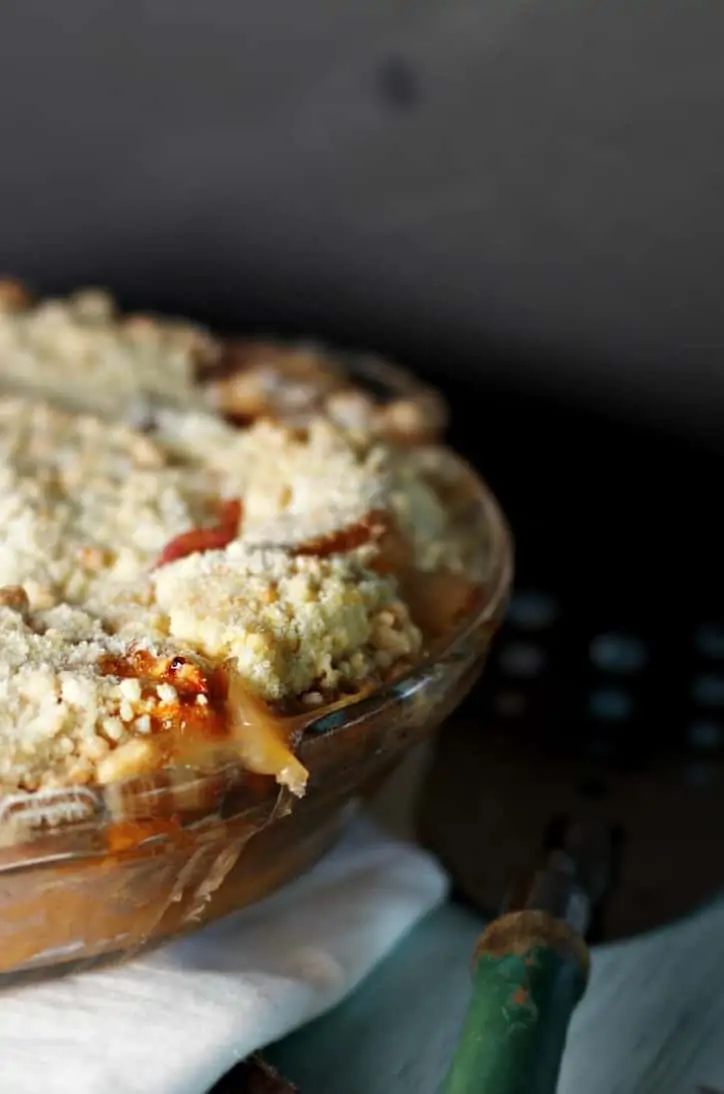 Frequently Asked Questions (FAQ's) about How To Freeze Peaches
Do I Need to Blanch Peaches Before Freezing Peaches?
Yes, you DO need to blanch Peaches before freezing. Blanching preserves the texture, fruit and flavor for freezing.
How Do I Blanch Peaches Before Freezing Peaches?
To blanch your Peaches before freezing, simply follow the process that is outlined in the recipe card below or in the photos above!
Can I Do This Without Blanching?
You CAN freeze the Peaches without blanching, however, the ice crystals that develop will change the cell structure and will be very mushy afterwards. It is much better to blanch first.
What Happens If I DON'T Blanch ?
If you do not blanch before freezing, the Peaches will be more mushy, less colorful and have less nutrients available. Texture is an important part and you will want to preserve as much of the fresh texture as possible.
Can I Freeze Peaches With The Skin On?
You CAN, however,once thawed, the skin will be loose and yucky. Because of the way a whole peach takes up space, you will probably want to cut the into slices and use those.
How Long Do Frozen Peaches Last?
Frozen Peaches will last 6 months – 1 year. You'll want to watch for ice accumulation in the bag or a dried out look to the peaches. If you notice these, then the peach is probably no longer good.
Do I Need To Thaw Peaches Before Using Them?
No, you don't need to thaw peaches before using them. You can add them directly to the dish you are cooking and they will cook right up!
Add them to baked pies, cobblers and other cooked fruit dishes or smoothies!!
Can You Eat Frozen Peaches Raw?
Sure you can! You'll just need to remember that thawed peaches will be a little mushy. They are a great cold treat on a hot day, especially when dipped in fruit dip!
How Do You Thaw Them?
There's no need to thaw them before using in your recipe, but if you want to thaw them, run cool water over them for a minute or two. If you put the bag that they are frozen into the fridge, they will also thaw. You will notice a lot of liquid in the bag. No need to use this liquid in your recipe.
Can Frozen Peaches Be Substituted For Fresh?
Yes, you can substitute for fresh in most cooking applications . You won't want to use them in salads or anything where you would use fresh raw fruit.
Does Freezing Peaches Affect the Taste?
Freezing peaches does not affect the taste but does affect the texture. They become slightly mushy after freezing as do all fruit. It is best to use them in baked and cooked dishes or in smoothies.
How To Know If they are Bad
If you notice….
The peaches appears encased in ice crystals or frost

If very light colored and dry

If it has been in the freezer longer than 6 months.

You note a lot of air in the package.

After blanching, if the peach is soft, won't come apart and is a dark color – it's bad.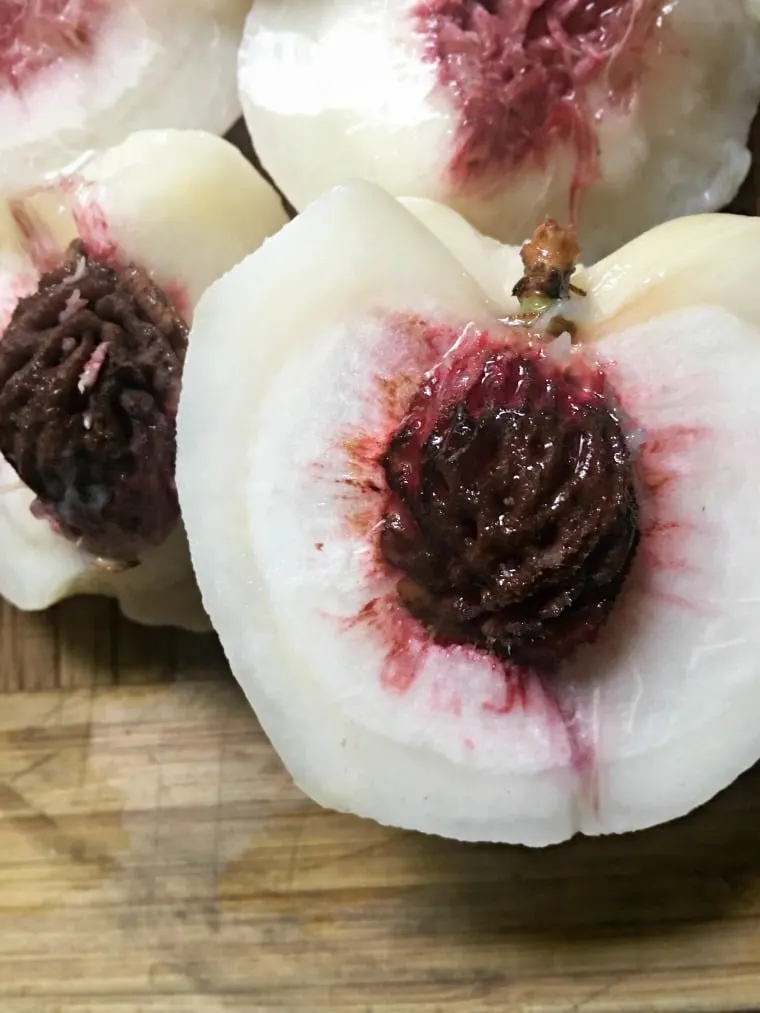 Tips and Tricks for How To Freeze Peaches
This recipe will work for ANY amount you want to use.

The most important instruction is to spread the peaches out so that they have enough space between them that they won't stick together.

Best uses for these will be pies, cobblers, drinks, smoothies and eating right out of the package!.

More info than you ever wanted to know about peaches is right here!
PRO TIP: Put as many of the frozen pieces as you want in a large gallon size Ziploc bag and just use the amount you need each time, reseal the bag and save it for later.
PRO TIP: When getting ready to boil the peaches, cut a small X on the bottom of the peach, this helps the skin to slide right off!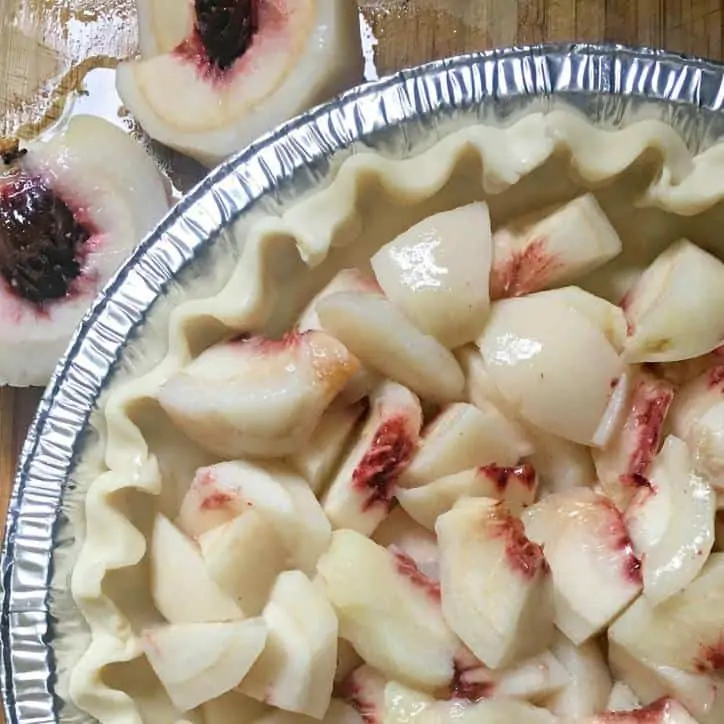 Hey, Ya'll, Help Me Out, OK?
Leave me a 5 STAR comment in the comment section below. This helps other people to find recipes on Loaves and Dishes!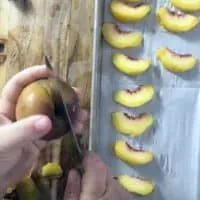 How to Freeze Peaches
Freezing Peaches is the PERFECT way to preserve the nutrient packed fruit for later use! You'll have peaches for all kinds of recipes when you know how to freeze peaches!
Print
Pin
Rate
Ingredients
1

lb

peaches

fresh

2

tbs

lemon juice
Instructions
Put a large stock pot of 4 quarts of water on to boil over high heat on the stove top.

While waiting for the water to heat, gather your other supplies. Place a large bowl in the sink with 1 Quart of water in it. Do not add the ice until just before adding peaches to the boiling water.

When water comes to a boil, reduce heat to medium so that water is at a hard simmer.

Add ice to the bowl of water in the sink.

Add your peaches to the boiling water quickly using tongs or other tool. Only add a few to the water at a time so that the water does not lose its boil

Allow the fruit to stay in the water just long enough to begin to change colors. You'll notice the color dulls.

Remove the peaches and plunge immediately into the ice water bath. Allow to soak there for 2-3 minutes.

Remove peaches from the ice water and peel the skin from the outside. You may have to use a paring knife to encourage the skin loose.

Slice the peaches in half, then in quarters and then into slices. Put into a bowl together and mix with the 2 tbs of lemon juice, mix well. Then lay out onto a baking sheet lined with parchment paper. Do not allow the pieces to touch each other. Freeze for 2-6 hours.

Once frozen, measure quantities into resealable plastic bag. Squeeze as much air as possible from the bag and seal. Label the bag and place into the freezer.
Notes
Gather all of your tools, pots and pans and other equipment before starting this project. You don't want to have boiling water bubbiling away and not have everything else you need.

Put water in a large bowl in the sink but don't add the ice until you are just ready to plunge the broccoli in. That way your ice won't all melt before you need it.

Only put a few peaches into the boiling water at first. You don't' want to reduce the simmer with the peaches you put in. Things will go more quickly if you do fewer pieces at a time.

Remove the iced peaches to a bowl and use the lemon juice, this keeps the peaches from browning.

Squeeze as much air from the freezer bag as you can before you seal it.
Label the freezer bag BEFORE you put the peaches in. It's much easier to write on an empty bag!
PRO TIP: After you have squeezed the air out and sealed the bag, then spread the broccoli back out in the bag so that it will lay flat in the freezer. This allows it to freeze evenly and is best for space saving in your freezer!
Nutrition
Nutrition Facts
How to Freeze Peaches
Amount Per Serving
Calories 18
Calories from Fat 9
% Daily Value*
Fat 1g2%
Sodium 1mg0%
Potassium 86mg2%
Carbohydrates 5g2%
Protein 1g2%
Vitamin A 148IU3%
Vitamin C 4mg5%
Calcium 3mg0%
Iron 1mg6%
* Percent Daily Values are based on a 2000 calorie diet.
A VERSE TO SHARE
I don't know if you need to hear this, I do.
1 Thesselonians: 18
in everything give thanks; for this is the will of God in Christ Jesus for you.