Crunchy, buttery, light and airy with the perfect bite. Movie theatre style buttery popcorn that is ridiculously good and ridiculously easy. You'll be wanting to climb in the bowl and lick the sides, it's that good!
I've been making this delicious stovetop homemade popcorn for over four decades now and I think that makes me a near pro. I'm more than willing to share my secrets though. It's easy anyway.
WHY THIS RECIPE WORKS
Coconut oil gives the popcorn the perfect flavor.
The salt to butter ratio is perfect!
I'll show you how to keep the butter from wilting your popcorn.
WHAT OIL SHOULD I USE FOR HOMEMADE POPCORN?
Most people use vegetable oil for their homemade popcorn, but let me tell you, that's starting off on the wrong foot.
You want to use Coconut oil to make PERFECT homemade popcorn.
Coconut gives your popcorn the perfect taste.
You can cut the coconut oil with half vegetable oil to save money if you want, but make sure there's some coconut oil in there.
That's what gives movie theatre popcorn its unique taste.
WHAT MAKES HOMEMADE POPCORN TOUGH?
Most of the time homemade popcorn is tough for one of three reasons:
The popcorn steamed too much while it was popping OR
You used popcorn that was old and out of date. Old popcorn = tough popcorn.
Did you apply the butter while it was still hot? If so, it will make your popcorn tough.
HOW LONG DOES HOMEMADE POPCORN LAST?
Once you pop homemade popcorn, it will be good for a day or so. Store it in a closed paper bag to retain freshness.
WHAT DIETS CAN I EAT HOMEMADE POPCORN ON?
Homemade popcorn does not work for…
Low Carb Diets
Keto Diets
Homemade popcorn MIGHT work on some other diets, you'll have to look at nutrition information for your particular diet to find out.
CAN I MAKE HOMEMADE POPCORN WITHOUT OIL?
Your best bet for making any homemade popcorn without oil is by using an air popper. That recipe you'll have to Google somewhere else.
HOMEMADE POPCORN TOPPINGS
The list of homemade popcorn toppings is endless! In fact, you can find a 101 popcorn toppings right over here. A few we like at my house…
Butter
Salt
Truffle oil
Parmesan cheese
Nutritional Yeast
Cinnamon and Brown Sugar
Caramel
Nacho cheese
Salt and Vinegar
Ground black pepper
WHAT KIND OF SALT SHOULD I USE ON MY POPCORN?
This is an IMPORTANT question! Only use POPCORN SALT on your popcorn.
Popcorn salt is ground up finer than regular salt and it clings to popcorn and hides in the nooks and crannies better!
You can find popcorn salt with the popcorn, popcorn toppings and other popcorn items at your grocery store.
WHAT KIND OF BUTTER TASTES BEST?
This is an important question too!
To get the best buttery flavor, I recommend the following:
Melt a stick of butter on the stovetop. Allow it to cool to near room temp. Spoon the butter solids off the top and use that as your popcorn butter. You MUST wait until it is cool to apply it to your popcorn though, other wise, it will make your popcorn tough!
Melt a few tablespoons of ghee (found in the oil section of your grocery store) and use this as your popcorn butter. Only apply it to your popcorn once it is cooled.
Purchase popcorn oil and use it for the butter. You can find it with the popcorn in your grocery store.
HOW DO I POP THE POPCORN SO IT DOESN'T GET TOUGH?
Please refer to the video that is in the recipe card below.
You will need to make sure that the lid of the popcorn pot is vented sufficiently to let the steam out.
You can accomplish this by keeping the lid slightly out of kilter with the popcorn top.
Be careful not to burn yourself.
Consider purchasing a speciality made popcorn pot if you make popcorn a lot, it is designed to let the steam out during popping.
IS APPLYING THE BUTTER IMPORTANT?
Yes, applying the butter is of utmost importance! If you apply the butter while it is hot, it will cause your popcorn to be tough! Melt the butter WAY ahead of when you will be popping and allow the butter to cool to nearly room temp before spooning over.
If you use just the butter solids that collect at the top of the melted butter, this will render the most buttery flavor AND help keep your popcorn from wilting.
HOW TO STORE MY POPCORN
Once you have popped your popcorn, if you want to save some for later, it is best to store it in a paper bag and close the top as tightly as possible.
The paper bag will help keep your popcorn from becoming stale.
EQUIPMENT I WILL NEED FOR POPPING POPCORN
You will need:
A saucepan with a lid to pop the popcorn
Small saucepan for melting butter
A spoon for skimming the butter solids off the top of the melted butter
Kitchen towel
Large bowl to pour the popcorn in to.
Coconut Oil
Popcorn Salt
Butter
Fresh Popcorn
You might consider a stove top popper like this one if you pop a lot of corn at home. It allows the popcorn to vent, keeps it stirred and then has a handy pour spout. This is an affiliate link and you can click the photo to go straight through to go to Amazon to compare prices. If you purchase through this link, I will receive a commission (thank you very much). The commission doesn't increase your price at all and it helps to support this website.
IF YOU ENJOYED THIS RECIPE FOR HOMEMADE POPCORN, YOU'LL ALSO ENJOY…
Peanut butter Chocolate Chip Cookies
Fresh Homemade Lemonade Concentrate
YA'LL BE SWEET NOW, YA HEAR?
Please leave me a 5 star 🌟🌟🌟🌟🌟 comment below in the comment section, all right? I would LOVE to know if you made this recipe or even if you are planning to! Of course, head on over to Pinterest, Facebook and Instagram and tag me with some photos of your creation!
I can't wait!
Ya'll know I love your comments!! ❤
THE RECIPE FOR HOMEMADE POPCORN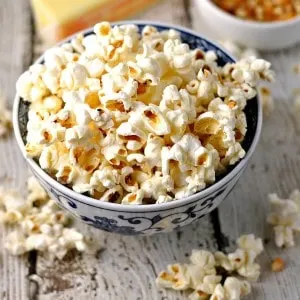 Homemade Popcorn
You are going to immediately wonder why you didn't start making your own homemade popcorn sooner. It's fresh, tender, crunchy and delicious.
Print
Pin
Rate
Ingredients
1

stick of butter - melted in the microwave

vegan use butter alternative

1/3

Cup

Vegetable oil

2

Tbs

Coconut Oil – heaping

½

cup

corn for popping

Popcorn salt to taste
Instructions
Melt stick of butter in a microwave safe dish and set aside to cool. Set out a large bowl in which you will put your popcorn when it is popped. Put vegetable oil and coconut oil in a large stock pot that has a lid over medium high heat on the stove top. Put 3-4 kernels of popcorn in the oil to heat and put the lid on the pot. These kernels are indicators and when they pop, you will know that the oil is ready.

Add popcorn all at once and place the lid back on the pot. Using large kitchen pot holders, set the lid slightly askew and hold the pot with your hands on both sides so that you can shake the pot and hold the lid slightly askew at the same time. Begin shaking the pot gently back and forth over the burner. Make sure to keep the lid askew so that steam can escape – this keeps the popcorn crispy. Steam causes wilting. You will hear the popcorn begin to pop – keep shaking until the popcorn popping slows to one or two pops per second. Remove the pot immediately from the heat and pour immediately into the large bowl that you set out in step one. It is important to pour the popcorn into the other bowl to stop the cooking – so that popcorn does not become over cooked. Allow popcorn to cool for at least 5 minutes.

When popcorn is cooled and butter has also cooled, you will note that the butter has white solids floating on the top. With a spoon, skim the white solids off of the top of the butter and sprinkle over the top of the popcorn. Do not do this while the popcorn is hot or the butter is hot as this will cause the popcorn to shrivel and become wilted. Once both are cooled – it will make an excellent flavoring for your popcorn. You may add as much of the remainder of the butter that you like or reserve for another use. Sprinkle with Popcorn salt to taste. Use the Popcorn salt rather than typical table salt – popcorn salt is smaller and clings to the popcorn kernels better.
Notes
It's important to have fresh popcorn kernels
Be sure to vent the lid while shaking, the steam will make your popcorn wilt otherwise.
Use salt made specifically for popcorn, it has a finer grain and gets in the nooks and cranies better!
Nutrition
Nutrition Facts
Homemade Popcorn
Amount Per Serving
Calories 220
* Percent Daily Values are based on a 2000 calorie diet.
***this post originally appeared on Loaves and Dishes on February 22, 2015. The post has been updated and reposted***
A VERSE TO SHARE
Even youths grow tired and weary, and young men stumble and fall; 31 but those who hope in the LORD will renew their strength. They will soar on wings like eagles; they will run and not grow weary, they will walk and not be faint. ~ Isaiah 40: 30-31