There are a few great mysteries in the world. How did they make the pyramids? Is there a Loch Ness Monster? How do you make perfect, 'best of summer', squeezed, healthy, FRESH HOMEMADE LEMONADE CONCENTRATE? I can only help with the last answer. The others? We will just have to wonder.
Have you ever asked yourself what is in the lemonade mix that you use? Have you ever thought, "I don't think that a drink with high fructose corn syrup is the best for me" or conversely, "what in the world IS glycerol ester anyway"?
Yeah.
You could make some fresh lemonade or you could make this lemonade concentrate!
Last summer when I was photographing an outdoor wedding in the sweltering sun on THE HOTTEST DAY OF THE YEAR, I gulped down gallons of delicious refreshing lemonade – only to find out later that it was a common commercial lemonade available in 2 liter bottles.
That was fine.
Until I read the label.
Here is my question. Lemons are used to preserve other things – apples in recipes, strawberries in my jam, the list goes on and on. Why in the world would you need all of those preservative ingredients for lemonade?
Yeah, I don't know either.
I mean, the recipe for lemonade should be water, lemons and sugar, right? Right.
I've been in search and experimentation for the PERFECT homemade lemonade ever since.
MY SPECIFICATIONS FOR FRESH HOMEMADE LEMONADE CONCENTRATE
Must be simple

Must taste excellent

Must not be too sugary.

Limited or no pulp – cause ewww!

Must be simple (oh, I already said that)

Must not require any special expensive equipment.

Must be able to can/freeze it for later without any degradation of taste.
Then, I found an old recipe for fresh squeezed lemonade in an old church cookbook similar to this one and EUREKA! Problem solved. This is Real Old Fashioned Lemonade without a bunch of pulp, using simple tools, easy to do and you can preserve it for later! Best of all – refreshing and light! LOVE IT!
Just let me throw this out there. I know some of you just read that this can be "canned" and thought, "I don't know how to can and don't want to learn". That's fine. This can be frozen too. That is EASY to do.
However, if you are interested in learning to can, then I have some resources for you. I will list those in the Tips and Tricks. If you decide to try, get all of the equipment that is needed (and all you really need for this recipe is a 6 quart stock pot and a $10 kit from the store and some inexpensive half pint jars and a Ball Canning Book – read it) and if you still don't know what to do.
You can call me.
You can. We can set up a coaching call and I will help you. I will charge you for the time – but it won't be too expensive and trust me – once you start canning – you won't stop. How's that for a promise? I'll help you! You will learn! We will both be happy!
In fact, if you feel you need coaching on something in the kitchen and you think I can help – drop me a line – I'll be happy to help you. We can facetime or email or you can send me photos – we will figure it out!
THE RECIPE FOR FRESH HOMEMADE LEMONADE CONCENTRATE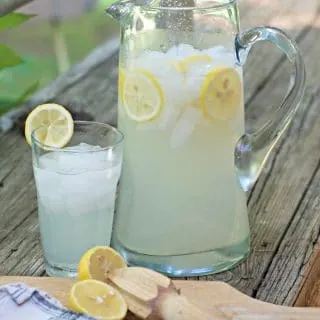 FRESH HOMEMADE LEMONADE CONCENTRATE
Delicious breezy fresh lemonade that you can make from concentrate any time you want!
Print
Pin
Rate
Ingredients
3

Cups

freshly squeezed lemon juice - strained through a fine strainer

aout 12 good sized lemons

3

Cups

boiling water

4

Cups

granulated sugar
Instructions
Remove the juice from the lemons with reamer or juicer and then strain the juice through a fine sieve to remove the pulp and seeds.

Boil the water and add the sugar and lemon juice.

Bring to just barely a boil again over high heat.

Remove from the heat

Ladle into 7 clean 1 cup (1/2 pint jars). If canning, leave 1/4 inch head space. If freezing, still leave about 1/4 inch at the top.

If canning, process in a boiling water bath canner for 15 minutes. If freezing, just freeze it.

When ready to use, reconstitute by mixing 1 cup of concentrate with 6 cups of water (or sparkling water if you like).
Notes
It's best to make the concentrate in the winter when the lemons are fresh and in season.
Nutrition
Nutrition Facts
FRESH HOMEMADE LEMONADE CONCENTRATE
Amount Per Serving
Calories 100
* Percent Daily Values are based on a 2000 calorie diet.
TIPS AND TRICKS FOR FRESH HOMEMADE LEMONADE CONCENTRATE
If you really want the best taste, make your FRESH HOMEMADE LEMONADE CONCENTRATE in the winter. Lemons come from Florida and are in season in the winter. Yeah. Really.

If you don't make yours in the winter, no worries – just make it when you have time – but lemons are A LOT cheaper in the winter.

The FRESH HOMEMADE LEMONADE CONCENTRATE IS CONCENTRATE. Don't try to drink it as is – cause ewww! Pucker time.

I have found that the concentrate works PERFECTLY when you pour two cups of concentrate in a big pitcher, pour in 8 cups of water and then 4 cups of ice. Cut up a fresh lemon for garnish and toss it in.

You can really gussy up this FRESH HOMEMADE LEMONADE CONCENTRATE by putting some fresh strawberries or blueberries in the juice.

You can add sparkling water instead of regular water for a sparkling lemonade – that is yummy too.

This lemonade goes PERFECTLY at a cookout with my Hangry Hamburgers OR with Jerk Chicken and don't forget the pasta salad and Pimento Cheese – YUM!

There is a link to a beautiful pitcher that I own that works GREAT for this lemonade below with the other links – if you are interested – just click through and you can see the price and can purchase through Amazon.

If you don't know how to can (you really should learn! It's easy and a terrific way to save some foods for later!), but anyhow, you can just freeze this concentrate too.

If you are thinking about canning this recipe, here is what you will need (the photos are links – just click the picture to go through to Amazon to see prices if you are thinking of a purchase). Where possible, I've put a link to EXACTLY the item that I own and I can vouch for it. Just so you know – you can find these items at your local stores too – and it may or may not be less expensive.

If you are freezing this concentrate – here is something that you might not know. Those cute little canning jars that are listed below? They can be put right in the freezer. So, if I were making this recipe and freezing it – that is just exactly what I would do. Thought you would want to know. They stack nicely too. My next favorite option would be to put the liquid in a freezer bag and make sure it was zipped tightly and then lay it flat in the freezer to freeze.

I provide these Amazon links so that you can SEE exactly what I'm talking about and if it is convenient and affordable, make a purchase. This post may contain affiliate links which won't change your price but will share some commission.
A VERSE TO SHARE
So, here's the thing. I've been studying JOY lately in the Bible. Guess what? It makes me HAPPY! (I know that is just about the dumbest thing that I ever wrote in this column). But really, it does.
Don't believe me? Google this sometime: "Quotes about joy in the Bible".
Various websites that have lists of quotes about joy will be pulled up. Click on any of them and just start reading.
Doesn't that simple act bring YOU joy? It does me. Puts a big ol smile right on my face.
I've noticed reading these lists of quotes that some things pop out at me and I thought I would share those….
God gets happy when people turn to him, especially when someone has spent their whole life turning away. So – what does that tell us? Even if we have been good our WHOLE ENTIRE LIVES praising God the WHOLE TIME, he is still gonna jump up and down and have the angels blow their horns when someone who has acted wickedly turns to him. When you see that, if you ever do, you should celebrate too. Put a big smile on your face and sound the trumpets. Hallelujah – someone else is saved. Now, you might be saying to yourself, "But that isn't fair" – I don't have time to go into that today – look up the prodigal son story – read the whole thing – read the whole book – and you'll find why this is so. Say a little prayer asking God to help you with this. He will. Then get on with the Joy!
If you feel like you have had a raw deal in this life, just hang on till the next one cause God is gonna reward you. You will have SHOUTS OF JOY if you have been sowing seeds of tears here. We can rejoice in our hope if we have patience when the bad times come (and they will come) and if we are constant in our prayers. I've told you this before, but when I am going through a bad time, I chant the Lord's Prayer over and over – outloud – under my breath – in my head. I chant it until my feelings of anxiety are gone. Sometimes that is a long time. I have memories of walking long halls at Baptist Hospital when Sandy was sick just saying the Lord's Prayer over and over – and I didn't care who heard me. It helped.
Praise God in all things and you will find JOY! Yeah, bad times? Praise God – he will make it all turn out ok. Good times? Praise God, He is good. Stump your toe? Praise God – I'm not sure why – but just do it.
Finally,
I can't say it better than Romans 15:13
May the God of hope fill you with all joy and peace in believing, so that by the power of the Holy Spirit you may abound in hope.
Amen Sister? Amen!
Now go grab some FRESH HOMEMADE LEMONADE CONCENTRATE, grab your Bible and kick up your heels.