This post was sponsored by Shady Brook Farms turkey brand as part of an In-Home Party Activation for Influence Central. I received complimentary products to facilitate my review.
What could be more fun than grilling out in the beautiful springtime weather? Nothing! This week we had a little "close friends party" celebrating some happy life changes for our neighbor! Although we are sad that we had to move our party indoors because of rain, we are happy to spend a little time together celebrating our sweet neighbor's graduation from high school. We are also tickled to be chowing down on some Mushroom Cheese Stuffed Sriracha Chive Turkey Burgers!
I have a new grilling recipe to share and sweet hubby, Mr Loaves and Dishes, does the grill honors for this little party as we share a wonderful meal that includes Shady Brook Farms turkey burgers and links! I know how corny this sounds, but my neighbor is going off to college and I am having empty nest syndrome. She has been besties with my youngest daughter since we moved here about 11 years ago and it has been a joy watching them grow up together.
What will it be like to not hear the back door bang open and have her running through the kitchen saying, "Hey Wendi! Is Sandy home?" We laughed and shared funny stories about some things that have happened over the years while we ate dinner. It is a special blessing from God to have good neighbors and friends.
My new friends over at Shady Brook Farms are going to share something wonderful with YOU TOO (besides their scrumptious turkey products)! Please keep on reading down past the recipe to find out about this SUPER WONDERFUL Giveaway! Check out the beautiful serving tray that you could win!
You know I am all about fresh all natural products and so I want you to know about Shady Brook Farms. Shady Brook Farms turkeys are raised on more than 700 independent family farms and are raised without growth-promoting antibiotics. So, not only are Shady Brook Farms Turkey products easy on your wallet, they fit your healthful lifestyle.
Shady Brook Farms Turkey products are available in the following states: ME, NH, VT, NY, NJ, MA, VA, RI, CT, PA, MD, DE, WV, NC, SC,GA, and FL. For those outside of those states, look for Shady Brook Farms' sister brand, Honeysuckle White!
THE RECIPE FOR MUSHROOM CHEESE STUFFED SRIRACHA CHIVE TURKEY BURGERS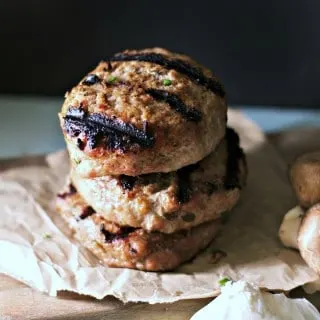 Mushroom Cheese Stuffed Siracha Chive Stuffed Turkey Burgers
Oozing cheese with cheese pulls? Yes, thanks! Absolute dinner bliss.
Print
Pin
Rate
Ingredients
1

lb

Shady Brook Farms Ground Turkey

½

tsp

kosher salt

½

tsp

ground pepper

1

tbs

garlic powder

1

tbs

onion powder

2

tbsp

Sriracha Sauce

2

Tbs

chopped chives

2

Tbsp

steak sauce

8

small baby bella mushrooms

1

clove

garlic minced

1

tbs

olive oil

4

tbs

very cold cream cheese

6

tbs

grated fontina cheese

Sprinkle of salt and pepper
Instructions
In a medium bowl, gently mix together the turkey, salt, pepper, garlic powder, onion powder, Sriracha Sauce, chopped chives and steak sauce. Do not over mix. Pat into 8 disks that are approximately the thickness of half of a regular ¼ lb size burger. Set these in the refrigerator while you do the remainder of the steps.

Rinse the baby bella mushrooms and cut the ends from the stems. Slice thinly. Mince the garlic. In a small frying pan on the stove top set on medium heat, lightly brown the mushrooms and garlic in the 1 tbs olive oil. Do not over cook. Do not allow the garlic to burn. When done, put in a small bowl and set aside to cool.

Pat the cream cheese into disks that are 1 tbs in size each. Do not handle too much or the cream cheese will become too soft to work with.

Remove the patties from the fridge and set the patties, cream cheese, fontina cheese, mushroom and garlic mixture out for assembly. Layer a turkey patty on the bottom followed by a cream cheese disk. Sprinkle 1 ½ tsp grated fontina cheese over the top of the cream cheese disk. Layer ¼ of the mushroom slices/garlic mix onto the cheese mix. Sprinkle lightly with salt and pepper. Place a turkey patty on the top and pat the two sides together. Use your finger to make a dimple in the center of the burger. Set the burger on a clean plate and repeat until you have 4 burgers. Place the plate in the freezer until ready to go on the grill.

Preheat your grill to medium. Oil the cooking grate very well with vegetable oil. When the grill comes to temp, gently set the burgers on the grill. Do not try to move the burgers before they have cooked well and will release from the grill - about 5-6 minutes. Turn and cook another 3 minutes on the other side. Do not over manipulate the burgers.
Notes
You can use this recipe with ground beef instead of turkey burger if you want.
Nutrition
Nutrition Facts
Mushroom Cheese Stuffed Siracha Chive Stuffed Turkey Burgers
Amount Per Serving
Calories 240
* Percent Daily Values are based on a 2000 calorie diet.
OTHER TIPS AND TRICKS ABOUT MUSHROOM CHEESE STUFFED SRIRACHA CHIVE TURKEY BURGERS
I find that it is easiest to work with ground turkey if it is cold. Add the ingredients, pat out your burgers and then set them back in the fridge.

Before you put the burgers on the grill, it is important to allow them to set in the freezer for a few minutes – 5 is enough really – to cool them back down so that they won't fall apart so easily when you put them on the grill

It is SUPER important to oil the grill grates before putting the turkey on. Turkey is stickier than some meats and you don't want to leave most of your dinner stuck to the grill.

It is SUPER important to allow the burger to cook long enough before trying to turn it! If you try to turn your burger too early, it will definitely stick! When the burger has cooked long enough, it will begin to release from the grill – THEN, you can gently lift it up and turn it over. Don't be flip flopping these burgers all over the grill. One turn and they are done

It is important to season the meat when you are putting the patties together and then again when you place the stuffing inside.

This Shady Brook Farms turkey is just about the best ground turkey I have ever worked with. Very tasty. Affordable. I think you will like it!

We also had the Turkey Sausage links grilled – EXCELLENT! Perfect with a little bar-b-q sauce or just some mayo and ketchup!

If you need more than 4 burgers for your own crowd, simply increase the other amounts in the recipe to equal what you need. That is what I did because, well, I invited some big eaters! I encourage you to try the Shady Brook Farms Turkey products for your grilling adventures this summer! You can even test new flavor combinations with wholesome, flavorful turkey products, including turkey breast items, ground turkey and turkey brats, perfect for tossing on the grill.

Shady Brook Farms is all about turkey with a purpose.
I can do all things through Christ who strengthens me. ~ Philippians 4:13.