I'm going to admit something to you right now. This recipe is making me eat my words because, I don't like chicken breast filets. I don't like chicken tenders either. Usually they are Dry. Boring. Devoid of flavor. Gummy. Chewy. Stringy. This recipe for Creamy Sriracha Lime Chicken Skewers is anything but those adjectives! That said, I had half of a large package of chicken tenders in the freezer from the last visit from the older grandkids (that's what they like) and I had to do something with them. Welcome Creamy Sriracha Lime Chicken Skewers!
For the usual preparation, I really can't understand the obsession with this particular cut of chicken. Most of the time, I've had this cut of chicken grilled or baked with just some salt and pepper. Ewww… not good.
I remember when boneless skinless chicken breast became a thing. I believe it was in about 1990 something. There was a boneless skinless chicken breast CRAZE! That was the same era that Oprah became a skinny chick and pulled a children's little red wagon load of fat onto her show. Can you believe I missed that episode? Me either
Anyway, if you want to eat some skinless boneless chicken breast with some flavor, you are either going to have to add the flavor yourself or leave the skin and bone on. Your choice. In this case, I had to add some flavor myself.
And Boy Howdy, I did too! I am loving this recipe! It reminds me a little of our family favorite, "Sludge Chicken" (we lovingly call it that) but Sarah calls it "Mama's Most Juicy Chicken" when she cooks it here on Loaves and Dishes.
THE RECIPE FOR CREAMY SRIRACHA LIME CHICKEN SKEWERS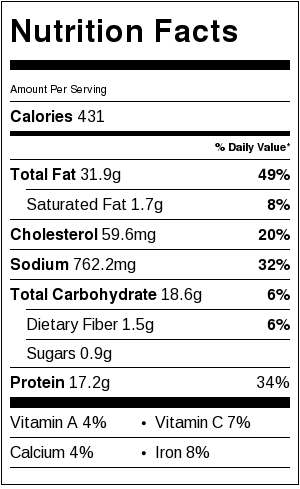 Creamy Sriracha Lime Chicken Skewers
if you enjoyed this recipe, I invite you to check out the other recipes available at www.loavesanddishes.net
Print
Pin
Rate
Ingredients
2

lbs

Boneless Skinless Chicken Tenders

Salt and pepper to taste

½

Cup

Sour Cream

½

Cup

Mayonnaise

2

tsp

salt

1

tsp

pepper

1

tsp

smoked paprika

2

Tbs

Sriracha sauce

2

limes - juice and zest

6

garlic cloves - smashed
Instructions
Cut the chicken into bite sized pieces - about 1 inch cube. Salt and pepper the boneless skinless chicken tenders and set aside. In a medium sized bowl mix the remaining ingredients together. Reserve half of the sauce in a bowl, cover and refrigerate.

Place the chicken tender pieces in a gallon sized plastic resealable bag and cover with the other half of the sauce. Smoosh the bag around so that all of the chicken pieces are covered with the sauce and place in the refrigerator. Marinate in this way for at least an hour - but overnight is better.

After marinating the chicken, place 3-4 pieces of chicken on a skewer with the edges touching but not jammed on there too tightly. (I use bamboo skewers). Adjust the amount if you use the longer metal skewers.

Grill over medium heat (about 350 degrees) for 3-4 minutes per side until chicken is cooked through.

Allow to rest when done grilling for a few minutes. Serve hot. Great with rice. Garnish with cilantro. Use the half of the marinade that you placed in a bowl in the fridge as a dip. Remove the large chunks of smashed garlic before using as a dip.
Nutrition
Nutrition Facts
Creamy Sriracha Lime Chicken Skewers
Amount Per Serving
Calories 220
* Percent Daily Values are based on a 2000 calorie diet.
NUTRITION LABEL FOR CREAMY SRIRACHA LIME CHICKEN
TIPS AND TRICKS FOR CREAMY SRIRACHA LIME CHICKEN
Oil the grill grates with some vegetable oil before you place this on the grill – otherwise, the chicken will stick and you will have a mess!

Don't be one of those people who flip their meat every two or 5 seconds. Let the meat do what it do on the grill. That little bit of charcoal flavor is what enhances this meal. Place the skewer on the grill and leave it there for 3-4 whole minutes. Then flip it once. Don't be flipping and flopping your meat!

Don't try to grab these skewers with your fingers. Just place them on the grill and use some tongs to flip them. I don't want any burned fingers out there.

No point in basting this chicken like a BBQ sauce – just cook it – then you can dip it later if you want.

If you really enjoy grilled chicken – you might enjoy this Jerk Chicken I did. Oh man, it is good! In fact, I'm thinking about a pressure cooker recipe that is similar right now. I'll be getting back to you on that!
THOUGHTS ON A VERSE TO SHARE
If you have been following along the past few posts, you'll know I've been covering Jesus' sermon on the mount. I really believe that in times like now, we can benefit from hearing what Jesus himself had to say.
Today's verse covers how you should act when you are giving to others. I really love this verse and I really wish that more people would heed the advice.
THE VERSE
"Beware of practicing your righteousness before other people in order to be seen by them, for then you will have no reward from your Father who is in heaven.
"Thus, when you give to the needy, sound no trumpet before you, as the hypocrites do in the synagogues and in the streets, that they may be praised by others. Truly, I say to you, they have received their reward. But when you give to the needy, do not let your left hand know what your right hand is doing, so that your giving may be in secret. And your Father who sees in secret will reward you.
Matthew 6: 1-4