READY in LESS THAN 30 MINUTES, this southern banana pudding recipe will be gobbled up in minutes! This is Mawmaw's Banana Pudding!
PLUS….Nothing is better on a hot day than a cold smooth bite of easy banana pudding recipe, made with love and amazing layers of pudding, cookies and banana. Am I right?
WHY THIS RECIPE WORKS
Ready in less than 30 minutes
Easy to make!
Crunchy cookies, tasty bananas, creamy pudding and cool whip…… YUM!
No fussy ingredients.
Here's How It's Done!
STEP 1. Collect Ingredients
First collect all of your ingredients.
Check the amount on the recipe carefully.
STEP 2. Mix Ingredients
Mix the pudding, milk, whipped topping together. It takes a little muscle!
STEP 2. Slice Bananas
Cut your 5 bananas up into disks. About 1/4 inch each.
STEP 4. Build Layers
Layer the pudding, bananas and vanilla wafers into your pudding bowl
STEP 5. Top Pudding
Top with the retained cool whip and vanilla wafer crumbs.
FREQUENTLY ASKED QUESTIONS (FAQ)
HOW LONG DOES IT TAKE TO MAKE MAWMAWS BANANA PUDDING?
This southern banana pudding recipe will take you 10 minutes to make. Then put it in the fridge to sit.
You won't be sorry if you allow a few hours for the magic to happen, but 20 minutes is enough.
However, if you need to get a big ol bowl right now, that is fine too, the banana flavor just won't be as strong.
THIS IS A NO BAKE BANANA PUDDING.
WHAT IS THE DIFFERENCE IN A "NO BAKE" BANANA PUDDING AND A BAKED PUDDING
A "no bake" pudding is one like this southern Banana Pudding recipe uses instant pudding mix. Mawmaws Banana Pudding is simply made by mixing the ingredients, assembling and then chilling the final product
A baked pudding is one where the pudding is made from scratch and must be baked (cooked) for it to gel and become a pudding. It often involves egg whites instead of whipped topping. The flavors of the baked and "no bake" puddings are similar but the texture is very different.
People often call a baked pudding a "hard pudding"
CAN BANANA PUDDING BE FROZEN
This recipe for Banana Pudding will separate if you freeze it. That said, I doubt that you will have any left over to freeze anyway. If you have more than you can eat, share it with a friend. That is how we change the world afterall!
Can Banana Pudding Be Made Ahead?
Absolutely! Yes, you can make this pudding up to 24 hours before you plan to use it. In fact, making it ahead helps the bananas to flavor the pudding and gives the cookies time to soften. YUM!
DOES BANANA PUDDING HAVE TO BE REFRIGERATED?
This banana pudding has sour cream in it, so I wouldn't allow it to sit out for more than 2 hours. Besides, this pudding is BEST when it is COLD! Nothing is better on a hot day!
HOW CAN I KEEP THE BANANAS FROM TURNING BROWN?
Bananas, once cut, are going to turn brown. That's just a fact. However, you CAN slow this down as follows:
Once all of your bananas are sliced and ready for the pudding, put them in a bowl, sprinkle with a mixture of 1 Tbs lemon juice mixed with 3 Tbs water. Sprinkle over the top and use a spoon to gently toss the bananas around.
This will slow the browning down.
HOW LONG WILL BANANA PUDDING KEEP?
This Southern Banana Pudding recipe is good for 5 days if kept refrigerated.
Don't let the banana pudding sit out for more than 2 hours.
WHAT CAN I ADD TO MY BANANA PUDDING TO MAKE IT A LITTLE DIFFERENT?
There are so many ways you can add to this banana pudding! Try some of these variations the second or third time you make this pudding!
Chocolate sauce
Caramel Sauce
Chocolate shavings on the top
Kingsmen cookies instead of Nilla Wafers
Sliced Strawberries mixed in or on top
Graham Crackers instead of Nilla Wafers
Other cookies instead of nilla wafers
What are your great ideas for changes to make?
Things You Might Need For This Recipe…
Here's the triffle bowl like I use in case you need one (I am an Amazon affiliate and this is an affiliate link). You can click the trifle bowl to go through to Amazon to compare prices.
TIPS AND TRICKS FOR BANANA PUDDING
The Pudding:
Use instant vanilla pudding. It is easy to confuse the pudding mixture you must cook with the instant pudding, the boxes are nearly identical.
Use the size boxes indicated in the recipe only. There are larger boxes, you want three of the small boxes.
Cool Whip:
C Whip can come in slightly different sizes. Just use a full container in the regular size it comes in if that is all you have.
You can not mess up this recipe with a little too much or a little less whip.
It is important to buy the regular original kind not the lite or low cal or no dairy or whatever other variations there are.
The Sour Cream:
Check the ounces on your sour cream, sour cream comes in all sorts of sizes.
You want 8 ounces of the regular sour cream.
DO NOT get the lite or low fat or whatever other varieties it comes in. Just go with the regular full on sour cream for this recipe.
BANANAS:
Please use yellow ripe bananas and not the old bananas with spots certainly not the green bananas.
A good firm yellow banana will stay looking nice for all of today and if there is any left after today, people will be so in love with it that they won't care that the bananas turned brown.
PROCESS INFORMATION:
I'm just going to be honest with you here, it is a pain to mix in the cool whip. Keep mixing, you will eventually win.
Just in case you need it: What Does Divided Mean in a Recipe?
IF YOU ENJOYED THIS BANANA PUDDING, YOU MIGHT ALSO ENJOY…
Old Fashioned Peaches and Cream Pie
Watch Me Make This Banana Pudding
YA'LL BE SWEET, OK?
Please leave a 5 STAR COMMENT🌟🌟🌟🌟🌟 below, ok? AND PLEASE join my newsletter and get the HOT COOKING TIP of the week each week!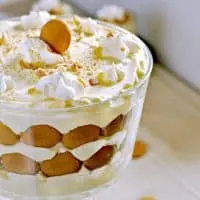 Mawmaws Banana Pudding
READY in LESS THAN 30 MINUTES, this southern banana pudding recipe with fresh cool delicious creamy layers of bananas, vanilla wafers, whipped cream and TO DIE FOR PUDDING will be gone in minutes at any family or church gathering!
Print
Pin
Rate
Ingredients
3

small boxes of vanilla instant pudding

3.4 oz box

6

Cups

milk

ice cold whole milk is best

8

ounces

Sour Cream

regular sour cream

12

oz.

cool whip divided

regular original cool whip

5

bananas

Cut into disks. Yellow, no spots, medium sized

1

box vanilla wafers
Instructions
Mix all three boxes of the vanilla instant pudding with the ice cold milk in a very large kitchen bowl. Works best if you use a whisk.

Add the sour cream and half of the cool whip (just eye ball it) and mix well till blended. This will require quite a bit of effort. Start with a spatula and then switch to a whisk for best effect. The cool whip will want to float and blop around. Just keep going, it will eventually mix in.

Use 1/3 each of the pudding, vanilla wafers and bananas and layer in that order. Repeat this way until bowl is filled. After all layers are completed, top with the remaining half of the cool whip and sprinkle the crumbs from the bottom of the box onto the top of the pudding.
Notes
For best taste, use REAL sour cream, WHOLE milk, ORIGINAL cool whip and yellow ripe bananas with NO spots.
Substitutions can be made for lite sour cream, other flavors of cool whip,etc. but the best banana pudding uses as noted above.
This makes a LARGE amount of banana pudding, which you will need once everyone tastes it, but you CAN half the recipe. Use three bananas.
Bananas will turn brown after a day. You can treat the banana slices with a mixture of 1 Tbs of lemon juice and 3 Tbs of water. Sprinkle this over the top of the banana slices and it will help prevent browning.
It is a REAL effort to mix the cool whip into the pudding, use a whisk, have patience and just keep stirring. You WILL beat it eventually.
Crunch up 2-3 vanilla wafers and reserve them to sprinkle on the top. Makes a delightful crunch.
People often ask about using the banana flavored pudding for this recipe. I've tried this and feel that it gives the whole pudding an "off" flavor like fake bananas. It really is best to use the plain vanilla instant pudding.
Its SUPER important to use the INSTANT pudding. The instant pudding and the pudding that must be cooked are in almost identical packages.
Nutrition
Nutrition Facts
Mawmaws Banana Pudding
Amount Per Serving
Calories 200
Calories from Fat 81
% Daily Value*
Fat 9g14%
Cholesterol 26mg9%
Sodium 92mg4%
Potassium 394mg11%
Carbohydrates 25g8%
Protein 5g10%
Vitamin A 395IU8%
Vitamin C 4.5mg5%
Calcium 192mg19%
Iron 0.2mg1%
* Percent Daily Values are based on a 2000 calorie diet.
***This post has been rewritten and updated with new photos, video and information from it's original posting which first appeared March 12, 2015***
A VERSE TO SHARE
As I sit here writing this, morning is just dawning. The sun hasn't yet peeked up over the river to my east.
There are cold rain drops falling reminding us that winter hasn't yet finished gathering his coat and going out the door.
This reminded me of Genesis when God creates the very first day. As the sun rises, the Bible says that God saw the light and that the light was good.
Yes it is, God. Yes it is! I encourage you to pull out your Bible and read that entire first chapter. Wow. God. Wow.
Genesis 1: 1-5
In the beginning, God created the heavens and the earth. The earth was without form and void, and darkness was over the face of the deep. And the Spirit of God was hovering over the face of the waters.
God said, "Let there be light," and there was light. Then God saw that the light was good and God separated the light from the darkness. God called the light Day, and the darkness he called Night. And there was evening and there was morning, the first day.