SPECIAL THANKS: To Deiss for sending over a zester and a peeler! Were you just thinking that you would love to eat some fresh fall peaches? Maybe cook them up in a cobbler or a pie? Me TOO! That is exactly what I was thinking! Old Fashioned Peaches and Cream Pie is JUST what came to mind. Old Fashioned Peaches and Cream Pie has to be where the expression 'Easy as Pie' came from. Delicious. Simple. Brings back memories. Ultimate Comfort Food. Packed with flavor.

I was just thinking this and then,…. HELLO PEACHES at my local fruit stand! So beautiful! So perfect! So flavorful! I saw (scratch that) I SMELLED some at the grocery store! Have you been smelling them at the grocery too?
Anyway, on to the recipe – because this is so simple – if I hurry up and tell you, you can run right to the fruit stand, pick up some peaches and you probably have everything else you need right in the pantry or kitchen!
THE RECIPE FOR OLD FASHIONED PEACHES AND CREAM PIE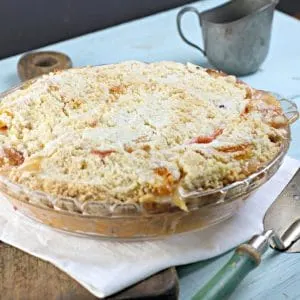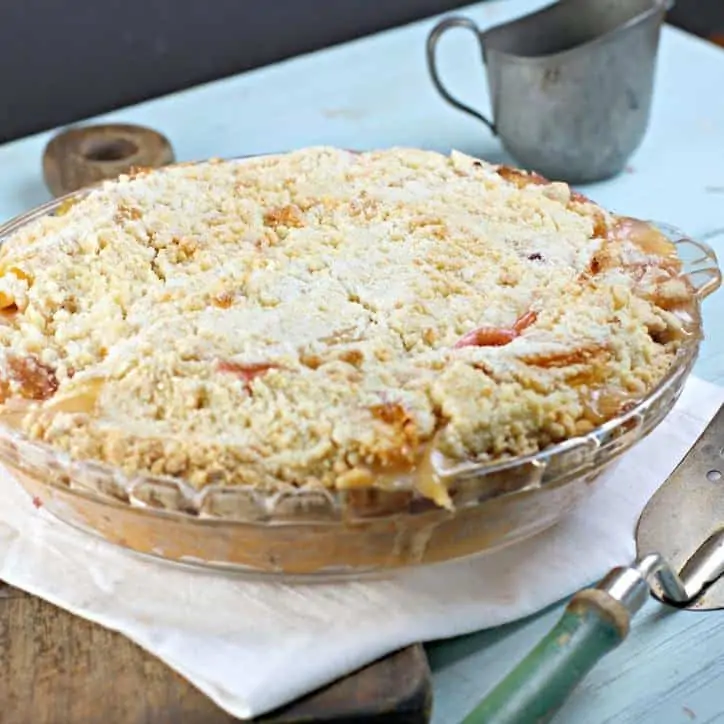 Old Fashioned Peaches and Cream Pie
This is a decadent and delicious summer pie using fresh sunny peaches.
Print
Pin
Rate
Ingredients
1

premade refrigerated pie crust

5-6

fresh peaches

⅔

Cups

Granulated Sugar

1

tsp

fresh grated nutmeg

1

tsp

fresh grated cinnamon

⅓

cup

all purpose flour

⅔

Cup

sour cream

1

tsp

real vanilla extract

½

tsp

real almond extract

For the Crumb top

1

cup

all purpose flour

⅔

cup

white sugar

¼

tsp

ground cinnamon

Pinch

of salt

¼

cup

melted butter
Instructions
Preheat the oven to 425. Unroll the premade pie crust and press into a deep dish pie plate. Flute the edges. Peel and slice the peaches. In a large bowl mix together the sliced peaches, sugar, nutmeg, cinnamon, flour, sour cream, vanilla and almond.

Spoon the peach filling into the pie crust. Spread around well. In a medium sized bowl, mix the crumb topping ingredients together. Mix well until has a crumb like appearance.

Pour the crumb topping onto the peach filling and gently spread around.

Place in the oven and on the shelf below, place a cookie sheet to catch the drips. Bake at 425 for 15 minutes. Reduce the oven heat to 350 and bake for another 35-45 minutes. The pie is done when you can see it bubbling and the crust becomes browned. Remove from the oven and allow to cool completely before serving. Refrigerate once cooled. Is AWESOME with vanilla icecream.
Notes
The upper crust on this pie is a crumble, so no need to be too particular with it.
If you like less crumble on the top, then use less of it.
Nutrition
Nutrition Facts
Old Fashioned Peaches and Cream Pie
Amount Per Serving
Calories 300
* Percent Daily Values are based on a 2000 calorie diet.
TIPS AND TRICKS FOR OLD FASHIONED PEACHES AND CREAM PIE
Firstly, before you make a food video, put your daughter's rabbit outside. If you watched the video all the way to the end, you'll know what I mean.

Second, save the peels for your neighborhood horse or rabbit – they love them!

You can also peel peaches by cutting a cross on their bottoms and then dropping them in boiling water for about 20 secs. Just like in this TOMATOES post – the skins will slip right off. I just thought that for only 5-6 peaches, peeling them is just as easy.

It really doesn't matter what shape your peaches are cut into – could be squares, slivers, slices…. Triangles (I"m just being silly). They just all need to be about the same size so they cook the same.

You may substitute already ground nutmet and cinnamon if you like – but the freshly grated has a WOW taste!

Do not use imitation vanilla or imitation almond flavor. Go for the real thing. You won't be sorry.

Other than that – this recipe is so simple – I can't think of any other tricks.

One more. Put a sheet pan on the oven shelf below your pie – it might drip. Mine did.

OK – just ONE more…. This requires a DEEP DISH pie pan – you'll have too much guts if you try to use a smaller one. Don't try to do this with the frozen pie shells – that won't be big enough, even if it says deep dish.

The dollar store will have the pie dish you need – they aren't expensive. Amazon has them. Of course, Willams Sonoma and Sur La Table ALSO have deep dish pie plates…. Or Target….. Or WalMart. You can figure out where you like to go – you don't need me for that.

If you want to check out the peeler and/or zester I used in this video you can find that HERE. for the Zester and HERE for the Peeler
That said, I DO LOVE a beautiful pie plate! Do you have one? Did you go get one for this recipe? I would LOVE to see it! Email me a pic! Wendi (at) loavesanddishes(dot) net.
INSPIRATION for OLD FASHIONED PEACHES AND CREAM PIE
My Grandpa Medlin lived to be 99 years old – or near abouts. I was in college when he died. I remember that not long before he died, he was telling me ALL about his blackberry cobblers. They really WERE good! Anyway, after that, we visited his house and he had made a PEACH cobbler. I can remember he said, "it's easy you just put in fresh peaches, sugar, milk, nutmeg and cinnamon". He had a biscuit type crust on the top. But anyway, thinking of my Grandpa Medlin inspired this recipe. I had sour cream on hand and I thought that would work just as well. What do you know, it did!
Thinking about that though made me wonder if he cooked when my Grandma Medlin was alive. I don't remember him ever cooking. But I lived far away and just might not know. I'm going to stop what I'm doing right now and shoot my cousin Bill an email and ask him. He will know.
Anyway, enough about me.
I was thinking that you might like to come up with some recipes too? I can teach you! If you hang around here long enough, you'll pick up pointers and tricks and sooner than you think – you'll be cooking like a pro!
Join me and over a 1000 other subscribers in the Loaves and Dishes Community where you will be a Kitchen Rockstar in NO TIME! I'll send you a sneak peek email with every new recipe that comes out and I'll share special secrets and tips that I only share with my community.
You can subscribe right here below this red banner.
/span>
A VERSE TO SHARE
I told ya'll I've been dealing with a thing. I think I'm almost through it. When I feel persecuted, I try to dig deep. I try to hold my chin up. Stand for what I know. It can be hard. Is that what you do? I hope so. This verse is true – far as I can tell. It has been true for me. When I have stood my ground, chin up, faith in God – the troubles are like water that has passed by. The days are bright and I feel secure. That is such a blessing. Thanks be to God. Amen.
"Yet if you devote your heart to him
and stretch out your hands to him,
if you put away the sin that is in your hand
and allow no evil to dwell in your tent, then, free of fault, you will lift up your face;
you will stand firm and without fear.
You will surely forget your trouble,
recalling it only as waters gone by.
Life will be brighter than noonday,
and darkness will become like morning.
You will be secure, because there is hope;
you will look about you and take your rest in safety.
You will lie down, with no one to make you afraid,
and many will court your favor.
But the eyes of the wicked will fail,
and escape will elude them;
their hope will become a dying gasp." ~Job 11: 13-20