I can't imagine a recipe more southern than tomato pie, can you? It is truly my favorite summertime dish. I hate to even admit it – but I DO eat a tomato almost every single day in the summer. Here is a general warning – take it for what it is worth – You better not try to grab the last German Johnson tomato at the fruit stand – because, it is MINE! It could get nasty. Just sayin.
I planted 24 of my own German Johnson Tomatoes this year though – so, we should be cool. As I write this, I am getting ready to pack to go on vacation and the thing that is really bothering me is my concern over what am I going to do with the 6 or so German Johnson's that are sitting in my kitchen window right now. I think they are going to go in a paper bag and travel right along to the beach with me!
Anyway, for many recipes such as tomato pie, one must peel the tomatoes first. That can be a real chore. My mother does this with her small kitchen knife . You might do it the same way.
I wanted to introduce you to an easy way to peel a tomato. Very easy. It does, however, make more dirty dishes. So – there is that.
Step by step photo instructions of how to easily peel a tomato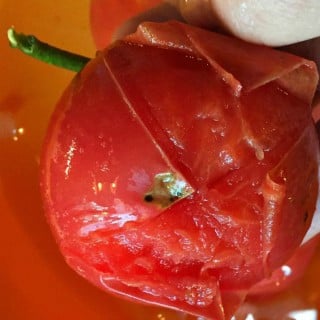 How to Easily Peel a Tomato
Simple and easy instructions for how to peel a tomato
Print
Pin
Rate
Ingredients
1

sauce pan of boiling water

Number of tomatoes that must be peeled

1

bowl of ice water
Instructions
wash tomatoes

cut an X on the bottom of the tomato

submerse in boiling water and allow to boil for about 2 minutes – just until skin starts to loosen

Remove the tomatoes to the ice water and allow to rest in the icewater for 2-3 minutes (stops the cooking from the boiling water)

The tomato skins will be loose and easy to slip right off.
Notes
Be careful not to let the tomatoes over heat. 
Nutrition
Nutrition Facts
How to Easily Peel a Tomato
Amount Per Serving
Calories 200
* Percent Daily Values are based on a 2000 calorie diet.