Admit it. You haven't heard about coffee cake since around about 1978, right? But why? It's so delicious with fluffy cinnamon cake, gooey sticky syrup and a creamy luscious icing? Where did the coffee cake go? I don't know, but I promise, one taste of Orange Cinnamon Roll Coffee Cake and you will be hooked all over again!
Do you remember coffee cake made with frozen yeast rolls? It sat overnight raising and then in the morning it was baked to it's sticky glory? Yeah, that one.
This recipe is like that, BUT, without the overnight wait time!! YAY! Because who has the patience to wait a WHOLE NIGHT for coffee cake? Not ME!
So, you can holler, "Nailed IT!" when you dump all of this in together and come out of the kitchen in less than an hour with sticky, gooey, icing covered cake all over your fingers and face.
If you enjoy cake, then I'm sure you will also LOVE my
and my
both as simple as can be!
THE RECIPE FOR ORANGE CINNAMON ROLL COFFEE CAKE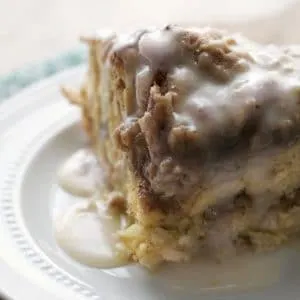 Orange Cinnamon Roll Coffee Cake
This is easily one of my desert island foods with it's creamy dripping icing and delicious cinnamon layers. MMMmmmm..... so good.
Print
Pin
Rate
Ingredients
For the Cake
2 17.5

oz

cans of refrigerated cinnamon rolls

reserve the icing

2

Tbs

melted butter

4

large eggs

⅓

Cup

whole milk

1

Tbs

ground cinnamon

1

tsp

real vanilla extract

½

tsp

real almond extract
For the Topping
½

cup

real sweet cream butter

½

cup

sugar

½

cup

all purpose flour

½

tsp

ground cinnamon

½

cup

chopped pecans
For the Icing
2

reserved containers of icing

½

Cup

powdered sugar

2

Tbs

room temperature cream cheese

1

Tbs

milk

1

" grated fresh ginger

¼

of an orange - grated fresh orange zest

1

tsp

real vanilla extract

¼

tsp

real almond extract
Instructions
Preheat the oven to 350. Prepare a 2 quart baking dish with non stick cooking spray.

Remove the Cinnamon Rolls from the package and cut each roll into 4 pieces ( you can cut the entire length of the can in half, then roll ¼ turn and cut again - thereby cutting all the rolls at once).

Sprinkle the cinnamon roll pieces around the bottom of the baking dish.

In a medium sized bowl, mix together the eggs, milk, cinnamon, vanilla and almond and whisk until combined.

Pour this mixture over the top of the cinnamon rolls.

In the bowl of a food processor or in a separate bowl using an immersion blender, blend the butter, sugar, flour, cinnamon and pecans until it resembles brown soft butter.

Dot the butter like mixture around the top of the cinnamon rolls.

Bake in the oven on the middle rack at 350 for 30-35 minutes until the top of the rolls are a golden brown and the center is set.

Prepare the icing by mixing together the two reserved containers of icing, powdered sugar, cream cheese, milk, grated ginger, orange zest, vanilla and almond extracts until the cream cheese is smooth and silky. You can blend by hand or with a mixer.

Pour the icing over the top of the casserole and serve. If you prefer additional icing, simply add more powdered sugar, cream cheese and milk until the amount you wish is reached.
Notes
Feel free to use more or less icing than what is listed, it's entirely up to your own tastes.
Nutrition
Nutrition Facts
Orange Cinnamon Roll Coffee Cake
Amount Per Serving
Calories 250
* Percent Daily Values are based on a 2000 calorie diet.
TIPS AND TRICKS FOR Orange Cinnamon Roll Coffee Cake
The orange zest in this recipe is flexible. If you REALLY like orange flavor, then use more. If orange flavor isn't really your thing then only add a little bit. A little bit of orange zest GOES A LONG WAY!

Do NOT use orange juice instead of zest – it doesn't work that way.

Do NOT use dried ginger instead of fresh – if you don't have or can't get fresh – then just leave it out. I find dried ginger to be bitter. Bitter isn't a flavor you want here.

Make SURE to use the non stick spray on this one.

If the cream icing is REALLY YOUR THING, then you can always make more of this by increasing the ingredients.
A VERSE TO SHARE
Who here has a grandbaby? How about a child of your own? A tiny niece or nephew? Think of them as a tiny newborn baby.
Yeah, now you've got the right picture in your head.
Would you allow someone to poison that baby? You wouldn't even allow someone to give that baby something questionable – like apple juice – would you?
So, with that in your mind, think for a second about the things that fill your day. Think about the people who you allow into your life. Think about the music you listen to. Consider the websites, news programs, books, TV shows and magazines you read?
DO THEY IMPROVE YOUR LIFE?
Do they help you to have a positive outlook? Do they improve your life?
Dan Clark, a famous motivational speaker, says, "Surround yourself with people who you want to be like". Jim Rohn, another famous speaker, informs that we become the average of the five people we hang out with the most.
I'm sure it stands to reason then that the media you listen to also becomes who you are.
You are probably wondering where I am going with this.
SPIRITUAL MILK
The idea is, God tells us in 1 Peter 2 to "crave pure spiritual milk" so that we will grow up in our salvation. God is telling us – surround yourself with GOOD things.
Spiritual milk is what you should crave. You are like that BABY we were talking about – the one that you would protect from any kind of harmful thing. You would never give that baby coffee or cola and certainly not a verified poison.
No, certainly not. We nurture babies. We feed babies the correct nutrition. We want babies to grow to be all that they can be. Right?
God wants the same thing for you.
God wants you to STOP and PUT DOWN and WALK AWAY from ANYTHING that promotes malice, deceit, hypocrisy, envy and slander. Those are POISON to the spirit and they are AWFUL for you. He wants you to abstain from sinful desires that WAGE WAR on your soul.
DON'T BELIEVE ME?
Don't believe me, it's right here in black and white – you can read it yourself in your own Bible.
Just so you know. 1 Peter is believed to be written by Peter somewhere near 64 AD.
Secondly, there is some disagreement about whether 1 Peter was written to the Jewish Christians OR if it was written to Gentiles. Either way, I think it is safe to say that God is giving sound advice anyway. You can decide that for yourself.
Do you have "Rules for Life"? I do. Rule number 3 is "Stay Away from Poison". Poison includes: Poison people, poison situations, poison media and actual poison. Just walk away.
"I learned long ago, never wrestle with a pig. You get dirty and besides, the pig likes it" ~ George Bernard Shaw
Here's the Verse….
Therefore, rid yourselves of all malice and all deceit, hypocrisy, envy, and slander of every kind. Like newborn babies, crave pure spiritual milk, so that by it you may grow up in your salvation, now that you have tasted that the Lord is good.
As you come to him, the living Stone—rejected by humans but chosen by God and precious to him— 5 you also, like living stones, are being built into a spiritual house to be a holy priesthood, offering spiritual sacrifices acceptable to God through Jesus Christ. For in Scripture it says:
THE STONE
"See, I lay a stone in Zion,
a chosen and precious cornerstone,
and the one who trusts in him
will never be put to shame."
Now to you who believe, this stone is precious. But to those who do not believe,
"The stone the builders rejected
has become the cornerstone,"
and,
"A stone that causes people to stumble
and a rock that makes them fall."
They stumble because they disobey the message—which is also what they were destined for.
GOD'S SPECIAL POSSESSION
But you are a chosen people, a royal priesthood, a holy nation, God's special possession, that you may declare the praises of him who called you out of darkness into his wonderful light. Once you were not a people, but now you are the people of God; once you had not received mercy, but now you have received mercy.
1 Peter 2: 1-10