Hello Pumpkin Praline Cake with the most delicious praline icing on EARTH!  Fall is here – just around the corner really – my FAVORITE time of the year.  I know, I know,  I have seen the memes, get ready for pumpkin flavored everything.  While I hate to add to the hysteria, I dreamed up this cake yesterday while working at my paying job– and I couldn't resist trying it out!
It IS as good as I dreamed!  It is!  It IS!  Dreams DO come true!  I knew it would be, because honestly, what could be better than pumpkin with pecans and sweetened condensed milk?  Everything is good with sweetened condensed milk– absolutely everything.  I bet even Lima Beans would be good with sweetened condensed milk – and believe me – I DO NOT eat Lima Beans.  That is another story though.
For today – I just want to share these pictures and let the photos do the talking and your eyes do the walking!  You know what I mean – right?
This recipe requires no special equipment and no special knowledge.  It even involves a cake mix!  Just mix the stuff together, pour it in a cake pan, heat up the icing ingredients on the stove, poke a few holes with your wooden spoon handle and pour the icing over!  EASY!
Recipe Inspiration for Pumpkin Praline Cake
Last fall I read a recipe for a pumpkin cake that involved adding one cup of Pumpkin Puree to a yellow cake mix.  As I was thinking of what I might do on my blog this fall and considering a pumpkin cake, I was simultaneously mourning the passing of my vacation to Edisto Beach. This lead me to thinking that I didn't even visit Market Street in Charleston this year for my annual sample of the Pecan Pralines.  So SAD!  Which led to a total "AH-HA" moment of thinking, "I bet praline pecans would be good with pumpkin cake!".  This brought me to the realization that no matter how I have tried, I have never been able to make a praline pecan (I have tried for years people.  Years!).  Anyway, I scribbled down what I thought might make a pretty decent cake – and I am telling you, I must have been Divinely inspired folks, because this cake is it!
And now that you know the sad inner workings of my mind, I am going to commit to giving my employer an extra 15 minutes tomorrow because all of this daydreaming happened while I was sitting at my office chair and mentally preparing for my next task.  Employer, I'm sorry!  Reader – enjoy!
I hope you will make this cake and then share it with friends.  In fact, I have a friend who had a birthday earlier this week and I think I am going to share this cake with her.  She always makes the cakes and is so generous to share them – I am wondering if anyone even made her a cake?  We shall see.
Thanks for visiting – now, "Let 'em eat cake!".
SMART SHOPPER TIPS
I know you are a smart shopper, right?  You also want to be a GREAT cook who is ready at a moment's notice to whip up something delicious!  You want you family banging on the table screaming MORE MORE MORE!!!  One way to do that is to keep a few things ready in your pantry.  All of the ingredients in this recipe are something that I always have on hand.  I buy several at once and just keep the others ready.  THEN, when I need to put something together in a hurry while looking like a cooking RockStar, I just pull a few things out and whip up something like this AWESOME Pumpkin Praline Cake.  You can do it too!  Here's how…..  (the other recipe items like butter, cinnamon, nutmeg – you probably already have on hand)….
Pumpkin Puree:  HERE 
Sweetened Condensed Milk:  HERE
Chopped Pecans:  HERE
Look, he is coming with the clouds, and every eye will see him, even those who pierced him; and all the peoples of the earth will mourn because of him. So shall it be! Amen. ~ Revelations 1:7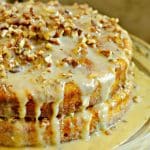 Pumpkin Praline Cake
Ingredients
For the Cake
1

box of yellow cake mix

1

cup

pumpkin puree

1

cup

whole milk

¼

cup

vegetable oil

4

whole large eggs

½

cup

chopped pecans

½

tsp

nutmeg

¾

tsp

cinnamon
For the Icing
2

cans of sweetened condensed milk

4

tbs

unsalted butter

1

cup

chopped pecans
Instructions
Preheat the oven to 350. Grease two 8" round cake pans with Crisco and then dust with flour or use non stick baking spray (what I prefer). (you could also make this in a rectangle cake pan).

Mix together in a medium bowl the cake mix, pumpkin puree, milk, oil, eggs, pecans, nutmeg and cinnamon until all is moistened, scrape the bowl occasionally to make sure that you have mixed all of the mix together. Pour evenly into each cake pan or pour entire contents into the larger rectangular cake pan.

Bake for 27 minutes – check and see if the middle of the cake is still loose – if it is, bake in 3 minute intervals until the middle is no longer jiggly and a cake tester or toothpick comes out cleanly. Remove from the oven and allow to rest until cooled.

On the stove top on medium heat, mix all of the ingredients for the icing together in a small sauce pan. Heat just until butter is melted.

Flip one of the baked cakes over onto a cake plate (upside down) and pour ¼ of the icing onto the cake. Set the other round cake on the top of the first cake (flipped upside down). (If using a rectangular pan – start with poking the holes). Using the handle of a round handled wooden spoon, poke holes into and through the cake and gently pour half of the icing over the top making sure that some of the icing goes down into the holes.

Allow the rest of the icing to completely cool and then gently pour it over the top of the rest of the cake. Serve cake with coffee or milk!