Need a quick easy chili recipe for the family that you can throw together for a weeknight? No worries! Just brown the burger and everything else just goes in the crockpot! Come home to a house that smells wonderful and a hot meal in your belly!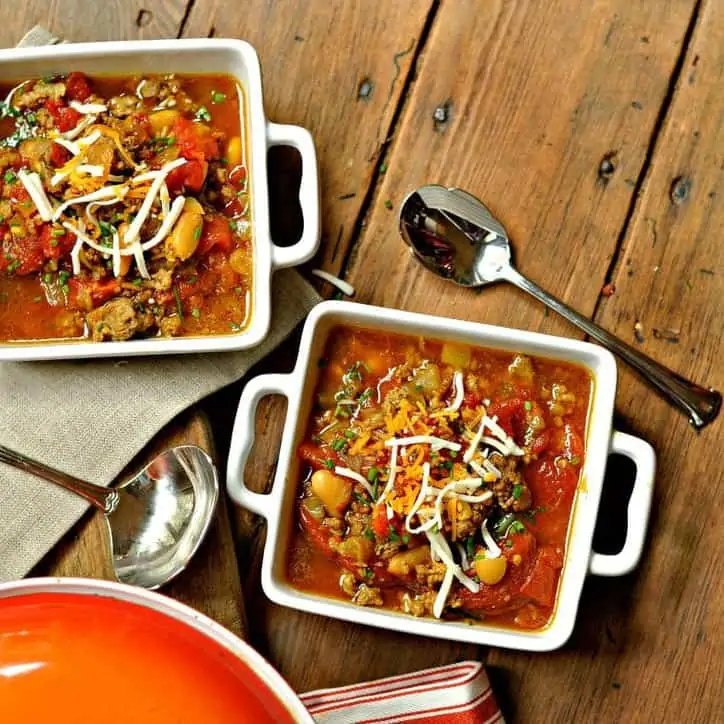 Quick Easy Chili
We love this chili, especially as the days grow shorter and cooler. It's perfect for weeknights and then you can use the leftovers for lunches, with nachos or over baked winter squash! Yeah, I said it and it's GOOD!
Here's What You'll Need: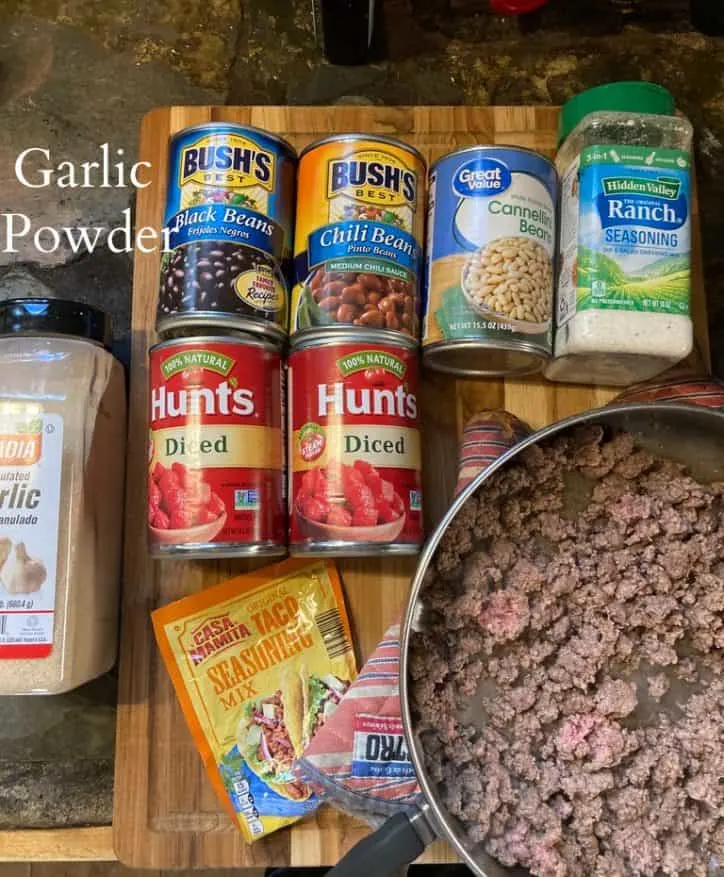 Ground Beef – 1 lb of browned ground beef (only brown until the meat is almost done, it will finish in the crockpot). Use 80/20 beef if possible.
Diced Tomatoes – 2, 15oz cans. If you want to add the kind that has flavors added, that's fine too (fire roasted, garlic, Italian spices, etc.)
Beans – Use black beans, Cannellini beans and chili beans. After much trial and error, our family prefers these three types of beans because the skins are thinner and the beans are less overwhelming.
Seasoning – You'll need 1 Tbs Garlic Powder, 1 packet Taco Seasoning and 3 Tbs (one packet) Ranch dressing seasoning.
The Key Steps for Great Quick Easy Chili!
Brown the hamburger.
Pour everything into a crockpot and set on low for 6-8 hours. Conversely, use a dutch oven and cook on the stove top over medium for 30 minutes or even in the oven at 350 for 30 minutes.
Frequently Asked Questions (FAQ's)
How Do You Make Chili From Scratch?
There are LOTS of chili recipes out there and this one has the basics, a browned or roasted meat in a tomato type sauce with spices and possibly beans.
Why Does Chili Usually Have To Cook So Long?
This chili does NOT have to cook long at all, however, many chili's do. This is because it can take a while for flavors to marry or med and some things as they cook become more mellow or more hot.
How Can I Make This Chili Thicker?
If you like a very thick chili, make sure to drain the extra fluid out of the tomato cans, the black beans and the cannellini beans first.
How Can I Thin Chili?
To thin a chili, you'll only need to add some water or broth. Broth, of course, will give you more flavor.
Can I Use Raw Hamburger in This Recipe
No, while that would be more convenient, the ground beef will want to clump together while cooking and then once done, it would be impossible to break it apart without also ruining the beans.

You CAN however, use hamburger crumbles that are already cooked, broken up and frozen. Try using the vegetarian type!
Can I Use Fresh Garlic or Onions?
Actually, yes, if you prefer to use fresh garlic, just substitute about 3-4 cloves for the garlic powder in this recipe.

If you want onions in your chili, saute them with the hamburger before starting the chili. I would do 1/2 an onion chopped small.
What Kind Of Onion Works Best for Chili?
That depends on what you want from your onion. A sweet or purple onion will give you soft sweet onion notes. If you want the bright onion flavor that will likely stand up to the other seasonings in chili, you'll want to use a white onion.
What Do I Serve with Chili?
Chili goes so great with homemade mexican cornbread
Corn pudding even grits!

Offer with toppings so everyone can make it their own:

Corn chips
Sour Cream
Shredded Cheese
Cilantro
Green onions
Chopped white onions
Hot Sauce
Crackers
Tortillas
Corn
Guacamole
Can I Freeze Chili?
Yes, it's one of the best table to freezer meals out there! Put in a freezer safe container, remove as much air as possible and then freeze for up to 3 months.
How Long Does Chili Last?
Chili will last covered in the fridge for about 5 days. Do not allow to sit out for more than 2 hours.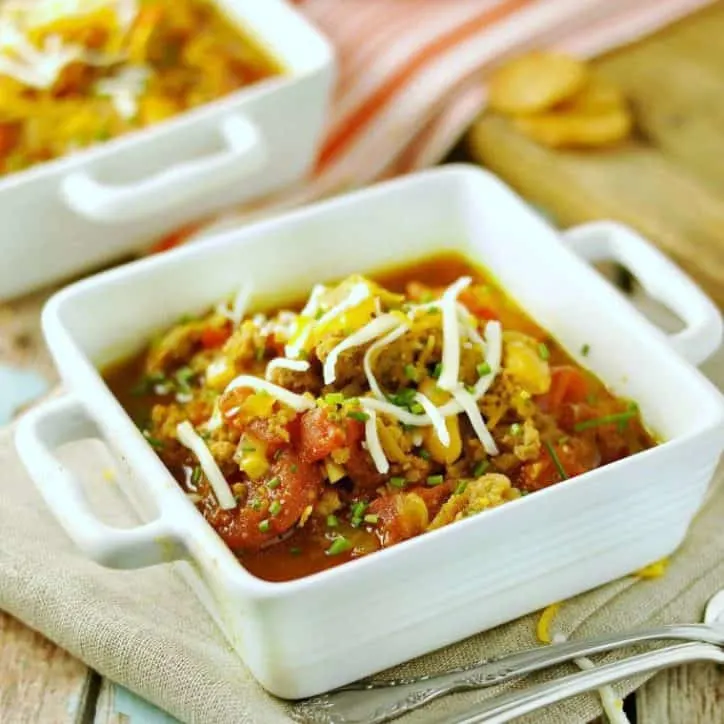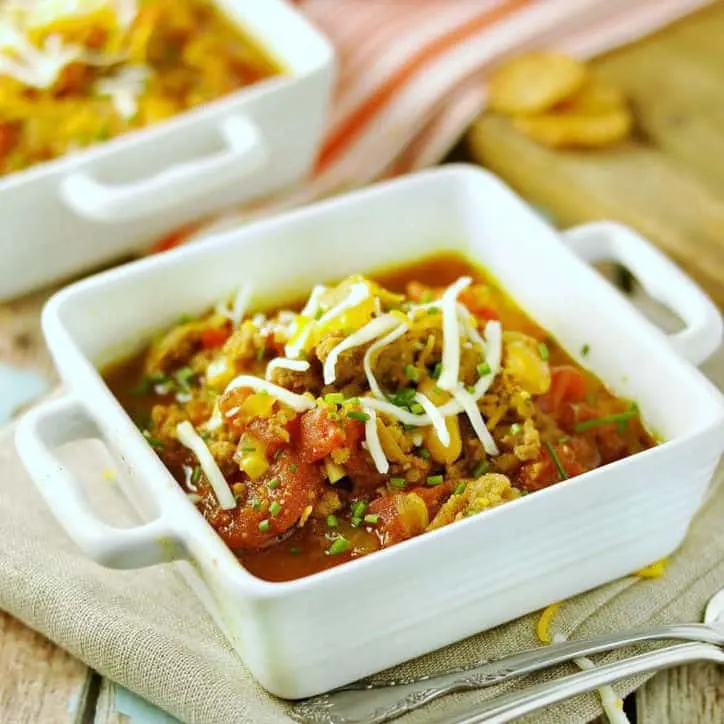 Tips and Tricks for Quick Easy Chili
This recipe is so versatile, you can always substitute in other beans. Try pintos, kidney beans or even garbanzos!
Zest up your recipe with more spicy chili powders or add in about 3 Tbs hot sauce.
Don't over brown the burger to begin with, just enough so that it is a little past pink and won't clump back up while cooking. Over browning will then over cook the meat and it will get that grainy, mealy texture in the finished chili.
You shouldn't need to add any salt or pepper to the finished chili, the spices that are added are fairly salty as is and I have never needed to add any salt.
Garnish your chili with some green onions or cilantro. Offer shredded cheese, sour cream, corn chips, hot sauce and limes with your chili for a fun colorful meal.
Watch Me Make Quick Easy Chili!
Hey, Can You Help Me Out?
Please leave a 5 STAR review in the comment section below. This helps others to find the recipes on Loaves and Dishes!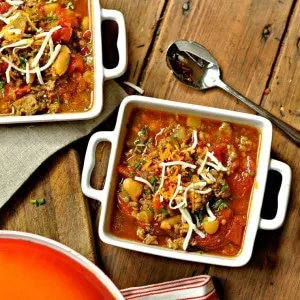 Quick Easy Chili
Delicious easy chili that you can throw in the crockpot OR in the saucepan OR in the oven and be done in minutes! You'll LOVE it!
Print
Pin
Rate
Ingredients
1

lb

ground beef

80/20 for best results, browned

15

oz

black beans

drained

15

oz

cannellini beans

drained

15

oz

chili beans

NOT drained

30

oz

diced tomatoes

3

tbs

ranch dressing mix

1 packet

2

tbs

taco seasoning

1 packet

1

tbs

brown sugar
Instructions
Brown the ground beef in a skillet on the stovetop over medium heat until just past pink. Drain the ground beef.

Mix the remaining ingredients together with the ground beef, stir well. Select how you wish to cook this chili.
For Crockpot
Place mix into the crockpot and set on low to cook for 6-8 hours.
For the Stovetop
Place the mix in a stockpot or large saucepan and heat over medium heat until heated through. Serve hot.
For the Oven
Place into a dutch oven and heat in the oven at 350 for 30-45 minutes until heated through and bubbly.
Notes
Do not add salt and pepper until ready to serve. You should find that it won't need any, but add at the end if it does.
If you want a thinner chili, simply add some water.
Serve with the usual chili toppings: onions, cheese, sour cream, guacamole, chips, crackers, etc.
PRO TIP: If you prefer yours a little spicier, try with a splash of cayenne pepper.
Nutrition
Nutrition Facts
Quick Easy Chili
Amount Per Serving (1 cup)
Calories 345
Calories from Fat 108
% Daily Value*
Fat 12g18%
Cholesterol 40mg13%
Sodium 1022mg43%
Potassium 781mg22%
Carbohydrates 39g13%
Protein 21g42%
Vitamin A 189IU4%
Vitamin C 11mg13%
Calcium 106mg11%
Iron 5mg28%
* Percent Daily Values are based on a 2000 calorie diet.
What does it take to be a peacemaker? Are you one? Am I one?
I definitely need to put some things into action if I want to be a peacemaker and be called a son (daughter) of God.
Matthew 5:9
Blessed are the peacemakers, for they shall be called sons of God