Jump to Recipe
Guess what is growing in the garden? SQUASH!! (I see you over there Mr. Loaves and Dishes – making yucky faces and trying to hide). There is NOTHING better on a warm spring evening than a few small yellow squash turned into an Easy Cheesy Southern Squash Casserole. MMmmm. Can you taste it already? (I didn't ask you, Mr. Loaves and Dishes).
If you have never enjoyed easy cheesy southern squash casserole, then you have been missing something DELICIOUS! This is a terrific use for those early summer squash that are PROLIFIC in the garden and inexpensive at the grocery, farmer's market and roadside stands.
These beauties came from my local roadside farm market this week. Aren't they lovely? Just looking at them gives you the warm feels for SUMMER time! Thanks Frank!
HOW DO YOU COOK YELLOW SQUASH IN THE OVEN?
In case you were just wondering how to best use yellow squash and cook in the oven, then this is the perfect answer. One thing you need to know though – Yellow squash is FULL of water and it is really necessary to cook them first on the stove top to remove some of the water before putting in the casserole. If you neglect to do so, your casserole will be soupy.
IS YELLOW SQUASH A SUMMER SQUASH?
You guessed it, yellow squash are a summer squash. Another favorite summer squash is zucchini. (For everyone but Mr. Loaves and Dishes). Some of the best things you can combine with any summer squash? Yummy cheeses – like the cheese found here (Parm and sharp cheddar). Fresh herbs – Thyme is added in this dish but basil is also great with summer squashes. Garlic – universally works well with summer squash.
Winter squashes are butternut squash, acorn squash and pumpkins. Those have a different flavor profile. So, we won't cover that here.
THE INSPIRATION FOR EASY CHEESY SOUTHERN SQUASH CASSEROLE
My Aunt Tommy made the BEST squash casserole you have EVER put in your mouth! I remember eating it like it might disappear when I was a kid. My parents were always AMAZED because I wouldn't touch a squash at home. How many nights did I sit in front of my dinner plate at the kitchen table until bed time because I wouldn't eat my squash? Many. That's how many.
My parents didn't have the magic of whatever my Aunt put in her casserole – they were simply just heating up squash on the stove top.
This is not my aunt's recipe – I wish. I have no idea what her recipe contained. However, the memory of her decadent delicious squash casserole caused me to start experimenting with recipes and this is what I came up with.
The funny thing is, my cousin Bill (Tommy was his mom), told me that he used to go down to our grandma's house and did the same thing over there. A food he wouldn't touch at home was soon gobbled up after my grandmother's magical cooking had touched it!
Alas, the food is always tastier at Grandma's. No Southerner has EVER said, "Oh DARN! Grandma's cooking for us tonight!". lol.
THE RECIPE FOR EASY CHEESY SOUTHERN SQUASH CASSEROLE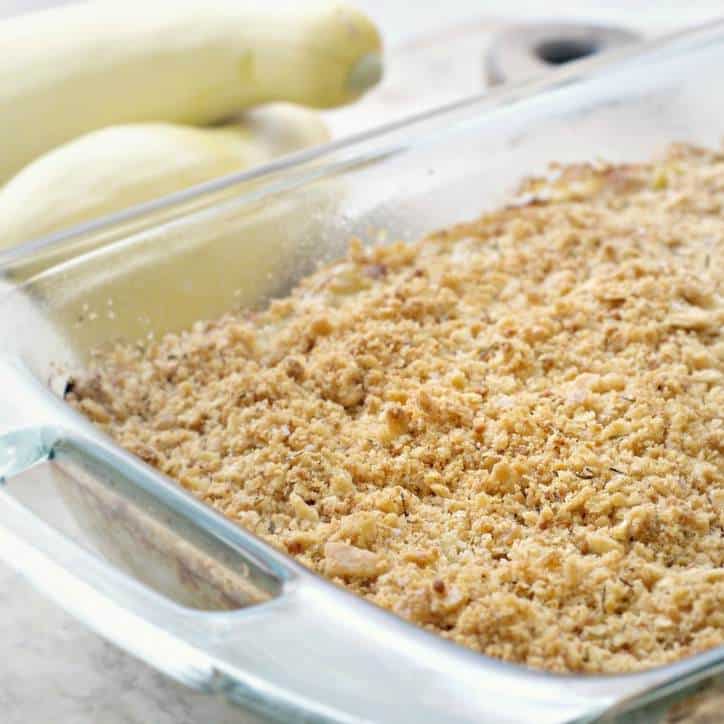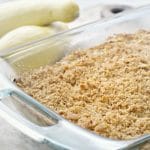 Easy Cheesy Squash Casserole
This squash casserole is the delicious one you remember from your childhood. Remember? The only one that you would eat?
Keyword:
squash casserole, cheesy squash casserole
Ingredients
1

tbs

vegetable oil

1

medium onion - chopped

½

tsp

garlic - minced

2

lbs

yellow squash

the smaller the better - Grate ½ the squash and slice and cut the rest into quarters.

1

tsp

salt

1

can of cream of chicken soup

or mushroom or celery

½

cup

sour cream

2

Cups

white or yellow cheddar cheese

1/3

cup

American cheese food

2

eggs beaten

1

cup

of crushed butter crackers

like Ritz (about 1 sleeve)

¼

Cup

Parmesan cheese - grated

1 1/2

tsp

dried thyme

2

tbs

melted real butter
Instructions
Preheat the oven to 350. Chop the onion, mince the garlic, grate and slice the squash, grate the cheese and crush the crackers.

Prepare a 9x12 baking dish with non stick spray.

On the stovetop over medium heat in a large skillet, heat the onion and cook till translucent then add the garlic and cook until fragrant - about 1 minute.

Add the squash and salt. Stir well and Add the lid and allow the squash to steam in their own juices. Keep cooking the squash until you can tell that water has been released from the squash and the squash are soft. Remove the lid and continue cooking until the water evaporates from the pan. Then remove from the heat and let rest.

In a large bowl, combine the soup, sour cream, cheese and eggs and stir well.

Once the squash have cooled somel, mix them into the soup mixture and mix thoroughly.

Spread the mixture into the baking dish.

Bake the squash at 350 for 25 minutes

In a medium sized bowl, mix the crushed crackers, parmesan, thyme and butter. After the squash has baked for 25 minutes, remove it from the oven and sprinkle the cracker crumb mixture on the top. Put back in the oven and bake for another 20 minutes.
Recipe Notes
It is very important to get that water out of the squash or your casserole will be soupy!
Nutrition Facts
Easy Cheesy Squash Casserole
Amount Per Serving
Calories 220
* Percent Daily Values are based on a 2000 calorie diet.
TIPS AND TRICKS FOR EASY CHEESY SOUTHERN SQUASH CASSEROLE
Squash is FULL of water – and that is the point of cooking it in the frying pan first – to remove some of the water. Otherwise, you end up with soupy casserole – yuck.

Cheese is good. You can always add a little more.

The kind of cheese you use is important. Choose a cheese with a lot of flavor – something sharp – like a cabots or a 'helluva" cheese. You might even want to mix two cheeses – like a cabots and an American cheese food. The cheese food will be creamy and the cabots sharp – so you get two wonderful flavors at once! Whoot whoot!

If you aren't someone who loves garlic or thyme – I'm wondering why – but anyway – you can always just skip those two ingredients. They both add FLAVOR and that is what we are all about here at Loaves and Dishes!

You CAN halve this recipe and it will serve two people very well for a couple of meals.

I have a friend who freezes this recipe and says it is fine – but when I have tried it – it gets soupy. I just don't like soupy casseroles.

On the other hand – I think squash casserole is good for ANY meal – even breakfast. So, eat it three times a day and you should be able to eat it all before it goes bad.

Keeps for several days in the fridge. Say whoa by 1 week though. You'll be sick of it by that time anyway.

Invite friends over to share in the bounty!

You CAN divide this between several smaller baking dishes and give the others away!

This dish will save for at least 2 days mixed up and ready to bake. Makes it perfect for a dinner where you need something prepared ahead of time.
Pro Tips for Easy Cheesy Southern Squash Casserole
Pro Tip: You can use frozen pre-chopped onions in this recipe, I did – great time saver!
Pro Tip: If you use a nice heavy pan to pre-cook the squash, the water evaporates so nicely!
Pro Tip: You can use your meat tenderizer to gently smash the crackers while they are in the cracker sleeve (put them in the bowl first) and then you can simply open the sleeve and cracker crumbs slide out!
A VERSE TO SHARE
I was in a hurry like I usually am and I carelessly left the horse feed scoop sitting on an old flower pot that had a dead flower in it. The flower pot was perilously perched on a small shelf on the leg of our deck canopy (this becomes an important factor later). Sometimes, God blesses us even in our sloppiness.
How carelessness brought something good
Two Carolina House Wrens begin to build a nest inside that very feed scoop. Mr. Loaves and Dishes and I are so excited. We watch with anticipation as the birds work tirelessly building their home. Then the eggs come and delicate babies hatch.
We spend a GREAT DEAL of time watching those dime size babies. We talk about the undying dedication of the mama and daddy bird endlessly running to and fro from the nest with bugs and grubs and whatever else they feed the babies.
The babies, so tiny and precious with pokey fuzz on top of their teeny heads peep with grit at the slightest vibration of their nest. They open their seemingly cavernous mouths in anticipation of the dinner delight that soon arrives.
These are pretty exciting times here at Flying Pig Acres, I'll tell ya!
Mr. Loaves and Dishes even sets up the game camera and begins recording the comings and goings of mom and dad. Here's a clip if you want to see. You can hear the babies tiny pleas' of "feed me Mama, feed me Daddy".
Our own anticipation of seeing babies emerge from the nest and take their first fledgling flaps is palpable. I wonder out loud if parent birds even realize what they were working for. How hard they work, toiling without end.
We go to bed on Sunday night talking about those babies.
We have no idea.
By morning they are gone.
During the night, something visits the babies and the recklessly positioned flower pot ends up on the floor.
The babies are lost.
The parents visit the nest until mid morning then leave, never to return.
In those final hours I am reminded of just how fleeting life, all life, really is.
Those baby birds remind me of James 4 where we are reminded that life is like a mist and that we never know what will happen. The book of James tells us that even saying that you are going to do something is a boastful and arrogant sin.
Wow.
Beyond that though, James is even more direct. I'll share the entire chapter here with you. I think it says a lot of what needs to be heard right now. Do you tend to judge others? Do you say "Tsk Tsk….". Do you condemn folks in the name of God? Do you condemn folks who say they act in the name of God? I have news – good news – all judging belongs to the Lord. Not to you. Not to me.
Because, honestly, our lives are not any different than those tiny precious little birds squawking for their daily grub. If we spend our time judging others or spend our time fighting and quarreling or spend our time having the wrong motives. What good does that do?
Are you living the life He intended for you?
Maybe make an account.
Amen?
Amen.
Here's James….
James 4: 1-17
What causes fights and quarrels among you? Don't they come from your desires that battle within you? 2 You desire but do not have, so you kill. You covet but you cannot get what you want, so you quarrel and fight. You do not have because you do not ask God. 3 When you ask, you do not receive, because you ask with wrong motives, that you may spend what you get on your pleasures.
You adulterous people, don't you know that friendship with the world means enmity against God? Therefore, anyone who chooses to be a friend of the world becomes an enemy of God. Or do you think Scripture says without reason that he jealously longs for the spirit he has caused to dwell in us? But he gives us more grace. That is why Scripture says:
"God opposes the proud
but shows favor to the humble."
Submit yourselves, then, to God. Resist the devil, and he will flee from you.Come near to God and he will come near to you. Wash your hands, you sinners, and purify your hearts, you double-minded. Grieve, mourn and wail. Change your laughter to mourning and your joy to gloom. Humble yourselves before the Lord, and he will lift you up.
Brothers and sisters, do not slander one another. Anyone who speaks against a brother or sister or judges them speaks against the law and judges it. When you judge the law, you are not keeping it, but sitting in judgment on it. There is only one Lawgiver and Judge, the one who is able to save and destroy. But you—who are you to judge your neighbor?
Now listen, you who say, "Today or tomorrow we will go to this or that city, spend a year there, carry on business and make money." Why, you do not even know what will happen tomorrow. What is your life? You are a mist that appears for a little while and then vanishes. Instead, you ought to say, "If it is the Lord's will, we will live and do this or that." As it is, you boast in your arrogant schemes. All such boasting is evil. If anyone, then, knows the good they ought to do and doesn't do it, it is sin for them.