Sometimes life's simplest pleasures are the best, eh? Yeah, I think so too and that certainly applies to garden fresh yellow squash. This quick dinner recipe has been around for at least my whole life and is the PERFECT use for the springtime squash bounty! I know, YOU NEED HOW TO COOK YELLOW SQUASH ON THE STOVE! Easy Peasy.
I have memories of my mom making this dish almost every single dinner time of my entire childhood – AND – I didn't like squash then – AND – I had to sit at the dinner table until I finished my plate.
How many nights of stand-offs do you think happened around that dinner table in Pleasant Hill, OH? A bunch I'll tell you.
So, it might seem strange that this is my favorite way to fix squash now (well, except for Easy Cheesy Southern Squash Casserole). But – you know – our tastes change as we grow older. I'm certainly older now, that is for sure!
I KNOW You Love Squash Recipes….
How to Cook Zucchini on the Stove
How To Prepare Squash
Wash the outside of the squash.

Remove the stem and blossom end.

For yellow squash, no need to remove the skin or seeds.

Cut into disks and then halve or quarter to make bite sized.

Saute in oil or butter and then add seasonings.
How Do You Cook Squash?
Wash the outside of the

squash

.

Remove the stem and blossom end.

For

yellow squash

, no need to remove the skin or seeds.

Cut into disks and then halve or quarter to make bite sized.

Cook by Sauteing in oil or butter over medium heat and then add seasonings.
IS YELLOW SQUASH A SUMMER SQUASH?
YES! Yellow squash and zucchini are both summer squash. You will find that they both have a high water content and a similar mild taste. Acorn squash, butternut squash and pumpkins are winter squash and have a different stronger taste.
HOW TO USE SQUASH IN COOKING YELLOW SQUASH ON THE STOVE
One thing I want you to know is how to use salt in this recipe. Sometimes squash can taste a little bitter – especially if it has grown a little too large. Salt takes care of bitter. In fact, you can remember that for most any recipe. Salt covers bitter. Something is too bitter – add salt!
WHAT IF WATER HAPPENS IN THE PAN WHILE I'M COOKING
One thing you need to know about squash – they are FULL of water – absolutely full. You can't see it, but it's there. So, as you cook them, the water comes out. Just ignore it is my motto.
Water can happen – it depends on the water content in your squash. It can also depend on the salt you added to the squash.
If water happens, you can
1) ignore it and just scoop the squash out when they are done and put them in a serving dish – water doesn't really hurt anything.
2) Keep cooking and eventually it will boil off – but your squash might end up pretty soggy and soft – which is ok with me – I live in the south – I wouldn't know what to do with a firm/crisp veggie. (Ok, that last part is a joke – people say that in the South we over cook veggies – the truth about squash is – I think they taste better when they are still a little firm to the bite).
HOW TO COOK SQUASH ON THE STOVE TOP
This is so simple, but maybe that is the thing. First choose smaller squash if you have a choice. Choose light yellow, beautiful, fresh, unbruised ones, if possible. If you are picking from your own garden – then eat what you have.
Cut into disks after you rinse the squash well. You can cut them however thick you like, but about ½ inch is good in my book.
Then simply cook in a skillet on the stove top in the butter and with onions and garlic and add salt and pepper! See the recipe below!
TIPS AND TRICKS FOR HOW TO COOK YELLOW SQUASH ON THE STOVE
There aren't too many other tips and tricks that I didn't already cover above. This is a simple recipe that simply amounts to heating things up in the frying pan until they are how you like them!

If you want to make more servings then cook more squash – about 1 squash per person is usually enough, it depends on how much your family likes squash.

If you like your onions cooked a little more, you can put them in the pan before the squash. Same goes for the garlic. I put mine in together – but really, it is up to you.

Someone asked, so I'm adding it here, yes, please cook your squash in a little bit of oil/butter – it is in the recipe, but just want you to know.
The recipe is at the end of the post.
A DELICIOUS DINNER TO ENJOY WITH THESE SQUASH…
We like a dinner of squash served with Hangry Hamburgers, The Secret to Old Fashioned Pinto Beans and a Perfect Steakhouse Baked Potato. We like to finish up with a Chocolate Chess Pie! Yum!
If you have an abundance of squash, you might also want to try my Easy Cheesy Southern Squash Casserole.
Would You Love to Cook the PERFECT Southern Dinner?
IMAGINE YOU, COOKING THESE! YOU CAN DO IT TOO!
Served with (choose one)
Chicken Pie or
And…
Add A little Yum Yum Sauce
Deviled Eggs made with this Easy Peel Hard Boiled Egg
And finish it all off with…
YA'LL HELP ME OUT, OK?
I need your 5 STAR COMMENTS BELOW 🌟 🌟🌟🌟 🌟! Please scroll down and leave me a 5 STAR COMMENT 🌟 🌟 🌟🌟 🌟because that lets the rest of the internet know that THIS is a great place for yummy recipes! You know you can always email me with questions too!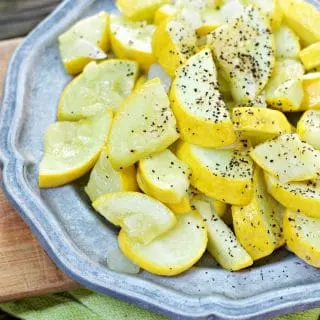 HOW TO COOK YELLOW SQUASH ON THE STOVE
A simple way to prepare yellow squash on the stove top
Print
Pin
Rate
Ingredients
2

medium-size yellow squash

1

small onion

1

tablespoon

vegetable oil

1

tsp

unsalted sweet cream butter

1

tsp

minced garlic

salt and pepper
Instructions
Cut the squash into disks that are about ½ inch thick. If the disks are larger than mouth size, then cut them into quarters.

Give the onion a rough chop.

Heat the vegetable oil and butter in a large skillet on medium heat on the stovetop until the better is melted and the oil/butter starts to glisten.

Add the squash, onion and garlic to the oil and cook until the squash becomes soft enough for your tastes (for me - that is about 5-6 minutes).

Add salt and pepper to taste - serve hot and with salt and pepper offered on the table.
Notes
If your squash taste too bitter when you are done, add salt.
If you finish cooking and there is too much water left in the pan either cook the squash more to evaporate the water (this will make the squash more mushy) or use a slotted spoon to scoop them out of the pan.
When choosing your squash, pick the smaller squash. The smaller ones have a lighter taste.
Figure one small squash per person or if the squash is larger then one squash per two people.
If you like for your onions to be more done, then put those in before you put the squash in the pan.
Make sure to cut your squash into bite sized pieces. Sometimes that is a disk shape and sometimes you must half for quarter the disk.
Nutrition
Nutrition Facts
HOW TO COOK YELLOW SQUASH ON THE STOVE
Amount Per Serving
Calories 133
Calories from Fat 81
% Daily Value*
Fat 9g14%
Cholesterol 5mg2%
Sodium 6mg0%
Potassium 593mg17%
Carbohydrates 12g4%
Protein 3g6%
Vitamin A 455IU9%
Vitamin C 37.9mg46%
Calcium 42mg4%
Iron 0.8mg4%
* Percent Daily Values are based on a 2000 calorie diet.
A VERSE TO SHARE
Today, I am drawn to share a verse about strength and I don't know why but I hope this is speaking to you. Today, I don't have a lot to say about it or even a story to share , at least not right now. But for whatever reason, this is the verse I'm feeling compelled to share with you.
My prayers are with you. I know your prayers are with me – and believe me – that means more than you will ever know. Thank you so much sister (and brother).
Let's be glad that we have this time together and be thankful.
Isaiah 12….
In that day you will say:
"I will praise you, Lord.
Although you were angry with me,
your anger has turned away
and you have comforted me.
Surely God is my salvation;
and I will trust and not be afraid.
The Lord, the Lord himself, is my strength and my defense;
he has become my salvation."
With joy you will draw water
from the wells of salvation.
In that day you will say:
"Give praise to the Lord, proclaim his name;
make known among the nations what he has done,
and proclaim that his name is exalted.
Sing to the Lord, for he has done glorious things;
let this be known to all the world.
Shout aloud and sing for joy, people of Zion,
for great is the Holy One of Israel among you."