Mr Loaves and Dishes and I have noticed that someone shrunk our clothes. I think it is incredibly rude how my jeans pinch my waist. Sweet hubby doesn't like for his shirt to touch his belly. It's touching. This might mean there are more veggies in our future, but I think salads get boring and baked meat is ugly.
There I said it.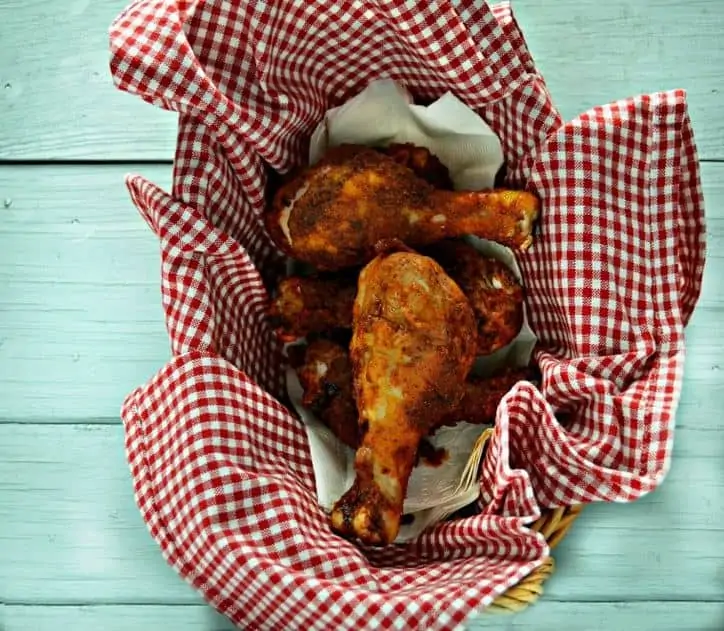 I know how ya'll are. You think the Loaves and Dishes crew is over here with bacon grease dripping down our chins every day. I mean, I try to wipe the the stuff off my shirt before I go out in public, most of the time anyway. I don't know why you think that.
Just because I think cream cheese is the ultimate ingredient, doesn't mean I actually use it in everything. Don't be such a hater.
You know my rallying cry is, "Have your family licking their plates clean and hollaring for more". "But all of the stuff around here looks so delicious and how could it be that good without loads of grease and fat?", you ask? You don't want to feed your family such a heavy meal, right?
Well, of COURSE NOT! Why would anyone want that for their family? Instead, wouldn't you prefer to see their long faces when you serve them a flavorless, stringy piece of dried up boneless skinless chicken breast and have them shuffle away from the table with their bellies unsatisfied? Yeah! That's the spirit. Let's add a few tasteless bland string beans as icing on the situation!
I do have an idea though.
Perhaps we could meet in the middle.
How about a baked chicken recipe with a POW of flavor that is neither stringy, chewy or UGLY?!? Here it is. Cha Cha Oven Baked Fried Chicken. It ticks all the boxes, tasty, flavorful, low in fat, baked AND your family with YELL – "WE WANT MORE, WE WANT MORE, WE WANT MORE!!!" I promise. Mr. Loaves and Dishes did. He is a good barometer of this kind of thing.
PRO TIP: One thing you'll need is The Best Way to Freeze Chicken (Easy Freezing) method that I've outlined here!
THE RECIPE FOR SIMPLE CHA CHA CHICKEN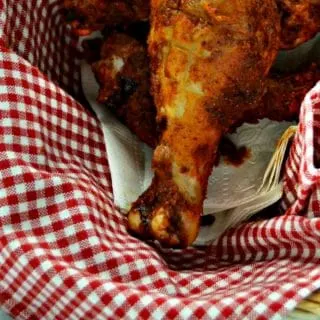 Simple Cha Cha Chicken
If you enjoyed this recipe for Simple Cha Cha Chicken - please come visit me again at www.loavesanddishes.net for more great and easy recipes that will have your family banging the table for more!
Print
Pin
Rate
Ingredients
4-5

Chicken legs

½

stick

56.7 grams of whole unsalted butter

⅓

75.6 grams Cup all purpose flour

1

Tbs

14 grams Chili powder

1

Tbs

14 grams paprika

1

Tbs

14 grams Garlic powder

1

Tbs

14 grams Onion powder

¾

tsp

3 ml ground cayenne pepper

1

tsp

5 ml cumin

2

tsp

10 ml Kosher salt

1

tsp

5 ml black ground pepper

1

tsp

5 ml brown sugar
Instructions
Preheat oven to 350 F (180 C ) (gas mark 4) (moderate oven). Remove chicken legs from package and pat dry with paper towel. Set aside. Place a rack inside a half sheet sized rimmed baking sheet and set aside.

In a small microwaveable bowl, melt the butter and set aside.

Mix all of the other ingredients together in a medium size bowl, mix well.

Using a brush, paint a thick coat of melted butter over each of the chicken legs. Use your hands to pat the flour mixture onto each of the chicken legs, pressing the coating into the skin slightly as you go. When the coating is applied all over, place each leg on the rack that is in the rimmed baking sheet. Make sure to allow some space between each leg so that the heat can circulate well while baking - this will help crisp the skin.

Place on middle rack in the oven and bake for 35 minutes. Remove from the oven and allow to rest for at least 10 minutes.
Notes
The more spice you use, the better it tastes
Nutrition
Nutrition Facts
Simple Cha Cha Chicken
Amount Per Serving
Calories 150
* Percent Daily Values are based on a 2000 calorie diet.
TIPS AND TRICKS FOR SIMPLE CHA CHA CHICKEN
This recipe can be increased for the number of chicken legs desired for your number of guests.

Depending on the size of the chicken legs you are using the coating may cover more chicken.

Feel free to use this recipe with other cuts of skin on/bone in chicken, it works just as well, but you may need to adjust your baking time accordingly.

If you have packaged Taco Seasoning (any brand will work), you can substitute that for all of the ingredients starting with the Chili powder through to the brown sugar. Definitely add the brown sugar!

This dish is slightly spicy. If your family prefers less spicy foods, you can cut down on the cayenne pepper or leave it out entirely. BUT – it IS called Cha-Cha chicken for a reason.

And hey, look, I know the media has taught us that skin on is terrible. But I'm telling you, that is where a lot of the flavor is PLUS it helps hold in moisture when you bake. So, if you want to give your family a LITTLE flavor, then just leave the skin on. If it bothers you that bad, then ok, remove it – but you are risking long faces at the dinner table.

You COULD use this recipe for boneless skinless breasts – but I'm recommending the leg with the bone in and the skin on. If you do the boneless skinless breast – you'll have to adjust your baking time and I'm gonna guess that would be about 20 mins but I haven't tried it myself, so I can't say for sure.

You will notice that this recipe has the European weights and stove settings. That is because I originally did this recipe for a cookbook that I was going to be part of. Unfortunately, there wasn't enough interest from other bloggers/cooks and thus, the cookbook never came to be. The good news is – I'm sharing this recipe with you now for FREE! Whoot whoot! We win anyway!

If you want the full "fried chicken" recipe – the soul food kind – You can find it HERE – just be careful – because I about burned my kitchen down with it. But…. it is DELICIOUS.
A VERSE TO SHARE
Look folks, this world is a hard place to be sometimes. It just is. It seems to me we don't get along very well. As my ex grandmother-in-law would say, "We all have our A**'s on our shoulders". It's time to move past that. I think Luke, chapter 6 is a good place to start.
"But to you who are listening I say: Love your enemies, do good to those who hate you, bless those who curse you, pray for those who mistreat you.
If someone slaps you on one cheek, turn to them the other also. If someone takes your coat, do not withhold your shirt from them.
Give to everyone who asks you, and if anyone takes what belongs to you, do not demand it back.
Do to others as you would have them do to you.
"If you love those who love you, what credit is that to you? Even sinners love those who love them. And if you do good to those who are good to you, what credit is that to you? Even sinners do that.
And if you lend to those from whom you expect repayment, what credit is that to you? Even sinners lend to sinners, expecting to be repaid in full.
But love your enemies, do good to them, and lend to them without expecting to get anything back. Then your reward will be great, and you will be children of the Most High, because he is kind to the ungrateful and wicked.
Be merciful, just as your Father is merciful.
~Luke 6: 27-36