TODAY friend, I am super excited to give you an awesome recipe for perfect fried chicken. I have searched,no kidding, for a perfect fried chicken recipe for about 25 years…. at least 25 years. I have tried frying chicken every which way there is and I have NEVER been able to develop a thick crispy crust that would be completely done all the way around and not be burned on other parts. I have never been able to have uniformly juicy pieces of chicken…. UNTIL now. Today I am sharing what I have learned with my Fried Chicken Recipe.
Some of you have only come here for the recipe – and that is fine – I want you to have the express lane option. So, the recipe follows immediately after this paragraph. I know, it is a chore when bloggers ask you to scroll all the way to the bottom of the post to find the recipe. The rest of us who like to know all there is to know about a recipe – where it came from, why the author is saying to do it this way, what are the extra tips and tricks that make this recipe perfect….. for those folks – just scroll on down and I'll share all of that with you. See you on the flip side of this recipe and perhaps a few pictures.
THE RECIPE FOR PERFECT FRIED CHICKEN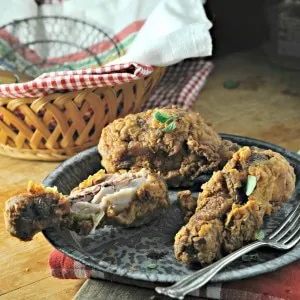 Perfect Fried Chicken
This recipe for the perfect fried chicken is accompanied by important information located in the post. Please see www.loavesanddishes.net for more recipe related information that could not be contained in the recipe itself.
Print
Pin
Rate
Ingredients
1 ½

cup

kosher salt

¼

cup

sugar

2

Tbs

paprika

3

heads of garlic - cloves smashed.

3

bay leaves

1

quart

buttermilk

4

Cups

whole milk

4

tbs

white vinegar

8-12

pieces

of chicken

4

Cups

all purpose flour

1

tbs

kosher salt

1

tbs

paprika

1

tbs

onion powder

1

tbs

garlic powder

1

tbs

black pepper

3

large eggs

3

tsp

baking powder

1 ½

tsp

baking soda

4

cups

peanut oil
Instructions
In a large stainless steel stock pot or in a large plastic kitchen bowl, combine the salt, sugar, paprika, garlic cloves, bay leaves, buttermilk, milk and vinegar. Stir well until the salt and the sugar dissolve completely (takes a few minutes). Place the chicken down into the liquid, cover with plastic wrap and place into the refrigerator to soak for 4 hours.

Remove the chicken from the fridge - shake the excess liquid from the chicken and then lay the chicken out on a drying rack set over a sheet pan and place UNCOVERED back into the refrigerator to dry for another 2 hours. (Do not set over or near any fruits, veggies or other foods that it may contaminate).

After 2 hours, remove the chicken and you may cover it with plastic wrap until ready to use.

When ready to cook for a meal, measure out the flour into a 9x13 pan - add the salt, paprika, onion powder, garlic powder, black pepper and stir well. In a medium sized bowl, mix the eggs, baking powder and soda - mix well - expect that it will foam - because it will.

Preheat the oven to the lowest setting (for my oven this is 170) and set a rimmed baking sheet covered with paper towels in the oven (prepared for the chicken once it is fried). Use a HEAVY 8 quart dutch oven and place 2-3 inches of peanut oil in the bottom of the pan. Affix a thermometer to the side of the pan so that the thermometer can properly read the oil temp. Set the burner on medium. When the oil temp reaches 365, it will be ready to fry the chicken.

While the oil heats, dredge the chicken pieces in the flour followed by the egg mix (you may have to pat the egg mix onto the chicken lightly) and then repeat into the flour. You can set the chicken on a plate while you wait for the oil. Repeat this for each piece of chicken. When the oil is ready do not put more than 3 pieces in the oil at one time. Make sure the temp is coming back up to 365 while frying. Cook the chicken for 5-6 minutes on one side, then using tongs, flip the chicken to the other side and cook for another 5-6 minutes. When complete - transfer to the paper towel covered sheet pan in the oven and allow to rest until all of the chicken has been cooked.
Notes
Different cuts of chicken will require a slightly different cook time.
Nutrition
Nutrition Facts
Perfect Fried Chicken
Amount Per Serving
Calories 330
* Percent Daily Values are based on a 2000 calorie diet.
THE INSPIRATION FOR PERFECT FRIED CHICKEN
As I said, I have been trying to prepare perfect fried chicken for many many years. Until now, I have never been successful. Ever. I have tried frying it in an iron skillet like I remember my grandmother doing. I always end up with chicken that is stringy, chewy and with skin that is burned in places. I have tried frying in oil in a dutch oven. Again, burned in some places, not done in others and the chicken meat is stringy. In fact, since none of this has ever worked out for me – even after watching numerous episodes of Diners Drive-ins and Dives and various other cooking shows, I have resorted to only making Oven-fried Chicken which is predictable and always turns out good. I'll share my recipe for that some day!
Finally, back this summer, I bought the America's Test Kitchen Cook Book at a used book store. Awesome purchase! This recipe is basically their recipe. I have "doctored" up the breading which I think is much more tasty. I have added a few more "new to frying chicken tips". – but otherwise, this is their method and recipe.
TIPS AND TRICKS FOR PERFECT FRIED CHICKEN
The VERY FIRST thing you need to know – DO NOT FRY MORE CHICKEN IN THIS OIL THAN WHAT THE RECIPE CALLS FOR. As the oil is used, it will foam up and you could cause yourself a kitchen fire (like I almost did) by using the oil too long. Once you have fried the 8 pieces of chicken called for in this recipe – you need to cool your oil and strain it or throw it out and get clean. Either way – do NOT keep frying. I almost caused a fire – and I don't want you in the same boat!
This is not an inexpensive recipe. Not cheap at all. It is, in fact, expensive.

Referring to the first point – do not try to cut corners with this recipe. Do not try to fry your chicken with less oil. Do not try to use less buttermilk. Do not try to use less spices. Your whole recipe will not turn out right and you will be disappointed. Don't do it.

If you are preparing this chicken for dinner – it will take a long time to do – it will take your concentration. Go easy on yourself for the other dishes you will serve. Making mashed potatoes? Make sure you have them ready to go before you even start frying the chicken. Make something easy to go with your chicken because the chicken will take all of your concentration. For example – it is perfectly acceptable to serve made ahead potato salad, coleslaw, a lovely salad, freezer ready biscuits, fruit salad, etc with your fried chicken. Fried chicken night is probably not the time to try to do Homemade Mac and Cheese and cute little appetizers that require a lot of time!

Use a thermometer to keep track of your oil temp. If your oil is too hot – your chicken skin will burn and the meat wont' be done. Eww. If your oil is not hot enough – your chicken will take forever to cook and the coating might fall off before it is done. The right temperature is important.

You can reuse the oil. Allow the oil to cool completely and then strain it well through a fine sieve. The strained oil will keep and you can use it next time.

Allow the chicken to sit in the oven on the sheet pan for at least 5 minutes after frying. This dries up a lot of the oil and crisps the skin a little. Much better this way.
I really hope that you enjoy this fried chicken and use the recipe for years to come. Have you tried to fry chicken before? What has been your results? Do you have any tips and tricks?? Leave me a note below and let me know.
But love your enemies, do good to them, and lend to them without expecting to get anything back. Then your reward will be great, and you will be sons of the Most High, because he is kind to the ungrateful and wicked. ~ Luke 6:35
A FEW PHOTOS OF THE PROCESS FOR PERFECT FRIED CHICKEN