We all need to know how to make an easy dinner for 30 people, right? I have the perfect recipe that will allow you to be running around your party filling up drinks, giving directions to the bathroom and making pleasant conversation rather than sweating over a stove or a grill – doesn't that sound like relief? I think so too! Summer Party Easy Crockpot Pork Barbecue fits the bill – unless your party is for vegetarians.
Just let me say (recipe seekers, I know you need that recipe right away), this recipe is for 15 lbs of Barbeque – but you can easily adapt this for any size crowd. I actually made 30 lbs of Barbecue by doubling this recipe. You could just as easily make 5 lbs of Barbeque or less. The ingredients are forgiving and if you add a little too much of this and not enough of that – it will be ok. The really important part is to cook the pork with the fat side up, remove the bone and extra fat after cooking, remove the extra fluid in the crockpot before adding the other ingredients and don't stir the final product too vigorously. And before we go too much farther – I just want to tell you – I've had a few glitchy website issues over the past week – and I apologize for the delay in getting this post out to you. But as we all know – website issues happen – and I am just so thankful to have everything back in working order! I never thought that being able to see what I have typed and see the photos I have taken would look SO GOOD!
THE RECIPE FOR SUMMER PARTY EASY CROCKPOT PORK BARBECUE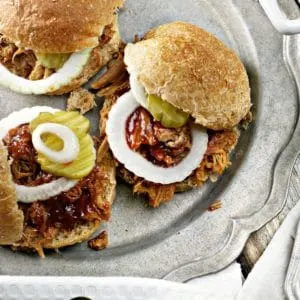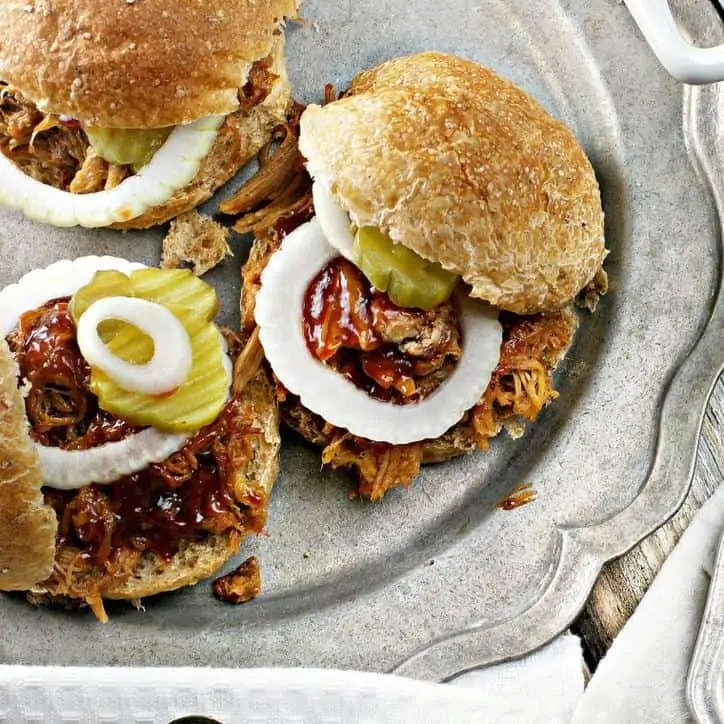 Summer Party Easy Crockpot Barbecue
This recipe will serve 30 people a 1/2 lb of BBQ each (about one sandwich each) or will make 60 sliders.
Print
Pin
Rate
Ingredients
15

lb

Boston Butt Pork Roast

40

oz

of Sweet Baby Ray's Barbecue Sauce

any specific flavor you like - I use the giant bottles from Sam's Club

1/4

C

heaping strawberry jam

1

packet

Ranch Dressing mix powder

1

tbs

garlic powder

1

tbs

onion powder

1

Tbs

ground pepper

2

tbs

lemon juice

Salt to taste - but usually about 1 tbs.
Instructions
24 hours before you plan to serve the BBQ - place the Boston Butt Roast into a large (about 6 quart) CrockPot with the fat side up. If you use a smaller crockpot - you might need two. You want to be able to comfortably be able to put the lid on. Put the lid on and cook on low overnight. Do not add water or anything else - just plop it in there, put the lid on and turn it on low.

4 hours before you plan to serve (this is give or take - test the roast first - it should fall apart with a fork - if it doesn't , it isn't ready for the other ingredients yet). Use a ladle and scoop out as much of the liquid in the crock pot as you can - until there is only about an inch left in the bottom. Remove the bone and discard. Remove any big unsightly chunks of fat as well ( I know that sounds gross - but it is what it is). Add all of the other ingredients all at once and then gently - oh so gently - so as not to turn your BBQ into mush - break up the meat and stir in the other ingredients.

Put the lid on and continue to heat on low until time for the party. Serve warm. I like to allow guests to serve their own from a chafing dish - but I have also served from the crockpot. Serve on small buns with sides of coleslaw, pickles, mustard, extra BBQ sauce or any other BBQ toppings your mates might enjoy!
Notes
If you would like to make this for a smaller number of people, simply cut the roast in half and cut the cook time as follows:
7 lb roast - 12 hours on low total cook time
3lb roast - 8 hours on low
Nutrition
Nutrition Facts
Summer Party Easy Crockpot Barbecue
Amount Per Serving
Calories 250
* Percent Daily Values are based on a 2000 calorie diet.
TIPS AND TRICKS FOR SUMMER PARTY EASY CROCKPOT PORK BARBECUE
As you know, I am usually all about crockpot recipes in which you add everything at the beginning, put the lid on and leave it alone. This is a little different since it is for a BIG party and I would much rather mess with a crockpot ONE TIME while cooking for 30 people than to COOK FOR 30 PEOPLE! Lol.

When you are trying to figure out how much meat you need – in general, I try to allow for ⅓ – ½ lbs of meat per person and then always allow for a few extra servings. In this case I made extra because I knew that I had some big eaters coming! I wasn't able to fit the full 30 lbs in my crockpots. I ended up freezing about 2 lbs of of the meat itself and had leftover BBQ anyway- which also freezes nicely. Just put the leftovers in quart sized freezer bags and plop them in the freezer! Easy! If you haven't frozen things before – just squeeze out as much air as you can to help prevent freezer burn.

In regards to how much meat to fix – I will say that sweet hubby, Mr. Loaves and Dishes, offered to do the grocery shopping for this party – and I gladly let him – because I was running out of time to do other things. I put on my list "Two Big Boston Butts" and since he was at Sams Club – he came home with CAVEMAN sized Boston Butts. My man likes Big Butts and that ain't a lie!! (I just couldn't help myself – and now that song will be stuck in my head for the next 3 days). Lol. One of those sized packages would have been enough really. That is why in this recipe – I am specifying the pounds. 🙂

In the recipe I indicate that you can use any flavor you like of the Sweet Baby Rays. I personally have used the Chipotle Pepper flavor and for this particular party I just used regular – both are yum.
OTHER STUFF BESIDES SUMMER PARTY EASY CROCKPOT PORK BARBECUE
I wish I had even one picture of this whole event. I don't. I was too busy running around pointing out the drink cooler, the bathrooms, etc. I should have appointed someone as "picture taker". We had a party to celebrate all of the happy events in my daughter Sarah and her husband Richie's lives. As you know, they were married in a small family only chapel affair in February. Richie graduated first, in December and then Sarah graduated in May. Of course, all of our family and friends couldn't attend all of these events so we had a big ol' carry in party to celebrate!
Does that sound odd? A "carry in" party? I used to hostess parties where I supplied all of the foods and drinks – which I felt was a 'gift" to family and friends. Well meaning friends would always ask, "what can I bring". I would say, "Just yourselves". Inevitably, they would show up with something to share. I finally decided, "I'm just going to ask everyone to bring the blessing of something to share from now on". This works out well and people enjoy bringing something – I think. Do you ever do parties like this? How does it work for you? Leave me a comment below – I would love to hear your input.
What I need now is a cornhole board games for these type of events!
Be Still and Know that I Am God ~ Psalms 46:10