Jump to Recipe
Hi! Sarah here! I have some exciting news since the last time we talked! I was married last Saturday afternoon to my very best friend in the whole wide world! I'll tell you a tiny bit more about that in just a little bit, but for now I want to share my newest favorite recipe for Easter! So simple and NOT a bank buster at all! As you know, I am STILL a college kid (at least for a few more months) and these Easter Cake Pops are a terrific little treat that I can take home to share with my little nieces and nephews (and my mom, step dad, sister, brother and sister-in-law – if you want to know the truth of who will probably end up eating the most Easter Cake Pops!)
My mom tells me that we have a new "rule" at Loaves and Dishes. We have a recipe express lane for the folks who just want to get in here, get the recipe and get out. It is right here after the second paragraph. So, with that, I'll meet up with everyone else after the recipe and the photos and we will have a little chat. I DO want to say, right here up front. The good people over at Krusteaz gave me the cake mix that I used in this recipe. We went to the International Food Blogger Conference in the Fall and Krusteaz was handing out the most amazing samples of their mixes. I made these cake pops with the Meyer Lemon Pound Cake Mix. They are DELICIOUS! You could choose to make them with any kind of cake mix that your little heart desires though. Thank you Krusteaz!
THE RECIPE FOR EASTER CAKE POPS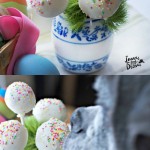 Easter Cake Pops
Did you like this recipe? If so, check out our other great recipes at Loaves and Dishes!
Keyword:
cake pops, holiday cake pops
Ingredients
1

Box of Cake Mix prepared per package instructions

8

oz

of a cream cheese type cake icing

1

bag of white melting chocolates

Candy sprinkles
Instructions
Bake the cake per package instructions. Remove from the oven and cool completely. When cool, crumble well and mix in the cake icing. Roll into golf ball sized balls and place on popsicle sticks. I found that it was best to refrigerate the mixture for 24 hours first - that makes it much easier to form the balls.

Once the balls are formed and on the sick, set them aside. Melt the chocolates in a microwave safe bowl on the high temp setting, stirring every 30 secs until completely melted. Dip the cake pops into the white chocolate and cover well. Sprinkle with sprinkles of your choice and allow to cool. I used a special holder that I purchased just for cake pops from the craft store - this made the whole process much easier.
Recipe Notes
These cake pops aren't just for holidays, they are for any time!
Nutrition Facts
Easter Cake Pops
Amount Per Serving
Calories 220
* Percent Daily Values are based on a 2000 calorie diet.
TIPS AND TRICKS ABOUT EASTER CAKE POPS
There are a lot of sprinkles to choose from – so just choose whichever seem the most festive to you. I liked the small multicolored balls. You might choose to use the candy rabbits or chicks. This is the fun part!

If using these for a gift, you might want to consider covering them with a small cellophane bag and tying it with a cute ribbon. You can buy those supplies at any craft store or a specialty cooking store.

I found that when I tried to roll the cake pops into balls immediately after baking the cake and adding the icing, it was TOO LOOSE. You should see the lumpy headed little cake pops I came up with! Too funny. I refrigerated the rest of the mix out of frustration and when my mom got it out of the fridge a day later – it was so much easier to work with.

I liked the lemon flavor cake pops ok – but I think a different flavor would be better – perhaps just a white cake mix or a chocolate cake mix would be the best for a first try at this. If using a white cake mix, you could always add food coloring and go for more eastery colors like pink and green.

This would be a fun project to try with older children – I know if my other niece and nephew had been here, they would have had fun helping.
OTHER STUFF BESIDES EASTER CAKE POPS
My mom says that she knows you will want to see at least one wedding picture. I bet you didn't know that my husband is really batman. Did you? So, I'll share a "normal" wedding photo first followed by the moment that I discovered that he is really batman!
You know, as a newly-wed, I want to ask you – especially those of you who have been married for a while. Do you keep discovering new things about one another? Like, have any of you found out that your loved one is really a super hero undercover? What about something else? I need to be forewarned about these things! Help me out!