Why? Why oh why would I post a recipe for the perfect roasted turkey on the day AFTER Thanksgiving? Am I just being mean? Am I dense? Did someone hit me in the head while I was Black Friday shopping? Is my calendar a day off? Nope. The issue is that 99% of the time this website is all about you. I purposefully post recipes that I think you want to see. Admittedly, I take photos that I think will entice you to go in the kitchen and cook up what you have seen here. It isn't a game. I want you to GO COOK! There isn't anything special about me. Anything I can do, you can do too! It just so happens that TODAY, I have fresh information about the perfect roasted turkey because I have now done it twice and HOLY COW (errrr, I mean….. Turkey. Holy Turkey!) It was delicious – so moist, tender, juicy! I felt like a total kitchen ROCK STAR as I ate my turkey!
I have no food porn photos of moist glistening turkey with gravy dripping over the sides. Only photos from my phone. No photos of plates of food – because, it was on the way to the table! lol. Today I have nothing to make you drool. In fact, you are probably sick of looking at turkey! The real reason I am writing this post is because while 99% of the time, this website is all about you -1 % of the time, I post things here simply so that I can remember how I did it. There is a TERRIBLE thing floating in the air at my house. Sweet hubby has accused me of cooking things that he loves but knows we will NEVER have again – because I have no idea how I did it the first time.
He started making this accusation about 4 years ago. And so, after sweet hubby started accusing me of this atrocity (and really, I had no recourse – because, ummm……sometimes I really don't remember how I did something – shhhh don't tell him that), I started writing my recipes down on notecards and keeping them on a ring that hangs on the refrigerator.
If something ever happens to me – this is the most valuable thing I own. Right here. The recipe cards – not the Blueberry Cobbler recipe – although that one is a prize!
If anyone can read my writing – wow! – they will have some great recipes!
While it had crossed my mind to share this recipe with you (I made a few process photos – but then, when it came right down to it – I didn't have time to get my good camera out and do all of the necessary shots). I mean, I had 15 people (at least) coming for dinner. I had some cobwebs to knock down! Besides, I'm guessing that you probably have your own turkey recipe. There are millions of great websites and cookbooks out there with awesome information about cooking a turkey. It isn't any problem to look that information up. But after making our Thanksgiving turkey this way twice, I have to say, this is MY recipe from now on! I'm happy to share it with you!
SECRET TIPS TO THE PERFECT ROASTED TURKEY
Buy a FRESH turkey if you can. By fresh, I don't mean a turkey from the grocery store labeled as "fresh". I mean, go to a farmers market sometime in the early fall. Make friends with some farmers. Find out who will have fresh turkeys at Thanksgiving and find out how and when you can get one! This is no time to be shy. Believe me, you WANT a fresh – really fresh- turkey. Our turkey this year was live on the farm on Saturday and in my fridge on Monday. In the brine on Tuesday and having a butter massage on Wednesday. You know where it ended up after that. (Now, I KNOW that the grocery store will have turkey on sale for 0.50c per pound or something like that – but go check out some youtube videos on this subject and ask yourself, do I want that turkey on my Holiday table? Trust me, it is worth the price difference).
Long before your turkey will arrive, MAKE SURE you have a pot large enough to soak the turkey in and make sure you have enough room in your fridge or in a cold place for the large pot to sit for 24 hours. (We have an old extra fridge out in the shed – so that is where he takes his long bath at my house – a cooler packed with ice would work too.). I soak mine in my large canner. Here is a link so that you can see what I am talking about. You could also use a food grade 5 gallon bucket – just anything big enough to hold the entire bird submerged in water that you can keep cool for 24 hours.
Two full days before Thanksgiving (on Tuesday) begin work on your turkey – that is when you start the brine.
The day before Thanksgiving (Wednesday) do the next step – a butter/herb rub down.
Plan for the turkey to be in the oven for 13 minutes per pound. Plan for the turkey to come out of the oven at least an hour or two before your guests will arrive. A turkey should bake at 450 for 30 minutes (for crisp skin) and then 350 for the remainder of the time.
No need for using a turkey roasting bag.
It is a good idea to have a roasting pan. You do not have to pay a lot for one, but a v shaped rack is very helpful. I have a pan similar to this one. I bought mine a Big Lots and paid about $30. It works just fine.
A good thermometer is absolutely essential. Sweet hubby bought me a similar thermometer for my birthday and it is AWESOME! We inserted the probe into the breast, ran the cord out to the table beside the stove and then I kept the remote where I could see it. When the turkey reaches 161 it comes out of the oven. Period. No matter if the total elapsed time is correct or not. When the temp is right, the breast meat is right. Take it out. Here is a link to the thermometer that I have
A basting bulb makes the work of cooking a turkey MUCH MUCH easier. I don't have one, but will be buying one before next year. ESSENTIAL turkey item! I have the burns on the back of my hands to prove why this is a turkey essential!
Finally, good oven mitts are another essential. If you don't have TWO good mitts – then I implore you. Get some. Stop trying to be like me using kitchen towels to retrieve things from the oven. See the information about the basting bulb above – burned hands are no fun.
You might also enjoy How to make Stove Top Stuffing. this Traditional Holiday Stuffing
RECIPE INSPIRATION FOR THE PERFECT ROASTED TURKEY
Both times I have made the prefect roasted turkey, I used a combination of the recipes offered by Alton Brown and Ann Burrell. I mostly used Alton Brown's brine recipe and adapted it for tastes that my family prefers. Then I used Ann Burrells butter rub on my turkey. I had to adapt it both years because as the butter became really cold again – it started to flake off and I am not really sure what to do about that – other than what I did – I put that information in the recipe.
THE RECIPE FOR THE PERFECT ROASTED TURKEY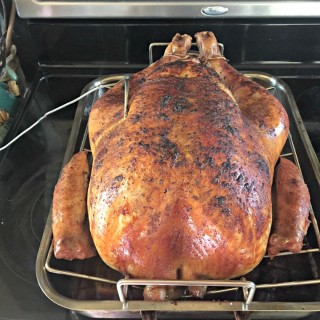 The Perfect Roasted Turkey
One of the best dinners I've made this year (and every year, frankly) is this roasted turkey dinner that I make for Thanksgiving. You can't go wrong, and I've got all the photos in the post to help you!
Print
Pin
Rate
Keyword:
roasted turkey, how to cook a turkey
Total Time:
2
days
5
hours
Author:
Loaves and Dishes
Ingredients
For the Brine
1

Cup

kosher salt

for up to a 16 lb turkey – if more than 16lbs, use 1 ½ Cups

½

cup

dark brown sugar

3/4 cup is greater than 16lbs

1

gallon

chicken stock

1 ½

TBS

black pepper corns

1 ½

tsp

allspice berries

1

head of garlic sliced in half through the perimeter

don't worry about the papery outside

1

onion cut in half across the perimeter

2

bay leaves
For the Butter Rub
3

sticks of butter

allowed to come to room temp

1

bunch of rosemary – finely chopped

¼

Cup

kosher salt
Before roasting the turkey add aromatics
Salt and pepper

1

red apple cut in quarters

1

onion cut into quarters

3

cinnamon sticks

1

cup

chicken stock

4

sprigs of rosemary

2

bunches of sage

Olive oil

During Baking

Chicken Stock
Instructions
On the Tuesday before Thanksgiving or two days before you plan to serve the turkey, clean your kitchen sink very well and rinse well. Remove the turkey from the packaging and rinse the turkey well under running water in the sink – make sure to remove any extra parts from inside the turkey (neck, gizzard, heart, etc). – allow the turkey to sit in the sink while you prepare the brine.

On the stove top in a large pot (in the pot you will soak the turkey in ideally – but if you are soaking in a container that can't go on the stove, then in a large pot will be fine) add the chicken stock, salt, brown sugar, peppercorns, allspice, garlic, onions and bay leaves over medium heat and stir constantly until the sugar and salt are melted and the water has started to become warm. Remove from the heat.

Add 2 cups of ice to the stock mixture and stir. When cool enough to touch, put this brine mix in the container where the turkey will brine. Place the turkey into the stock mixture breast side down. Add cold water to the mixture enough to cover the turkey. If the turkey floats, add something heavy to the top to cause the turkey to sink in the water and become completely submerged. Cover your container well with a lid or plastic wrap and place in the fridge (or the iced cooler) for 24 hours.

After 24 hours, clean the sink and rinse very well again. Remove the turkey from the brine solution and allow to drain well in the sink. While the turkey is draining, prepare the butter rub. Once the butter is ready, dry the turkey VERY WELL using paper towels. Keep drying. The butter won't stick if the turkey is wet. It will just make you mad. Using your hands mash the butter, chopped rosemary and salt together to form a paste.

Using your hands, peel the skin up some from the neck area and with butter in your hands, stuff the butter down between the skin and breast meat – massaging in as best you can. It is ok if the butter is in little pockets. Once the under skin area of the bird has been buttered, butter the outside of the skin both upper and lower areas and all over the legs, thighs, wings and breasts. Keep massaging until you have used all of the butter.

Place the bird on the roasting pan rack and into the pan and place uncovered in the fridge overnight. Yes, uncovered. This dries out the skin so that it will be crispy after roasting. Do not place any other food that needs to be cooked near the turkey in the fridge.

Preheat the oven to 450 and place the oven rack on the lowest position. On removing the bird before roasting, liberally salt and pepper the inside cavity of the bird. Then stuff the inside cavity of the turkey with the aromatics and pour the 1 cup of stock inside the bird. Any place that the butter appears to have flaked off of the bird, rub well with olive oil and sprinkle with salt. If you are using a remote thermometer, place the thermometer probe.

Place turkey in the oven at 450 for 30 minutes (uncovered). After 30 minutes, if there are no juices in the roasting pan, add 1 cup of chicken broth. Use the turkey baster to baste the turkey with the chicken broth. Reduce the oven temp to 350 and then baste the turkey every 30 minutes for the duration. When the turkey reaches 161 degrees, remove from the oven and cover loosely with foil until ready to serve. Do not recommend that you eat the aromatics from inside the turkey.
Notes
If you can find a "fresh" and never frozen and locally grown turkey right straight from the farmer, that will be your best bet at the best tasting turkey you ever put in your mouth, period.
Nutrition
Nutrition Facts
The Perfect Roasted Turkey
Amount Per Serving
Calories 220
* Percent Daily Values are based on a 2000 calorie diet.