It is an itch you just HAVE to scratch. No, It's not a skin fungus – silly. It is a metaphorical itch. An itch to do something memorable and spectacular. Perhaps your itch is to do something you never did before. You want to complete a "bucket list" item? Conceivably, you might need to figure out what your bucket list items are. What does this have to do with Traditional Holiday Stuffing you ask? Hang with me and I'll get to it…
I'm in the middle of one of these allegorical itches right now. I will soon turn 50 and I sense life dashing past me so quickly that I don't know if I will ever catch up. There is a lot of living to do and I better dash for the finish line if I am going to get it all done – do you feel that way too?
I hope that you do – I don't want to be alone. I've got some hiking and bike riding goals. I want to share with you a photo I took last week of my hike up to the top of Wolfe Rock. Beautiful eh? I think the haze is because of the fires over in the Western part of the state – but I'm not sure.
Do you have any bucket list items? I hope so – I would love to know what they are? Would you share with me in the comments?
A number of years ago, my bucket list included learning the elements of cooking so that I could whip up just about anything in my kitchen and have it be delicious every time. I've mastered quite a few. I still have a lot to learn.
The seafood fiasco I caused last night is a good reminder of how much I have left to learn. I don't eat seafood. Therefore, I do not cook seafood. I am allergic to shellfish and besides that I think seafood smells GHASTLY. In the event of a world catastrophe in which we are mostly left eating fish – I will likely starve to death. However, being able to cook seafood is one of my bucket list items.
My family LOVES seafood. I want to see their smiling faces around my dinner table enjoying one of their favorite dishes. At this point, in order to do this, I'm gonna have to order some carry-out from the Mayflower.
Last night I tried cooking scallops. Maybe it is because I used frozen scallops – I don't know. All I know is that I used Alton Brown's seared scallops recipe – which is so simple – I am sure that any orangutang could prepare the dish.
I don't have pictures to entertain you with – but let's just say that the smoke alarms went off in the LIVING ROOM (20 feet and two small doorways from the kitchen). The house now smells like a stinky burned up bait box. The scallops were limp, pale and gross looking. Poor hubby ate them all anyway, I think out of pity for me. He made a face I've never seen when he sampled them – not a good face either. Certainly not the eyes closed, "this is so delicious" face that I was hoping for. Lol.
So – I say all of that to show you – you aren't alone. I have EPIC COOKING FAILS too. I won't give up though. I'll try again with some fresh scallops. If that doesn't work, I'll seek out someone who actually knows what they are doing and get them to help me. I'll find a way.
I encourage you to keep trying with your cooking too.
This Traditional Holiday Stuffing though, is really simple. We love easy delicious recipes, don't we? The only primate required to prepare this dish is a human being – you. No orangutans please. I've heard that they don't clean up the kitchen when they are done anyway. However, they have nice long arms that would probably be good for scratching your back for those itches I was talking about earlier!
RECIPE INSPIRATION FOR Traditional Holiday Stuffing
This Traditional Holiday Stuffing was inspired by two recipes – the first, thanks to the good folks over at Southern Living who covered a similar stuffing recipe (Classic Bread Dressing) in their most recent magazine (November, 2016) . You can find the recipe on page 114. The second Traditional Holiday Stuffing inspiration is my memory of my mom's stuffing when I was a kid. She always added boiled eggs and some of the turkey or ham bits which fell off during the cooking – all of which are delicious in a Traditional Holiday Stuffing.
THE RECIPE FOR Traditional Holiday Stuffing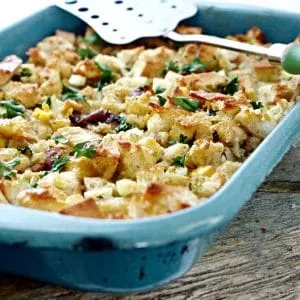 Traditional Holiday Stuffing
This recipe from www.loavesanddishes.net
Print
Pin
Rate
Ingredients
1

Tbs

Olive Oil

2

Tbs

unsalted Sweet Cream Butter

4

Stalks of celery - cut into tiny pencil eraser size pieces

3

cloves

garlic - chopped

2

Tbs

fresh thyme

1 ½

tsp

kosher salt

1

tsp

black ground pepper

2-2 ½

cups

chicken broth

stock

9

Cups

cubed

small cubes - about 1 inch sourdough bread toasted

⅓

Cup

melted unsalted sweet cream butter

3

large eggs - lightly beaten

2

oz

ham or turkey pieces - pencil eraser sized.

3

boiled eggs - cut into slices.

1

Tbs

chopped fresh parsley
Instructions
Preheat the oven to 375. Use cooking spray to prepare an 11x7 baking dish (9x12 will work too) Heat the olive oil and 2 Tbs of butter in a large iron or non stick skillet over medium heat till butter melts. Add the celery to the oil and cook until soft - about 5 minutes. Add the garlic and cook for another 1 minute - until you can smell the garlic. Add the thyme, salt pepper and ½ cup of the broth and cook one more minute while stirring.

In a large bowl, combine the heated broth mix you just made with the bread cubes. Add in the additional melted butter, eggs, remaining 1 ½ cups broth and stir using your hands. Doesn't really work good to use a spoon or a spatula. Fold in the pieces of meat (if any). Gently fold in the boiled egg slices and try to keep the slices as complete as possible.

Spoon the mixture into the prepared 11x7 dish (9x12 will work). Let stand for 15 minutes. Bake for 40-45 minutes until golden brown. Allow to cool slightly and garnish with parsley.
Notes
If you like yours a little more wet then add more stock.
Nutrition
Nutrition Facts
Traditional Holiday Stuffing
Amount Per Serving
Calories 220
* Percent Daily Values are based on a 2000 calorie diet.
TIPS AND TRICKS FOR Traditional Holiday Stuffing
The bread you use is key to this recipe. Don't use the regular ol loaf bread – get some special bread from the deli section. The kind with a kind of hard crust. In fact, the more grainy, the better – in my opinion. The bread really needs to be something that tastes good when it isn't stuffing, so do not choose a bread that you wouldn't cut off a slice and eat.

If the bread you are choosing has a very tough crust, you might want to consider cutting the crust off. We (Sarah and I – she was the sous chef for this post) did not do that here and that led to some surprisingly tough little spots in the stuffing. It is really your choice, but if you are going to leave the tough crust on – then please cut the bread into tiny pieces so no one breaks a tooth or anything.

You be the judge of the bread you use – and if it is a dry bread, you might need to add a little more broth.

If you can make your own broth (stock) for this recipe, it will taste SO MUCH BETTER! No kidding. It will. I can show you how – HERE. Super simple to do.

Cut the celery up in small pieces – maybe some people like to get a big crunchy piece of celery – but I don't think that is true for most people.

Two words – salt and pepper. They make the dish.

One final word – when serving – a garnish really makes the dish too – sets off the taste with that fresh green flavor that tastes so MMMMM!

OK – one really final word – the final final word, if you will. Sarah (my daughter – who we saw getting married HERE). Really has a very – we will call it SELECTIVE – palate. There isn't much that she really likes eating – except a few things that she has enjoyed since childhood. Anyway – she has never tried stuffing (yes, I know). She tried this traditional holiday stuffing and said, "IT'S GOOD!" and immediately wanted to know if I was making it for Thanksgiving dinner.
I will also add – she liked the Thanksgiving Turkey recipe – which is really a miracle. If you need an exceptional turkey recipe – even for picky eaters, ummmm, I mean for those with selective palates – you can find it HERE. It makes the most delicious turkey with the crunchiest most exceptional skin – YUM! By the way, I did not actually make this stuffing for Thanksgiving because we had about a million other carby things available such as Macaroni and cheese, mashed potatoes, bread and other stuff.
Other Thanksgiving menu items included: Crockpot Ham, THE Chocolate Cake, Old Fashioned Broccoli Opposite Salad and crock pot green bean casserole, cheese cake with caramel drizzle, sweet potato pie and I can't even remember everything we did have. It was all delicious and everyone was miserable and rubbing their bellies and saying "I"ll never ever do that again". Just the kind of holiday I like – one that ends with pain a regret. LOL!
A VERSE TO SHARE
We were talking earlier about bucket list items. I want to add something to that conversation. I think it goes without saying, but I'll say it here anyway: pray over your items. God will lead you in the right way. Honor Him with your desires and with your works.
Secondly, have you ever heard that what you think about you also become? This saying is commonly attributed to Buddha. It is a Christian belief as well and something that I absolutely believe.
Paul says as much here in this passage. What has your mind been resting upon lately? Have you been thinking about how stupid the opposite political party is? Have you been seething that someone else is so pretentious, self-righteous and petty? Guess what? If that is what you are thinking about, that is what you will become. You might want to consider setting your mind on something else.
Don't believe me? Check out this scripture.
Phillipans 4: 4-9. Rejoice in the Lord always. I will say it again: Rejoice! Let your gentleness be evident to all. The Lord is near. Do not be anxious about anything, but in every situation, by prayer and petition, with thanksgiving, present your requests to God. And the peace of God, which transcends all understanding, will guard your hearts and your minds in Christ Jesus.
Finally, brothers and sisters, whatever is true, whatever is noble, whatever is right, whatever is pure, whatever is lovely, whatever is admirable—if anything is excellent or praiseworthy—think about such things. Whatever you have learned or received or heard from me, or seen in me—put it into practice. And the God of peace will be with you.