Why does Kentucky get to claim the easiest, tastiest, fluffiest, butteriest, simplest, richest, dog gone BEST pound cake everrrrrr? Isn't Kentucky known for wildcats, NOT cakes! Might be, but This Easy Kentucky Pound Cake Proves that Butter has Never Looked Better and will have your grandma saying, "Well Smack My Mouth! I have to have your recipe!"
Kentucky Butter Pound Cake is seriously heavenly. Light and fluffy with that predictable pound cake crunchy crust made of, yes, you guessed it, BUTTER! The bottom crust is sheer perfection with a sugary buttery flakey crunch. YUM!
The second best part about this recipe though? Being the cook! This cake is EASIER than Cake Pie. Why do you avoid making pound cake? Because pound cakes are….
Too much work.

Too much time.

Too many ingredients.

Too many dirty dishes!
Not true with this recipe. Kentucky Butter Pound Cake is nearly ONE DISH! I can't quite say one dish because there is the mixing dish, sauce pot and then there is the baking dish – but not much more than that! Just dump it all in the mixer and GO!
Are you wondering, "what is the BEST part of this recipe though"? Yep. You were. I know it. We will get to that.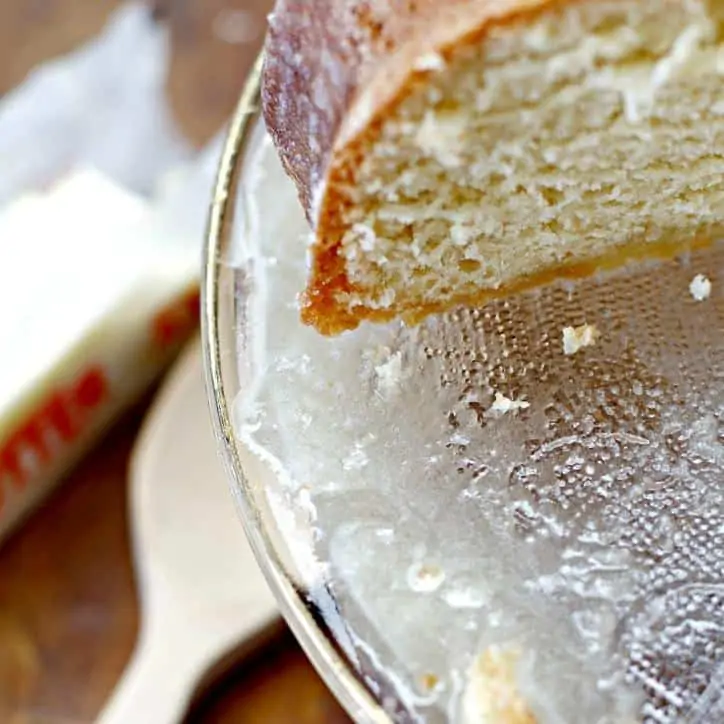 And oh man! That butter glaze! When this cake is still warm out of the oven you poke holes (just with a table knife) and you pour all of that buttery sugary deliciousness all over the cake and let it soak in! I can't even decide if the cake is better right away or after it sits for a while!
Now, the BEST part of this recipe. The VERY BEST PART. When you serve this cake to friends and they say things like,
"Oh my GOSH!!! I didn't know you were such a pastry chef!"
OR
"This tastes just like my grandma's pound cake!!"
OR
"You are a KITCHEN ROCK STAR!! YOU are the BEST COOK EVER!!!!".
That is the Very BEST Part.
Now go eat your cake!
The Recipe for Kentucky Butter Pound Cake
This Easy Kentucky Pound Cake Proves that Butter has Never Looked Better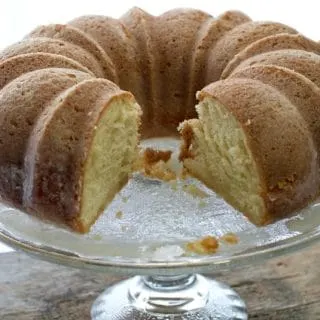 This Easy Kentucky Pound Cake Proves that Butter has Never Looked Better
This recipe is from www.loavesanddishes.net
Print
Pin
Rate
Ingredients
For the Cake
1

Cup

sweet cream unsalted butter - cut into small cubes and at room temp.

2

Cups

granulated white sugar

4

large eggs

1

Tbs

real pure vanilla

1

tsp

pure almond extract

3

Cups

all purpose flour

1

tsp

kosher salt

if using table salt, then just a pinch

1

tsp

baking powder

½

tsp

baking soda

1

Cup

buttermilk
For the Butter Sauce
⅓

Cup

sweet cream unsalted butter

¾

Cup

granulated white sugar

2

Tbs

water

2

tsp

pure vanilla extract

1

tsp

real almond extract
Instructions
Preheat the oven to 325 and prepare a 10 inch (standard size) bundt pan by either spraying with a flour based cooking spray like Baker's Joy or by buttering and flouring the pan. Be VERY LIBERAL with the butter and flour! This is a sticky cake.

You are gonna love this step. Place all of the cake ingredients into the bowl of a stand mixer and use the paddle attachment. Mix on a low speed for about 30 seconds until everything looks like it is generally mixed in then increase the speed to medium and mix for another 3 minutes.

Pour the batter into the prepared bundt pan and bake for an hour and 5 minutes and start checking. The cake is done with a toothpick inserted in the cake middle comes out clean. Remove from the oven when done and set on a cooling rack to cool. Do not remove the cake from the bundt pan yet.

Near the end of the cakes bake time, combine all of the butter sauce ingredients in a small saucepan on medium heat on the stove top. Keep stirring until the butter melts and the sugar dissolves. Do not allow it to boil. Remove from the heat when it reaches the melt point.

Using a butter knife, poke holes all over the cake top (while the cake remains in the bundt pan). Pour the butter sauce evenly and slowly over the top of the cake while it sits in the bundt pan.

When the cake is completely cool, invert it onto a cake plate and it is ready to serve. Do say a little prayer, mantra, lift good thoughts to the sky and cross your fingers that the cake did not stick. This cake Is TERRIFIC the next day too once the sauce has completely soaked in.
Notes
This makes a light tasty pound cake.
Allow the icing to cook slightly before pouring on the cake for it to adhere to the cake.
Nutrition
Nutrition Facts
This Easy Kentucky Pound Cake Proves that Butter has Never Looked Better
Amount Per Serving
Calories 330
* Percent Daily Values are based on a 2000 calorie diet.
A VERSE TO SHARE
Want to know how I come up with these verses to share? Sometimes, it is just something that has been on my heart to share. Sometimes it is a verse that I have been reading. Sometimes it is a verse that has to do with something going on in my life or in the world at large. Rarely – like today – it is a verse that keeps popping up in my life. In those instances, I believe the Lord is impressing upon me to share a verse. I've learned – when that happens – just listen. Do it.
I don't know why God wants me to share this verse. Proverbs 3 – but especially verse 7. I'm including the whole stanza here.
If this verse speaks to you, is something that you needed to hear, is a good reminder for you, I would love to know. If you can share why – I would love to hear that too. If it's too personal to put in the comments, feel free to always email me at wendi(at sign)loavesanddishes(dot) net. Your secrets are safe with me.
Proverbs 3: 5-8
Trust in the Lord with all your heart,
and do not lean on your own understanding.
In all your ways acknowledge him,
and he will make straight your paths.
Be not wise in your own eyes;
fear the Lord, and turn away from evil.
It will be healing to your flesh
and refreshment to your bones.