Oh my GOSH! People!!! You HAVE to try these Vindaloo Curry Spiced Carrots. HAVE TO! I didn't say, "I think you should put this on your list". I said, "YOU HAVE TO TRY THESE VINDALOO CURRY SPICED CARROTS!". I am SUPER excited about these carrots and they will definitely be appearing regularly on the Spraker family dinner rotation (OK, I admit, there isn't much of a dinner rotation because I am always trying something new – but really – there are a few things that are in the oven all of the time – and these will be one of them). The crusty carmelized skin on these Vindaloo Curry Spiced Carrots is JUST THE BEST! YUM!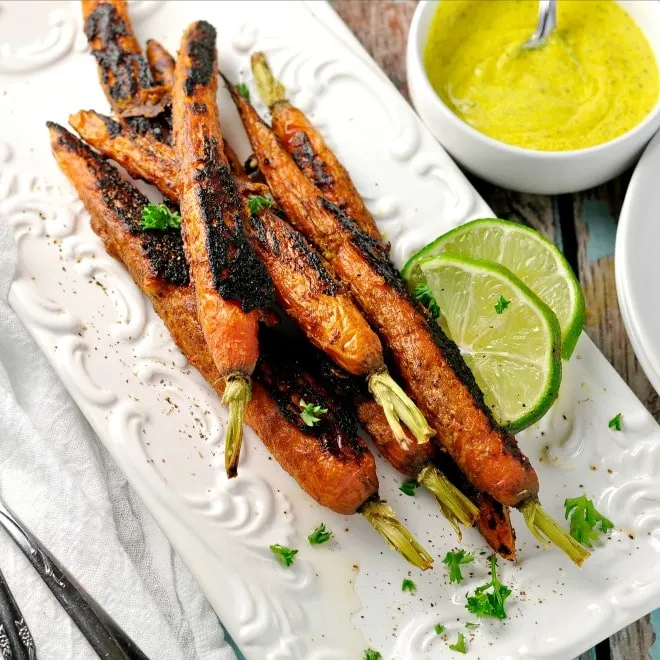 When I received my Bon Appetit January 2015 magazine this month – I was totally intrigued by the recipe for Tandoori Carrots. Carrots are one of those veggies that I don't really like. I do not like them in salads or as sticks or cooked with roast. Ewww. I know, many of you love them that way. Not me. That's all I'm saying.
However, I have learned there are MANY ways to prepare carrots and I knew I had to try these. I went in search of the spice mentioned in the article – Vadouvan – which was not available anywhere local to me. (I could have just used my Amazon). Instead, while visiting Whole Foods Market – I did find Vindaloo Curry. Not checking any resource available to me I said to myself, "this is probably similar". All I can say now is WHOOP WHOOP !! Vindaloo Curry is SPICEY! From what I have read, Vadouvan is not spicy. You can find either at Amazon – right here.
For my recipe below though – I am recommending the Vindaloo Curry – as I said, whoop whoop – it is GOOD! Spicy. But good. My only regret? I only had one bunch of carrots in the fridge and now with icy snow expected tonight – I will have to wait a few days to get more! Seriously!
The other great thing? There is nothing bad for you in this recipe. Nothing. YAY! Comfort food that is good for you! That is what I'm talking about!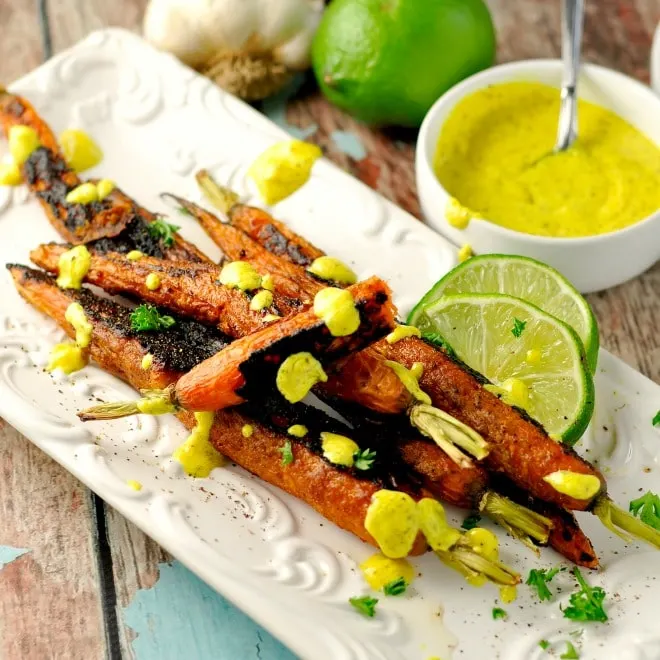 Coming up next time on Loaves and Dishes
I keep saying that lasagna is coming up – I am hoping for Wednesday!
Don't forget to subscribe to Loaves and Dishes so that I can send you an email notice when the next recipe posts. I PROMISE to never give (or sell) your email address to anyone else – and I PROMISE not to bug you to death!
Serving suggestions for Vindaloo Curry Spiced Carrots
I recommend serving these carrots with something more mild such as Hangry Hamburgers.
Now I ask you, Make Dinner, Not War.
The LORD your God is with you, he is mighty to save. He will take great delight in you, he will quiet you with his love, he will rejoice over you with singing." ~ Zephaniah 3:17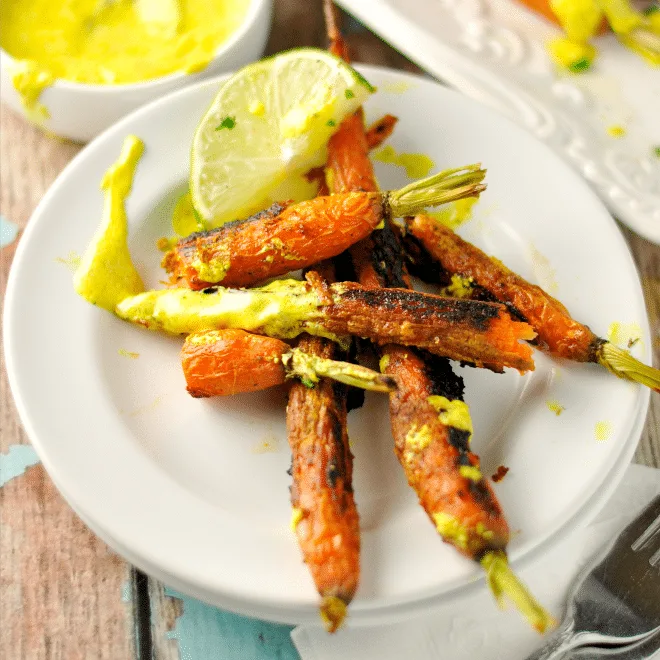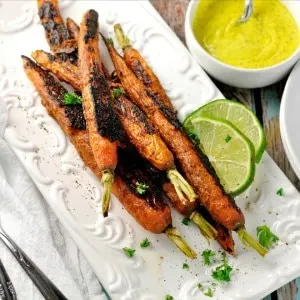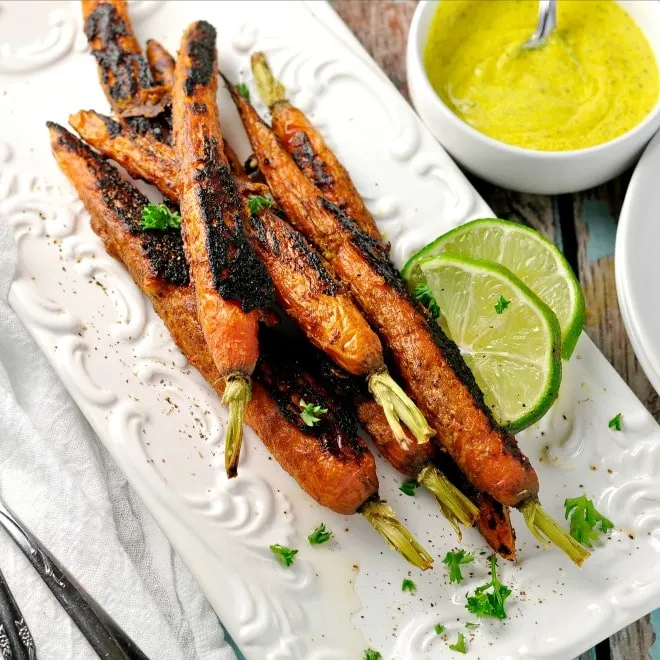 Vindaloo Curry Spiced Carrots
Delicious and spicy and absolutely not what you expect carrots to be - brilliant recipe!
Print
Pin
Rate
Ingredients
2

Tbs

Vindaloo Curry Spice

original recipe calls for Vadouvan

3

garlic cloves – finely minced

original recipe calls for 2

½

Cup

Greek plain yogurt – divided

5

Tbs

good olive oil – divided

Kosher salt and freshly ground pepper

I used about ½ tsp of each divded.

1

bunch of small fresh carrots – tops trimmed and carrots scrubbed

do not use your peeler.

¼

tsp

tumeric

2

Tbs

fresh lemon juice

about 1 lemon.

Chopped cilantro or parsley for garnish.

Lime wedges for garnish
Instructions
preheat oven to 425.

Mix Vindaloo Curry, half of the garlic, ¼ cup yogurt and 3 tbs of olive oil in a large bowl until smooth. Season with salt and pepper to taste. You can dip the carrots and twirl them around in the mix or you can use a barbque brush to pain the mix on (I used the brush).

Roast on a rimmed baking sheet in a single layer, turning twice during roasting. Charring in spots is desirable (and tastes WONDERFUL!) until done (25-30 minutes).

In a separate small skillet – heat turmeric, and 2 tbs of olive oil swirling the skillet until fragrant. (about 2 minutes). Remove from the heat.

whisk lemon juice, remaining garlic and ¼ cup yogurt in a small bowl. Season with salt and pepper to taste (will be bright yellow).

Place carrots on a platter, drizzle with yogurt mix and serve with lime wedges.
Nutrition
Nutrition Facts
Vindaloo Curry Spiced Carrots
Amount Per Serving
Calories 200
* Percent Daily Values are based on a 2000 calorie diet.